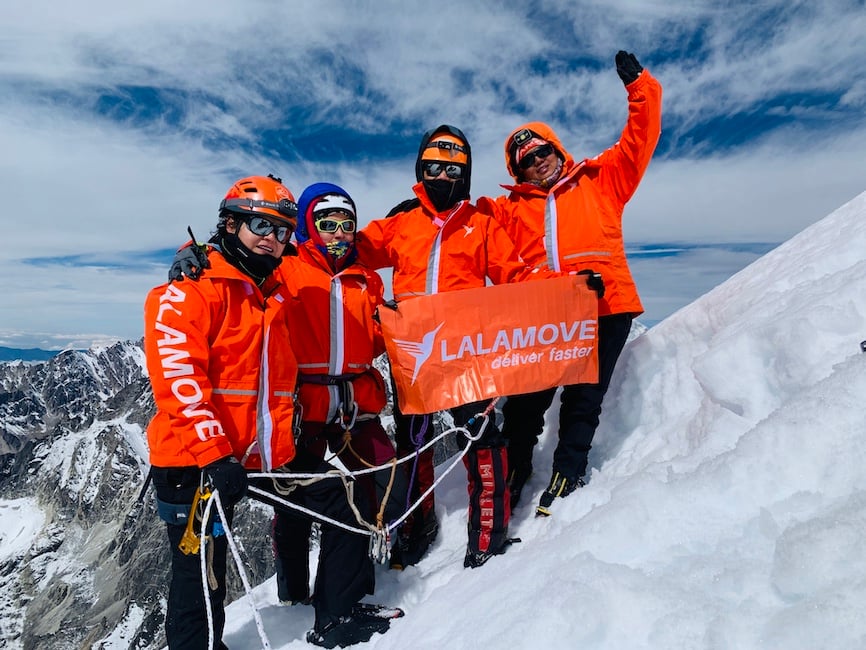 Ada Tsang, a Leadership Development executive with Lalamove, has achieved something that no other woman from Hong Kong has managed to do. On her third attempt, after narrowly escaping death in a previous effort, she finally scaled Mount Everest and wrote herself into the history books. Not content with just that accolade, Ada continues to push herself to new heights. Just last month she scaled a new peak in Nepal that she has christened as "Lalamove Mountain".
Quite literally embodying all the values of passion, grit, humility and execution that drives our company forward every day, Ada has recently taken on a brand new challenge of managing the Leadership Development programme at Lalamove.
After having overcome so many challenges in order to realise her dreams, Ada is happy to share any advice she can with her new teammates to help them achieve their own goals.
"It's human nature to feel that you can't achieve your dreams. Focus on the small things first and don't let any potential obstacles daunt you. Learn from your mistakes and once you are capable at what you do others will begin to follow."
While a new career at Lalamove and scaling Mount Everest may throw up a different set of challenges, Ada insists her new path in life is not one to take lightly: "As a relatively new company, Lalamove faces countless hurdles on its way to growth and expansion around the world. But I think all the hardships and difficulties you face along the way should never make you quit, these are what in fact make you stronger."
And never quitting has been something in Ada's DNA from a young age. Moving to Hong Kong at the age of 10 not knowing a word of English, she excelled to become top pupil in her class within four years. Upon revealing to her students as a secondary school teacher that it was her dream to climb Mount Everest, the seed of the challenge had been planted, and she would go on to achieve her dream within the next seven years.
"There are no shortcuts to doing things well,'' she explains of her approach to training for Mount Everest. "You simply have to push yourself." It's the same principle, she promises, that will drive her new career at Lalamove.
We're truly proud to have Ada at Lalamove and are sure the future leaders of the company have lots of valuable management and life lessons to learn from her.