Where To Get Chinese New Year Promotions (Complete With Lalamove Delivery!)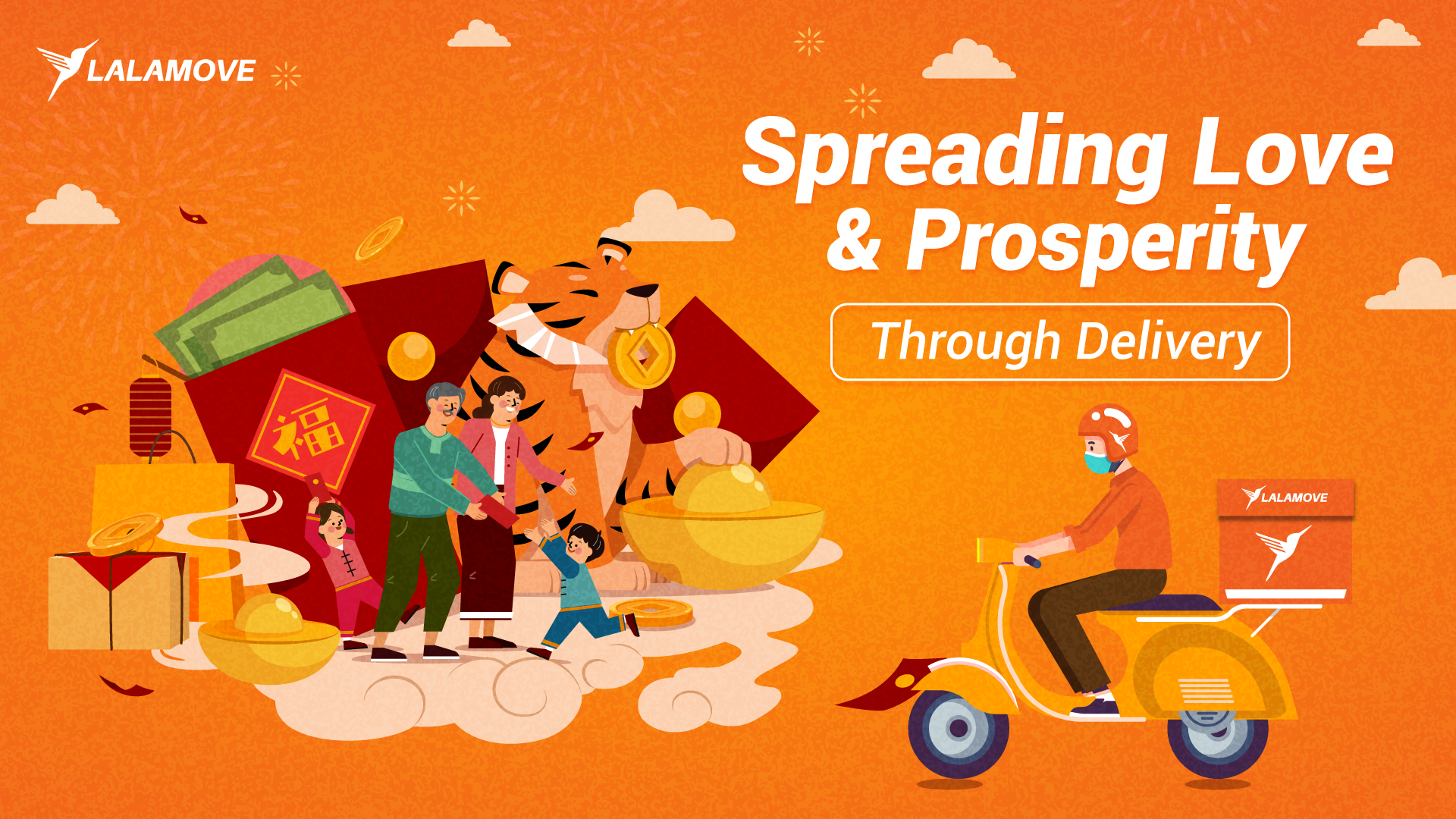 Xīn nián kuài lè! 新年快乐 (it means 'Happy New Year!')

As per tradition, Chinese New Year wouldn't be complete without delivering gifts, goodies and Angpao to family and friends.

So if you're planning to celebrate at home with your loved ones while revelling in the New Year spirit, you've come to the right place.

We've compiled a list of the best places that offer Chinese New Year promotions with Lalamove delivery!

From Yee Sang by a 4-star hotel to premium cookies to wellness food, you'll find all the CNY goodies that you want in this list!
Here Are 10 Brands That Offer Chinese New Year Promotions:
1. Hai-O (Klang Valley)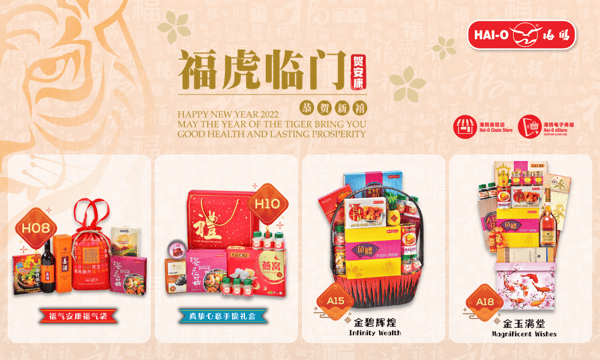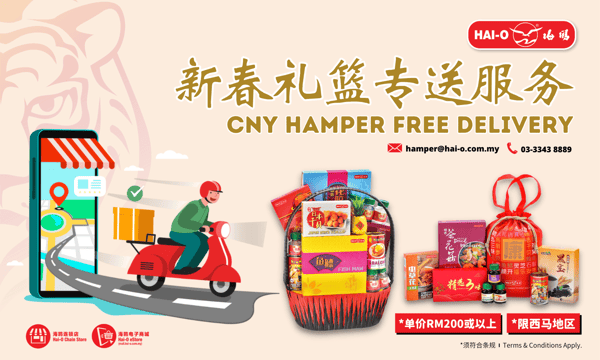 Celebrating Chinese New Year means more than ushering in material prosperity, because what good is wealth if we don't have good health?
This year, Hai-O Chain Store offers promotions on their wide range of complementary medicines, health and wellness products to get you on track for many healthy years ahead.
Take your self-care routine up a notch with Hai-O's wellness products such as bird's nest, chicken essence, dried scallop and many more.
But their festive promotions don't stop there.
If you're interested in signing up for Hai-O's membership, you can get one for free when you spend RM100 and above.
Also, when you spend at least RM200 on hampers, gift boxes and lucky bags, Hai-O will deliver your orders for free!
CNY Must-Haves: Abalone, Bird's nest, Roasted pistachios, Dried scallop and Chicken essence
2. Health Valley (Klang Valley)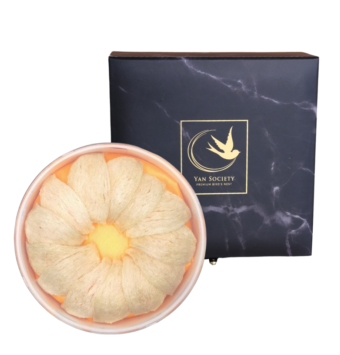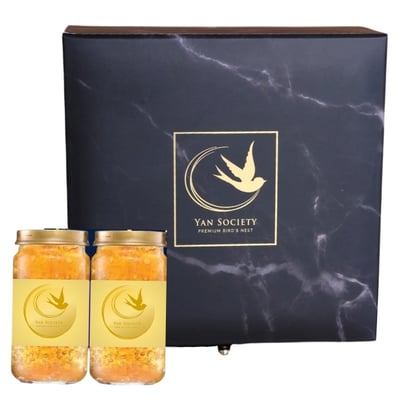 Looking for a simple and healthy edible for your Chinese New Year celebration?
Try Health Valley's Bird's Nest!
With vitalising properties such as anti-ageing and respiratory health benefits, this is a must-have supplement for health-conscious individuals.
Want healthier and radiant skin?
Consuming a bird's nest will do just that for you too!
Health Valley offers hand-picked bird nests and rock sugar to keep their bird's nest in pristine condition. Their merchandise are packed in a special premium gift box with a price tag as low as RM188.
If you're looking for the perfect gift for yourself and friends who want to look glowy this holiday season, then Health Valley should definitely be on the top of your shopping list!
CNY Must-Have: Premium Concentrated Bird Nest
3. Granos (Klang Valley)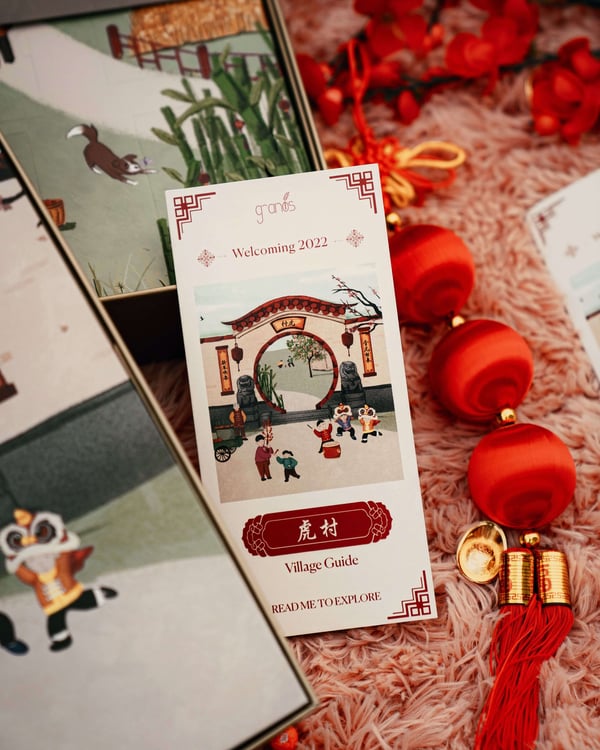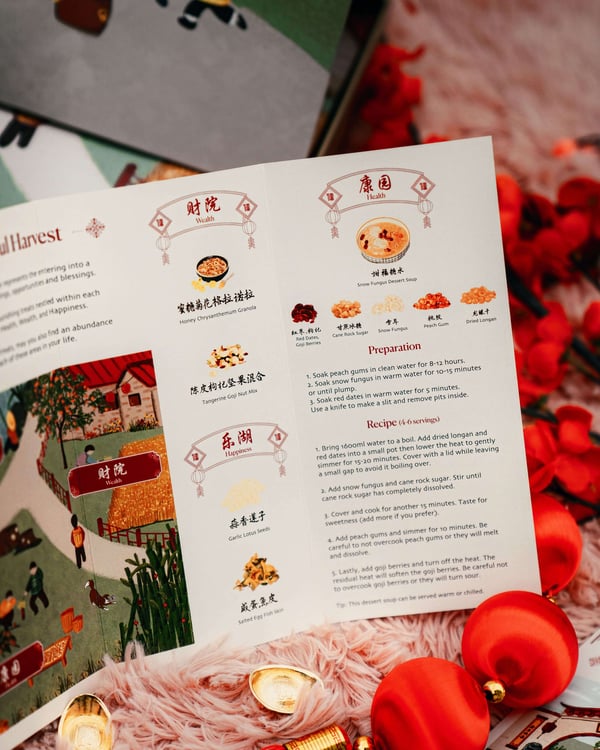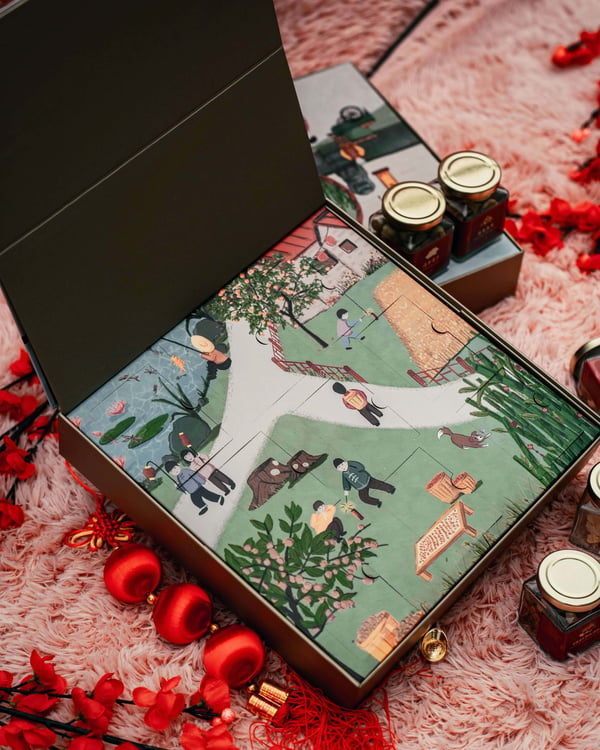 For those who want something unique this Chinese New Year:

You should go for customisable granola by Granos!

Granos is the first brand in Asia where you can customise your own granola according to your beauty and health needs.

If you're looking for a premium gift, we recommend their A Bountiful Harvest Chinese New Year Gift Box!

Within this box, you'll find artwork of a village split into 3 blessings to usher in the new year (Health, Wealth, and Happiness). A variety of savoury treats, healthy snacks, and ingredients to make your own nutritious dessert soup (tong sui) are hidden and nestled within each landmark.

If that's not enough:
The gift box also comes with an interactive experience to discover a "map to the village". Each item is hidden and once discovered, you'll find a personalised message beautifully written for the people that matters to you.
But you have to be quick! Early birds can get this gem at a promo price of RM238 until 28th January. (No worries, you can still purchase one after 28th January, albeit for a regular price of RM288).

CNY Must-Haves: Honey Chrysanthemum Granola, Tangerine Goji Nut Mix and "A Bountiful Harvest" Chinese New Year Gift Box
4. Love A Loaf Bakery & Cafe (Penang)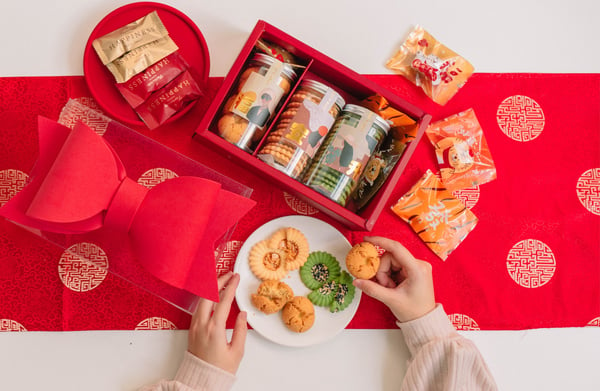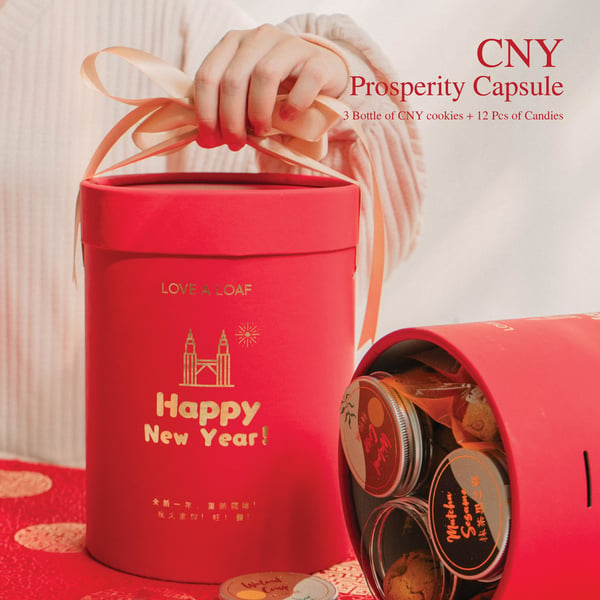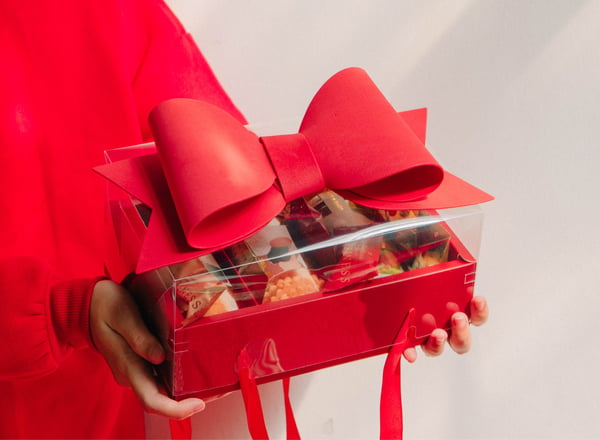 If desserts and snacks are absent from your reunion dinner spread, then you're missing the point!
Love A Loaf's desserts make for a fine finishing treat after you're stuffed with appetizers, seafood, rice and side dishes.
For the festive season, they offer curated Chinese New Year packages for you to choose from. We especially dig their CNY Prosperity Capsule! This package comes with honey almond cookies, walnut cookies, matcha sesame cookies and 12 pieces of candies.
And the CNY packages come with free gifts too!
A word of advice - don't skip on their premium chocolate Belgian cake. Made with luscious Callebaut Belgium chocolate, a slice of their signature cake will leave you asking for more!
CNY Must-Haves: Belgium Cake, Hokkaido Raw Cream Roll, Golden Raisin Butter Sand
5. Jen Hotel by Shangri-La (Penang)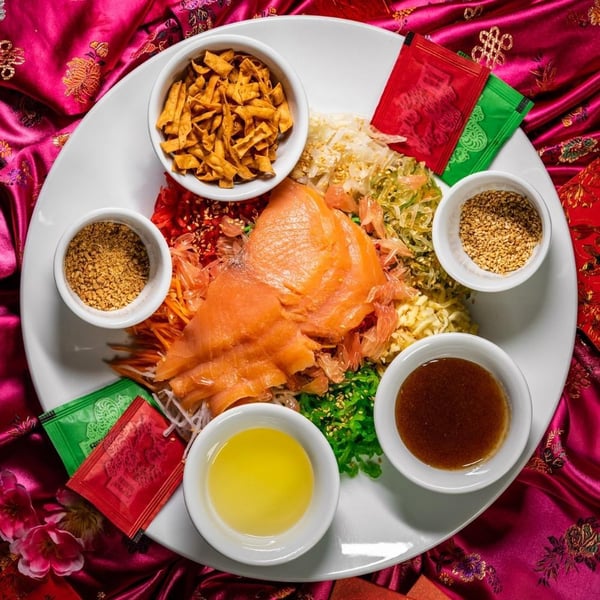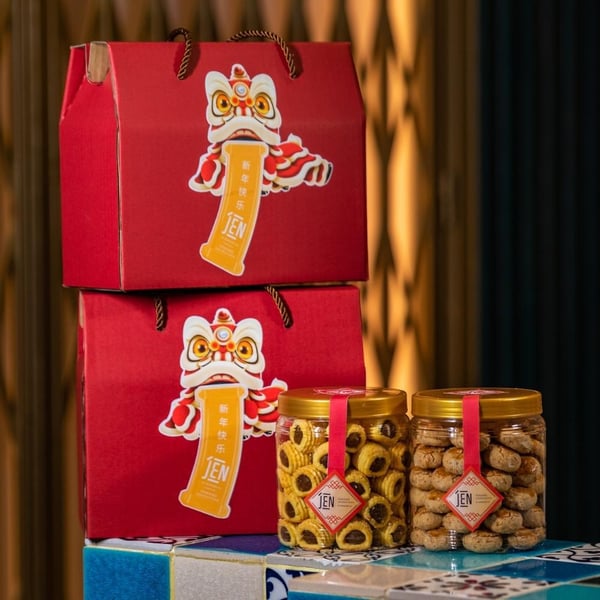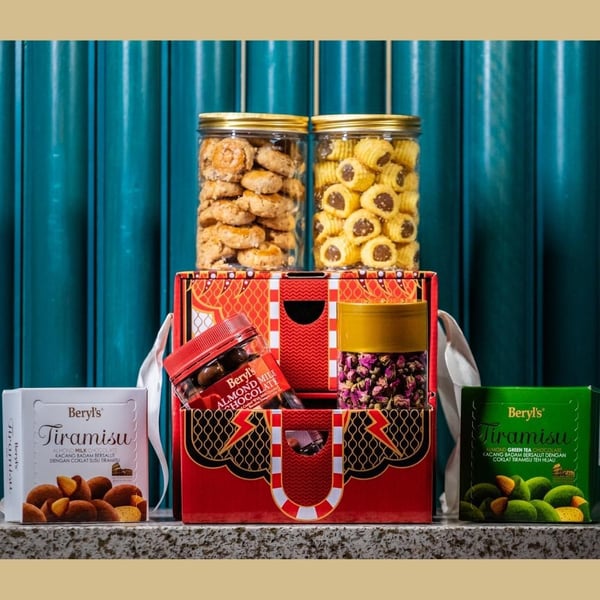 If you wish to dine in a nice makan-makan place with your family but don't feel like going out, you can enjoy the reunion dinner at home with meals prepared by Jen Hotel's chefs!
As a part of their Chinese New Year promotion, Jen-Hotel by Shang-ri La offers delicacies specially crafted with families in mind. Plus, you don't have to leave the house to enjoy them.
For a starter, they're offering the obligatory Yee Sang with Smoked Salmon. The dish can feed up to 6 persons for just RM68!!
Looking for Poon Choi and freshly baked homemade Pineapple Tart cookies? Jen Hotel will deliver them to your house just in time for Chinese New Year.
But why stop there?
Add-on their Lion Gift box, which is packed with Pineapple Tart, Flower Scented Tea, Beryl's Almond Milk Chocolate, Beryl's Almond Green Tea Chocolate, Beryl's Assorted Mixed Nuts Chocolate for only RM138!
Once you've placed your order, all that's left for you to do is set up your dining table a-la hotel style for a hotel dining experience in your home!
CNY Must-Haves: Yee Sang with Smoked Salmon, Assorted Goodies in Lion Gift Box, Cookies in Gift Box, Poon Choi
6. Iconic Hotel (Penang)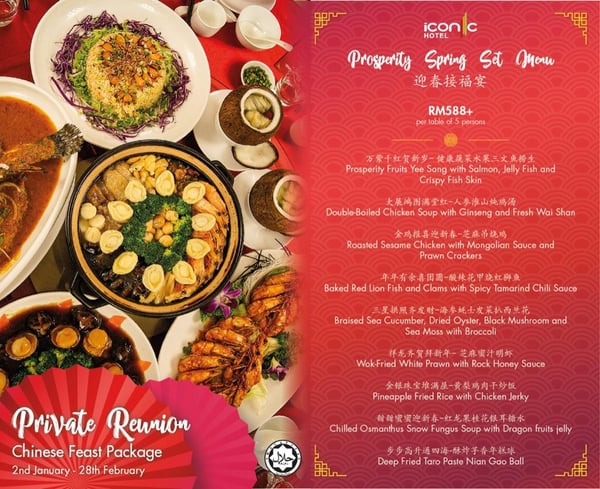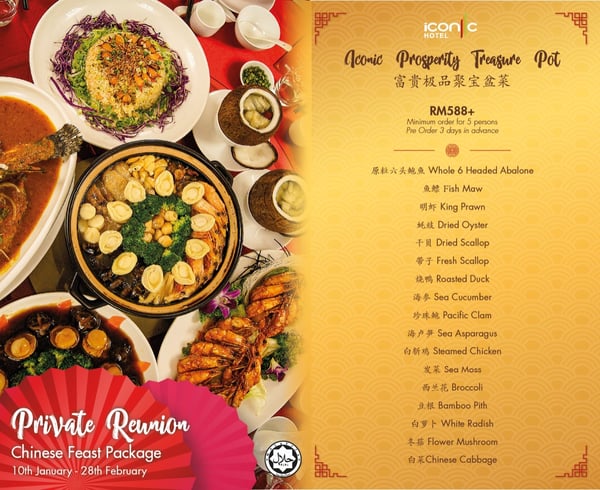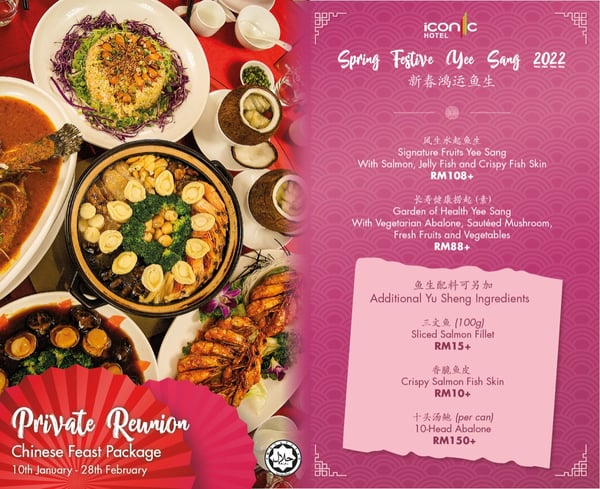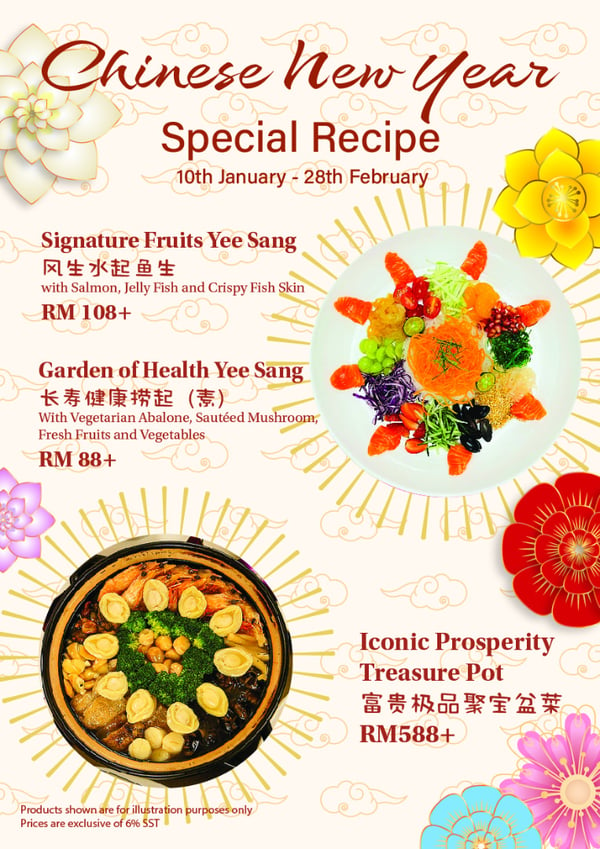 Chinese New Year feels incomplete without the customary Yee Sang tossing.
But with Iconic Hotel's Yee Sang, you're in for good luck and a full tummy on the most auspicious day of the year!
Enjoy a variety of Yee Sang topped with delicious ingredients such as salmon, jellyfish, crispy fish skin, abalone and many more.
Looking for a greener option?
Get their Garden of Health Yee Sang with vegetarian abalone, sauteed mushroom, fresh fruits and vegetables for RM88 only.
Get ready with your chopsticks and toss your way into the new year with Iconic Hotel's Yee Sang!
CNY Must-Haves: Spring Festive Yee Sang, Prosperity Spring Set Menu, Iconic Prosperity Blessing Set Menu, Iconic Prosperity Treasure Pot, Iconic Hi Tea Set & Cheese Platter
7. Poleen's Bakery (Johor Bahru)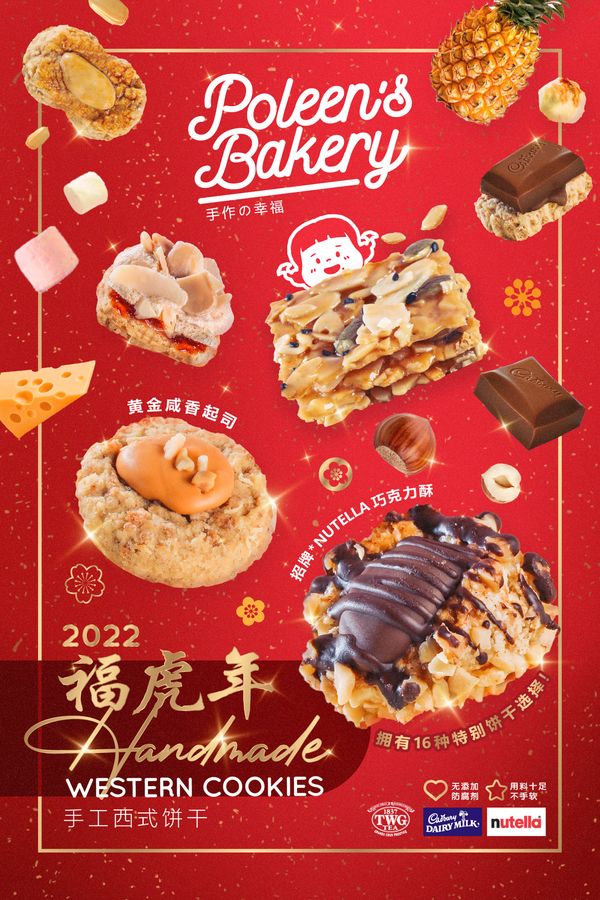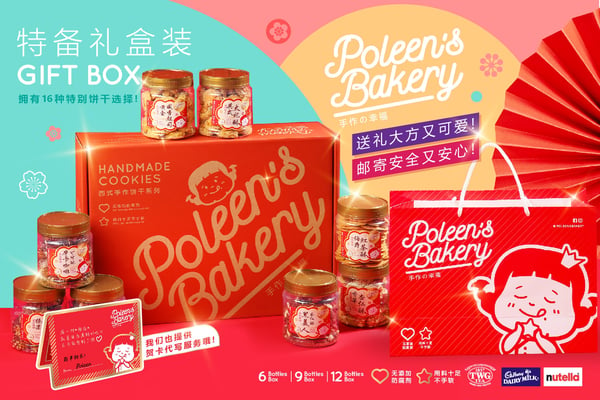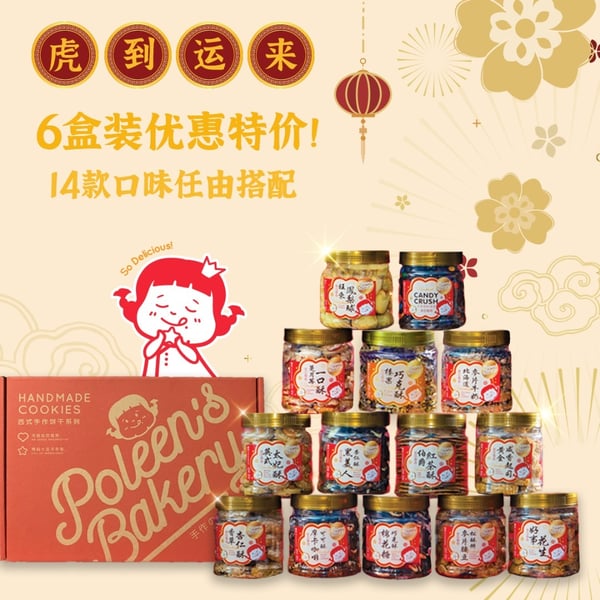 Johor Bahru-based Poleen's Bakery bakes the perfect cookies for your family and friends this Chinese New Year.
We took a glance at their cookies catalogue, and oh boy!
How do you make the decision to pick cookies within the range of Nutella, Cadbury, Hokkaido Milk, Candycrush or Marshmallow?
And that's not even half of the flavours at Poleen's Bakery!
For the festive season, they're offering a discounted price for each jar of cookies. Pay RM25 for each cookie jar when you purchase at least 6 jars from them. The regular price is RM29 per jar.
CNY Must-Haves: Florentine Almond, Signature Nutella, Earl Grey, Hokkaido Milk, Royal Butterscotch
8. Fei Fei Crab House (Johor Bahru)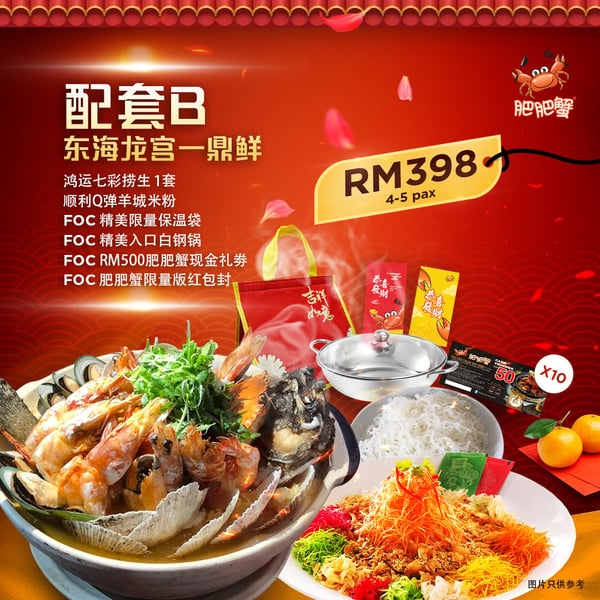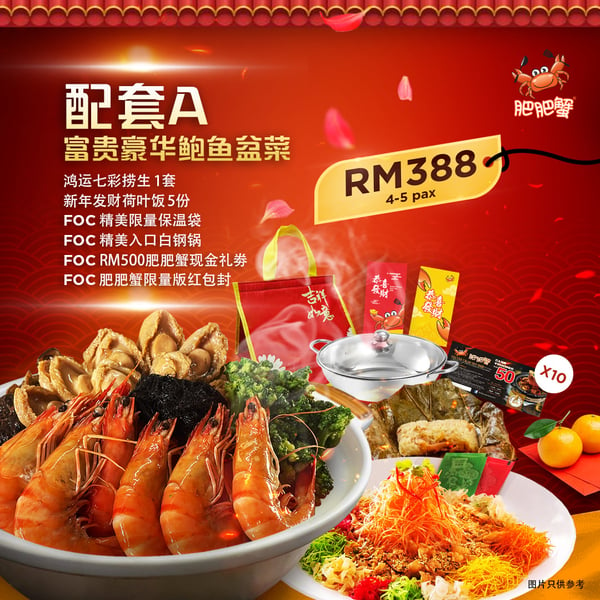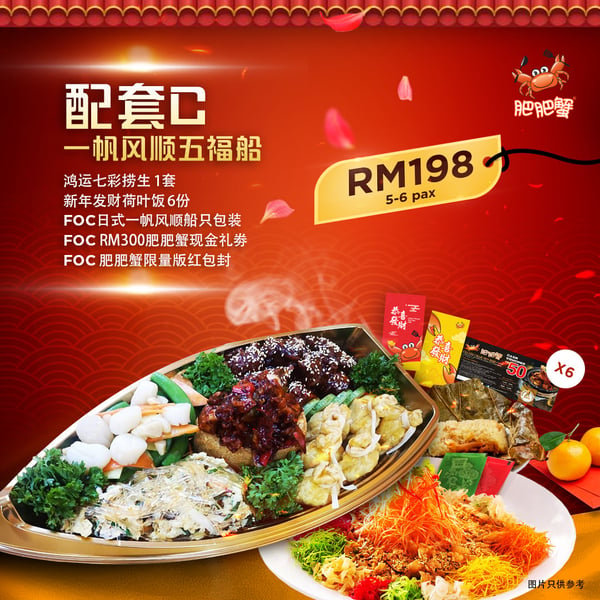 If you're a fan of cracking crabs open for their juicy flesh, you need to keep an eye on this one.
Fei Fei Crab House is a crab speciality restaurant with more than 20 crab flavours for your indulgence.
Their menu is a colourful list of unique crab flavours such as Oreo Cheese, Wasabi Butter, Kam Heong Butter and Mao Shan Wang Durian!
This year, they're offering luxurious Chinese New Year promotion packages that you certainly don't want to miss!
Take their Prosperity & Luxury Poon Choi Package for instance. You'll get Prosperity Yee Sang, five Mini Fortune Lotus Leaf Rice, and limited edition Fei Fei Crab CNY Angpao.
But the best part of the package? They even threw a RM500 Fei Fei cash voucher into the mix!
Talk about a huat deal, right?
And that's not all, since Fei Fei is famous for its seafood pot.
The delicate dish is cooked with a range of fresh seafood, such as dragon tiger grouper, crab, tiger prawn, scallop, mussels and lala.
On top of that, you'll also get a FREE insulation bag for poon choi and a stainless steel pot to keep your food warm with selected CNY promotion packages.
CNY Must-Haves: Prosperity & Luxury Poon Choi, Luxury Seafood Pot and Lucky Boat Platter
9. Good Husband Patisserie (Johor Bahru)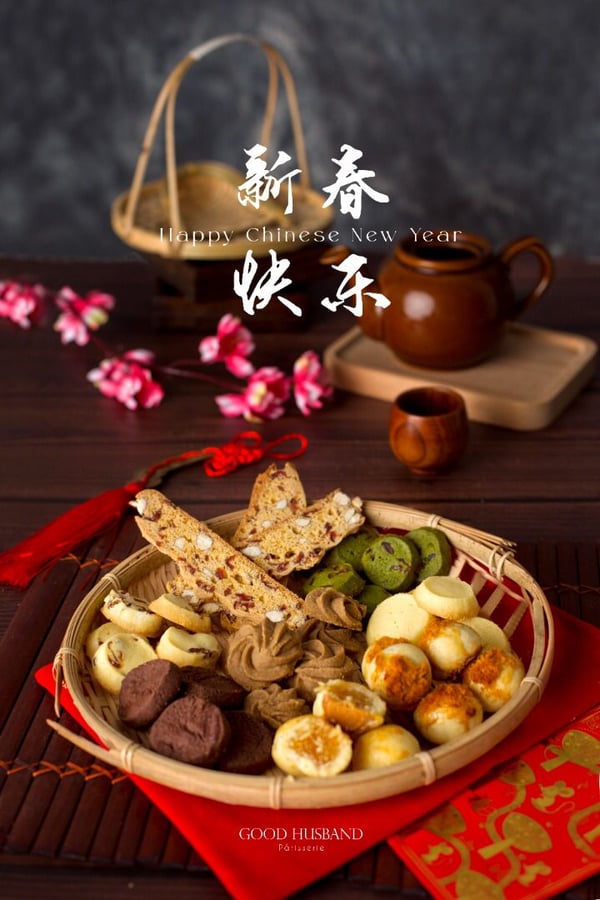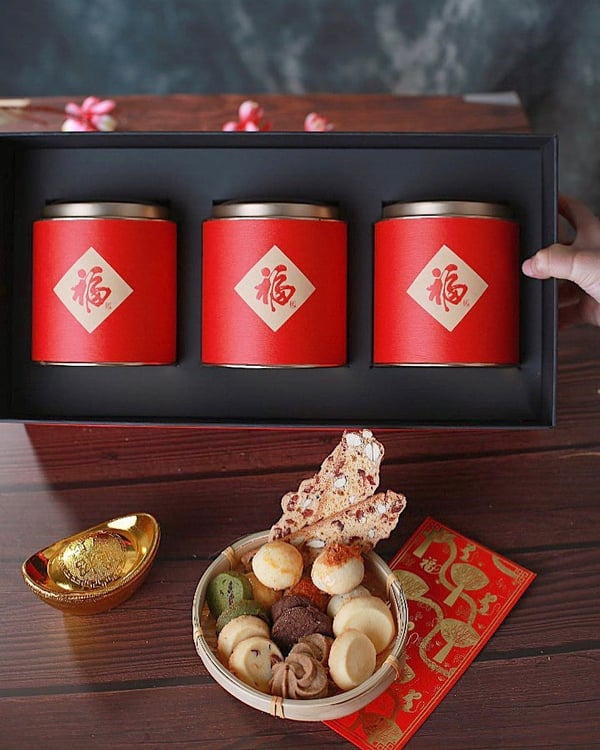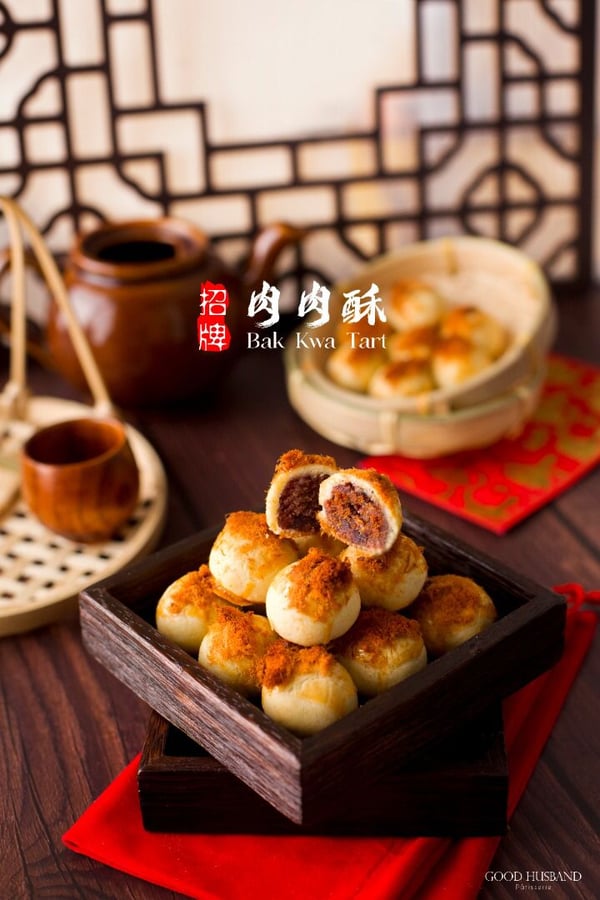 In the words of Good Husband Patisserie's chefs, "Food keeps us alive, but sweets make our lives merry."
We couldn't agree more!
Good Husband Patisserie's cookies and cakes are inspired by French and Japanese pastries, so you're in for a unique experience with every bite.
But it gets better:
This Chinese New Year, they're introducing a new cookie flavour just in time for the celebration - the Imperial Lychee!
Imperial Lychee cookies have a moderate amount of dried lychee blended with classic cream sauce. This adventurous combo definitely deserves a spot on your cookie tray if you want to impress your guests with an unorthodox treat!
CNY Must-Haves: Bak Kwa Tart, Pineapple Tart, Macha Cranberry, Coffee Mells, Orange Cranberry Almond Biscotti, Butter Cookies, Double Chocolate, Imperial Lychee
10. Toffee Hearts Confectionery (Johor Bahru)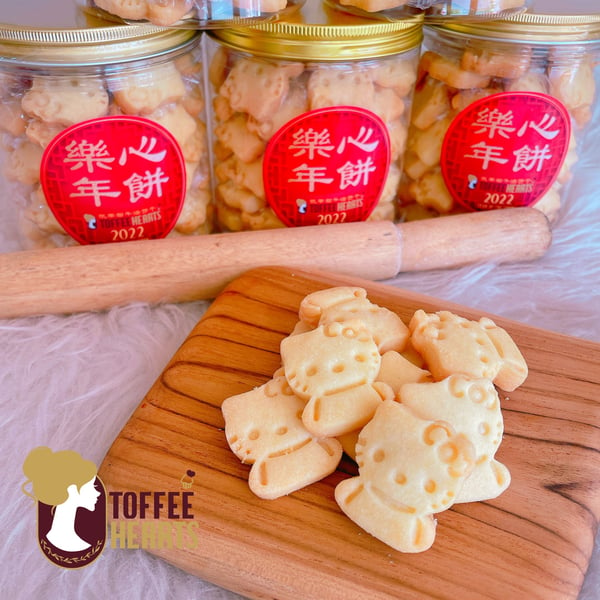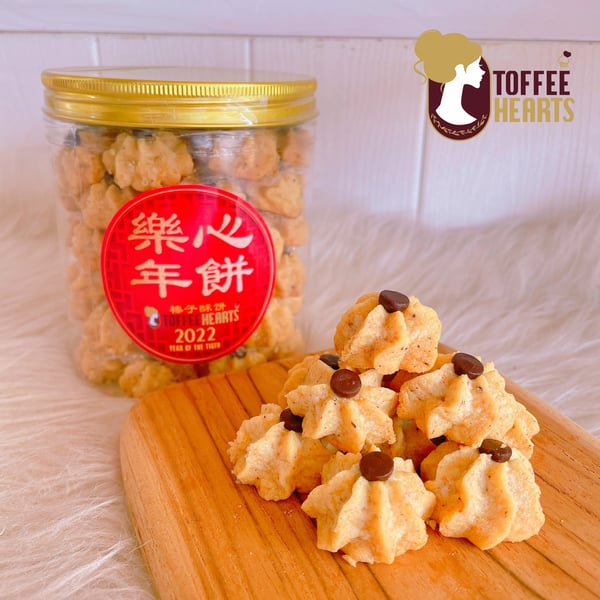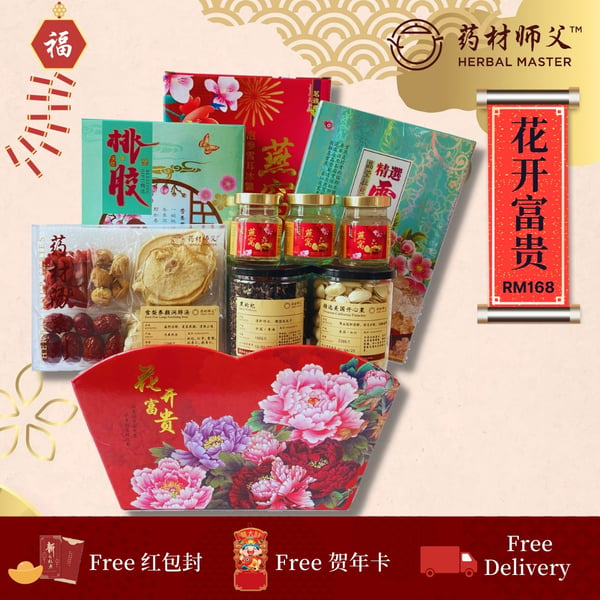 There's no such thing as too many cookies in a single seating, right?
Especially when you're in the good company of friends and family!
If you want exceptional cookies this Chinese New Year, then Toffee Hearts Confectionery's wide range of cookies will fit your bill.
At the moment, they're offering three sets of assorted cookies to ring in the festive season.
From a price as low as RM115 per set, you'll get three jars of premium cookies such as Earl Grey, Coconut and Belgium Chocolate.
Each set includes a recycle bag and fairy light, which is a thoughtful gesture for someone in your life who appreciates extra details in packaging.
CNY Must-Haves: Earl Grey, Coconut, Almond Pumpkin Florentine, Cute Tiger Icing
Don't Miss Out On These Chinese New Year Promotions
Have you decided your pick from these bountiful Chinese New Year promotions?
Are you excited to have the Oreo Cheese Crab as a part of your reunion dinner menu?
How about the traditional Yee Sang with salmon?
Or will you surprise your guests with the Imperial Lychee cookies?
Place your orders with our partners today, and we'll take care of the delivery from our partners to you!
If you need to deliver homemade cookies or any festive essentials to family and friends, use our coupon code [LACNY50M] to enjoy 50% off your first delivery with Lalamove!
Happy Chinese New Year & Gong Xi Fa Cai!