Mutton Curry and Family Bonding - Here's What Makes Deepavali So Special To Our Rider!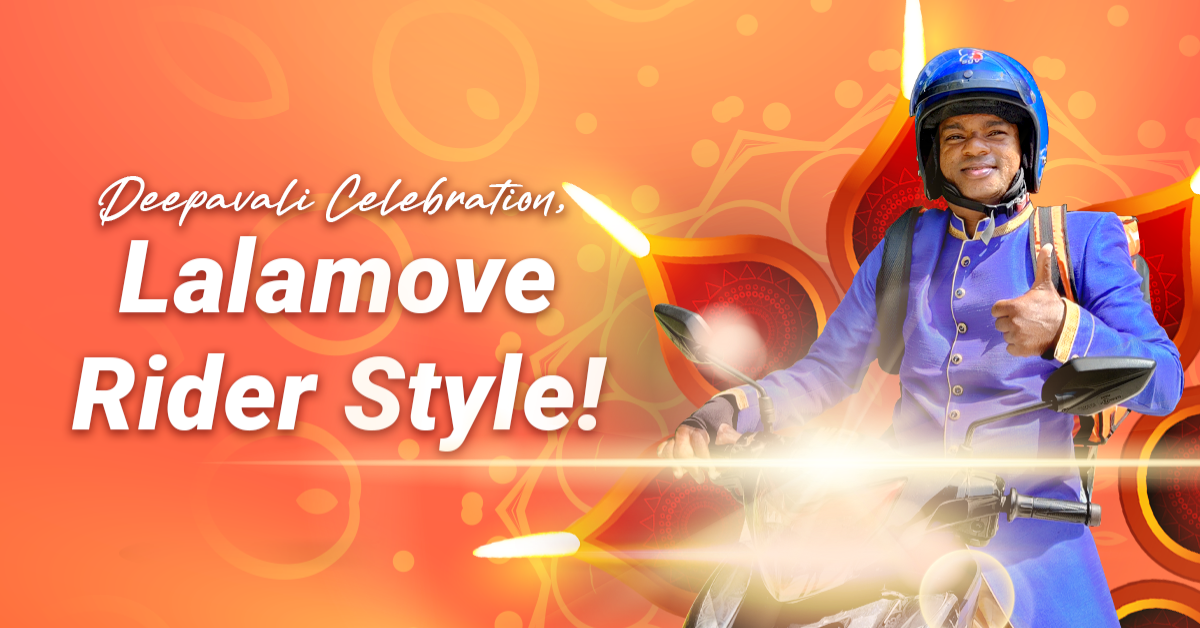 When it comes to holidays, nothing feels better than celebrating in your hometown! The feeling you get when your siblings, grandparents, and even childhood friends gather to celebrate a festival is truly indescribable, right?
For our Lalamove rider, Siranjeevi A/L Suppiah, also known as Siran, home is indeed where the heart is!
Siran told us about what makes celebrating Deepavali in his hometown special, how Deepavali feels incomplete without mutton curry and his delightful experience as a Lalamove rider!
Why do you think Deepavali is more meaningful when you celebrate it in your kampung?
Growing up, celebrating Deepavali in our kampung was always a fun experience. We used to stay at Subang Bestari.
I grew up in a very small family. But somehow our Deepavali celebrations have always been joyous occasions.
Back in my hometown, my relatives lived nearby. So we got to see them all the time. My school friends and neighbours would visit my house and we'd celebrate together.
I miss celebrating Deepavali when we were just kids. We only cared about having fun! But now, we're all grown-ups with responsibilities. Deepavali is a lot less fun now compared to how we celebrated it when we were kids.
What's your typical routine on Deepavali?
My family and I are early risers. By 7 AM, we'd be ready for our Deepavali celebration. My mum would start cooking and the rest of us would help to clean the house. By 8 AM, we'd pray together.
If we have time, we'd visit our neighbours and friends who live nearby. Our Deepavali celebrations for the past few years have been very moderate.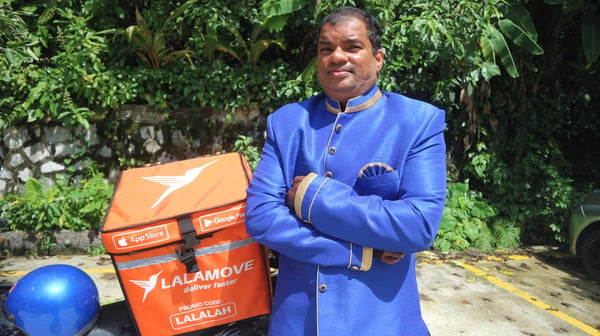 What's the best part about celebrating Deepavali?
The food, of course! Deepavali food is unique of its own. I was raised in a family of foodies. We're fond of home-cooked meals.
Every Deepavali, my mum would prepare various dishes. Each mealtime would be a feast! She'd cook curry mutton, chicken curry, yellow rice and nasi minyak for lunch. Her murukku is out of this world!
My favourite Deepavali meal is mutton curry. As I said, my mum is a great cook, but mutton curry is reserved for special occasions only. We don't eat it very often. So Deepavali is one of the few opportunities we get to feast on delicious food.
When was the last time you celebrated Deepavali in your hometown?
I haven't celebrated Deepavali in my hometown for years now. I celebrate with my immediate family only since we moved to the city.
For this year's Deepavali, I know we'll be staying at home too, just like we did last year. But this year, I'll spend a little bit of time on Deepavali to take on Lalamove delivery jobs.
What does Deepavali mean to you?
My siblings are all grown-ups with personal commitments. We don't get to see each other often.
So, Deepavali is the only time we could gather and spend time as a family.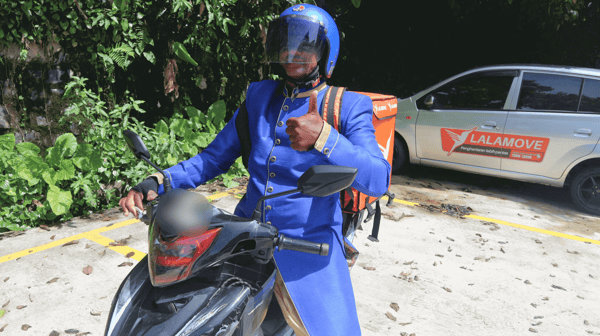 Can you share a little bit about your experience as a Lalamove delivery partner?
I've been with Lalamove since March and everything has been great for me.
The best part is my driver rating has already reached 5 stars!
I'd start my day as early as 9 AM to accept orders. I'd usually return home by 11 PM. Previously, I was with a few courier and delivery companies at once. After I joined Lalamove, I decided to focus my attention on Lalamove only.
As a Lalamove rider, I can earn up to RM20/hour on a typical day. On a good day, the total daily income could increase by 60%!
Delivering with Lalamove is fun and easy for me. I always go for small orders. Sometimes, I'd even accept delivery jobs with a fare as low as RM5.
I deliver to areas nearby my house. The furthest that I'd deliver is the areas around Petaling Jaya. There's no need for me to go to other areas I'm not familiar with just to earn more. Plus, Lalamove's app is easy to use, especially the e-wallet feature.
I've also met wonderful customers. Sometimes, they gave me tips and gas money. I've also received lunch and cakes from them. So far, my experience with Lalamove has been a blast!
Lalamove would like to wish a Happy Deepavali to our delivery partners who are celebrating the festival of lights! Your commitment to deliver joy and positivity is always valued, and we thank you for that.
Want to earn income full-time with Lalamove like Siran?
Join us as delivery partners today! Earn benefits such as flexible working hours, incentives and delivery partner rewards!