Interstate Delivery: Same Day Or On-Demand? It's Your Call!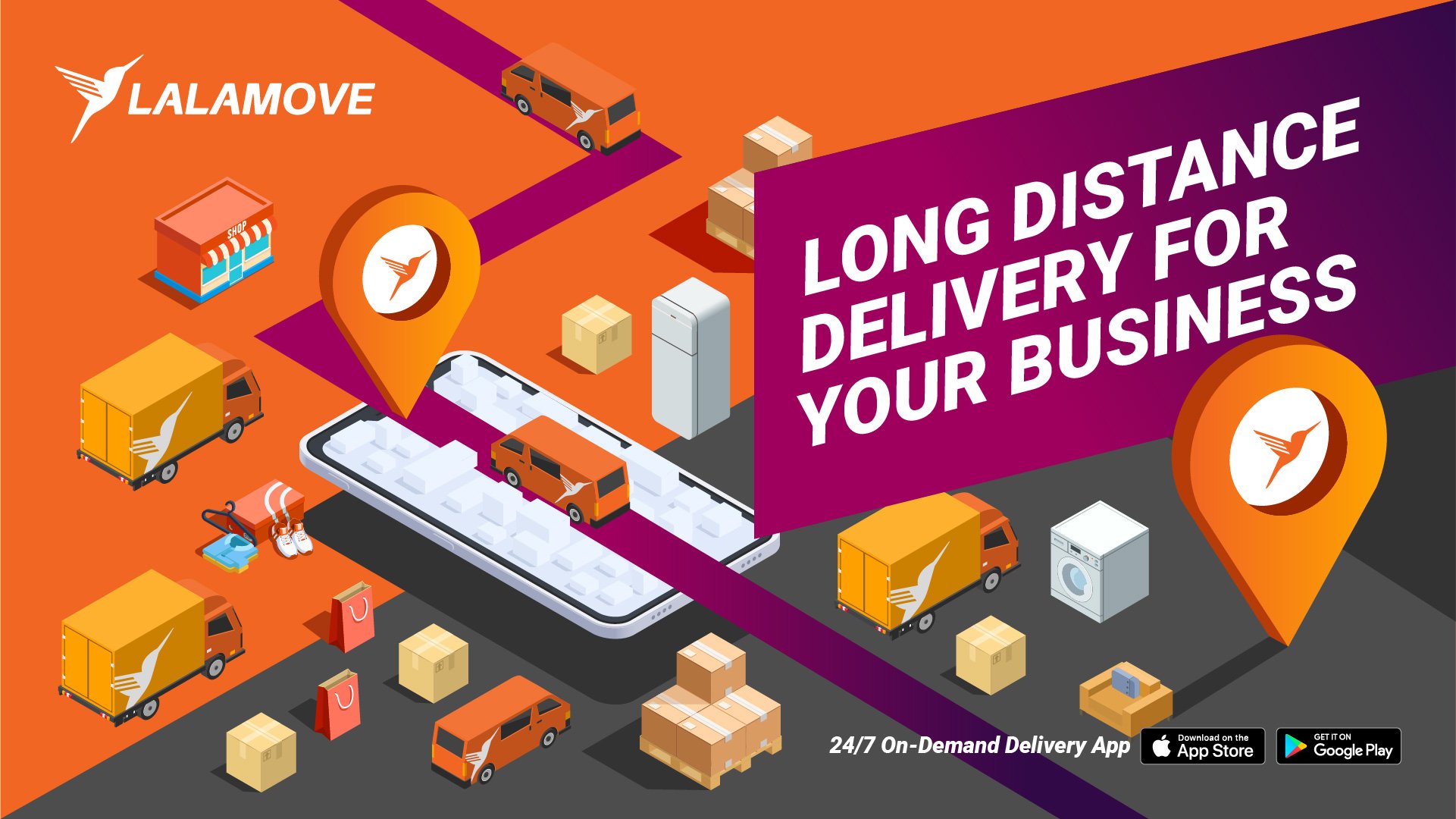 Did you know Lalamove offers interstate delivery with 4 x 4 Pickups, Vans and Lorries?
After two years of meeting the last-mile delivery needs of businesses in Klang Valley, Penang and Johor, we've set our sights beyond these cities to empower SMEs and MNCs with faster and simpler long-distance logistics solutions.
So if you're:
Just starting to grow your business beyond your home base
Looking for an on-demand delivery fleet to complement an existing supply chain
Need a long-haul delivery fleet without fixed contractual obligations
Need a cost-efficient long-distance delivery solutions
Then this article is for you!
Why Should You Deliver Interstate With Us?
Interstate delivery encapsulates more than just transporting your business' commodities to neighbouring states.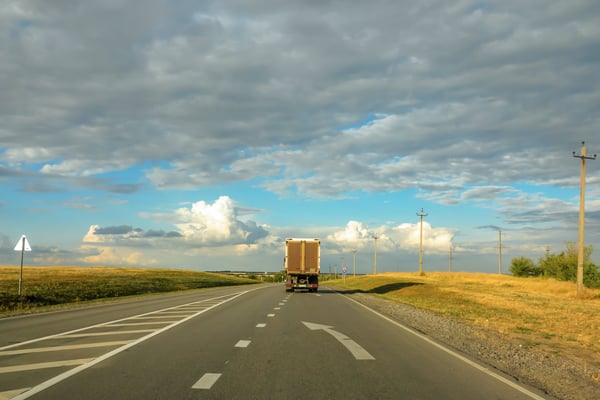 It may also help you to respond to market demand, allowing you to increase your market share and capitalise on your growing brand. This instance is especially true when a peak season to generate more sales is closing in.
Or you may want to boost your business' credibility by broadening the supply base to increase stability and profits.
Regardless of your drive to expand your business footprints, we're here to support you with interstate delivery service.
Here's what is in store for you if you partner with us for your interstate deliveries:
Flexible Arrangements
Ideally, long haul deliveries is a set of endeavours that require advance planning. The planning is determined by multiple variables, such as demand, availability of drivers, and the state of delivery vehicles.
However, there are instances where an opportunity presents itself, especially during peak seasons for your industry. A snap decision could make a huge difference in your business' turnover!
In this kind of situation, businesses that are fluid and agile will gain an upper hand in the market.
Lalamove's on-demand delivery model enables businesses to place a long-distance delivery order anytime. You can get matched with a 4 x 4 Pickup/Van/Lorry delivery partner instantly.
But hold up. Just because we're fast, it doesn't mean we're forgetting the traditional way to run things with long distance delivery!
Besides on-demand and same-day, you can also reserve our vehicle for interstate delivery up to 30 days in advance.
Plus, our crowdsourced fleet of professional drivers is always looking for the next big gig!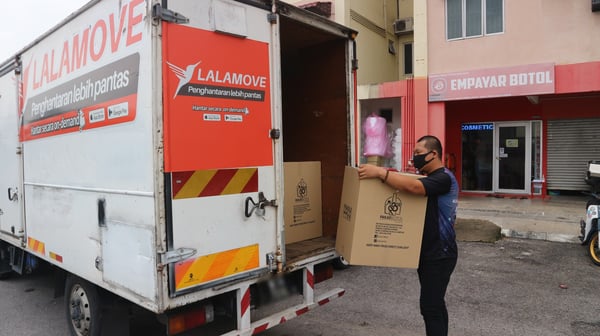 The further they drive, the more income they can generate in a trip.
It's a mutually beneficial agreement between our delivery partners and your business.
We'll get the job done according to your terms. And our delivery partners will be rewarded handsomely with the long road ahead to your destination!
Six Vehicle Types With Affordable Rates For Interstate Delivery
Depending on your business' industry, the payload for long-distance deliveries can vary from 250 kg to 4000 kg.
Our fleet of interstate delivery vehicles can meet the varying volume and size of commodities. From textile to electronics, hardware to raw edibles, and even construction materials to medicine, we can deliver them!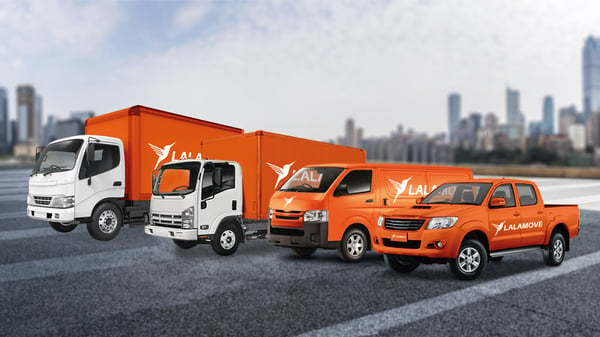 Plus, the rates for our interstate deliveries are affordable for long-distance deliveries.
While we've fixed the base fare for each vehicle type, you'll end up paying less for each subsequent kilometre.
Here's a summary of the fare for our interstate delivery vehicles: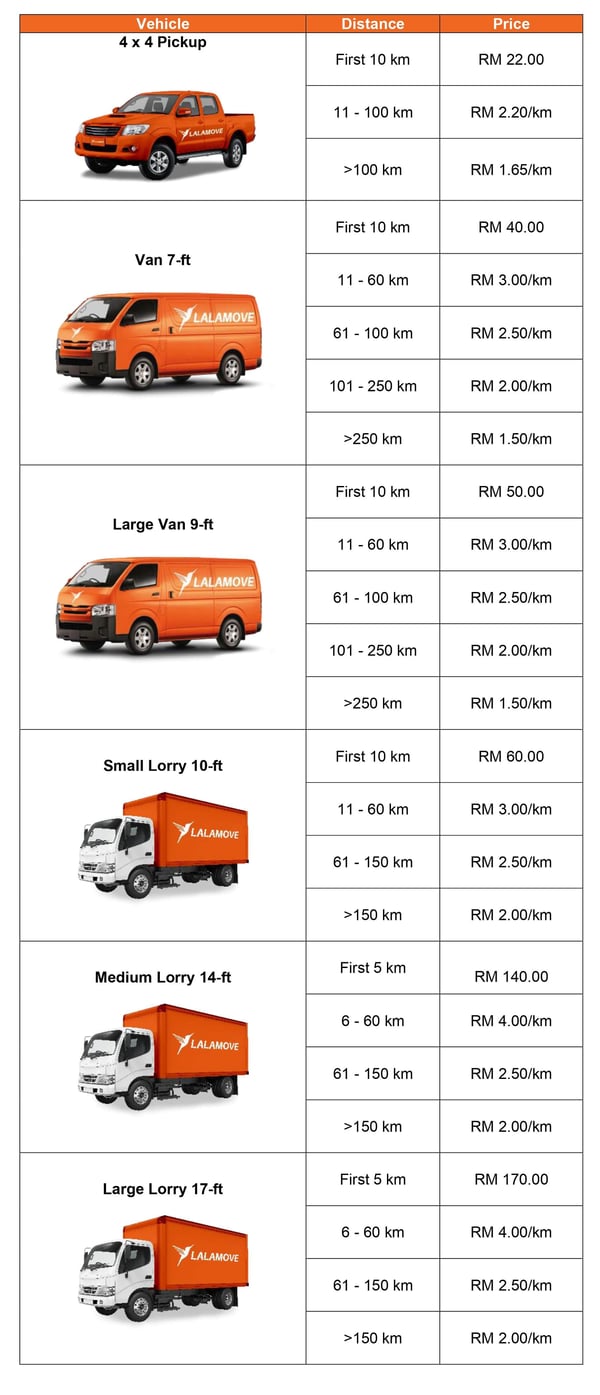 Transparent Pricing With No Fixed Contract
With Lalamove, there's no need to make a call to a customer service agent or fill in a tedious form to get a quote for long-distance deliveries.
Instead, you'll only need to pay based on the figure that our app shows you!
To learn more about our instant quote for deliveries, please visit our guide on placing an order on the Lalamove app.
Our app will display the cost for your interstate delivery after you assigned the pickup location, drop off location and vehicle type.
Here's an example of the fare with our Medium Lorry from Shah Alam Industrial Park to Pasir Gudang Industrial Estate: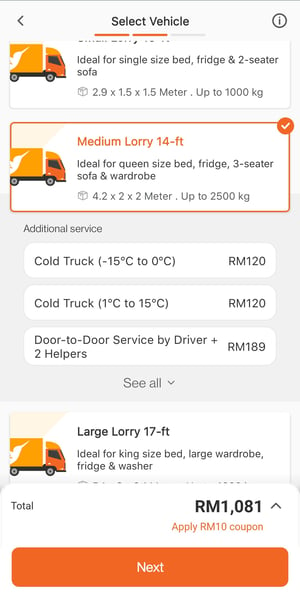 There's another advantage with Lalamove that contributes to a business' agility and staying lean:
You're not tied to any form of a partnership contract with us! In other words, you'll only need to pay for our delivery services when you need them.
Our pay-per-use model makes it easier for you to benefit from a flexible payment scheme, easier monitoring of expenditures, and zero risks of responsibility of maintaining a delivery fleet.
The only thing that you'll need to do is launch our app and place an order. We'll do the heavy lifting of delivering and driving the distance for your business!
Empower Your Business' Logistics With Our Interstate Delivery Service
Here's one final piece of information that you'll need to know before you place your delivery order with us:
The pickup locations for our interstate delivery service have to be in Klang Valley, Johor or Penang only at the moment, with more plans to open Lalamove branches in other states soon.
However, we'll be ready to embark on a cross-border delivery journey for your business to anywhere in West Malaysia.
Another tip to empower your interstate delivery with us is to sign up for a Lalamove business account.
With this dedicated account, you'll receive a greater degree of support for your logistics, be it a customised fleet, priority support from customer service agents, and monthly statements to your inbox!
Last but not least, if you're eager to give our interstate delivery service a shot, just download our app today and place your first order with us.