Khris From Halo Doughnut: Special Featurette For International Women's Day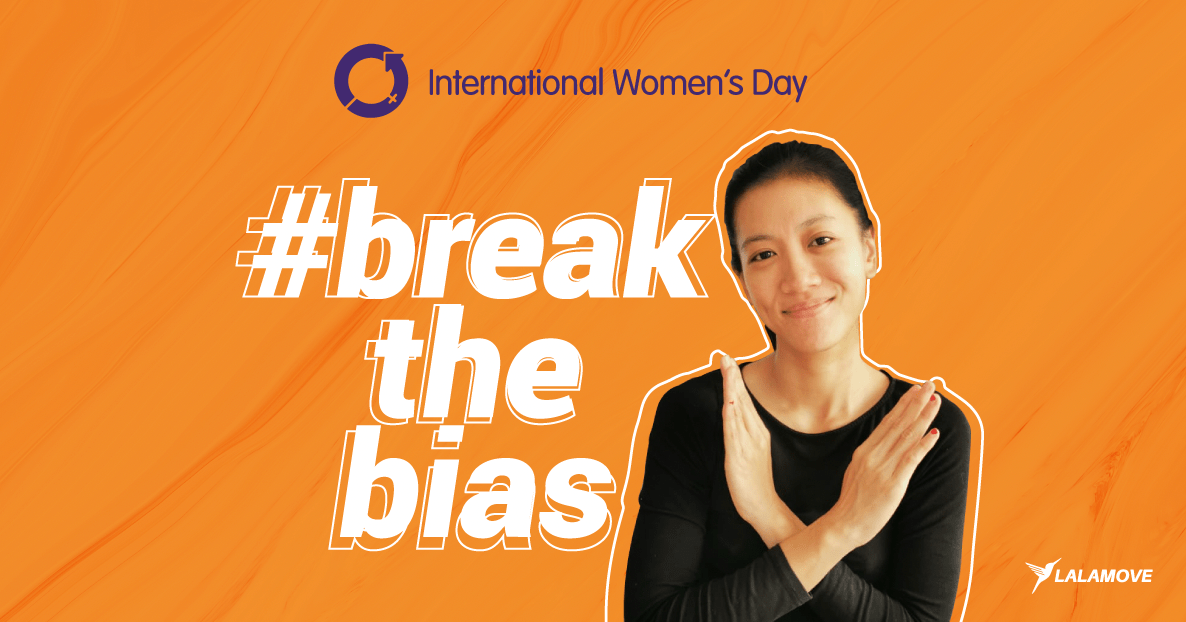 Here are some ways to express your solidarity for women's rights and equality on International Women's Day (IWD), which falls on 8 March:
1. Strike the IWD pose and share it on social media with the hashtag #breakthebias.
2. Compile a Spotify list of women empowerment anthems. We're talking about 'Survivor' by Destiny's Child, 'Roar' by Katy Perry, and 'Most Girls' by Hailee Steinfeld.
3. Pick a book by an influential woman author for doses of motivation in good and bad times!
For us at Lalamove, we're thinking more like treating ourselves to artisanal sourdough doughnuts on IWD.
But why doughnuts?
Besides obeying the universal truth of how essential doughnuts are to our happiness, we're also supporting a local doughnut enterprise!
It's one of the things we love to do here at Lalamove, which is empowering local businesses with faster delivery. On top of that, it's a call to celebrate IWD by interviewing a woman entrepreneur who has created a buzz around designer doughnuts.
Even though her business is only two years old, she's on the right track to achieve greater things.
Say hello to Khris!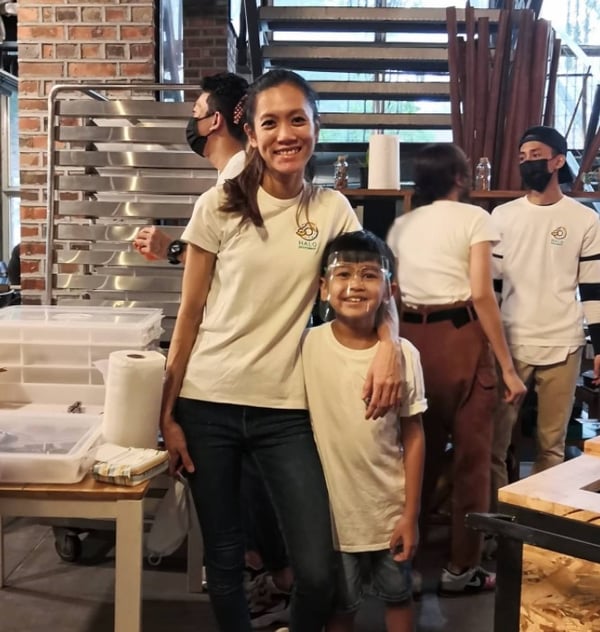 Khris is the co-founder of Halo Doughnut and the CDO of Halo Doughnut. That's Chief Doughnuts Officer for you (Okay, we made that up, and it's cringy. But it fits her well!)
In conjunction with IWD, we took some time off from our daily Lalamove-It tasks to chat with Khris.
Besides sampling some of Halo Doughnut's best offerings, we've got to learn more about Khris's story, her business and her opinion on IWD.
*The following interview has been edited for clarity.
We would like to know you more! Please give a brief introduction of yourself.
Thank you, Lalamove for dropping by to our humble lot in this cloud kitchen!
I'm Khris, the doughnuteer behind Halo Doughnut.
At first, baking was just a hobby for me. I've even enrolled into doughnut-baking classes to improve my baking skills.
I left my full-time job days before the first Movement Control Order (MCO) in March 2020. At that point, I filled my spare time by baking doughnuts and posting my creations on Instagram for fun.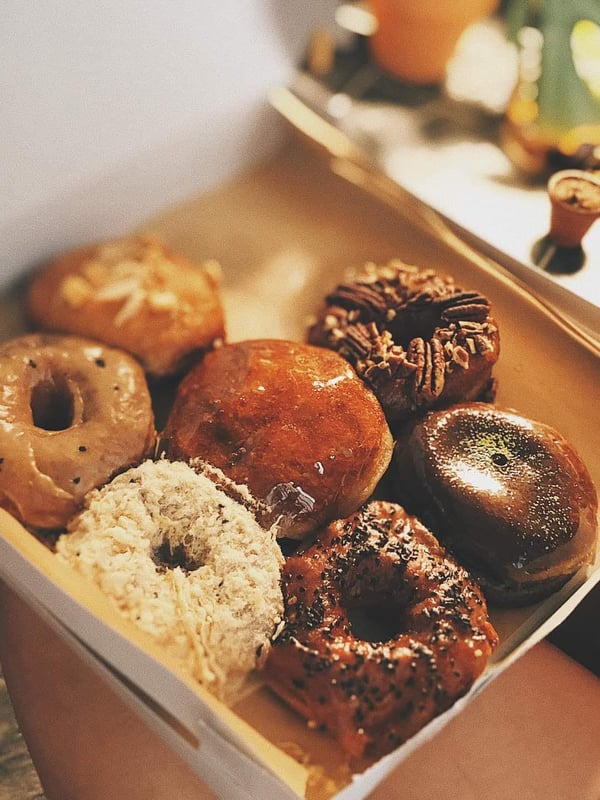 Some of my friends began to ask for samples. They loved my doughnuts, and the whole thing snowballed into an unexpected source of income from friends and mutual friends.
That's how I came up with the idea of launching my own brand of doughnuts with my husband, Raph.
So yeah, Halo Doughnut was born from my mum's kitchen in the middle of the first lockdown of our country! Since then, Halo has been scaling up steadily.
We're thankful for all the small wins and challenges that brought us here today.
We like your honesty and sense of humour with your 'Bloopers' IG story reel. Can you tell us which blooper is the funniest, and what is one most important lesson that you've learned from those bloopers?
This is hard to pick! All the bloopers are my favourites.
Just think of our bloopers like Jackie Chan's outtakes. He fights, jumps and somersaults like a superhuman in his movies.
But there are actually a lot of tries and errors in the bloopers during the movie's ending credits.
The same principle applies to our bloopers.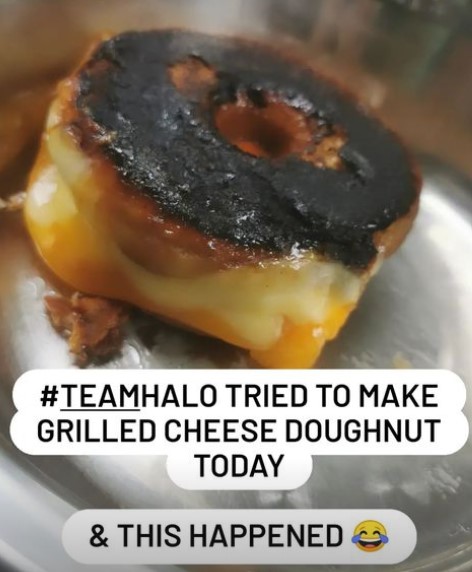 They show how we really are as people instead of presenting ourselves as invincible doughnut chefs. The fantastic thing is, our followers actually like us more when we post our bloopers!
So I guess it really pays to be yourself and not take yourself too seriously at all times!
What is Halo Doughnut's best selling flavour?
Burnt & Salty, Pilloughs and Baby Cinnamon Affairs.
When it comes to baking, which one is more important; imagination/creativity or strict textbook adherence? Why?
Both are equally important.
I usually start baking something new with strict textbook adherence. You can't go far if you don't appreciate the basics, like the ratio of ingredients for certain types of base dough.
I let my imagination and creativity go wild when I've mastered it. That's where the shape, colours and flavours come into play to create something unique.
From what we've learned, you were once a part of a workforce. But here you are today, running a growing doughnut enterprise! As a businessperson, what were the challenges when you transitioned from an employee to an entrepreneur?
I think it's overcoming my fears. When I was an employee, I only focused on my deliverables and deadlines.
But running my own business adds extra responsibilities to my plate.
The fear of being responsible for the welfare of my employees and the fear of the business's solvency rest solely on my shoulders.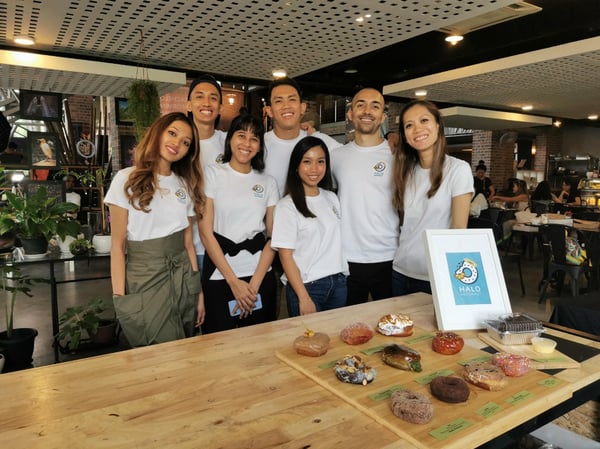 Now that Halo is almost 2, it's not as scary as I thought. I'm ready to face anything with our great team and Raph by my side!
What is your sweetest achievement so far with Halo Doughnut?
The sweetest achievement would be meeting strangers who tell us they love doughnuts from Halo without knowing we're Halo Doughnut.
Sure, favourable data on a spreadsheet is great. But nothing beats approval and love for our creations from real human beings!
How integral is Lalamove to the success of Halo Doughnut?
Since we operate from a cloud kitchen, I can't emphasise how essential a delivery service is to Halo.
For my part, I'm focused on the baking department and social media marketing. Raph's great on the tech side of things, and we plan our business journey together all the time.
But none of us has the expertise and hours to perform the delivery.
That's where Lalamove comes in with their delivery platform. We can rely on their app to secure a delivery driver whenever we need one.
Getting to pay for deliveries with Lalamove credits and receiving monthly statements facilitate the monitoring of our expenditures.
Another plus point is the absence of commission for Lalamove's delivery. We don't need to charge our customers with a pricey delivery surcharge.
The theme for International Women's Day this year is #breakthebias. In your opinion, what can be done to accelerate gender equality in the workforce and economy?
For me, it's more about starting them young.
Breaking the bias and promoting equality should start at home and school. Kids are more likely to absorb positive values in character-building lessons.
Plus, we need to groom girls to dream big and boys to respect women.
An early foundation in manners, a kind heart, and good decisions go a long way in raising upstanding citizens.
When kids are raised with these values, gender equality will be second nature.
We all have our heroes that we look up to as our role models. Who's your female role model who has inspired you?
My mother and my best friend, Sheelaa.
Finally, what's your advice to women who dream of running their own businesses?
Just do it!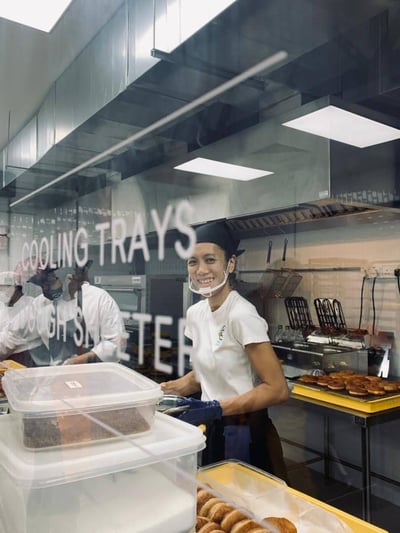 Make that dream come true by starting small. You'll never know where you might end up unless you try.
Otherwise, that dream of yours will remain a dream forever.
- End of interview -
Show some love to Khris by following Halo Doughnut and placing your order there!
For more details on how you can benefit from Lalamove's business deliveries (like Halo Doughnut), please visit our business page.
Read our companion piece on IWD here, where we spoke to our women colleague and delivery partners about what drives them to be the individual they are.