How To Request A Personal Shopper With Lalamove's Buy4U Service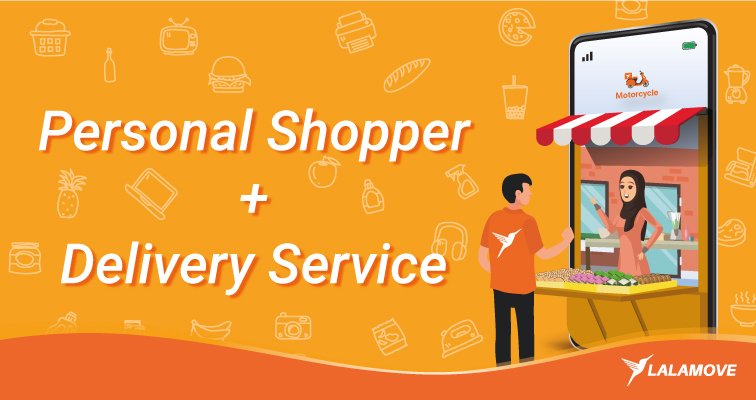 If going out for quick shopping isn't an option for you right now, then you'll love our Buy4U service! More than just delivering, our motorcycle delivery partners can be your personal shopper.
This personal shopper service is ideal to help you get essential goods like groceries, medical supplies and all kinds of goods from anywhere within Klang Valley.
Running low on pet food? Our courier can pick some from your preferred pet store. Do you have elderly relatives who are having difficulties getting to the supermarket? We can help you buy and deliver the essential supplies to them.
All you need to do is download the Lalamove app. Once you've signed up for an account, you'll be ready to set up your order.
Are you ready for a convenient shopping experience with our personal shopping and delivery service?
Just follow these 5 simple steps below. Lalamove will have the goods purchased and delivered to you in no time.
Buy4U Frequently Asked Questions
1. Can I buy anything with the Buy4U service?
Yes, you can! As long as you keep the purchasing budget within RM100 with a motorcycle delivery, you should be able to get anything that you want. Just take note that due to safety reasons, our delivery partner can refuse to buy and deliver any hazardous goods.
2. Can I use the e-wallet credits in my Lalamove app to pay for the purchased goods?
At the moment, you won't be able to use the credits in your Lalamove e-wallet to cover the cost of purchased goods. The credits are only meant for Buy4U and delivery charges.
3. How do I pay for the goods?
You need to reimburse our delivery partners with cash once our delivery partner shows up at your doorstep. You may also contact our delivery partner and request his/her personal bank details to transfer the reimbursement. Please request a receipt or other proof of payment from our delivery partner for the reimbursement amount.
4. How long will the whole Buy4U process take?
It depends on the number of goods on your shopping list and other factors, such as the queue at the cash register. A simple purchase at a convenience store (eg drinks, bread, snacks) can be done swiftly, while grocery shopping may take some time before we can pay for them and deliver the goods to your location.
5. How do I make sure that the delivery partner won't make a mistake with my shopping list?
Please remember to write the details of your goods as much as possible to avoid confusion. Details such as brand, price, and colour of the packaging will be helpful to our delivery partners. Additionally, you may personally contact our delivery partner to send photos of the goods for added peace of mind.
PS. Need a crash course on how to use the Lalamove app? Visit our step-by-step guide to use the Lalamove app.