Lala Auto: Get your secondhand vehicle from Lalamove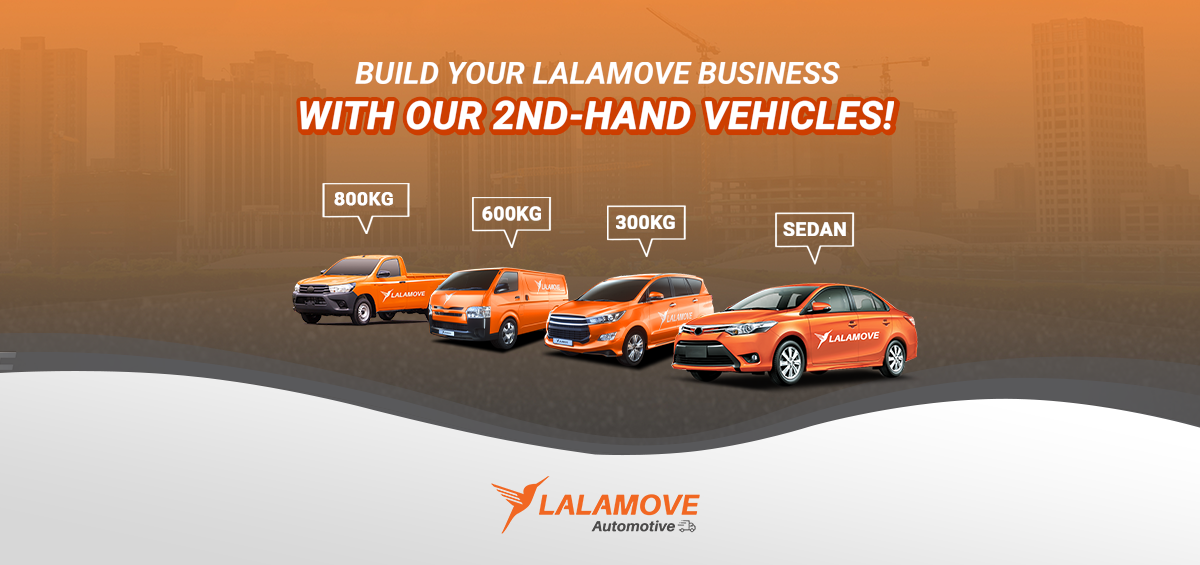 Want to kick-start your Lalamove business but don't have a vehicle? Or are you looking to earn from delivery rider jobs but don't know where to start? Worry no more, as there are now secondhand units available for you, Partner! Get approved for a car loan easily with less requirements and income/credit restrictions.
Get yours now!



About the Program



The SecondHand Vehicle Ownership Program is an initiative of Lalamove Automotive in partnership with participating secondhand dealers in making vehicle ownership for interested Lalamove Partner Drivers more accessible and possible by offering secondhand units.
Why should you get a secondhand unit?
Driver Benefits
Get approved for a car loan easily with less requirements and income/credit restrictions
Increase your household income
Fast and easy application and approval process
Flexibility to use the car for business and personal use
Safety and peace of mind while doing Lalamove deliveries (commercial use insurance coverage)
Platform Benefits
Enjoy exclusive discounts on items from LalaMall. Explore: www.LalaMall.com
Affordable comprehensive insurance premiums through Lala Auto insurance partners
Express Income, Easy vehicle accreditation and Driver Onboarding
LalaMall voucher worth Php 1,000 upon release of your unit
Who is qualified to get a secondhand unit?
Any interested individual looking for delivery driver jobs in Lalamove but has no vehicle
Any interested Partner Operator who wants to add a vehicle for Lalamove use
Existing Lalamove Partner Driver who wants to own or upgrade a vehicle
Once the vehicle is released, it can be used within the entire Luzon where Lalamove is serviceable. This program is not yet open to interested and existing drivers in Cebu.
What are the available secondhand units?

The program currently offers Sedan (200kg), MPVs (300kg & 600 kg), SUVs, and 800kg Pick-up (for Pampanga only) as vehicle offerings. These vehicle offers are coming from participating secondhand dealers based on unit availability.


To know more about the updated list of vehicle units offered, sign-up here: https://bit.ly/2ndHandSignUpForm

How much can I earn?
You can check our Delivery Pricing and Rates per vehicle type for Manila and Pampanga here: Pricing for Instant Courier & Delivery | Lalamove Philippines
To give you an idea on earnings, here is the average data on monthly gross income per vehicle type:
| | |
| --- | --- |
| Vehicle Type | Earn up to |
| Sedans | Up to Php 45,000 |
| MPV (300 kg) | Up to Php 55,000 |
| MPV (600 kg) | Up to Php 50,000 |
How to start earning after your secondhand unit is released?
Good news! You can start earning within 2 days! But before that, you need to undergo the following steps before you start earning with your secondhand vehicle:
STEP 1
Complete Driver Registration (via Driver App or Website)
STEP 2
Complete the Driver Requirements
a. Pass the Virtual Driver Training
b. Upload the Required Documents (Driver's License, ORCR, NBI Clearance & Letter of Authorization)
c. Upload Vehicle Pictures (Front, Sides, and Back)
STEP 3
Pay the required security deposit (Php 1,000.00)
STEP 4
Log-in to the Driver App and start taking orders
How can I sign up?
Click the button below to sign-up. Input all the necessary information and one of our sales representatives will reach out to you to discuss the details of the program:
About Lalamove Automotive & Ugarte Cars Manila
Launched in 2019, Lalamove Automotive or Lala Auto is the sister brand of Lalamove here in the Philippines offering brand-new, used, and leased vehicle financing options to help interested Lalamove Partner Drivers or Operators start a delivery business.

In this program, Lala Auto is currently in partnership with Ugarte Cars Manila and All Cars, known dealerships engaged in selling used and pre-owned cars.