Seamless On-Demand Delivery for Qarabao Clients with Lalamove API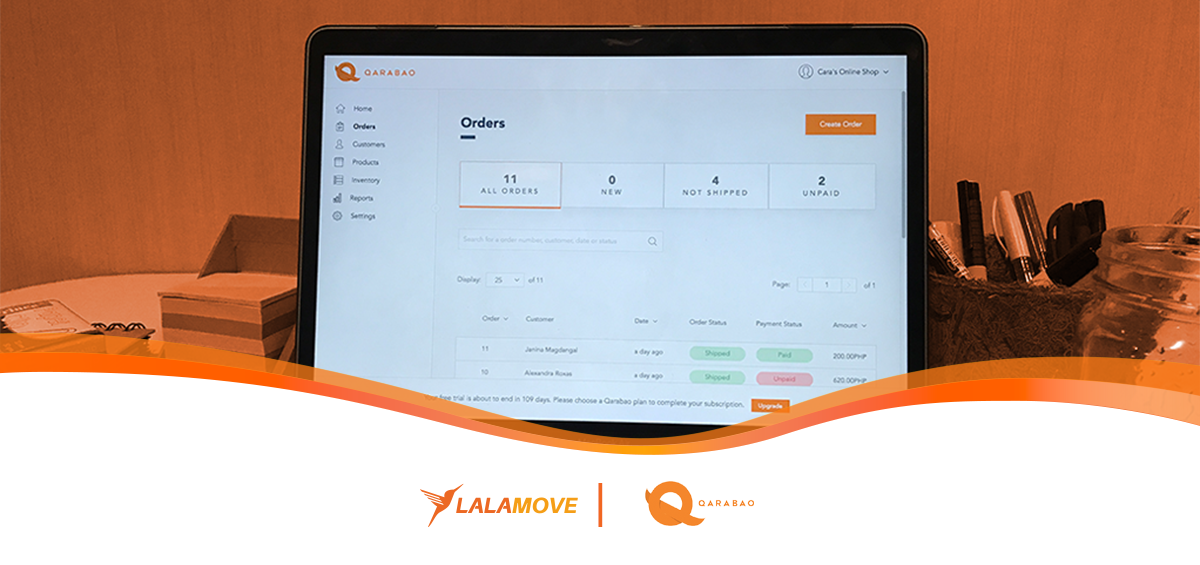 Starting an online business in the Philippines isn't difficult. Anyone who has access to the internet and social media can sell pretty much anything online. However, managing it could be challenging, especially for SMEs and MSMEs who have limited resources to support their businesses.
From making sure the inventory is up to date, to keeping tabs on customers' orders and payments, and even the logistical challenges of shipping products - all of that can be taxing for a small-time business owner. That's why Qarabao is here to help. Qarabao is simple, yet feature-filled M2M tool designed to help Filipino businesses simplify business management. And with Lalamove as their preferred on-demand delivery partner through API integration, Qarabao's about to bring even better services and flexibility to their customers.
Powerful API integration for delivery

Simplified delivery system for Filipino SMEs
Stellar client handling which made onboarding easier

To answer that seemingly overwhelming question, a group of marketing, tech, and content specialists decided that they would create a simple and intuitive all-in-one platform that can support Filipino SMEs and MSMEs with their day-to-day business operations? Thankfully, they didn't just stop at just thinking about it - they built it, and that's how Qarabao came to be! Although Qarabao is a relatively young platform, it was specifically built to solve the problems of the ordinary Filipino business owner. Their company's story starts 6 years ago when they developed a chatbot that allowed customers to check out orders, and owners to receive payments. Through many interviews with business owners from different industries (from beauty, food, hardware, T-shirt manufacturers and even farmers), they saw that Filipino businesses needed to optimize their daily processes.
So in 2018, with a young, talented and passionate team, they started developing features that would help businesses move from their "pen and paper" inventory, and "mano-mano" methods to finding efficient online payment and delivery options that would suit their preferences and industries. As the team knew they would be building an app that would take on carrying the heavy load for small Filipino businesses, they decided to call it Qarabao, a nod of respect to the original hardworking Carabao or Kalabaw. And today, for every person that has ever wanted to be a business owner, they can quickly and efficiently start that journey with Qarabao - an online business management tool that help SMEs and MSMEs in their inventory, order processing, payment management, customer relations, and even delivery and shipping.
"We wanted to share the good experience we had with our customers, and of course, we also wanted to have an initial partnership with a reliable market leader in delivery such as Lalamove"
- Mike Tiongson, CEO, Qarabao
THE CHALLENGES
The beautiful thing about Qarabao's subscription-based service, compared to online marketplace platforms, is that Qarabao doesn't get a cut from their customers' profits. After all, their mission is not to earn money from their customers' earnings, but to help businesses achieve efficiency and growth with the help of Qarabao. To increase profitability, many of their customers sell via their own website or social media account, alongside selling via online marketplaces. However, based on a surprising study by Qarabao, most of their customers make around 70 - 80% of their sales through their own website or social media platforms, which Qarabao hopes to increase by helping them achieve a smoother business process.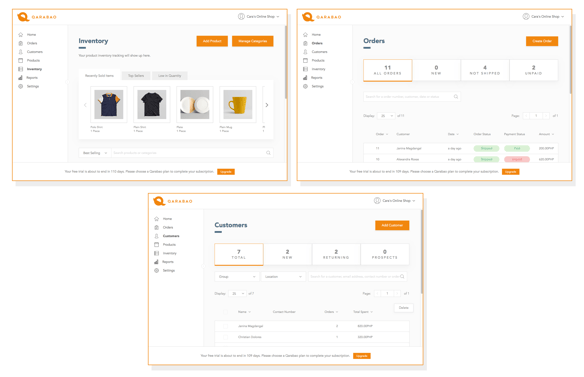 In less than six months, Qarabao was able to get more than 3,000 sign ups — a testament on how many Filipino businesses are craving for a feature-filled platform that can help them with their inventory, order processing, payments, and so much more. And to truly provide an end-to-end business solutions tool, Qarabao also connect their customers to reliable delivery service providers - and for them, Lalamove was the obvious on-demand delivery provider of choice.
THE SOLUTION
Qarabao understands that the Filipino business owner feels that delivering products is one of the most tedious parts of a transaction, which is why they have various delivery options in their platform that lets their customers tap different third-party providers. And with same-day delivery being in high demand today, Qarabao looked for an on-demand delivery partner that can provide them with a mature tech infrastructure to help them support their customers. Someone from their team who actually owns a business herself suggested Lalamove.
After a few talks and meetings, they were positive about it - Lalamove's API integration could solve their customer's demand for an on-demand delivery partner. With an API integration, a Qarabao customer must only apply for a Lalamove corporate account, then, they would be given an API key which they can input on Qarabao, and voila! They would be able to enjoy an automated booking process via Lalamove — no need to open Lalamove's web or mobile app as they can do it all in the comfort and familiarity of Qarabao's platform. And since it's integrated to Qarabao's system, everything from inventory, order processing, and payment are intuitively updated.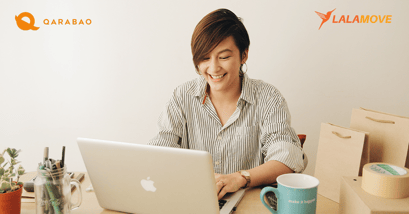 When we asked what made Qarabao choose Lalamove as their on-demand delivery partner, Mike's answer was simple. Aside from the fact that it was suggested by one of their colleagues who had a great experience with the service, Lalamove is also the market leader in delivery. "We wanted to share the good experience we had with our customers, and of course, we also wanted to have an initial partnership with a reliable market leader in delivery such as Lalamove" Mike told us. Aside from this, many of their existing customers also use Lalamove for their deliveries, so having it built-in on Qarabao felt like a must for Mike and his team.
Mike also mentioned how Lalamove's stellar client handling made the partnership so much easier to put together. Additionally, unlike many similar delivery platforms, Mike said that Lalamove's existing infrastructure made it easier for them to integrate the service to Qarabao. This was very important to Qarabao since it is the company's goal to provide a smooth and simplified business process to their customers. With Lalamove's API integration, Qarabao customers can now tap on the thousands of professional partner drivers on the road who can deliver their products fast and easy. With all of these, we are definitely looking at a very bright and fruitful partnership as both companies strive to empower local SMEs and MSMEs with cutting-edge but user-friendly technology so that they may grow their businesses.
THE RESULTS
As Qarabao's customers also becomes Lalamove customers, Mike said that they are confident that Lalamove can extend the same professional client handling that they have experienced. Today, in just about a month into Lalamove's launch in Qarabao's platform, there have already been a lot Qarabao customers who have inquired about Lalamove via Qarabao.
As Qarabao expands their features, with an online store, POS system, and their chatbot in the pipeline, Mike is positive about the company's bright and exciting future. Ultimately, Qarabao simply wants to be an effective tool for every Filipino that wants to become an entrepreneur. Qarabao believes that even small or medium-sized Filipino businesses can have the optimization systems that are comparable to the management tools of big corporations and offer it at the fraction of the price.
With this, Filipinos would hopefully discard their fear of starting their own business as they know that Qarabao will be there to support them. This is just the same as Lalamove's mission to empower local communities and entrepreneurs by providing them with fantastic delivery service which could help them scale their businesses faster. With these colossal and noble missions in mind, both companies are hoping for an even stronger partnership which would bring amazing business experiences to Filipino businesses from inventory to delivery.
Sign up for a 30-day FREE trial on Qarabao now and see how they can help you manage your inventory, order processing, payments, and delivery all in one convenient platform!
Want to simplified on-demand delivery with API integration, too?