Lala Auto: Lease a vehicle with us for Lalamove!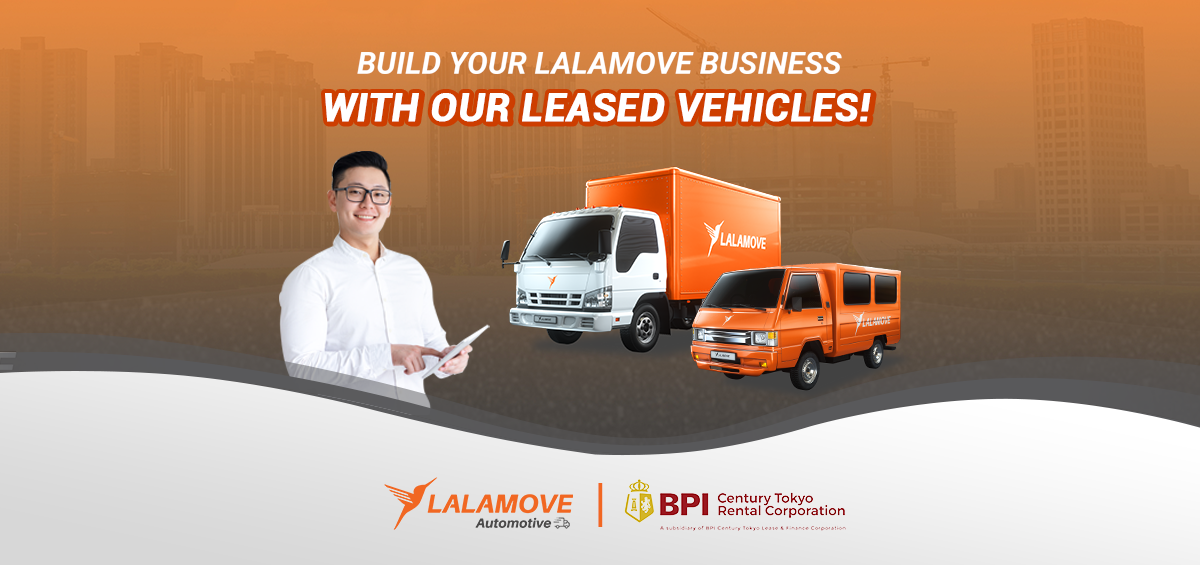 Are you a business owner looking for a new business venture? You can now lease a vehicle with us to start your Lalamove delivery business. This is a perfect opportunity to own a vehicle for Lalamove without the need to purchase right away. Get yours now!
CLICK TO SIGN-UP



About the Program



The Vehicle Leasing Program is an initiative of Lalamove Automotive in partnership with BPI Century Tokyo Rental Corporation. The program aims to help business owners (sole proprietors or corporations) lease a vehicle for Lalamove as a form of new investment to increase their collective income.
Why should you lease a vehicle?
Operator Benefits
Establish a stable source of income to allow drivers to purchase their vehicle in the future.
Join Lalamove without a vehicle or without the need to purchase right away.
Increase household / business collective income.
Less stringent and applicant process.
Minimal operational costs as the partner leasing company will shoulder the vehicle registration, maintenance, repair, and insurance for full-service leasing.
Enjoy exclusive platform benefits, such as discounts on items from LalaMall, Express Fleet Accreditation, Safety & Security, and Premium Merch upon unit release
Who is qualified to get a secondhand unit?
This program is currently open to business owners (sole proprietors or corporations) owning business/es with at least (3) years of operations who are looking for new investments by leasing a vehicle for Lalamove.

Once the vehicle is released, it can be used anywhere in the Philippines where Lalamove is serviceable. This program is not yet open for interested and existing drivers/operators in Cebu.

What are the available units up for lease?
The program currently offers Light Trucks (1,000 kg and 2,000 kg) and Large Trucks (6-wheels) that are up for lease.
Know more about our available units for lease by signing-up at: https://bit.ly/LeaseVehicle
How to start earning after your secondhand unit is released?
Good news! You can start earning within 2 days! But before that, you need to undergo the following steps before you start earning with your secondhand vehicle:
Frequently Asked Questions
1. Do you provide an Official Receipt for tax withholding?
Answer: YES
2. What is the initial term? Is it subject for extension and what is the maximum term?
Answer: The initial term is 5 years subject to extension for another 2 years.
The maximum term is 7 years.

3. Do you have the option to purchase the asset at the end of the term?
Answer: YES. You can also endorse someone to purchase the asset on your behalf.
4. Do you accept multi-brands?
Answer: YES


5.Does the monthly lease include the maintenance charges and vehicle insurance?
Answer: YES for full-service leasing.
6. Is there a minimum number of vehicles to rent?
Answer: NONE. No minimum and maximum number of units as long as approved using your credit line.
7. Can I apply for LTFRB Truck for Hire permit if the unit is leased/rented?
Answer: YES. The ORCR will indicate as owned by Lessor and leased to Lessee.


8. Is the guarantee/security deposit applicable per unit?
Answer: YES.


9. Is the guarantee/security deposit refundable?
Answer: YES. If a unit is purchased, the deposit fee will be deducted from the purchase price.

How much can I earn?
You can check our Delivery Pricing and Rates per vehicle type for Manila and Pampanga for 1,000 kg and 2,000 kg vehicles here: Pricing for Instant Courier & Delivery | Lalamove Philippines

To give you an idea on earning, here is the average data on monthly gross income per vehicle type:


| | |
| --- | --- |
| Vehicle Type | Earn up to |
| 1,000 kg | Up to Php 80,000 |
| 2,000 kg | Up to Php 170,000 |
How can I sign-up?
Click the button below to sign-up. Input all the necessary information and one of our sales representatives will reach out to you to discuss the details of the program:
About Lalamove Automotive & BPI Century Tokyo
Launched in 2019, Lalamove Automotive or Lala Auto is the sister brand of Lalamove here in the Philippines, offering brand-new, used and leased vehicle financing options to help interested Lalamove Partner Drivers or Operators start a delivery business.

In this program, Lala Auto is currently in partnership with BPI Century Tokyo Rental Corporation, a subsidiary of BPI Century Tokyo Lease & Rental Corporation. Visit https://www.bpict.com.ph/ for more info.