Panalomove: 10% Vehicle Repair Discount mula sa AutoPro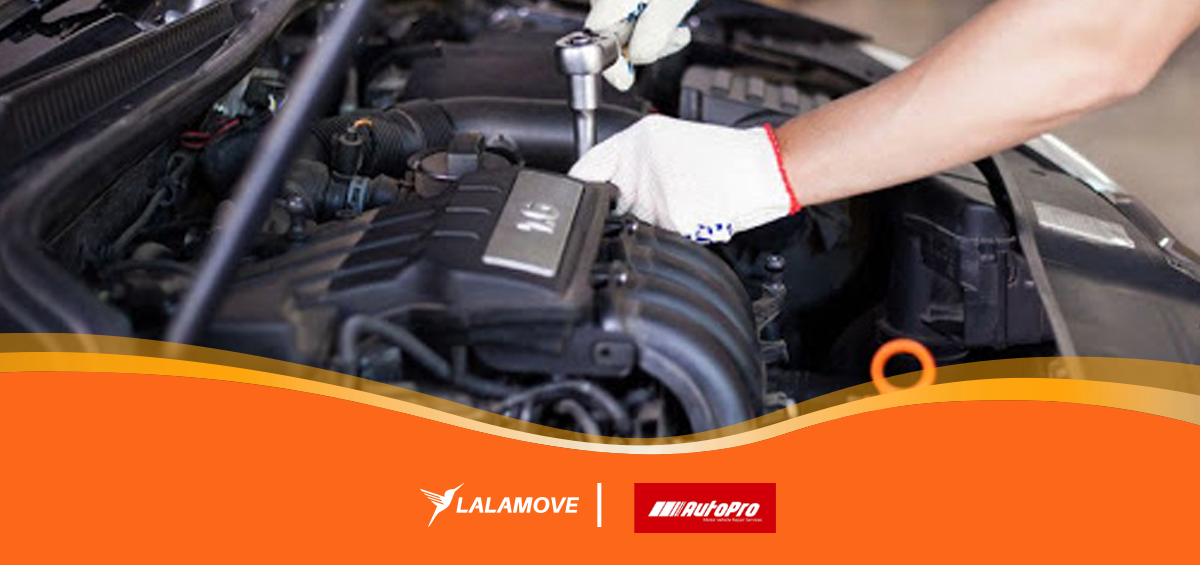 Hatid ng Lalamove at AutoPro ang hanggang 10% discount sa vehicle repair services para sa lahat ng Lalamove Partner Drivers! Gamit ito, mas lalong masisigurado na swabe ang biyahe ng mga Partners sa kada-delivery. Tingnan ang buong detalye ng delivery driver job benefit na ito:
ANO?

10% discount sa vehicle repair services

SINO?

Lahat ng Lalamove Partner Driver (Motorcycle, Sedan, MPV, Small Truck, Medium Truck)

PAANO?

1. Tumawag sa alinmang contact number ng AutoPro at mag-book ng appointment:
Contact Person: Ann or Myryn
Globe: 0956-253-1501
Smart: 0961-794-6399

2: Pumunta sa AutoPro sa na-schedule na petsa at oras:
Address: 1st Drive, Airmens Village, Mabiga, Mabalacat City, Pampanga

3: Ipakita ang iyong digital o physical Lalamove Driver ID (buksan ang Driver App > Pindutin ang Profile > Pindutin ang iyong photo)
* cash payment only
Gusto mo bang makita ang iba pang Panalomove?
Tingnan ang mga panalong presyo ng vehicle repair services na pwede mong ma-avail, Partner!


DESCRIPTION OF LABOR
DISCOUNTED PRICE (For Lalamove Partner Drivers
Diagnostic Fee
₱720
Engine Wash
₱450
Horn Installation
₱720
Dash Cam Installation

₱

720
Parking Sensor Installation
₱720
Headlight/Foglight (Bulb Replacement)
₱270
Aircon Service: Dual A/C with Freon
₱4950
Aircon Service: Sedan (Latest)
₱3150
Aircon Service: Sedan (Old)
₱1800
Tune-up Calibration (SUV)
₱2250
Brake Service (Per Tire)
₱225
Belt/Alternator/Power Steering/AC Service
₱270
Power Window Service
₱540
Stabilizer Link Replace
₱540
Rear Wheel Bearing Replace (Per Tire)
₱540
Shock Absorber Replace (Per Tire)
₱540
Elbow Replace
₱360
Trunk Cable Replace
₱540
Master Slave Replace
₱360
Timing Belt Replace
₱3150
Timing Cover Replace
₱720
Brake Master Repair
₱225
Brake Pads Replace (Per Tire, w/o Brake Cleaner)
₱270
Radiator Replace
₱540
Valve Gasket Service
₱360
Mounting Alternator
₱360
Dismounting Alternator
₱360
Mounting & Dismounting Alternator
₱720
Coolant Flushing
₱360
Brake System Flushing
₱360
Power Steering Flushing
₱360
Rotor Repace
₱405
Pulldown Alternator
₱720
Drive Belt Replace
₱540
Replace Sway Bar Bushing
₱270
Heat Plug Installation
₱270
Service and Repair Alternator Bracket
₱810
Reseal Oil Pan
₱360
Replace Fuel Filter
₱360
Service And Repair Shifter Mechanism
₱1170
Replace Hand Brake Cable
₱270
Replace Brake Shoe Rear
₱270
Service and Repair EGR
₱360
Handbrake Adjust
₱270
Carboretor Cleaning
₱360
Replace Pipe Assembly
₱360
Replace Spark Plug
₱315
Replace Fan Belt
₱270
Radiator Installation
₱540
Installation of Power Amp
₱900
Replace Wiper Linkage
₱360
Bumper Installation
₱315
Replace Head Gasket
₱2700
Freon Charging
₱540
Replace Suspension Arm Bushing
₱720
Replace Shock Absorber
₱540
Replace Axle Oil Seal
₱405
Replace Stabilizer Bushing
₱270
Replace Lower Arm Suspension
₱540
Top Up Transmission
₱810
Repair Power Window Cable
₱450
Replace Ball & Socket
₱270
Refill Oil Compressor
₱720
Central Lock Installation
₱720
Pull Down Transmission
₱3150
Replace Universal Joint
₱540
Service and Repair Shifter
₱810
Service and Repair Handbrake
₱630
Service and Repair Accelerator Pedal
₱630
Service and Repair Rack & Pinion
₱1800
Replace Rack End
₱360
Replace Shifter Cable
₱1080

*Please note that price may vary according to the make/model of the vehicle and/or the damage of the vehicle
CHANGE OIL PRICELIST

DESCRIPTION

DISCOUNTED PRICE

Sedan 4L
AISIN Semi Synthetic Oil
₱1700
AISIN Fully Synthetic Oil
₱2000
SUV 7L
AISIN Semi Synthetic Oil
₱2600
AISIN Fully Synthetic Oil
₱3100
Sedan 4L
MOTUL Multigrade Plus
₱1950
MOTUL Multipower
₱2500
SUV 7L
MOTUL Multigrade Plus
₱2900
MOTUL Specific CRDI
₱5700
Change oil labor = ₱400 only (Bring your own oil and oil filter)


* Please note that price may vary according to vehicle type
Ayos 'di ba? Ito ang delivery driver job na para sa'yo! Gamit ang discount na ito, mas mapapadali at swabe ang iyong kada-biyahe, Partner!
Gusto mo rin ba ng delivery driver benefits?