Panalomove: Savings sa Motorcycle gikan sa CitySavings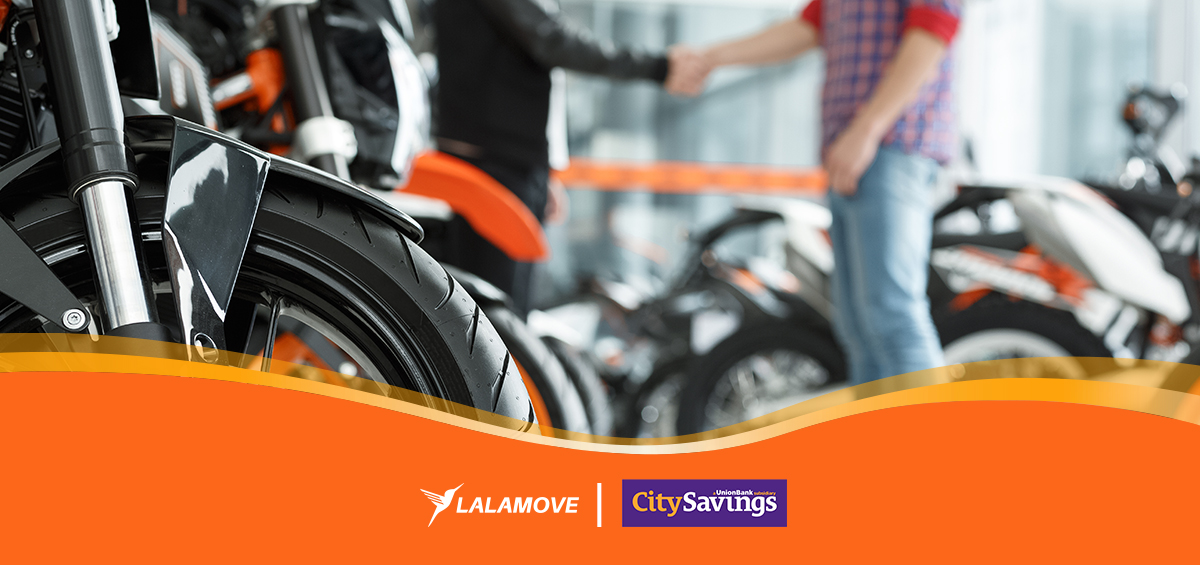 Ganahan ba ka nga i-upgrade ang imong motor, Partner? Kaya na kaayo na kay kung mupalit ka sa among accredited dealer-partners gamit ang CitySavings nga payment channel, pwede na nimo makuha ang imong motor for as low as 6% downpayment! Naa pay ₱300 monthly rebate kung makabayad ka on or before sa imong due date.
UNSA?

Hangtud 6% downpayment sa bag-ong motor kung gamiton ang CitySavings as payment channel sa accredited dealer-partners

KINSA?
Tanan nga Lalamove partner drivers

UNSAON?

1. I-fill up ang form.

2. Huwat ug tawag gkan sa City Savings Bank Associate na mag-set og personal nga meeting nimo para sa online on-boarding via Loan Origination System (LOS)

3. Ipakita ang imong Lalamove ID, Lalamove Driver App with Verified Note (Settings > Account Information > "Your account has been verified."), ug duha ka valid government IDs.

4. I-eevaluate ang imong credit sa loob ng isang araw.

5. Kung, a-approve, bayaran ang downpayment sa bisan asa nga CitySaving branch.

6. Ang remaining balance kay i-settle sa City Savings Banks, o PERA HUB
Gusto ba nimong makit an ang uban pang Panalomove?
Mao ni ang breakdown sa imong downpayment options:
| | |
| --- | --- |
| Downpayment | SRP |
| as low as 6% of SRP | below ₱89,000 |
| as low as 10% of SRP | above ₱89,000 |

Naa sad kay option nga taasan ang imong downpayment hangtud 30%, para mas gaan sa bulsa ang imong monthly.
Pagkahuman kay huwat lang ug tawag gikan sa representative sa CitySavings sa sulod sa 24 oras para mahibaw-an ang sunod nga buhaton para makuha ang imong benefit. I-check na ang motor na pwede nimo makuha sa mas maayo nga presyo:
HONDA

NEW CLICK 125 | STANDARD

WAVE 110 DISK

XRM DS FI

NEW CLICK 150 | STANDARD

WAVE ALPHA MAGS

CB125 KICK

ZOOMER X

WAVE110 ALPHA SPOKE

CB125 ELECTRIC

BEAT FI COMBI

CB150RH

CB150 LK

BEAT FI COMBI ISS/CBS

CB150RH Fi

CB250 STANDARD

NEW BEAT COMBI (PREMIUM)

CB150RH Fi (REPSOL)

HONDA NEW CRF 250 RALLY

BEAT FI STANDARD (NEW)

NEW TMX125A

RS150RH

BEAT FI STANDARD (FASHION S)

MOTARD FI

NEW RS150

BEAT FI STANDARD (STREET)

NEW XRM EXTREME

NEW RS150R REPSOL

WAVE 110 DRUM

NEW XRM125 RALLY

RS150R SPECIAL TYPE

HONDA PCX 150

XR150LEKJ

RS150R STANDARD (NEW)

SUPREMO

XRM RS125 FI

RS150R
KAWASAKI

W175 2019

7400 SPECIAL EDITION

W250L

FURY SPOKE

Z125

FURY MAGS

Z300

BARAKO KICK

NINJA300 STANDARD

BARAKO ELEC.

NINJA300 WINTER TEST

CT100

NINJA 400 STANDARD

CT100B

NINJA 400 KRT

CT125A

KSR 110 PRO

BOXER 150

VERSYS X 300

DOMINAR 400

KLX140

ROUSER160

KLX150 LW

ROUSER NS200 FI

7400 STANDARD

ROUSER RS200
SUZUKI

RAIDER J FI SPOKE

AX4

RAIDER J FI MAGS STAN.

GD110

RAIDER J 115 FI PREMIUM

GIXXER150 FI

RAIDER J FI MOTO GP

GSX150-R FI

RAIDER150 CARBURETOR

GSX-2150-ABLK

RAIDER150 COMBAT SERIES

GSX-S150 FI NAKED

RAIDER150 FI

GSX-S150 FI MOTOGP

RAIDER150 MOTOGP

GSX15 FI MOTOGP

SHOOTER FI MAGS

ADDRESS

SMASH SPOKE

SKYDRIVESPORTS

SMASH DISC

SKYDRIVE FI
YAMAHA

FZ I

NEW MIO SPORTY EURO 3

VEGA FORCE I

AEROX

MT-15

YAMAHA XMAX 300

YAMAHA AEROX

NEW NMAX(ABS)

SEROW

YAMAHA MIO AEROX

NMAX NEW VERSION (NON-ABS)

XTZ125

YAMAHA MIO AEROX S

SIGHT CAST

YTX125 BR2100

AEROX MOVISTAR

SIGHT SPOKE

R3

YAMAHA NEW MIO AEROX I 125

YAMAHA NEW SNIPER 150

YAMAHA NEW MIO AEROX I 125S

SNIPER150 MX MOVISTAR

YAMAHA R15 MOVISTAR

NEW SOUL I 125

SZ16 CARBURETOR

R15 MOVISTAR

YAMAHA MIO SOUL 125

NEW TFX150

R3 MOVISTAR

NEW MIO SOUL 1 125S

YAMAHA TRICITY

YAMAHA MIO SOUL I 125's

VEGA DRUM
Gusto sad ba nimo og delivery driver benefits?