Are you using Lalamove solely to deliver a single item from point A to point B? If you are, then you've made the right choice! But as it turns out, there's more to our app than one-way deliveries. Here are a few tricks up our sleeves that you can use to optimise the Lalamove app:
#1: Multi-stops
Did you know you can save up to 50% of your time and money when you request multiple deliveries in one trip instead of requesting separate deliveries? Just press the '+' icon in the app to add multiple address if you need to deliver to more than one destination.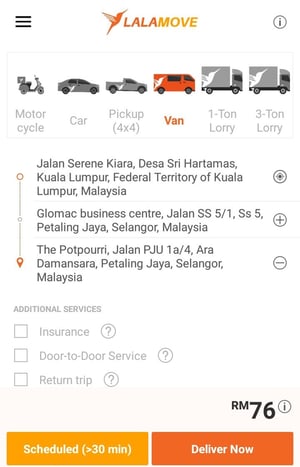 #2: Remarks section
Getting a delivery driver or rider that can't fulfil the finer details of your delivery request is a bummer. Avoid the frustrations that come with this territory by writing down your requirements in the 'Remarks'. The content in 'Remarks' will be visible to our delivery partners for their attention.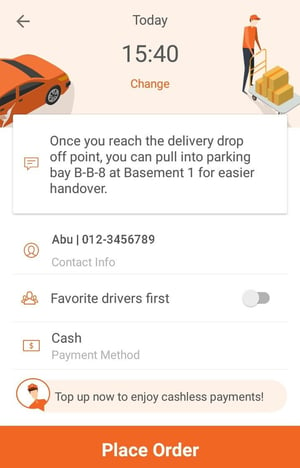 #3: Medium to large vehicle for moving
Moving a computer desk? Need to deliver a queen-size bed from the furniture mall to your house? Or finally moving from a rented house to your dream house? Lalamove has a complete range of vehicle to meet your large-scale deliveries and moving needs.
Choose from our van, 4 x 4 pickup truck, 1-ton lorry or 3-ton lorry that is compatible with your inventory. Budget-wise? Ours is competitively priced! Head on over to the price comparison between our lorry delivery service and our competitors in Klang Valley for more details.

#4: Cheaper and faster delivery
The delivery landscape has drastically changed over the years. A decade ago, you had to pass your items over the counter at the post office or courier office to deliver them. Same day delivery was virtually unheard of as the fastest delivery back then was next day delivery. It costed an arm and a leg if you need to get it across faster than 24 hours!
With Lalamove, we're giving you the convenience of an on-demand delivery according to your timeframe. Next day delivery? Or delivery within the hour? It's your call, and it'll only cost you from RM5.00 with our motorcycle delivery and RM20.00 for a 4 x 4 pickup truck delivery.
#5: Insurance coverage
Need a safety net for your valuable cargo in our lorry? Don't forget to purchase our insurance coverage before you place your delivery order with us! Our insurance premium starts from RM4 to all the way to RM100,000 coverage with RM200 premium. If you're relying on our vehicles for your business deliveries, this feature is indispensable if the Murphy's Law decided to strike. Click to learn more about our insurance coverage.
#6: 24 hours, 7 days a week
Since we don't operate based on the 8-to-5 timeframe, you can rely on us to get that package delivered anytime of the day. To us, there's hardly a difference between a 6am delivery and a 6pm delivery.
#7: 6 types of vehicle
Select the best vehicle for your needs and inventory, be it a motorcycle, car, van, 4 x 4 truck, 1-ton lorry or 3-ton lorry. That's how you maximise the space of your selected vehicle to get your items across quicker and efficiently.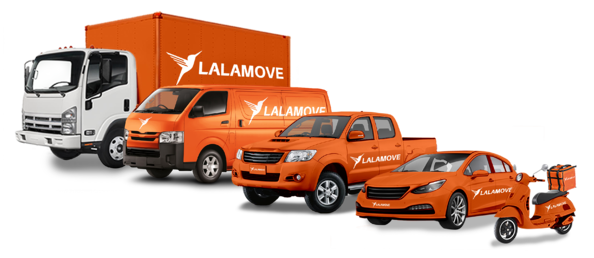 Are you ready to Lalamove it? Download our app today for instant and scheduled delivery!