Whenever you're about to place a delivery order, have you ever asked yourself these questions?
1. Will the items fit in the vehicle?
2. If it fits, will the items get damaged during loading, in transit and unloading?
3. If you're in the food and beverage industry, will the items spill, melt or spoil?
If you're asking these questions, you're on the right track. It makes total sense to get your money's worth with cost-effective and timely deliveries.
So without further ado, here are three tips to help you pick the right vehicle for your delivery:
1. One Vehicle, Multiple Deliveries
If you have a few deliveries to make but you're short of time and bounded within a specific budget, we have a solution for you. Consider Lalamove's multistop feature.

Multi-stop is a feature in the Lalamove app that allows you to arrange up 19 delivery drop-offs in one order. This enables you to save the time to place multiple orders separately and the cost of all the deliveries combined.

Want to know more about Multistop delivery? Here's an article to learn more.

2. The Right Vehicle The Right Size
It's not worth it to squeeze your big items into a smaller cargo space just to save a few Ringgit. You'll probably end up with one of these three situations:
1. Your items can be damaged if you're forcing it into a tight space
2. Delay in delivery due to switching to a larger delivery vehicle at the last minute
3. In a rare but plausible occasion, the authorities might stop your delivery vehicle for hauling items beyond its intended limit


At the end of the day, you lose more than the delivery fee that you're trying to save. So what can you do about it?
For one, you can double-check the compatibility between the dimension of your items and the cargo space of the selected vehicle. The outcome from this simple homework could be the difference between going through the trouble of switching to another vehicle or a seamless delivery experience on the first attempt.
Not sure if your items can fit? Here are the dimensions of the cargo space for our delivery vehicles: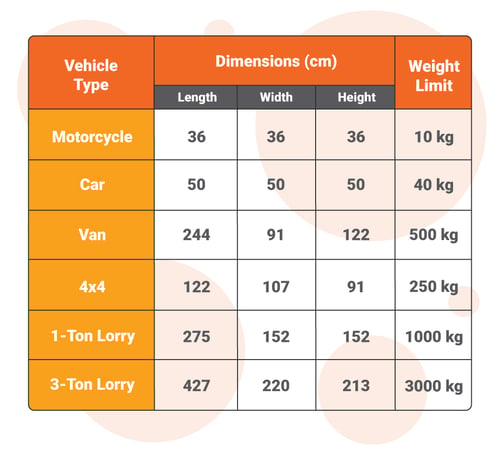 If you're still unsure of the right vehicle for your delivery, simply contact our customer service at 03-7688 6555. They're more than happy to do the hard work of figuring out the best solution for you!
3. Bonus tip: The best vehicle for fragile item
Delivering with a motorcycle is the best way to sort out your delivery in record time. And yet, being fast isn't always a priority. There are times when all you need is your item to land safely in the recipient's hand in one piece.

If you're in the food and beverage industry or frequently deliver fragile items, you'll definitely need a more grounded vehicle for the job. The last thing you want is a spoiled birthday surprise due to a damaged cake or being greeted with pieces of valuable ceramic due to the negligence of the motorcycle delivery rider.

Here are some sensitive items that you might want to deliver with our car. If you have more of them, you can choose to deliver with our van, 4 x 4 truck or lorry: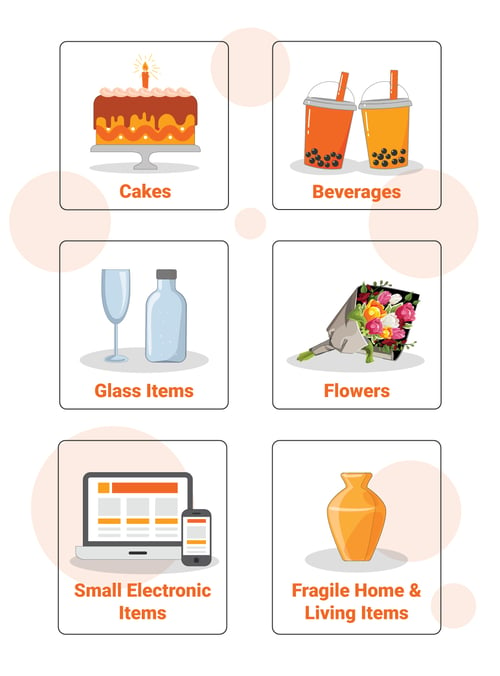 Always remember to consider these two points before you deliver. This habit could save you a lot of trouble and unwanted cost.

"A shortcut is the longest distance between two points."
- Charles Issawi

Still not sure about the best delivery vehicle for your needs?
Be a Lalamove Business Users
Get prioritised delivery support when you sign up for a Lalamove Corporate Account! And that's just the tip of the iceberg of the Lalamove Corporate Account's perks!

Are you interested in our Corporate Account? Tap on the button below to reach out to our Key Account Managers for further details and sign up.