We think you'd agree with us that working from home could be a double-edged sword. On the bright side, you'll get to save on parking fee, fuel expenditure and avoid the notorious traffic gridlock.
But the grass isn't always greener on the other side, isn't it?
Suddenly, you realised that your kids (or your pet) crave for attention the moment you switch on the laptop. Loneliness begins to creep in, especially for the extroverts among us. The urge to binge-watch Netflix shows fights for dominance against the urgent task of completing the sales presentation deck.
But look at it this way:
Putting the 'pro' in productivity when you're working from home is actually easier than you think! All you need is just a little bit of discipline to slip into the routine of remote working and adopt a suite of digital tools to stay on target.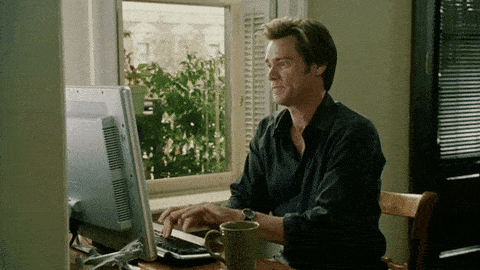 In this blog post, we're going to share 5 working from home tips that will help you to fulfil your KPI and take on the world. All this without leaving your doorstep!
Working From Home Tip #1 - Get Into The Right Frame Of Mind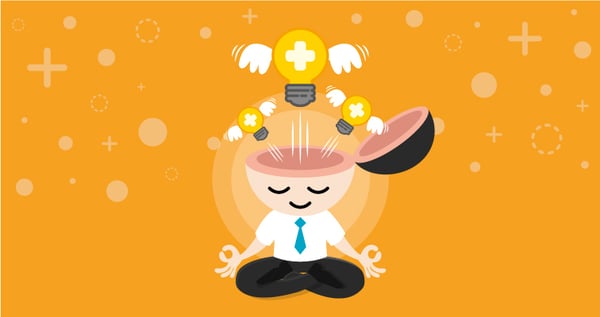 When the line between office and home gets blurred, it's easy to default to the comfort zone of the latter.
Herein lies the root problem of reduced productivity when working from home. Just because you can lounge around in your pyjamas doesn't mean you actually should!
Take the first step into the right frame of mind by adhering to your regular wake-up alarm. Take a shower and dress comfortably. Enjoy a cup of coffee/tea, and breakfast like you usually do before you sit in front of the monitor.
More importantly, you should treat the next 8 hours like an actual routine at the office. Don't forget to treat yourself with the usual 1-hour lunch break!
A few short breaks for snacks and taking care of your family and household needs won't do any harm as long as you keep the pace of things in check.
Working From Home Tip #2 - Create A Dedicated Working Space
Look, we've all done it once or a few times when we're working from home.
The moment we wake up, it's tempting to just prop the laptop on the lap or on the bed to clock in for the day's work. Bad news! It's one of the cardinal sins of working from home.
You need to get out of the bed to take things seriously!
To be fair, not everyone has a designated home office, but it's critical to have a private, quiet space for your work. Investing in an ergonomic chair, a proper work desk and laptop/desktop stand will do wonders, but a decent chair and desk work fine too.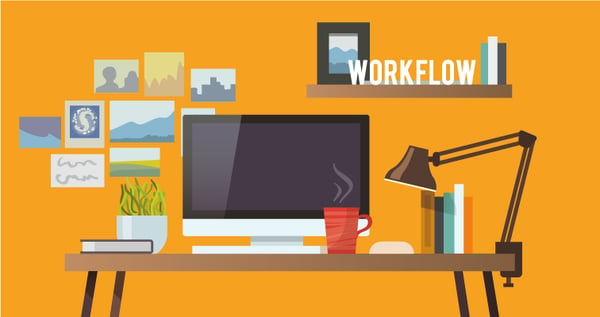 If you can, consider separating a dedicated work area from your personal spaces.
Draw the line of your work area when you're working from home. Inform everyone in your home that this particular space is your 'zone'. This is the 'zone' where a part of you shoulders the responsibility of meeting office deadlines.
Additionally, it goes without saying that this work from home tip has to work hand in hand with the first tip to build a solid base for your discipline.
Working From Home Tip #3 - Employ Off-Site Working Tools
Here's a fun fact about working with Lalamove:
Working from home every once in a while is a perk for Lalamove's employees. Which means we're talking from our experience! This third working from home tip is close to our heart, as we rely on these tools all the time to stay productive and connected to our colleagues.
Asana - Plan, Organise And Delegate Tasks
As you work from home, it is easy to lose track of your teammate's task. Asana helps you list down tasks and assign them to your team. You can also plan and keep track of the tasks' progress until completion.
Slack - Chat For Business And An App Integration Hub
Ever tried following threads of email exchanges? It can be overwhelming at times, right?
With Slack chatting app, you can create channels divvied up by team, project and groups as you see fit. Slack can be your one place for all critical notifications such as calendar invites, upcoming deadlines and task updates.
In our opinion, Slack lives up to its catchphrase of 'bringing the team together, wherever you are'.
Google Hangouts, Whereby - Video Conferencing
If voice chat wouldn't cut it, you could use Google Hangouts or Whereby for virtual face-to-face meetings. Feature-rich video conferencing solutions provide screen share and whiteboard features so you can express your ideas clearly.
G Suite - Sharing And Real-Time Work Collaborations
You didn't think we would leave G Suite out of our working from home tips, did you? As a matter of fact, it's a productivity suite that we can't live without at Lalamove!
Certain projects require swift responses and real-time editing from team members. G Suite meets these two requirements. From Google Drive and Google Calendar to Google Docs and Google Sheets, there's nothing that you can't achieve when you're working from home!
Working From Home Tip #4 - Keep In Touch Daily
Now that you've established a robust network of productivity tools, let's put them to use. An excellent first step for both managers and employees is to arrange a daily catch-up call to align agendas.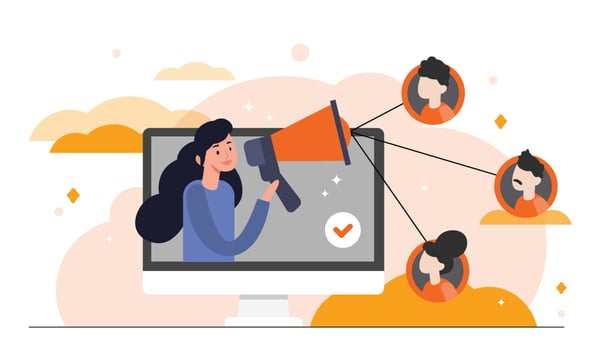 This is another working from home tip that we'd like to share from our experience. Because since the beginning of the movement control order, a majority of Lalamove's employees has been working from home.
In the interest of meeting expectations and safeguarding accountability, our team at Lalamove participates in a 30-minute call every morning to update each other about our progress. We also discuss our plans for the day to keep everyone in the loop.
An important reminder:
Keep the meeting consistent and productive. We keep discussions concise and leave complicated matters for separate calls to optimise every minute in the half-hour meeting.
This practice provides a structure for employees who need time to adapt to the extended period of working from home without compromising their productivity.
Working From Home Tip #5 - Use On-Demand Delivery
Even in this digital age, there are still things that need to be delivered to colleagues and business associates across town.
This is the part where Lalamove comes in!
Lalamove's on-demand delivery service takes the hassle out of transporting work-essential items across town. You can request a bike or car delivery to pick up the items from your chosen address and track their progress on-route to their drop off location. The timing of the delivery is up to you, regardless of within the hour or scheduled delivery.
Need to deliver larger and bulkier items?
No problem! You can also select Lalamove's van, 4 x 4 pickup truck or lorry to take care of the large-scale delivery.
Apart from on-demand delivery, here are two Lalamove features that you can use to address working from home challenges.
Multi-stop
With multi-stop, you can deliver up to 20 employees and/or clients in a single delivery trip.
You can customise delivery instructions for each of those 20 stops. Enjoy the convenience of scheduling the deliveries up to 30 days in advance for added efficiency.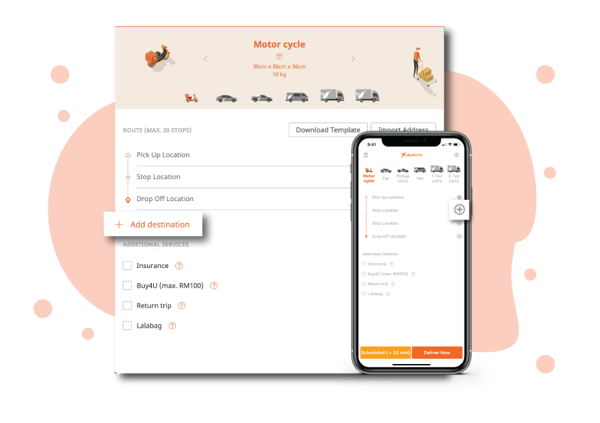 Buy4U Service
The tradeoff of working from home, especially one that is enforced during the movement control order is that snacks and essentials seem to be out of reach. After all, you'd need something to munch on when you're figuring out a complicated spreadsheet from your manager, right?
If you're working from home, a practical solution to this complication is Lalamove's Buy4U service. Have you ever heard of 'personal shopper'? In a nutshell, that is what Buy4U is all about! Our drivers will buy your wishlist on your behalf from anywhere and deliver them to you.
How does it work?
It's quite simple! Just follow the step-by-step guide to place a Buy4U order in our dedicated article:
Let Lalamove Be Your Working From Home Partner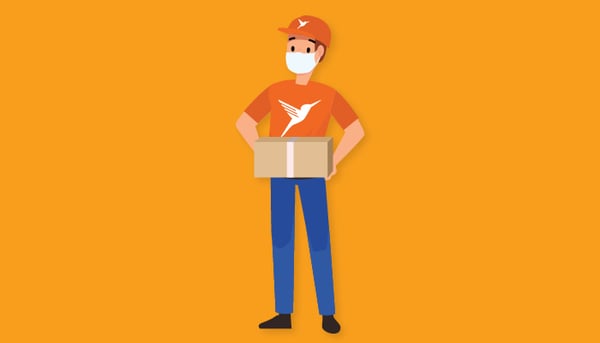 Want to learn more about how Lalamove can be a part of your business continuity planning during the movement control order? Or are you looking for a long-term partnership with a delivery provider for your business?
Talk to us today for professional guidance on on-demand and same-day delivery.