It has been a rollercoaster ride for everyone with the Covid-19 situation, isn't it? We're pretty sure that yesterday's announcement on CMCO in Selangor, KL and Putrajaya took everyone by surprise, we at the Lalamove HQ included!
However, all economic activities at the three places are allowed to operate as usual but with certain strict standard operating procedures (SOPs). And since Lalamove is a part of Essential Services, we'd like to inform you that we'll still be on the road to meet your delivery needs!
While the sudden announcement may have caught everyone off guard, the daily figures of Covid-19 cases haven't been encouraging since early September.

Graph of daily Covid-19 cases from late August to early October via Coronatracker
As evident from the graph, there has been a steady spike in cases from September onwards. Malaysia has even posted a record high of 691 Covid-19 cases on 6 October which had beaten the previous day's peak of 432 cases.
A bulk of these cases are from Kedah and Sabah, while Lalamove's primary home ground, Klang Valley, has seen less than 100 new daily cases in each district. However, the numbers in Klang Valley have been consistent and sporadic in its districts.
According to Health director-general Tan Sri Dr Noor Hisham Abdullah, the CMCO is a proactive and effective measure to safeguard public health. Minimising our movements and reducing physical contacts are proven ways to slash the number of daily Covid-19 cases.
If You're Staying In These 3 Places, What Does This CMCO Mean For You?
Here's a nutshell of the things that you have to be mindful of in this round of CMCO in Selangor, KL and Putrajaya. Please bear in mind that the SOPs may change according to the National Security Council's latest ruling:
– Prohibition of interdistrict travel. You'll need a permit from the police or an authorisation letter from your employer if you have to cross districts
– Compulsory closure of all kindergartens, primary schools, high schools, colleges, and private and public universities
– Prohibition of all sports, recreational, and cultural activities, including weddings, engagement ceremonies and such
– All religious activities, including Friday prayers for Muslims, will be suspended
– Only two persons in each household can leave their home to buy essential items such as food and groceries
Anyone who violates any of these regulations may be liable to a fine not exceeding RM1,000, imprisonment for a term not exceeding six months, or both.
A Silver Lining Despite The CMCO – We'll Still Deliver For You!
Let's refrain from hitting the panic button and hoard for essentials at the supermarket. We've been through the MCO, which was way tougher on us than the CMCO. Plus, you can count on us to be your middlemen for your needs from the outside.
Whether it's for food delivery, instant courier, purchasing of groceries (Buy4U), moving service, or business delivery, we'll take care of your needs from 6.00am until 12.00am everyday in this period of CMCO.
We've also instructed our delivery partners to observe contactless delivery and take Covid-19 precautionary measures at all times. As such, we encourage you to request for contactless delivery in the 'Remarks' field in the app.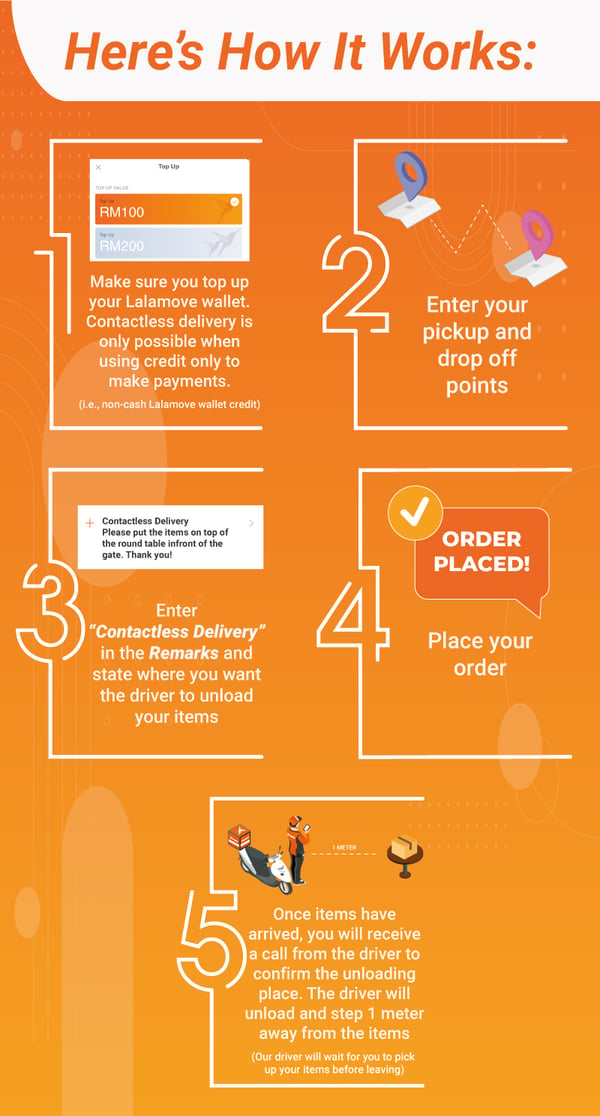 Need a guide on how to use the Lalamove app to get your stuff delivered ASAP this CMCO? Be sure to read our bite-size guide on using our app:
A Step-by-Step Guide To Use The Lalamove App
MCO, RMCO and CMCO are synonymous with 'Stay at home'. But how do law-abiding citizens like yourself can get essentials from the outside without leaving your house? Well, now you can with our Buy4U service! With this service, you can request our delivery partners to shop on your behalf from anywhere and deliver the goods to you. Here's how:
How To Request A Personal Shopper With Lalamove's Buy4U Service
Finally, here's a throwback to an informative article on distinguishing MCO and lockdown:
Lockdown And Movement Control Order: What Are The Differences?
Don't forget to install our app for the fastest and convenient way to get your deliveries and shopping sorted out. Together, we can make the most of this 2-week CMCO to flatten the curve again.