Are you stressed out trying to figure out how to move your bulky items?
Frustrated with logistic service providers not providing you with adequate information?
Tired of constant price negotiations only to end up with an exorbitant price?
You can bypass it all now with Lalamove's new lorry service!
We understand that size does matter, especially when it created concerns for our customers who typically have large delivery volume for their businesses. After listening to feedback from our customers, we decided to introduce a way to move more using the same amount of time: lorries!
Backed by popular demand, our new 1-ton and 3-ton lorries will cater to a wide variety of delivery needs for both business and personal use.
Even with our larger capacity, we still promise you the shortest match time possible with our fleet of lorry drivers. Our current average matching record was mere 46 seconds from a round of test orders we conducted when we first launched this vehicle type in Klang Valley last week, while the fastest was accomplished in just 32 seconds! Despite the current perceptions of lorry scheduling, we guarantee to give you the faster delivery service in all aspects. After all, we understand that time is money for you!
Whether you are a manufacturer or wholesaler who need bigger vehicles for your daily business deliveries, or you simply need to move your furniture to your new house or new office, our lorries will get the job done!
Best to describe our lorry delivery service as:
Cost effective: Price begins from RM 95 for 1-ton lorry and RM 195 for 3-ton lorry, depending on the distance.
On-demand: Allow you to hire our lorries through pre-booking, or instant booking to cater for any last-minute arrangements.
Flexible: There is no long-term contract to start a logistic partnership with us for your business.

Efficient: Access to our huge lorry driver network and get a driver within just a minute, there is no need to establish your own fleet.
Secured: GPS tracking is embedded in our system allowing you to track the movement of your goods in real-time.
Responsive: Our support team is always here for you, providing back-end delivery assistance to ensure that your delivery arrives on-time, everytime.
Personalised: Come with moving service that packages with additional helpers (up to 2 helpers) to cater for all your moving needs.
Our price chart: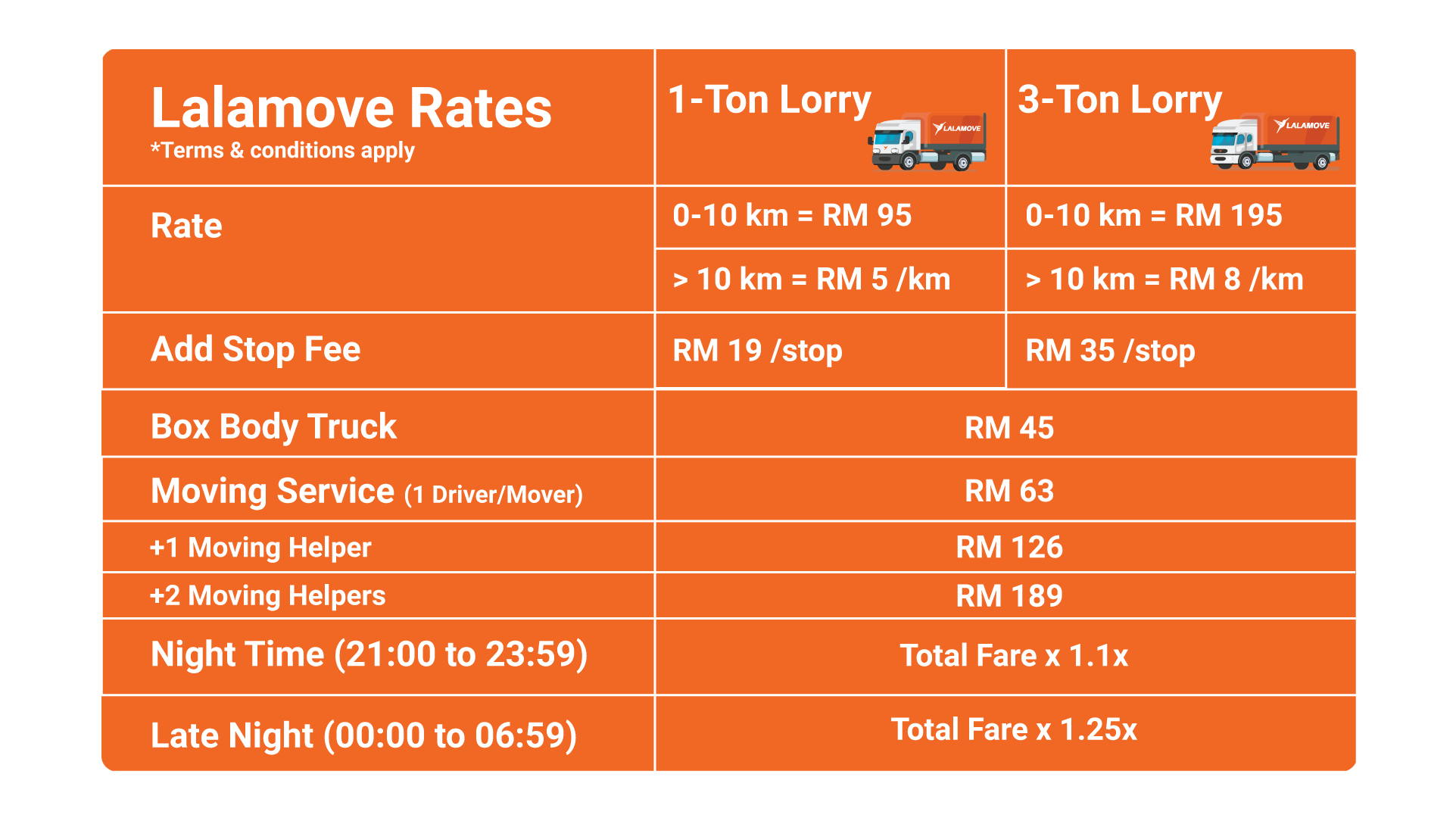 What are you waiting for? Book our lorry now!