Scaling a mountain can be an intimidating and humbling experience, but climbing the same mountain after almost losing your life in the previous attempt? That requires will and character that are worthy of champions!
Lalamove is proud to have a champion with such traits among its ranks. And her name is Ada Tsang.
Ada Tsang is the head of Lalamove's Leadership Development Programme. Think of the programme as an incubator for young talents at Lalamove to be the best version of themselves. With Ada at the helm of the programme, we're confident that the future of Lalamove is in safe hands.
An avid mountain-climber, Ada is the first woman in Hong Kong to reach the peak of Mount Everest in 2017. What makes her story impressive is the fact that she had failed in her first two attempts to conquer Everest's summit. In fact, her second attempt almost ended up as a one-way ticket to Everest!
Rather than just punctuating her mountaineering accomplishment at Everest, Ada continued to push herself to new heights. More impressively, she recently led a team of women from Mexico, Peru and Nepal to uncharted territory in Rolwaling Valley, Nepal. Her mission?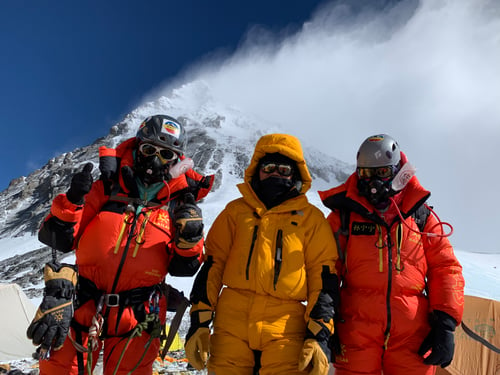 To conquer the peak of an unclaimed mountain. Ada had decided that she would name it after Lalamove if she were to succeed in reaching its peak.
And conquered the mountain she did! As this was the first time anyone had attempted the mountain, Ada had the privilege of naming it. Thus Lalamove Mountain has found its place in the rugged landscape of Nepalese wilderness.
Did you know? The Lalamove Mountain has an elevation of 6659 metres.
Life Lessons from the Mountains
Being that Ada formally trains Lalamove staff to become leaders, what does extreme mountaineering teach her about leadership and life?
"Leaders need to be capable, calm and able to make decisions without being influenced by others," Ada commented. "In mountain-climbing, technique and fitness are very important. But these can be handy in the business world too. Your mind stays sharp and alert when you're in good shape."
"Patience is an important virtue. There is no shortcut or easy way to achieve success, and you just have to keep pushing yourself. If you want to go big, you have to start small and build a good foundation. Any companies can apply the same theory. For instance, Lalamove was built on a good foundation and has come this far in 6 years."
We're proud to call Ada as one of our own. She's the perfect embodiment of our core values that drive our company forward every day - passion, grit, humility and execution.
Click here to read more about Ada's accomplishment.