If you're reading this article from the comforts of your home, you deserve a virtual high-five from us! Give yourself a compliment for complying with the movement control order that has been in place since 18 March 2020.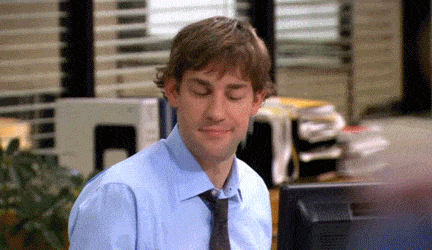 Amidst all the news and updates regarding the development of the Covid-19 outbreak, one minor confusion seems to be slipping through the cracks.
Is Malaysia going through a period of lockdown OR movement control order?
You might be thinking, what difference does this make? Can't we just use these two phrases liberally? What's the big deal of preferring one over the other?
Good news! There's no grammar police patrolling around the internet and mainstream media headquarters to monitor the correct application of these jargons.
However, it turns out there IS a technical difference when you drill down on the meaning of movement control order and lockdown. In essence, here's what each of these phrases entails:
Movement Control Order
The phrase 'movement control order' has set tongues wagging since that fateful announcement by our Prime Minister on 16 March 2020.
Six special instructions are spelt out in the order:
1. A comprehensive prohibition of mass movements and gatherings including religious, sports, social and cultural activities
2. Comprehensive restrictions on all Malaysians travelling abroad
3. Restrictions on the entry of all foreign tourists and visitors into the country
4. Closing of all kindergarten, government and private schools, and other primary, secondary and pre-university institutions
5. Closing of all public and private institutions of higher learning and skills training institutes nationwide
6. Shutting down of all government and private premises except those involved in essential services
One conclusion from these instructions is crystal clear. Don't go out unless you really have to!
Places such as schools, gyms, and shopping malls will have to shut their doors. Fortunately, essential services, supermarkets, wet markets, pharmacies and convenience stores will remain open and accessible. Here's a list of essential services during the movement control order.
The end game of the movement control order is quite simple, and that is to reduce the intensity of the Covid-19 outbreak to a manageable level. The buzzwords 'stay at home', 'flatten the curve', and 'kita jaga kita' are expressions of the movement control order.
Through the movement control order, social distancing can be observed. Social distancing is an infection control measure to reduce transmission from infected people to susceptible individuals.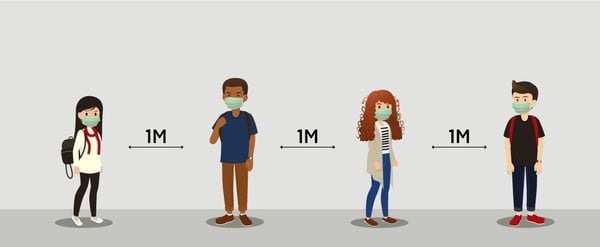 Rather than being a curfew or a lockdown, the movement control order is designed to be a softer, controlled approach. This measure will ensure that the population stays at a safe distance so that the chain of infection can be broken.
Lockdown
Try to visualise a severe form of the movement control order, and you'll get a lockdown.
Basically, if the government decided to impose lockdown to counter the deteriorating Covid-19 outbreak, you'd have to brace yourself for these more extreme measures:
- Curfews.

- A prohibition from leaving the house under any circumstances. If you really need to venture out, you'll need an approved certificate from the authorities.

- Total shutdown of all shops. No more essential shopping at the supermarket or making a quick trip to a 7-11 to grab a snack!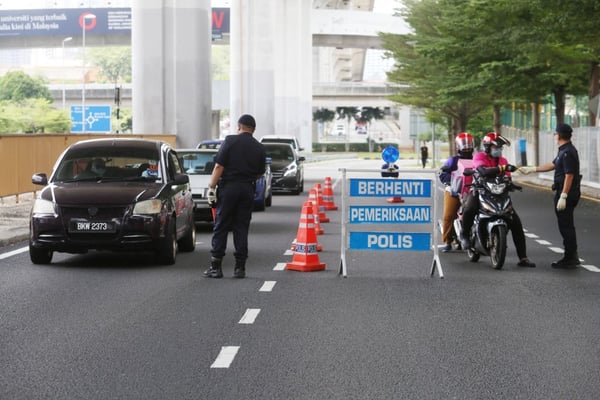 Image via Malay Mail

- Total shutdown of all roads and highways. Expect police blockades everywhere if you decided to take your car for a spin. Just make sure you have a certificate of approval to leave the house OR a good excuse for being on the road.

- Total shutdown of public transports.

Looks grim, isn't it? But don't give up hope yet!

How Do We Make Sure Our Country Won't Escalate To A Lockdown?

As bad as it seems now with the movement control order, we have to admit that things could be tougher. We can still make grocery runs or tapao at any operational eateries, as long as only one member of the household goes out at any given time.

But let's not take things for granted.

We're now at a crucial juncture. The choice is in our hands. It's either we band together and abide by the law until the government lifts the movement control order, or we fall into the deeper pit of lockdown by flouting the laws that are meant to protect us.

We can only win this war against the outbreak by winning the smaller battles first. The frontline health care workers and enforcement agencies are the real heroes. But you can do your part to curb the spread of the outbreak by winning a simple battle - staying at home!

Let's work together from the comfort of our homes to flatten the pandemic curve. Stay put and only go out when it's ABSOLUTELY NECESSARY!

If you're worried about reaching out for essentials from outside, there's a solution:
Since Lalamove is categorised under 'Essential Services' during the movement control order, you can rely on our on-demand delivery and Buy4U services to be your intermediary with essential outlets and services.
Rest assured, our drivers are trained to handle deliveries with the utmost care in this critical time. In fact, only Lalamove drivers who're healthy and in good shape are allowed to perform deliveries!
Are you new to the Lalamove app? Visit our homepage and our blog post for more details on how we can help you with your errands during the movement control order.