Have you ever feel overwhelmed by Google's first-page results when you searched for 'moving prices'?
When cost leads the way in your decision-making, figuring out the most economical moving price can turn out to be a tedious assignment.
You drown in an endless list of search results that requires you to click and skim a few paragraphs before you can extract the moving quotation. Isn't it easier if we have a place where someone else can crunch the numbers for you and present a streamlined information of how one mover stack against the others, price-wise?
Well, here's good news for you:
We've done exactly what you've wished for!
If the moving price is the dominant criteria in your search, there are a few reputable lorry services that provide the convenience of instant quotation for your moving needs. This convenience propelled us to give a comparison of moving prices with a lorry.
And that's not all!
Recently, we've introduced a new pricing scheme for our 1-ton lorry moving service. Our previous base fare (first 10km) for this vehicle was RM110. But now, we've reduced it to RM60!
But what if a 1-ton lorry can't make the cut for the size of your moving? Don't worry!
Simply upgrade your moving vehicle to a 3-ton lorry. We've also reduced the base fare for our 3-ton lorry from RM255 to RM100. Talk about sweet deal, right?
Keep on reading if you're interested to learn more about the comparison of moving prices in Klang Valley.
How Do We Compare the Moving Prices?
For simplicity, this comparison of moving prices will assume the baseline criteria of 1-ton and 3-ton lorry, manpower, and distance to generate the moving prices of Lalamove and other lorry services in Klang Valley.
Another factor that played into our comparison was the availability of apps. The moving prices were derived from the service providers' apps.
First, here are a few assumptions behind these comparisons:
- Pick-up point and drop-off point are at ground level
- Moving time is on a weekday at 10.00am
- No special requests besides manpower
- 2 manpower (Driver + 1 helper) for 1-ton lorry and 3 manpower (Driver + 2 helpers) for 3-ton lorry
- The lorry is a canvas type
Without further ado, here are the tables that summarise the moving price differences between our lorry service and our counterparts:
1-Ton Lorry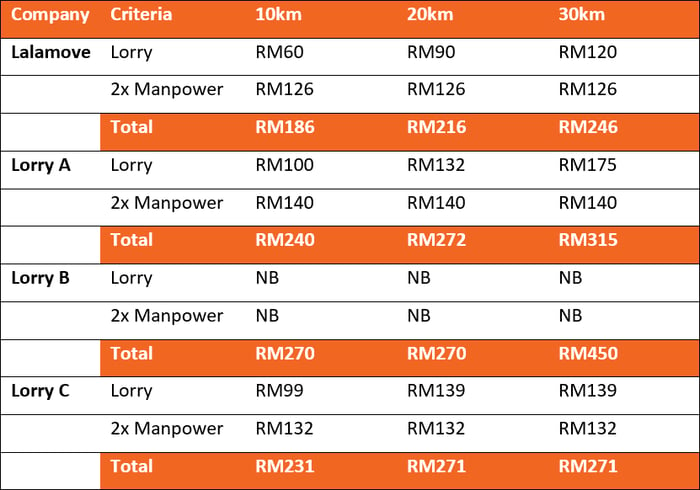 3-Ton Lorry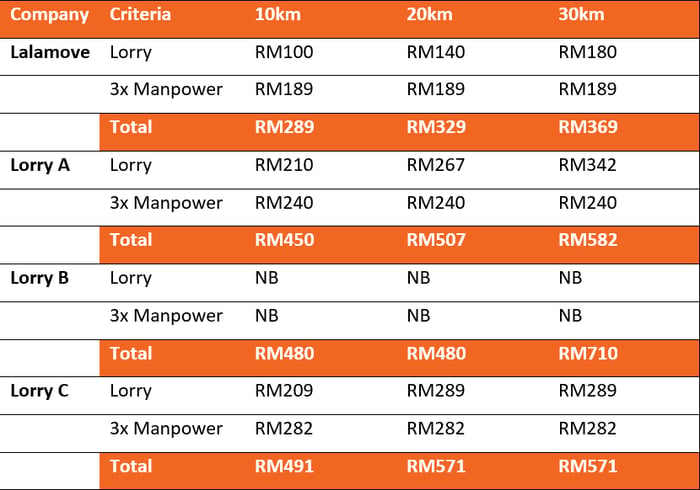 * NB = No breakdown of price by the lorry service
* These moving prices are accurate as of March 2020. They may vary from time to time upon the discretion of the service providers.
Overall, the moving prices of our 1-ton and 3-ton lorry are more competitive across the board. But to get the best bang for your buck, you'll need to look at the bigger picture! Besides affordability, there are other features on our platform that are designed for a stress-free moving experience:
1. On-demand reservation
Reserving a lorry in advance is the best strategy to stay on top of things. However, as an on-demand provider, we also cater to a last-minute request for moving.
2. Instant matching with driver
With an average matching time of 46 seconds between requests and drivers, securing lorry for an urgent moving will be easier.
3. GPS tracking
Keep track of your valuables in real-time for an added peace of mind.
4. Customer service
Besides a direct line to your matched driver, our customer service professionals are always on their toes to entertain your inquiries.
5. Insurance coverage
Valuables such as electrical appliances and designer furniture will inevitably end up in your moving inventory. As such, it only makes sense to have a safety net for your moving arrangement by purchasing our insurance coverage.
Download our app to enjoy an affordable and comprehensive moving service!