Have you ever tried looking for a lorry service for moving on Google and feel overwhelmed by the results on the first page?
While your search queries could take shape in various relevant keywords in English or Bahasa Malaysia, there are many options for you to choose from the listing on the first page alone.
Furthermore, if the price is the dominant criteria in your search for a lorry service, there are a few reputable services that provide the convenience of instant quotation for your moving needs, which propelled us to give a comparison of prices for moving services with a lorry.
For the sake of simplicity, this price comparison will assume the baseline criteria of 1-ton and 3-ton lorry, manpower, and distance to generate the moving prices by yours truly and other lorry services in Klang Valley. Another factor that played into our comparison was the availability of apps as all the prices were derived from the service providers' apps.
First, here are a few assumptions behind these comparisons:
- Pick-up point and drop-off point are at ground level
- Moving time is on a weekday at 10.00am
- No special requests besides manpower
- 2 manpower (Driver + 1 helper) for 1-ton lorry and 3 manpower (Driver + 2 helpers) for 3-ton lorry
- Lorry is canvas type
Without further ado, here are the tables that summarize the price differences between our lorry service and our counterparts!
1-Ton Lorry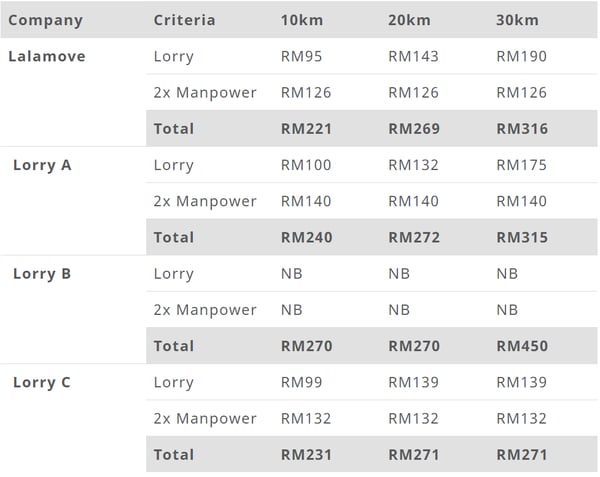 3-Ton Lorry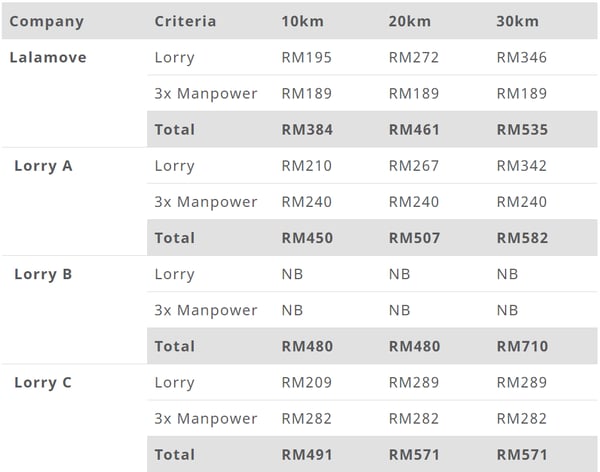 * NB = No breakdown of price by the lorry service
* These moving prices are accurate as of December 2018 and may vary from time to time upon the discretion of the service providers.
The overall price of our 1-ton and 3-ton lorry can be viewed as more competitive across the board. But to get the best bang for your buck, you'll need to look at the bigger picture! Besides affordability, there are other features on our platform that are designed for a stress-free moving experience:
1. On-demand reservation
Reserving a lorry in advance is the best strategy to stay ahead of things. However, as an on-demand provider, we also cater to a last-minute request for moving, thanks to point number 2!

2. Instant matching with driver
With an average matching of 46 seconds between lorry requests and drivers, it will be hard-pressed to not secure a lorry for an urgent moving.

3. GPS tracking
Keep track of your valuables in real time for an added peace of mind.

4. Customer service
Besides a direct line to your matched driver, our customer service professionals are always prepared to entertain your inquiries.
Download our app to enjoy an affordable and comprehensive moving service! While you're at it, don't forget to apply a one-time use promo code "LORRYMOVE" to enjoy 20% off for your moving arrangement with us. Valid until 30th January 2019.