The new wave of wellness through healthy eating perpetuates the demand for premium, tasty and healthy offerings that can fit into the fast-paced lifestyle of today's consumers. As a growing chain of healthy eatery, Salad Atelier is meeting this demand head-on with their tantalizing menu of salads and sandwiches.
With a humble beginning as a family-owned enterprise in 2014, Salad Atelier has been growing from strength to strength with the expansion of eight outlets in Klang Valley. They take pride in their mastery to customize healthy salads with more than a hundred toppings to satisfy the wide variety of their customers' taste buds.
The Advent of Delivery Service and Early Challenges
Besides their outlets' chic ambience for walk-in customers, Salad Atelier also fulfils the salad cravings of their busy customers by offering delivery service. This service is especially crucial during lunch hours on the weekdays when time is of the essence, yet an affordable balanced diet still commands priority. Furthermore, Salad Atelier provides after-working hours delivery for customers who wish to end their day on a healthy note with a serving of low-calorie salad.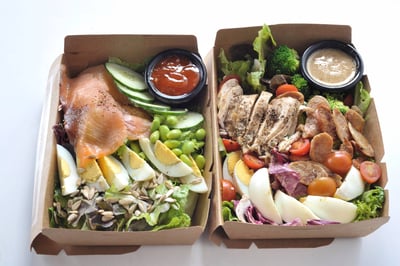 2016 saw the debut of Salad Atelier's delivery service with third-party platforms. However, their early experiences with various delivery services were riddled with complications that affected their business.
Due to the limited number of riders on third-party delivery platforms, fulfilment of orders became a headache since a large volume of orders, particularly during the lunch hour cannot be met on schedule. Late deliveries had to be compensated with discounts or free purchases for the customers' subsequent orders.
It got to the point where even the outlets' owners had to put on a delivery hat and send the salads to the customers! The lack of transparency with transactions also put additional strains on the accounts book since there were inconsistencies in the cost incurred for deliveries.
Testing the Waters with Lalamove
Salad Atelier discovered Lalamove through a Facebook Ad during one of the sittings to search for an alternative delivery partner. The phrase "On-Demand" on the Facebook Ad caught the attention of Wendy, the Director of Operation & Marketing of Salad Atelier.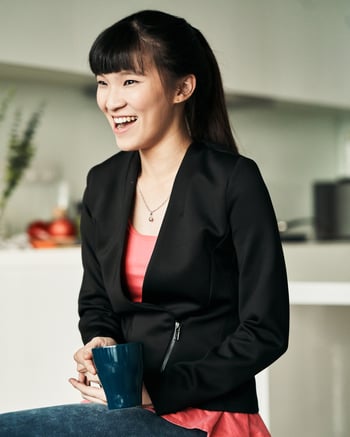 "Lalamove's promise of on-demand delivery in under an hour is what attracted me to them in the first place, as we want our customers to enjoy high-quality salads during their break even if they placed a last-minute order for our delicacies."
Wendy Wong, Director of Operation & Marketing, Salad Atelier
It didn't take long for Salad Atelier to enjoy the returns from investing their trust in Lalamove. The mess of limited riders was swiftly relegated to a non-issue due to Lalamove's business model of sharing economy with on-the-road riders.
This primary advantage is reflected in instant matches between delivery requests and riders which propels the average delivery orders per day. As a result, Lalamove's coverage of Salad Atelier's daily delivery orders grew from 75% in the beginning to its current standing of beyond 90%.
Their list of favorite Lalamove riders has also been growing because a majority of the riders have a good grasp of English. Being able to enjoy brand ambassadors that can converse in English is a boon for customers' loyalty since they are delivering a lot of orders for expatriates around Klang Valley.
In addition, the shorter time spent on the road by Lalamove riders coupled with the temporary storage of the salads in Lalabag contribute to the preservation of the salads' freshness before they reach the customers' doorstep.

Key metrics of Lalamove's delivery performance for Salad Atelier
Technology and People Coming Together
Besides a steady stream of riders, Wendy also credited her delivery success to Lalamove's user-friendly app. Being able to track a rider's delivery progress in real-time and arranging for multi-stop deliveries on her mobile gives Wendy the freedom to focus on other aspects of the business. The e-Wallet which comes with the app enables her to keep track of delivery costs for added transparency.
Last but not least, Wendy has nothing but praises for Lalamove's Customer Service representatives as they are instrumental in communicating unforeseen delivery issues with her customers in a professional manner.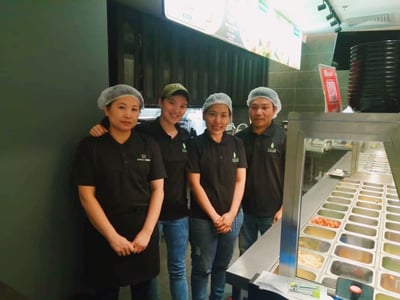 Wendy sums up Salad Atelier's experience in integrating Lalamove's on-demand delivery in the following sentence:
"Besides ensuring that the customers leave our outlets with a happy tummy and big smile, we also strive to reward the same after-meal experience to our customers who prefer to enjoy our salads in their homes and offices. Lalamove's fast and simple delivery plays a big part in this equation."