So, you've finally made it! The combination of your passion for food and entrepreneurial spirit has finally translated to reality with your very own café. You are now ready to open your doors for business. Congratulations!
No doubt you have it all figured out since day one of your business planning. With the launching of your establishment, you have reached the next phase of the business journey; building your brand, promoting your business' value through menu and services, and growing your customer base.
But, you've probably heard this particular advice a million times.
Integrating a third-party food delivery service can do great wonders for F&B business. Here's how:
1. Expand the revenue stream from offsite customers.
2. Using the third-party delivery platform as a marketing channel.
3. Attract customers from the millennial demographic who value convenience and instant accessibility.
4. Forego the need to hire, train and manage an in-house delivery fleet.
As an on-demand delivery provider, Lalamove has established a footing in the local food delivery service since 2018.
One among the many beneficiaries of Lalamove's food delivery service is Charlie's Café; a small independent café tucked in the neighbourhood of Taman Bukit Desa.
Capitalizing Lalamove's On-demand Food Delivery Service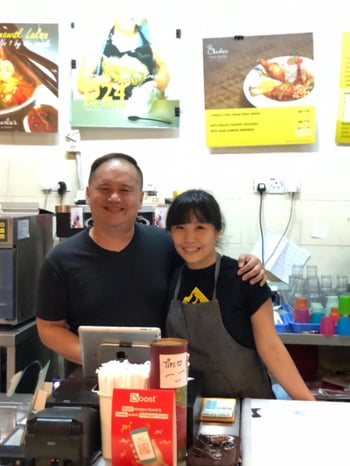 Desonny and Debra - bringing the flavours of Sabah and Sarawak to Kuala Lumpur
Charlie's Café was founded in 2015 by Desonny Tuzan and his wife, Debra Leong. With 20 years' worth of experience in the F&B industry, Desonny's keen business acumen caught up with the shifting food delivery trend. This trend comes in tandem with consumers' demand for faster food delivery service.
Desonny is well aware of the massive resources and time needed to run an in-house delivery fleet. Instead, Desonny relied on the comprehensive tried-and-tested Lalamove delivery platform.
Needless to say, Desonny hardly experiences difficulties in securing a Lalamove rider to deliver a pre-booked meal or to entertain a last-minute delivery request.
Since its partnership with Lalamove, Charlie's Café has been able to scale up its business to meet the expectations that come with a growing F&B brand.
A few key features from Lalamove's end contribute to the scalability of Charlie's Café, such as Lalamove's user-friendly app, integrated GPS tracking, and digital wallet. These features are the hallmark of an ideal third-party food delivery service in this age of digital economy.
In short, this scalability wouldn't be possible if a business doesn't break away from the status quo of logistics. The traditional way of delivery management, in fact, is being slowly relegated to obsolescence in the wake of mobile apps and sharing economy.
Get in touch with us to learn more about scaling up your business with our food delivery.