What made you installed Lalamove app in the first place? The story behind it can range from trivial tasks to life-changing occasions.
Requesting our rider to retrieve an essential document from home to office? Check. Expedited purchase and delivery from your favorite chicken rice stall? All the time. Surprise delivery for your partner? Stealth mode for delivery on!
All of these requests came from the same launching ground, which is the homepage of our app.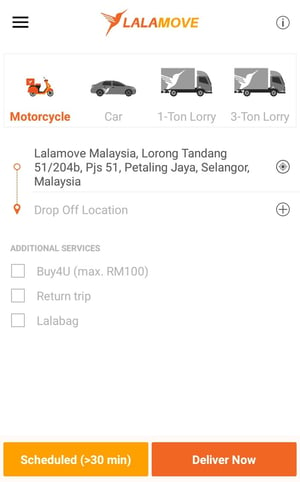 If you need a 101 on how to place a delivery order in our app, you can read our blog on the steps here.
For a refresher on Buy4U steps, you can refer to the steps below: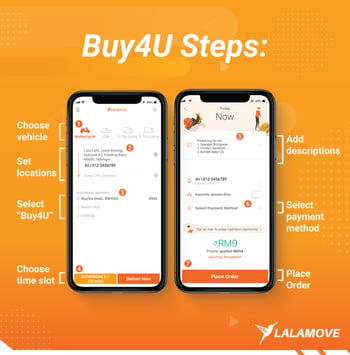 However, there's more to our app than meets the eye! Hiding in plain sight are helpful features that can enrich your delivery experience with Lalamove.
Let's start from the main menu, and we'll go through the features one-by-one, shall we? Click the "Menu" icon (triple bar) on the top left of the homepage to begin.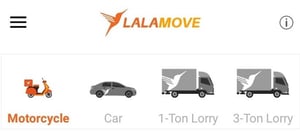 A drop-down menu will appear over the homepage. We'll describe the purpose of each feature from top to bottom.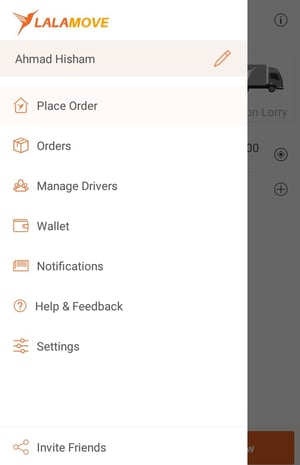 1. Change Password

Tap on your name to access your account information and change the password to your account.
2.Place Order
This feature will bring you back to the main homepage.
3. Orders
You can view the history of your deliveries (origin, destination, date, status, driver's/rider's name, and delivery fee). Tap on any delivery to rate a driver/rider and add him/her to your list of Favorite/Banned driver/rider.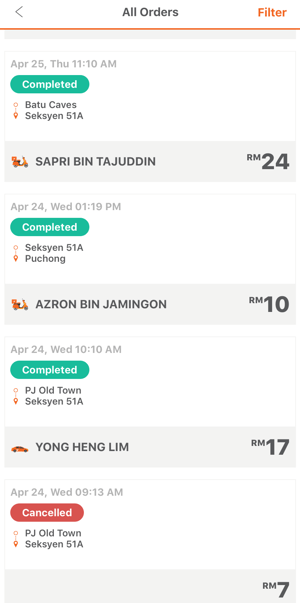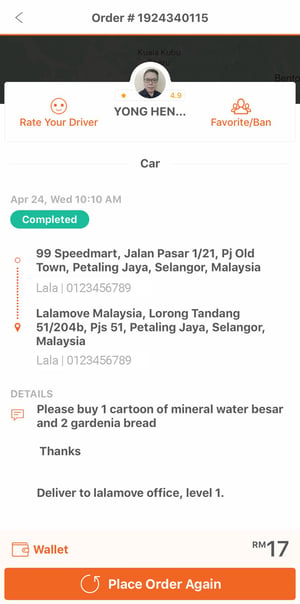 4. Manage Drivers
View your list of Favorite and Banned drivers/riders. You can also remove a driver/rider from your list of Favorites.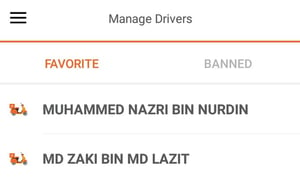 5. Wallet
Simplify your transactions by reloading a prepaid value in your Lalamove account wallet. You can top up prepaid credits to the value of RM100, RM200, and RM500. Payment for the top-ups can be made via MasterCard, Visa or American Express.
You will be able to keep track of your spent credits by accessing History. Additional note; Rewards are not applicable in Malaysia for the time being.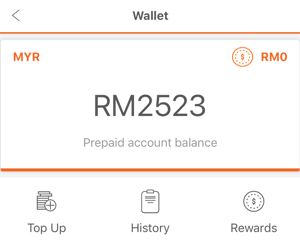 6. Notifications
Notifications is probably the most exciting feature in our app. Don't forget to keep an eye on this feature regularly because we will announce a variety of exciting goodies and promo code for your deliveries from time to time!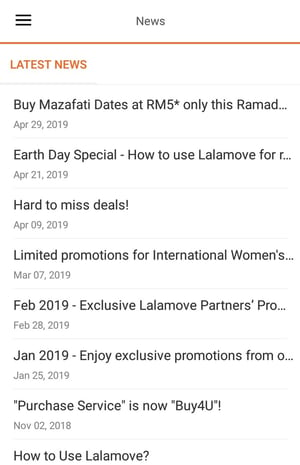 7. Help & Feedback
In this feature, you can find all sorts of support for your deliveries arrangement. If you need to voice out your concerns, just tap on Call Customer Service. If you prefer to address your comments/complaints in writing, you can send an email through Send Feedback.
We have also included FAQs and the rates of our vehicles in this feature. Like our app? Don't forget to show Lalamove some love by rating our app on Google Play or App Store!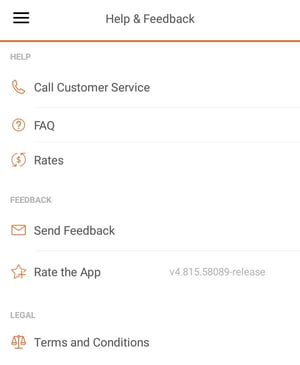 8. Settings (don't skip this one if you're a frequent traveller!)
A cool protip - if you're traveling within South East Asia, you can localize the app's features and services according to the country that you're staying.
For example, if you're in Manila, you can switch the app's country setting to Manila, the Philippines. This switch entitles you to enjoy Lalamove Philippines' delivery services by motorcycle, MPV and light truck! Fun fact: Lalamove Philippines' counterpart to our Buy4U service is Pabili service! Pabili means "to buy."
Other options in this feature include the activation and deactivation of e-receipts, vibration, and sound for your delivery notifications.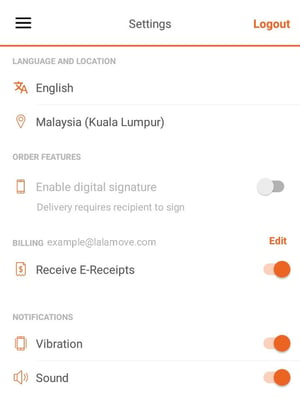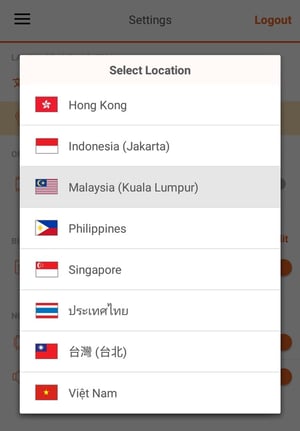 9. Invite Friends
Finally, as the saying goes, sharing is caring. If you're impressed with our services, you can send an invitation to install our app to your friends and family via messaging platforms such as WhatsApp, Messenger, email, SMS, and Google Hangouts.