Over the last few weeks, the phrase "social distancing" has become a daily part of our vocabulary. In fact, it has become more than just a phrase coined by the media and the government - it has even claimed its place at the heart of the country's playbook in response to the Covid-19 pandemic.
And it seems that social distancing is going to hang around for the foreseeable future. The government's exit strategy from the movement control order will still incorporate social distancing as a measure to minimise the odds of subsequent Covid-19 clusters.
Understanding Social Distancing
Getting a full picture of what social distancing really means is as simple as taking a look at our new 'normal' since the beginning of the movement control order:
- Companies large and small have begun enforcing work from home schemes.

- Non-essential services and outlets had to pull down their shutter.

- No more lepaking at mamak.

- Postponing of examinations for all education levels

- Shortening of supermarkets' operating hours.

- Cancelled wedding receptions and other forms of mass gathering

- Police roadblocks on major streets and highways
All of these measures are attempts to enforce social distancing. It's a practice where you put as much distance as possible between you and the others around you, with a minimum distance of 1 metre.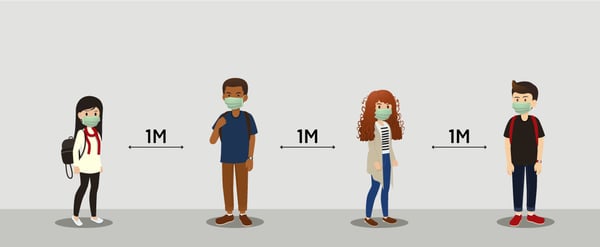 In the absence of Covid-19 vaccine, social distancing is the best preventive measure to slow the spread of the virus so that the number of sick people doesn't cause the healthcare system to collapse.
Until a vaccine is available, this could mean some form of social distancing will need to exist for many months, if not years.
Who Should Practice Social Distancing?
Literally everyone! Flattening the curve of the pandemic requires an unconditional joint effort between each and every one of us to observe social distancing.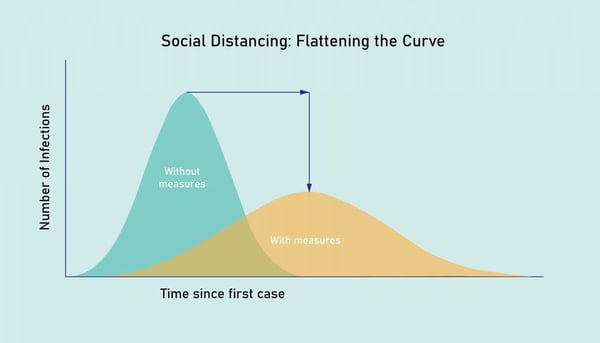 If you're thinking what we're thinking, then yes, even a healthy person can transmit the virus!
A study has shown that about 25 percent of coronavirus transmissions may have occurred in pre-symptomatic stages.
In a layman's term, Covid-19 can be spread by people who don't yet know they have it. This is exactly why social distancing doesn't discriminate between individuals, regardless of the status of their health.
Social distancing doesn't discriminate between individuals, regardless of the status of their health.
However, in reality, it's hard to comprehend getting stuck in the same space for days and months at a time.
And yet, it's a form of altruistic action that will ultimately save the lives of others, especially susceptible people, such as senior citizens (65 years and above), individuals with compromised immunity and chronic disease, and pregnant women.
A social distancing infographic by the Ministry of Health
Now that we have a better comprehension of what social distancing is and its significance, it's time to put theory into practice. Let's take a look at 4 tips on how to observe social distancing.
Plus, a bonus tip - because everyone deserves to have their errands taken care of when they have to stay at home!
Best Practices of Social Distancing
Advice on how to observe social distancing has become more prevalent than ever before. In a nutshell, here are the things that you can do to self enforce a safe zone around your vicinity:
Stay At Home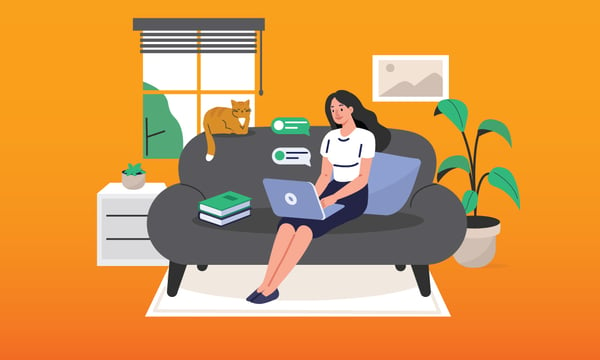 The hashtag #stayathome has inundated social media space for a good reason. In fact, if there was a textbook on the best practices of social distancing, the first line in the first chapter of the book should be "Stay At Home".
If there was a textbook on the best practices of social distancing, the first line in the first chapter of the book should be "Stay At Home".
If your office doesn't have a work from home policy, now is the best time to discuss the possibility of it with the HR and managers. If you already are, here's a practical guide on how to optimise your working from home routine.
Avoid Crowded Places Or Events
We're just as disappointed as you are when concerts in KL and around Southeast Asia were cancelled due to the pandemic! Some of us are even upset about having to skip weekly Friday prayers or Sunday service at the church.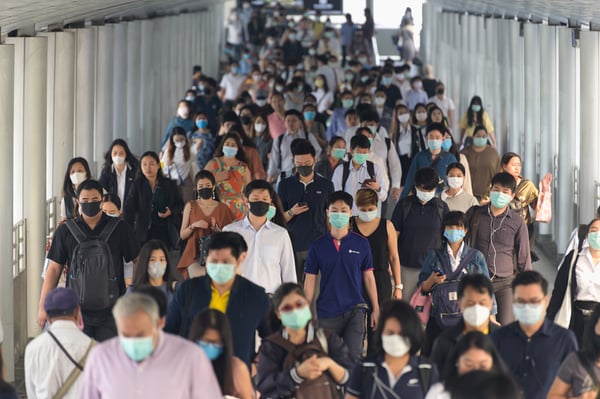 But social distancing isn't some external concept that applies only to work and school. It is a concept that disconnects us physically from each other. In the face of this global health crisis, it's the price that we have to pay to come out from the other end unscathed.
But it's still worth to remember one thing:
Just because you can't catch up with your friends over a cup of latte doesn't mean your social life should come to a halt! Even though we're at the exact moment when the pandemic is at its peak, we can still connect with the people that matter to us through the technology at our disposal.
From social media, video chat app to the classic email, we're spoil for choices when it comes to virtual socialising. On-demand app like Lalamove is also a valuable digital tool whenever you need to get errands done without stepping out of the house.
Avoid Public Transportations
Going places in a jam-packed LRT pretty much violates the logic of social distancing, simply because there's no space to distance yourself from the others. It's a recipe for disaster in this time of health crisis!
Getting into a jam-packed LRT violates the logic of social distancing
What you can do instead is drive on your own, take a walk to your destination if it's feasible, or take a ride in an e-hailing vehicle with just you and the driver only.
Be Mindful When Performing Grocery Runs
It's easy to be distracted by your shopping list and looking for the right aisle in a supermarket. This is one of the times where you need to be mindful of your personal space.
Some supermarkets and convenience stores have taken the extra mile by designating markings on the floor to encourage social distancing when queuing. Use them to your advantage!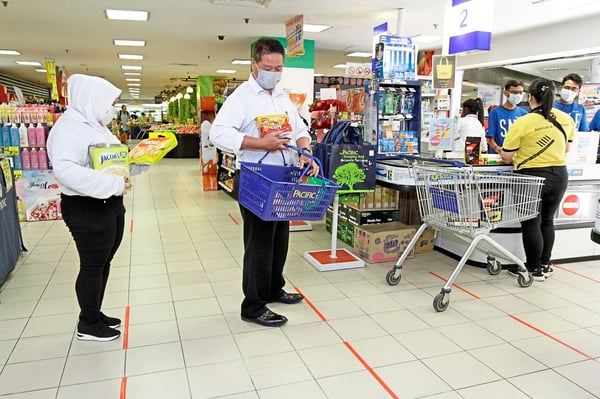 Image via The Star
Another helpful tip to observe social distancing when you're shopping? Pick the least crowded time at the supermarket to shop your groceries.
At The End Of The Day, Nothing Beats Staying At Home!
We're social creatures who need connections to our family, friends and community. But in the face of the Covid-19 pandemic, something's got to give.
Regardless of precautionary measures, social distancing works best when everyone just confined themselves to their home. It's the plain truth!
Staying at home while fulfilling your needs from the outside isn't impossible, especially when you have a fleet of drivers and riders who are ready to meet your purchasing and delivery needs.
With the Lalamove app, you can rely on our delivery and Buy4U services to be your go-between for your needs from anywhere in Klang Valley. Regardless of the need for food delivery, an urgent purchase from the neighbourhood supermarket or the need to deliver a document to your office, Lalamove has the solutions for your logistical needs.
Are you a first-time Lalamove user? We've got your back. Read our article on how to place your first delivery order with us. Visit our page for more information on how to take advantage of our Buy4U service.