Starting an online business can be fairly simple: you decide on a product to sell, set up an online account on social media, and start promoting. However, running it on a day-to-day basis is where the difficulty lies. Thankfully, Lalamove's courier service is here to help online businesses in Cebu simplify their daily business operations with on-demand delivery!
In a report by CNN Philippines last 2019, e-commerce business has shown great promise with a 5-7% growth, which is why it's high time for any aspiring entrepreneur to take this opportunity. Lalamove's express delivery service has been a partner of many businesses in Cebu, Manila, and around the world. As the leading courier and on-demand delivery platform in Asia, we've been a part of the growth of many online shops and businesses who have successfully grown and expanded.
Here are some of the amazing features of Lalamove's courier service that can help improve your online businesses in Cebu:
Book a Delivery Wherever, Whenever
Lalamove moves with you wherever you take your online business to as our mobile and web app are ready to take your deliveries anytime, anywhere. With our mobile app on the Google Play Store and Apple App Store, and our web app at www.web.lalamove.com, you can book a delivery with whatever device you may have.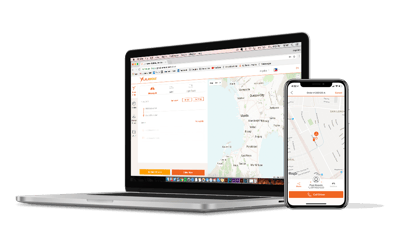 Reach More Customers Anywhere in Cebu
Lalamove's delivery coverage spans all of Metro Cebu up to Minglanilla down south, Lilo-an to the north, whole island of Mactan to the east, and Busay on the west. This means your online business can reach far and wide, and deliver to all these areas with ease within 55 minutes only!
* Note: As of July 7, 2020, due to the current ECQ mandated by the government, there are operational limitations to our delivery coverage. For more details, click here.
Try Any of Our Affordable and Flexible Delivery Options
Some delivery services can only offer motorcycle options, while some can offer 4-wheel delivery vehicles — but with Lalamove, you can have them all. Starting at only ₱60, you can book a motorcycles, MPV (vans & utility vehicles), and Light Truck (FB Truck/L300) to provide delivery and courier service for your online business. It's the perfect alternative to habal-habal or pakyaw deliveries that can pose a safety and security risk.
DELIVERY VEHICLES
PRICING & RATE PER KM

PERFECT FOR

Motorcycle

Base fare ₱60
+ ₱8/km

Small items like packed meals and food delivery, buy and sell items, accessories, and grocery delivery.

300 kg MPV

Base fare ₱225
+ ₱20/km

Fragile items like cakes, plants, and vases. Small to medium appliances like microwave ovens and desktop computers

600 kg MPV

Base fare ₱250
+ ₱25/km

Furniture like cabinets, bookshelves, and chairs Items for the office such as tables, swivel chairs and office supplies

1,000 kg Light Truck

Base fare ₱450
+ ₱30/km

Home items such as couches, beds, small refrigerators. Big boxes for the delivery of supplies and other raw materials.
For more details about the Lalamove delivery rates, you can check our pricing page.
Cash on Delivery (COD) Made Simple
As an MSME with an online shop, you may not have the state-of-the-art infrastructure that big corporations have, but that doesn't mean you can't enjoy the joy of having cash on delivery as a feature! With Lalamove, you can set up cash on delivery easily through multiple methods such as Cash Handling + Multistop or Purchase Service + Multistop. With this, you can simplify your business operations and your customer's shopping experience.
Aside from this, Lalamove has other features such as real-time GPS tracking, Purchase Service, cashless transactions, and more that can really help make each and every express delivery seamless and simple. For logistics solutions, please contact sales.ph@lalamove.com
Enjoy one-time ₱100 off Lalamove promo code: LALA4W2020
valid for your next MPV or Light Truck delivery until August 31, 2020.
Ready to improve your online business with our courier service?