Door to door delivery is one of the most sought-after services nowadays, be it for business or personal use. That's why Lalamove is here to give Cebuanos a courier service experience that is not only convenient, but safe as well! Read more to learn how we make sure each Lalamove delivery is safe from handling to tracking.
Lalamove's delivery app available on Google Play Store, Apple App Store, and our web app at www.web.lalamove.com, lets anyone book a door to door delivery within Cebu easily. We do this by matching orders to our large pool of Partner Drivers who are within your area. Basically, we connect customers to delivery drivers in order to create a fast and smooth transaction.
With the recent challenges the world is facing, it's incredibly important to ensure that our deliveries are done safely. And since door to door delivery poses a lot more contact than any other type of courier service, Lalamove is taking specific steps to keep customers and Partner Drivers safe at all times — and here's how we do it!
Partner Drivers Follow Safety Procedures
At the heart of Lalamove's business are our amazing Partner Drivers who have essentially become the delivery heroes of many today. To ensure that each delivery is done safely, Lalamove has an intensive training and onboarding program for our Partner Drivers. Aside from this, we send out constant reminders and tips on how they can stay safe with every delivery. These reminders include: wearing masks at all times, and maintaining social distancing with every delivery.
By enforcing health and safety procedures with every door to door delivery in Cebu, our customers can be at peace knowing that each delivery is as secure as can be.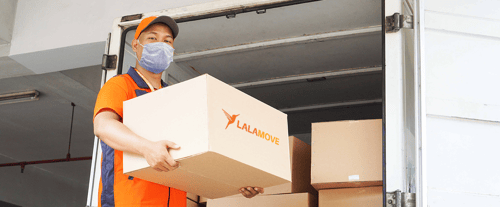 Real-time Delivery Tracking
Aside from health and safety regulations, our technology-based delivery service helps in keeping each booking is secure. When you book a Lalamove delivery, you will be able to track your delivery in real-time through our GPS technology. This means less chances for misplaced or misdirected deliveries as you can see where your Partner Driver is from Metro Cebu up to Minglanilla down south, Lilo-an to the north, the whole island of Mactan to the east, and Busay on the west.
Through Lalamove's real-time tracking for door to door delivery, customers are confident that their parcel will reach the right destination!
* Note: Due to changing border restrictions in relation to ECQ mandated by the government, there may be operational limitations to our delivery coverage for certain periods. For more details, click here.
Delivery Vans and Trucking Service
Rainy days and other weather factors can pose some safety issues for door to door delivery. Good thing, Lalamove offers a wide array of vehicle options other than our popular motorcycle delivery service. With our trucking service and delivery vans (MPVs and Light Trucks), you will be able to deliver anything within Cebu even on rainy days!
These delivery vehicles are the perfect alternative to habal-habal or pakyaw deliveries that can pose a safety and security risk. Check out the pricing below and see how you can use it to ensure the safety of your next door to door delivery:
DELIVERY VEHICLES
PRICING & RATE PER KM

PERFECT FOR

300 kg MPV

Base fare ₱225
+ ₱20/km

Fragile items like cakes, plants, and vases. Small to medium appliances like microwave ovens and desktop computers

600 kg MPV

Base fare ₱250
+ ₱25/km

Furniture like cabinets, bookshelves, and chairs Items for the office such as tables, swivel chairs and office supplies

1,000 kg Light Truck

Base fare ₱450
+ ₱30/km

Home items such as couches, beds, small refrigerators. Big boxes for the delivery of supplies and other raw materials.
For more details about the Lalamove delivery rates, you can check our pricing page.
Lalamove is here, ready to help you experience the safest door to door delivery in Cebu. So why don't you go ahead, download our app, and try it for yourself today!
Enjoy one-time ₱100 off Lalamove promo code: LALA4W2020
valid for your next MPV or Light Truck delivery until August 31, 2020.
Want to try the safest door to door delivery in Cebu now?