Petron Corporation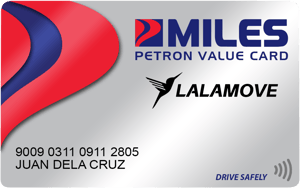 UNSA?

Makakuha ka ug exclusive discounts, rebates, libre ng services, ug lain pa na point-based perks.

KINSA?

Tanan nga Lalamove partner drivers (Motorcycle, 300kg MPV, 600kg MPV, 1000kg Light Truck, 2000kg Light Truck)

UNSAON?

1) Adto sa Lalamove Office para makuha og Petron Value Card

2) pag-register gamit ang text message

- Text REG <space> 16-digitPVC <space> FirstName / MI / LastName <space> Birthday (MM/DD/YYYY)

- I-send sa 09175671111

Example: REG 8008213571280563 John/S/Cruz 07/27/1991
Gamit ang Lalamove-branded PMiles makakuha ka ug exclusive discount, rebates, ug libreng services! Tan-awa ang mechanics, partner:
Regular Points

5 Liters of Fuel (Xtra/XCS/DieselMax)

1 point

5 Liters of Fuel (Blaze 100/TurboDiesel)

1.5 points

11 kg Gasul

10 points

7 kg Gasul

5 points

2.7 kg Gasul

3 points

Lubes

5 points for Regular

10 points for Premium

Promo Points (Exclusive to Lalamove)

Gasoline

2 points per liter

Diesel

1 point per liter
Ang promo points kay idungag sa regular point na makuha (max 2 everyday)

Ang paghatag ug points kay subject sa limit ng card nga 70 litro kada-adlaw, nga adunay max 2 transaction kada-adlaw ug kada-buwan cumulative fuel purchase na 500 liters
Birthday Promo
Makakuha ka ug 25 Birthday Bonus Points sa permitong transaction sa sulod ug isa-kabuwan (1) sugod sa imuhang Birthday!
Frequent Visit Bonus Points
Makakuha ka ug Double Regular Points kada ikatulong pagpa-gas!
PMiles Additional Features
I-convert ang Petron Points para sa cellphone load
Text Redeem < space > CardNumber < space > Amount < space > MobileNumber
(Amounts can be 20, 50, 100 with a maximum 300 redemption per month)
Example: Redeem 8008213571280563 100 09171234567
I-convert ang Petron Points para sa tickets sa sine
Text REDEEM<space>16-digit Card No.<space>SMCINXXX
Ex. REDEEM 7828201109112805 SMCIN300
Send to 0917-567-1111
Available codes are: SMCIN100 = P100, SMCIN300 = P300, SMCIN500 = P500 and
SMIMAX450 = P450. Convenience fee of 5 points shall be deducted per redemption.
*Subject to 1 point convenience fee. Cardholder will receive an alphanumeric electronic coupon via SMS. Simply present your mobile device with the electronic code at any participating SM Cinema.
Discounts sa Partner Establishments
*Tingnan dito ang buong listahan