If you're interested in growing your business (and you should be!) you have to look for ways to develop and learn. You can try reading self-help books, or watching business-related videos on YouTube, but nothing's quite like the actual physical interaction with like-minded individuals who are thriving in their chosen trade, and this could be done at business expos. Here, we listed down the things that make going to a business expo beneficial for your business!
Networking makes your business growing
No, we're not talking about "Gawin nating ₱5,000 ang ₱500 mo, ask me how." We're talking about the business and customers leads that you would be getting from just being at business expos. This is a great opportunity to come meet people who might be interested in your product or are inclined to help you develop your business even more! So roll up your sleeves and start introducing yourself to different people looking at booths or lining up at the entrance. You'd be surprised at how many people are interested to be a partner or customer! Just don't forget to have your business card 😉
All talk, KNOW action
Talks are one of the reasons why expos are flocked by many entrepreneurs. Successful people in business are invited to give talks, lessons, and even workshops to help other entrepreneurs achieve their goals. Learning from top leaders is really a great way to hone your skills in managing your own business to know what actions to take to make it grow. These inspiring talks would teach you about the different business strategies, growth hacks and development plans that you can do so that your business may succeed. Some of these are free, and although others are paid, they are really worth going to, so you should definitely try them out! After all, learning is one of the best investments you could make for your business, and yourself.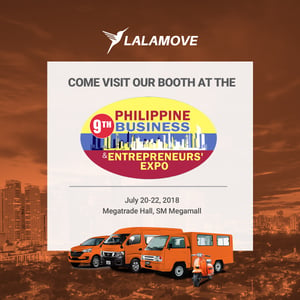 Innovate your business with these services
Expos are also a great way to learn what kind of innovative services are already available in the market for you to try! These exhibitors, as they are called in these events, have booths around the venue offering you their services or products. Go around the venue and check them out! See what they offer and talk to them on how they can help you grow your business. Speaking of which, you should check out Lalamove's booth at the 9th Philippine Business and Entrepreneur Expo this July 20-22 at the Megatrade Hall, SM Megamall. Let's talk about how you can grow your business with on-demand same day delivery!
IT'S FREE!
Most of these expos are actually free! All you need to do is go to the venue and sign up. Aside from the expo being free, there are also a lot of freebies from exhibitors. From caps, umbrellas, or mugs, to even free trial of their services! Enjoy a lot of learning and experiences all for free - how cool is that!
Tip: the 9th Philippine Business and Entrepreneur Expo is also a free event 😉 See you there!
Save P100 on your first delivery with promo code 'TIPID100'