Many people nowadays look for trucks for hire and van couriers for personal or business purposes. With their high capacity, these vehicles can really make moving items simple and easy. And with Lalamove's variety of 4-wheel vehicles, you can book the perfect vehicle for items of any size and shape! Best thing is you can book them in one easy-to-use app that you can download now. Check out our quick guide below to see what vehicle to choose when booking:
MPV 300 kg: Small but Terribly Good
Despite being the smallest in our 4-wheel fleet, the MPV 300 kg is not small in usability! This vehicle is perfect for moving items that are too fragile for motorcycle delivery such as cakes, plants, and vases. Small to medium appliances such as microwave ovens and desktop computers are also perfect for this vehicle. As long as it's too big or fragile for a motorcycle, you can trust an MPV 300 kg to do the job well.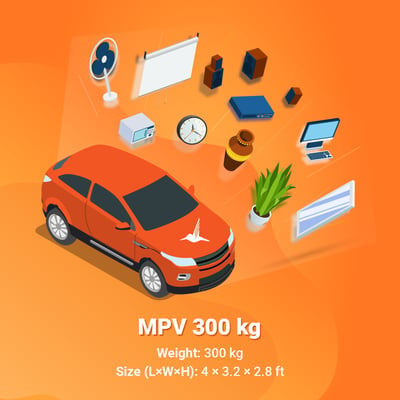 MPV 600 kg: Flexible and Affordable
Being the mid-tier 4-wheel vehicle, the MPV 600 kg offers flexibility and affordability. This is perfect for items that are not gigantic, but are still bulky. Furniture such as cabinets, bookshelves, and chairs fit perfectly in this vehicle. Items for the office such as tables, swivel chairs and office supplies could also be delivered easily through the MPV 600 kg.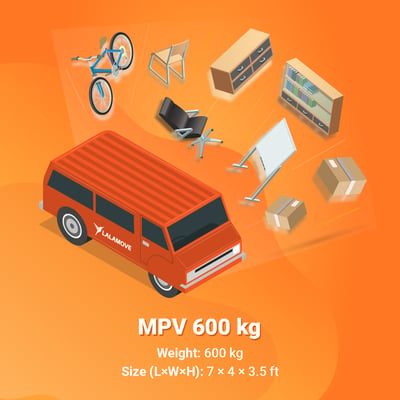 Light Truck 1000 kg: The All-Arounder
Nothing does moving big items best than our 1000 kg Light Trucks! From lipat bahay to moving business supplies, this vehicle size can help you overcome logistical nightmares. Move home items such as couches, beds, refrigerators and so much more with ease using a 1000 kg Light Truck. And to make your business run smoothly, use this vehicle too to deliver your products. There's limitless ways on how you can use this vehicle!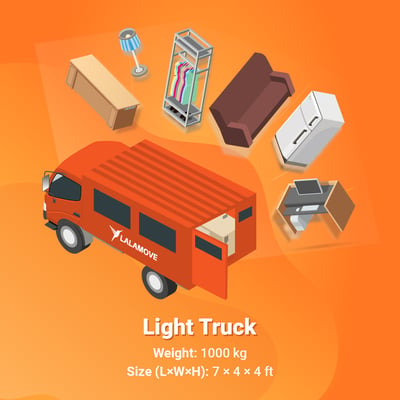 What are you waiting for? Book a delivery van or truck now with Lalamove