There's a common misconception that there's always a man behind the wheel of a delivery van. People wouldn't think twice to guess on that one. But over these past few years, more people are getting it wrong, because more and more women are changing the rules of many industries — including logistics. And it's Lalamove's goal to empower communities, including women who want to be part of the logistics industry by offering delivery services!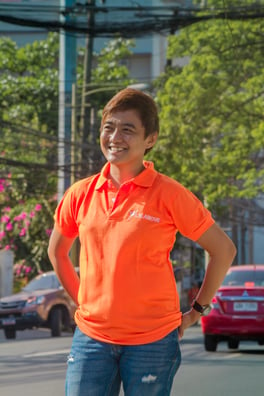 Meet Lynneil Gaspar. She's a Partner Driver of Lalamove, and one of the best delivery drivers we have on our fleet. Lynneil signed up to be Partners with Lalamove when she finally decided to be financially independent. She worked with traditional couriers before but thought that she can earn more with her time. "Mahilig ako bumyahe. 2014 nagmamaneho na ako ng truck. Hindi man halata, pero kinakaya-kaya ko lang ang mga truck deliveries dati" she shared.
Now what makes her special? Her driving skills is on point and she treats the items for delivery like her own.
Coming from a family of fish-dealers, she grew up riding with her father early in the morning to bring in fresh goods to the market. Talking to haggling and nagging vendors made her a master of interpersonal communication at a young age. Fast forward 2018, this is what makes her feel comfortable with Lalamove. Having her childhood memories come rushing in when the app starts ringing.
With the rise of applications that make our lives easier, we look past those people who cater to our ever-growing needs. We are now awake with social injustices and gender prejudice. She might look small to you, but it turns out that the respect she gets from her clients is what makes her a big woman. This is 2018, it's easy to say that women are playing a major part in the industries and breaking traditions.
Hand over your packages to our women partner-drivers and rest-assured, it will be delivered hassle-free.
Want to see how our women Partner Drivers can help with your delivery?