Good news, cold chain clients- Our lorries are now better and cooler! With the launch of our new refrigerated trucks, you no longer need to worry about chilled or frozen goods being under the weather.
In the form of 10ft and 14ft lorries fitted with professional cooling mechanisms, these trucks are fully equipped with a superior refrigeration system to cool your products, and are well-insulated to maintain a low temperature. Chilled goods are stored at below atmospheric temperature while frozen goods are kept below freezing point.
As such, no matter the distance, temperature-sensitive items such as flower bouquets and food produce will be delivered as fresh as they've just left the pick-up point! Moreover, these trucks have tailgates that allow for easy loading and unloading of heavy goods!
Say goodbye to temperature fluctuations with refrigerated lorries!
How our Refrigerated Trucks keep Products Fresh:
Temperature Settings for both Chilled and Frozen Goods
Our refrigerated trucks offer two kinds of temperature management systems for your business operations:
A chilled system with a temperature range of 0ºC to 10ºC

A frozen system with a temperature of -15ºC
As with the rest of our vehicles, our refrigerated trucks can be activated round the clock - 24/7, all day all week! When booking our refrigerated trucks, simply let our drivers know the temperature you'd like the truck container to be preset to, so that your goods can be loaded promptly without delay.
Why Lalamove?
Affordable and Value-for-Money - No Surcharge!
Most vehicle rental companies charge a surcharge when refrigeration is needed during the journey. However, for this period, this add-on service at Lalamove is completely free for both our 10ft and 14ft lorries! This helps you save more on each delivery!
Better Refrigeration due to Premium Vehicle Quality
1. Interior:
- The insulation material is made of state-of-the-art 40kg/m3 density polyurethane(PU) material, which ensures exceptional temperature control within the container.

- Food grade Glass-Reinforcement Panels (GRP) on the interior of the container prevents chemical contamination and ensures food safety.
2. Exterior:
- The strong exterior surface is weather-resistant and prevents UV rays from reaching your products.

- Quality GRP Panels are extremely sturdy and well-built, meaning more stable transportation for your goods.
In fact, our trucks meet the industry standard (E.g. HACCP, etc.) too.
Fresher Deliveries Powered by Excellent Vehicle Maintenance
Worried that your flowers might smell like meat? Fret not! We know how important freshness is for your business. As such, our drivers take extra effort in maintaining the trucks' cooling systems, washing and cleaning them thoroughly to prevent transference of lingering smells from the previous delivery.
The safety of your customers is our utmost priority. Thus, our trucks are maintained according to strict industry standards to keep bacteria and mold at bay. Our cooling systems also meet the necessary refrigeration requirement, preventing moisture from entering the storage area and accelerating the spoilage of your products.
How it can Boost your Business: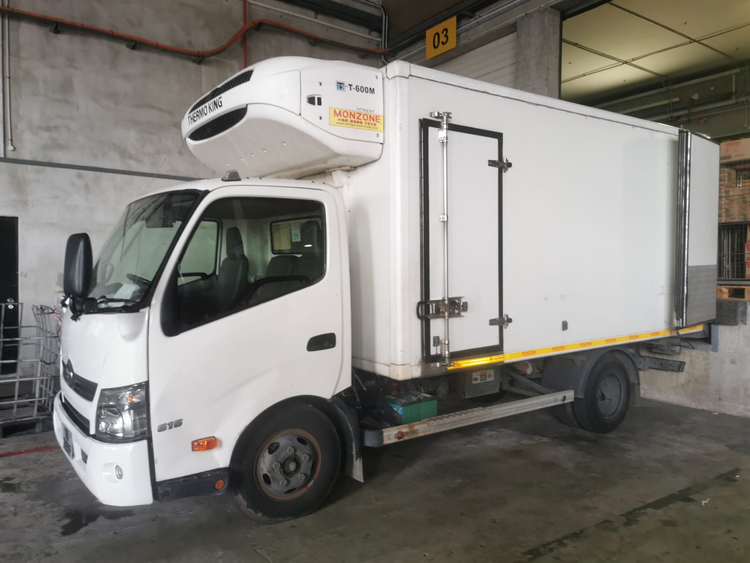 Lalamove's refrigerated lorries for all your needs!
Business Owners:
As a restauranteur or store owner, do you find it tough to schedule deliveries for temperature-sensitive goods from your suppliers? Over-ordering leads to goods becoming less fresh on the counter. Under-ordering might mean more time and money spent on an extra delivery trip. In unfortunate scenarios, the supplies may be out of stock by the time you reorder!
Our refrigerated trucks allow you to take charge of your business! Enjoy greater flexibility whenever you need to restock - better management of supplies means reduced wastage and more savings! Moreover, you can now easily transport between outlets for improved business operation.
Wholesalers:
Are you flooded with orders from restaurants, supermarts and even individuals? Manage them at your fingertips by easily transporting to 20+ different locations in 1 go! Our multi-stop feature allows you to group orders in the same geographical area, so that you can drop off your goods with less hassle and mileage! Fuel and effort saved help us keep prices low for you.
Worried that multi-stop would compromise freshness? Not to worry, your goods will be fresh from the beginning to the end thanks to the effective cooling system of our refrigerated trucks!
Every User Can Reduce Operation Costs:
With its complex cooling mechanism, vehicle servicing and maintenance can cost a hefty sum, more so than regular trucks and lorries! With Lalamove, we help you save on that expenditure, and also that of your drivers' salaries!
Choosing the Ideal Lorry Size:
Our refrigerated trucks come in 2 sizes, with differing weight and size limits.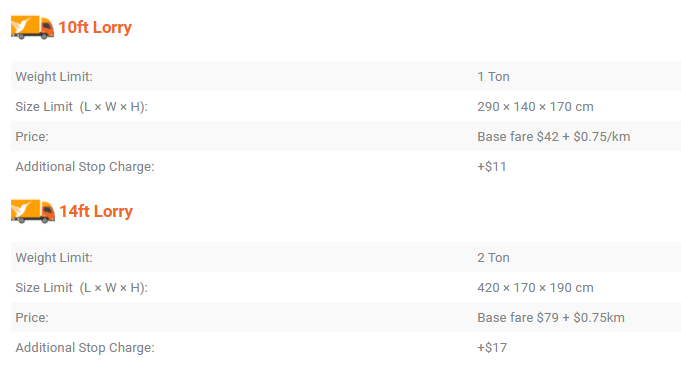 How much it Costs
For this period, the cost of renting a refrigerated truck is the same as the regular lorry rental fee! Not sure how much it costs to rent a Lalamove lorry? It's dependent on the lorry size, distance between pick-up and drop-off points, and additional features such as insurance.
10-ft Lorry:
Base fare of $42 + $0.75/km subsequently.
Need to drop something off or pick something up along the way? Additional stop charge is at $11.
14-ft Lorry:
Base fare of $79 + $0.75km subsequently. Additional stop charge is at $17.
Check out our full Lalamove pricing here.
How to Book
Booking our delivery is easy! Get it done in 5 simple steps:
1. Select your vehicle.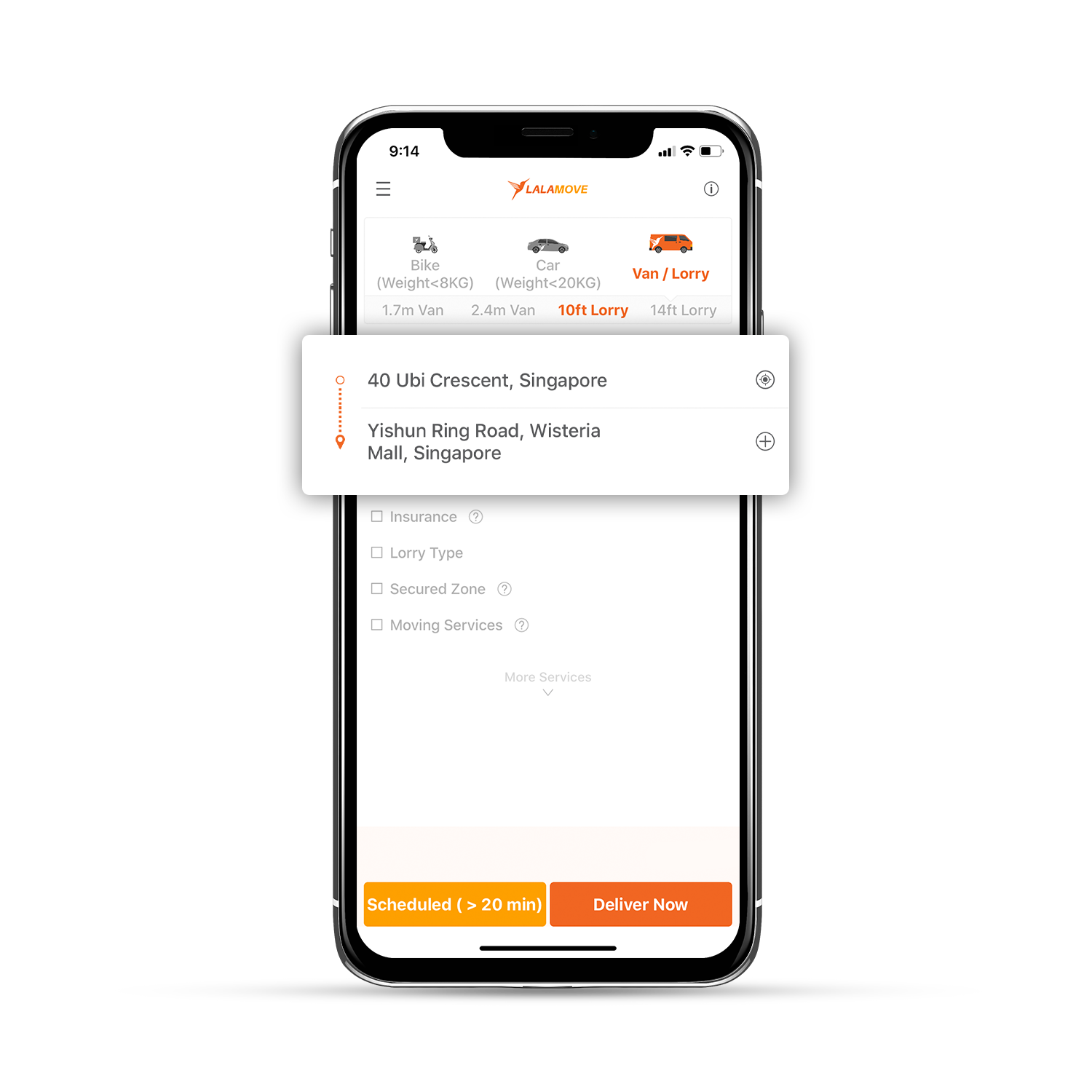 2. Input your delivery pick-up and drop-off locations.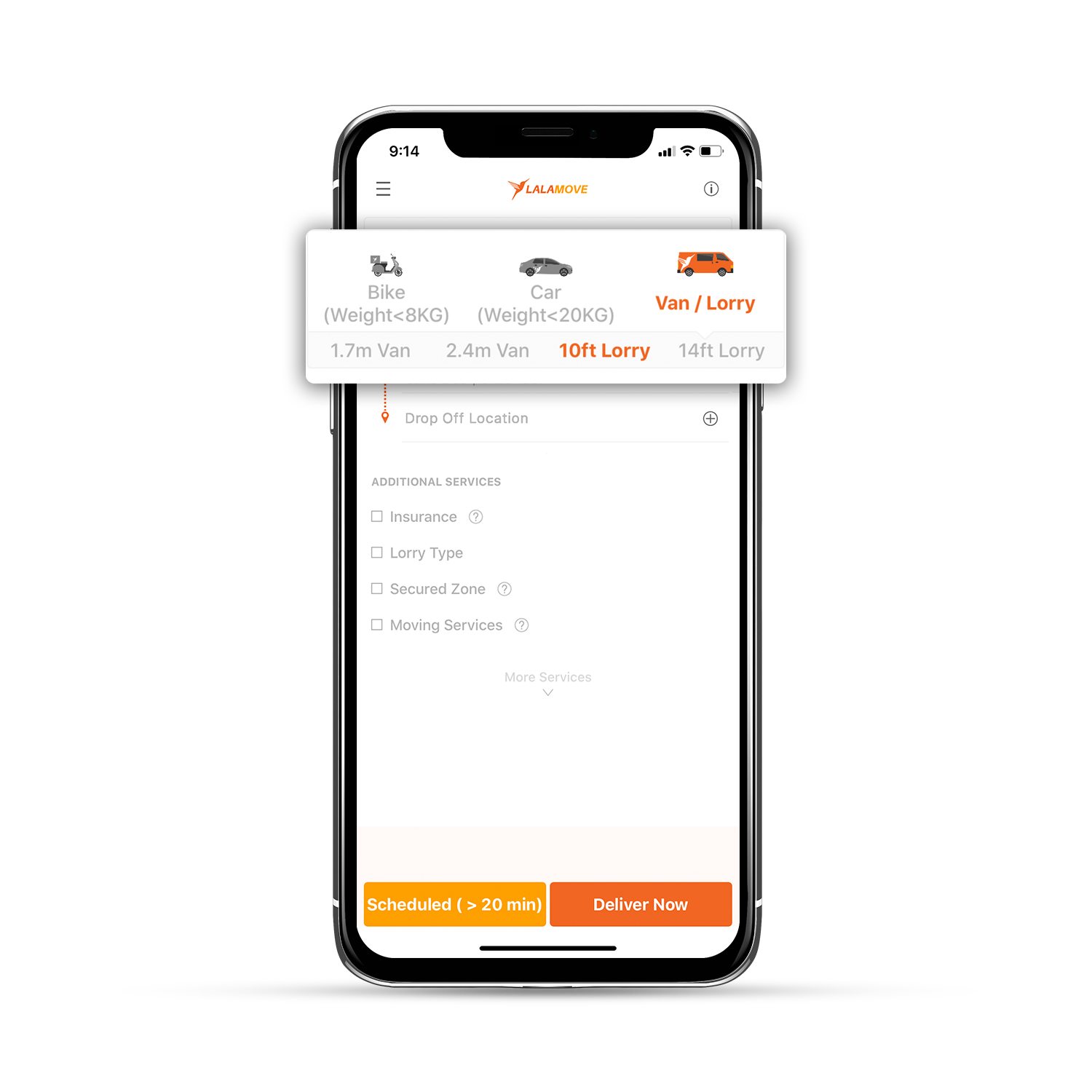 3. Choose "Refrigerated (Beta)" under "Additional Services".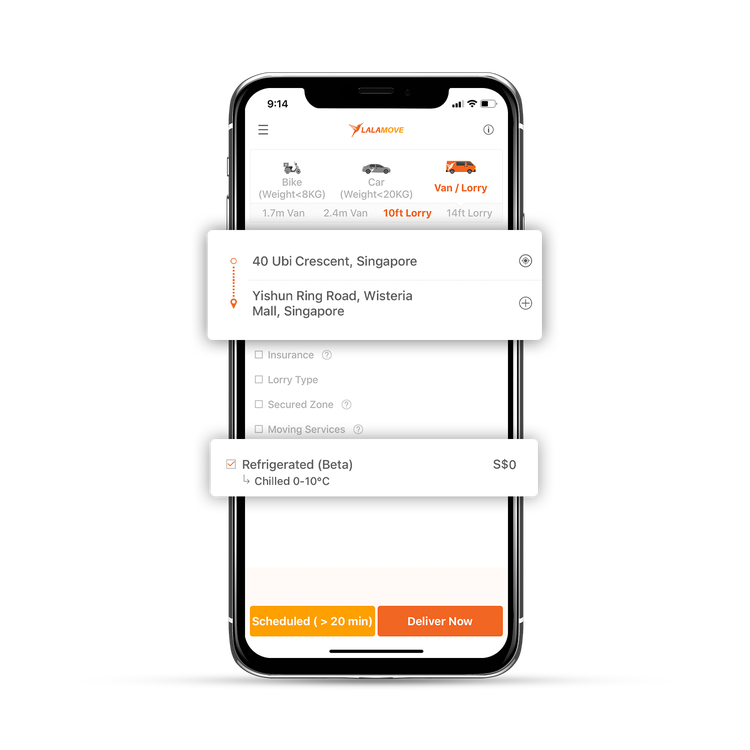 4. Get instant pricing information before you place your order.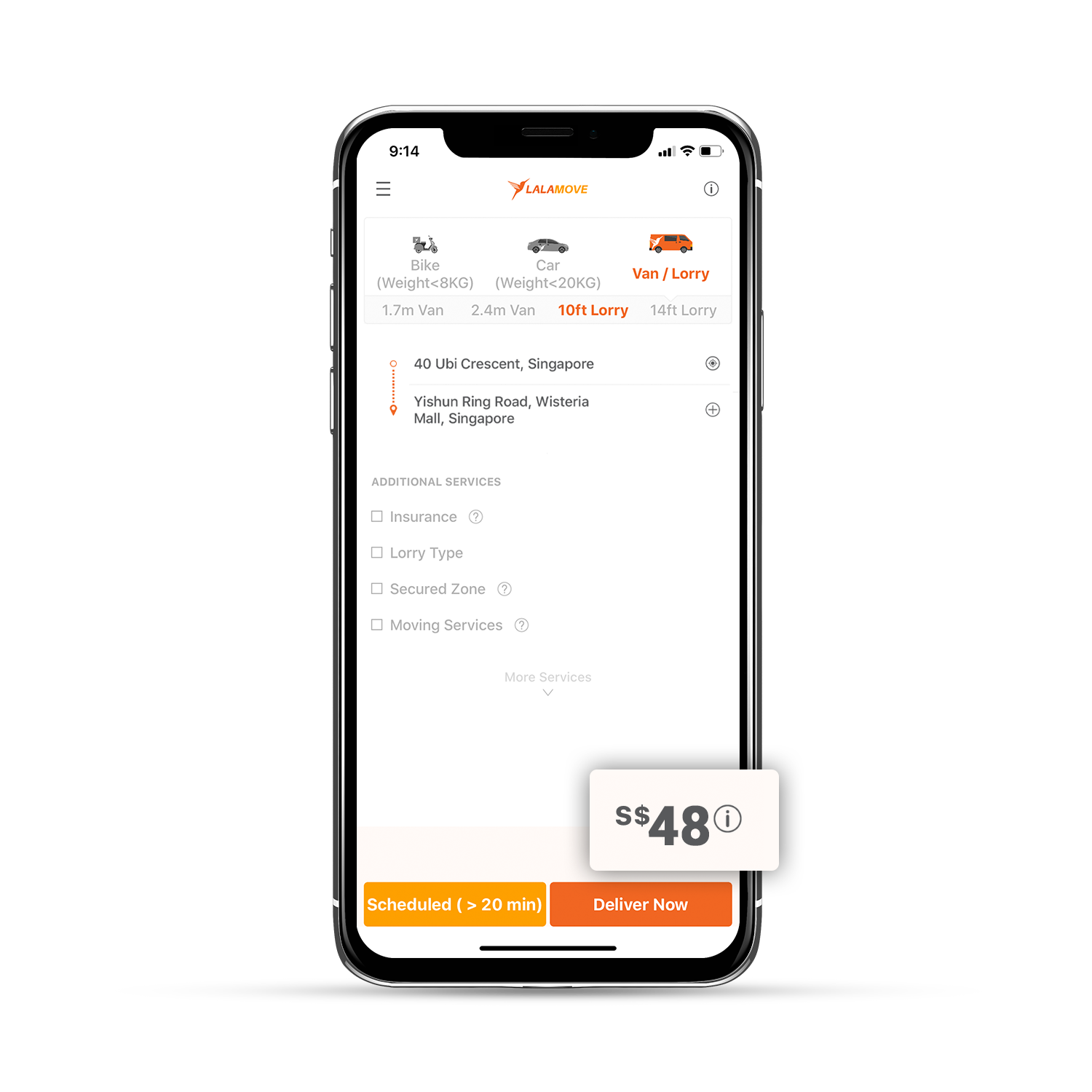 5. Provide remarks to the driver. Please inform him about the temperature you would like the truck to be preset to, before it reaches your pick up point.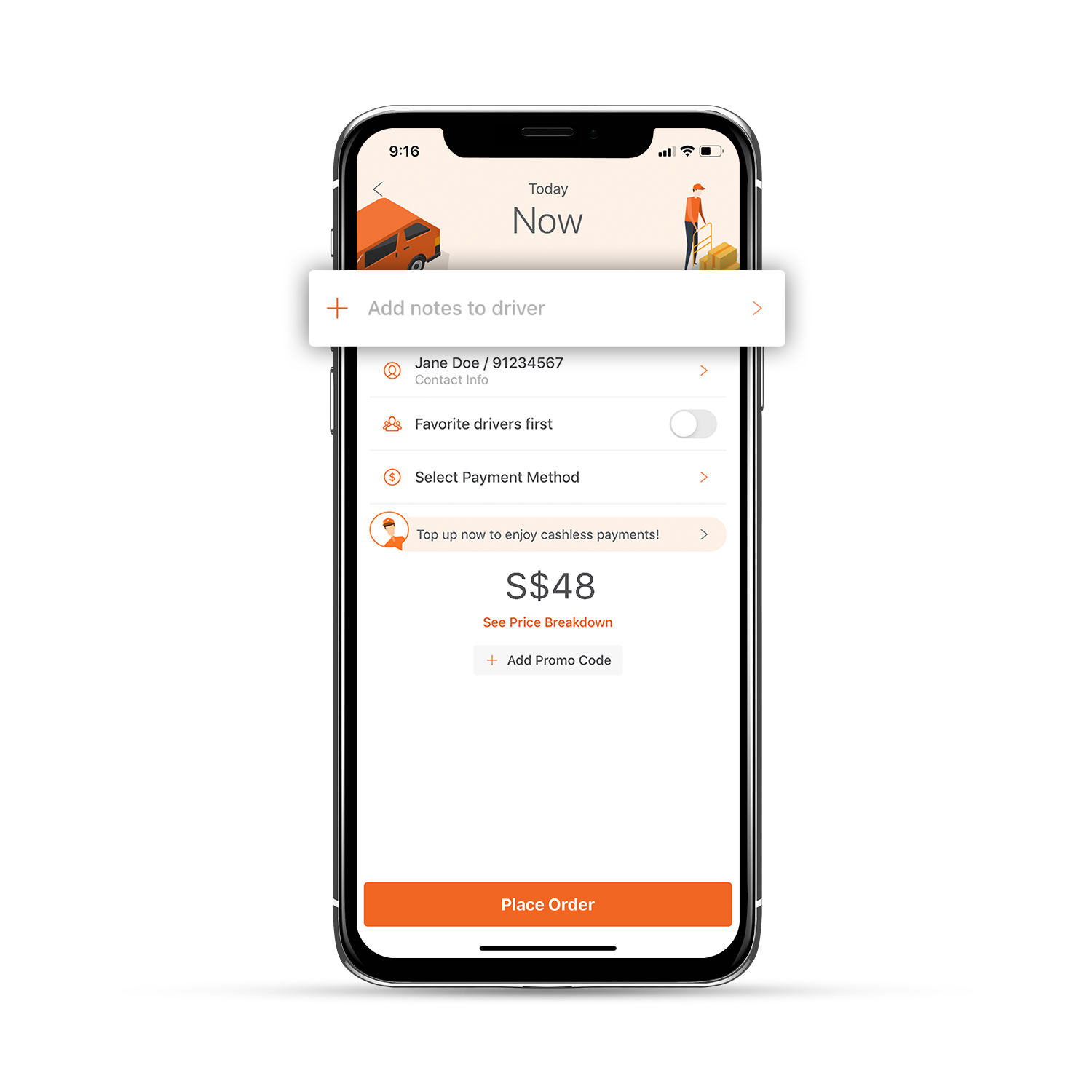 6. Track your order in real time!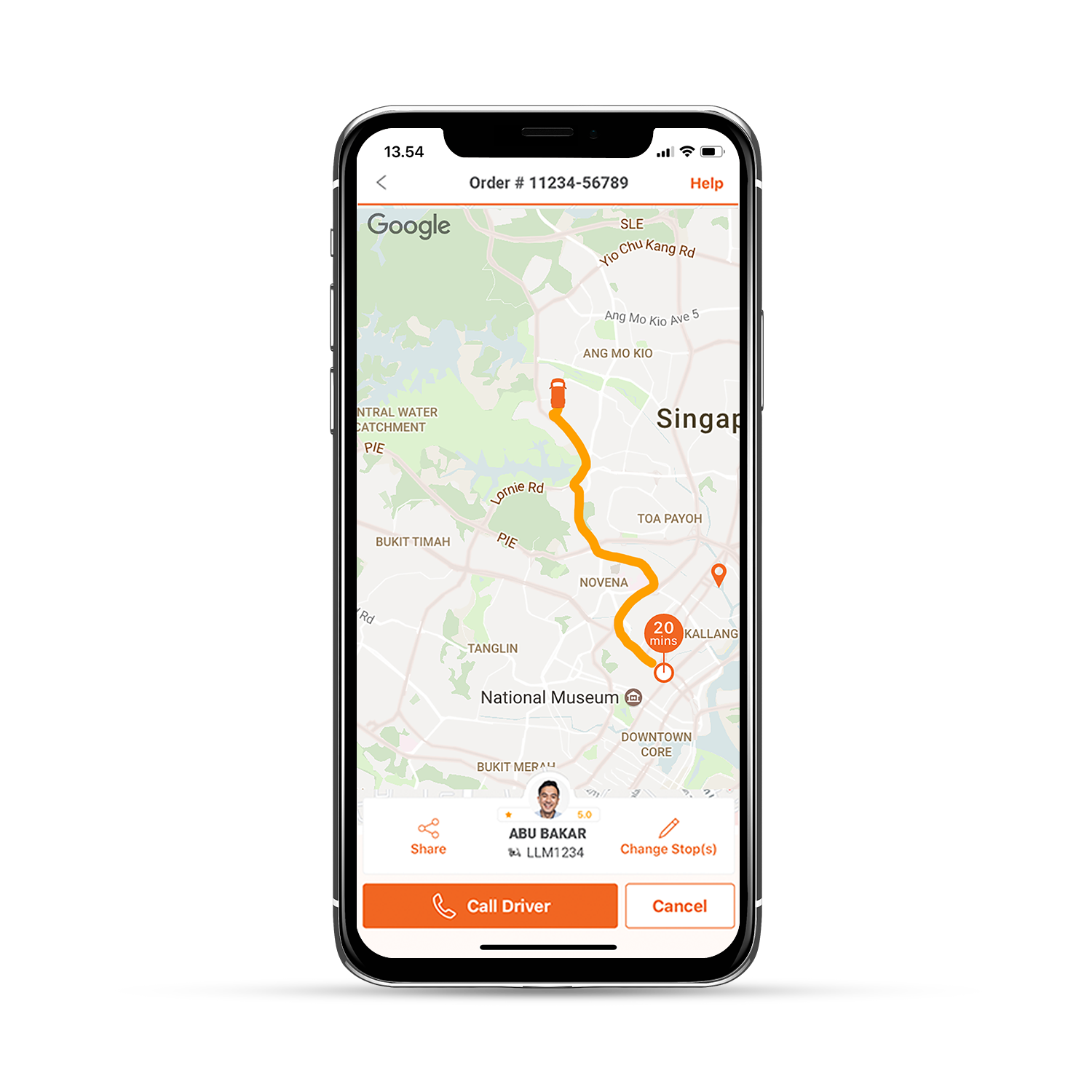 Wait no more! Enjoy reliable in-transit delivery, professional customer service, and prompt pick up when you choose Lalamove!
Deliver your chilled and frozen products Lalamove today.
Planning to use our refrigerated trucks regularly? Get access to free management of your business account and support from our sales team on top of regular customer service! Our exclusive corporate perks reward you when you sign up, and each time you top up too!
Simply reach out to our friendly and knowledgeable sales team and they will be in touch with you shortly.