Lola is an industry leader in Singapore producing homemade meals for dogs. They proudly serve clients from all walks of life that would like to give their furry pals the healthiest and most nutritious alternative to regular kibbles. The pet food market is filled with many unhealthy options disguised as the wholesome choice - Lola's aim is to make sure pets in Singapore are only getting the best option.
THE CHALLENGES
Lola's offerings have proved a big hit in our city filled with dog-lovers, which meant that it didn't take long before orders started pouring in. But delivery fulfilment quickly became an important issue, especially for a small business where the logistics overhead costs can quickly become prohibitive in order to meet demand. Yet, compromising on the quality of the delivery service for an online food-based business was not an option.

"The delivery drivers are the faces that are presenting our products to our clients and we trust that Lalamove is the best in the market."
Marc Anthony Ng Yew Jin, Co-founder, Lola

Founders, Marc Anthony Ng Yew Jin (left) and Sheryl Guay Wen Yee
THE SOLUTION
Living in an always on-the-go city like Singapore means that pet owners are torn between their busy lifestyles and being able to provide the best for their pets. This is where Lola's service fits in with its handy service for pet owners to get their fresh dog food delivered to their doorstep. In order to meet demand and keep its new clients happy, Lola needed a solid delivery plan which was able to accommodate for flexible arrangements.

"We were searching for a sturdy delivery system where we could make both prior and ad-hoc arrangements for the delivery of our food products, which are delicate in nature", explained Marc Anthony Ng Yew Jin, Co-Founder, Lola. The perishable nature of the product made it crucial for Lola to have a reliable platform that could deliver the pet food whenever the need arises without any unnecessary delays.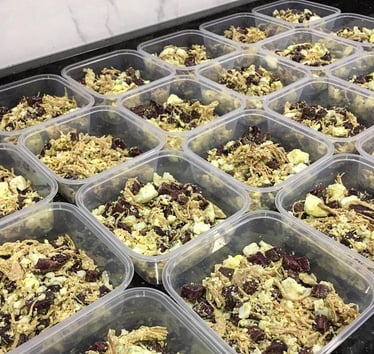 As a business that runs on a small team, hiring additional personnel for the sole purpose of delivery was not cost-efficient or feasible for the scale of the business. Ensuring that they found a scalable logistical solution according to their demands was a top priority for Lola.

After a short trial with Lalamove to outsource deliveries for the first time, it soon turned into a permanent arrangement that Lola uses for its multi-stop batch deliveries. It has transformed the way they run their operations and has allowed Lola to further enhance its operational capabilities to be the efficient industry leader it is today. Most importantly, Lola has been able to be sustainable while the business is growing.

"Operational efficiency is the backbone of every business today in this age and time."
Marc Anthony Ng Yew Jin, Co-Founder, Lola.

RESULTS

Booking a multi-stop delivery and being matched to a driver as soon as the food is ready makes Lalamove a practical and efficient solution for Lola. The multi-stop option is not only cost-efficient but ensures that all their customers can receive their food sooner thanks to Lalamove's tech advantage that optimises the route on multi-stop routes.

By outsourcing deliveries and no longer having to manage orders with an in-house team, Lola was able to reduce their operational costs. "Our margins on delivery have improved by up to 120% on each order compared to the days when we had to deliveries by ourselves in-house".

As orders are matched quickly through the Lalamove app, Lola no longer needs to sacrifice manpower internally to make time consuming deliveries. Equally, once Lola receives an order for delivery later in the week, they can easily schedule and pre-plan a delivery with Lalamove's advance-order delivery option.

With a delivery provider they can trust, Lola is able to focus on what they do best while Lalamove takes care of the rest.