Ever wanted to use Lalamove but skipped it because you weren't sure about the cost? Especially since no one is a fan of surprise fees and additional costs that might be very different from the base price that was promised. But fret not, this is exactly what Lalamove delivery stays away from - we as consumers ourselves hate being bombarded with exuberant prices so we want to make sure our customers enjoy the same treatment.
To make sure you understand the on demand service that you're paying for, we share with you a step-by-step guide on how Lalamove's honest pricing model works:
Step 1: Select required service
Our delivery services varies from running simple errands of sending an item to someone to delivering our bulky furnitures home and even for moving services. If you know exactly what your delivery need is for, you can easily pick the right vehicle from our fleet. This could be a motorcycle delivery for a small parcel or a simple flower delivery to surprise a loved one, or a van delivery to bring your bulky items home from IKEA.
Step 2: Select vehicle type
This is the simplest yet most crucial step! Select the right type of vehicle that will suit your items and delivery purpose. It's as simple as being sure about not getting a vehicle that is too small or too big a capacity for your delivery need. Our cost model begins with a base price and is only calculated according to the distance you have to travel. It can be hard deciding exactly which vehicle type you will need so we break down the dimensions our fleet of vehicles can handle: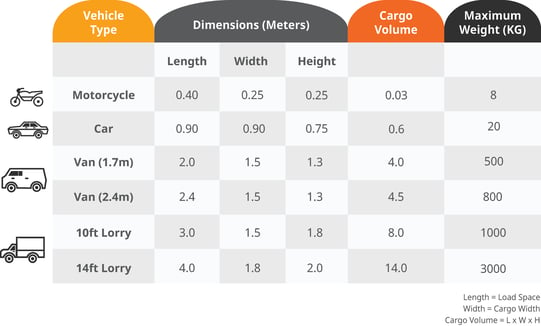 Step 3: Include additional services needed
If you are looking for specific additional services like an extra set of hands to do the heavy lifting or need a wrapping service to protect something important? Only add on for the specific service you need. This pick-and-choose option ensures your cost is kept at a minimum while your money is only being spent on something you require.