Are you planning a house move or commercial move? Congrats on getting a new place! Excited yet dreading the logistic work? Don't let the stress and anxiety of moving dampen your mood! Move with minimal stress by engaging a reliable and effective lorry rental company to help you as much as possible! This way, all you need to do is to pack up, and wait for your items to appear at your destination!
Here comes the question- how does one define an effective lorry rental company? What are the aspects to look out for? Today, we show you how to pick the best lorry rental company in Singapore!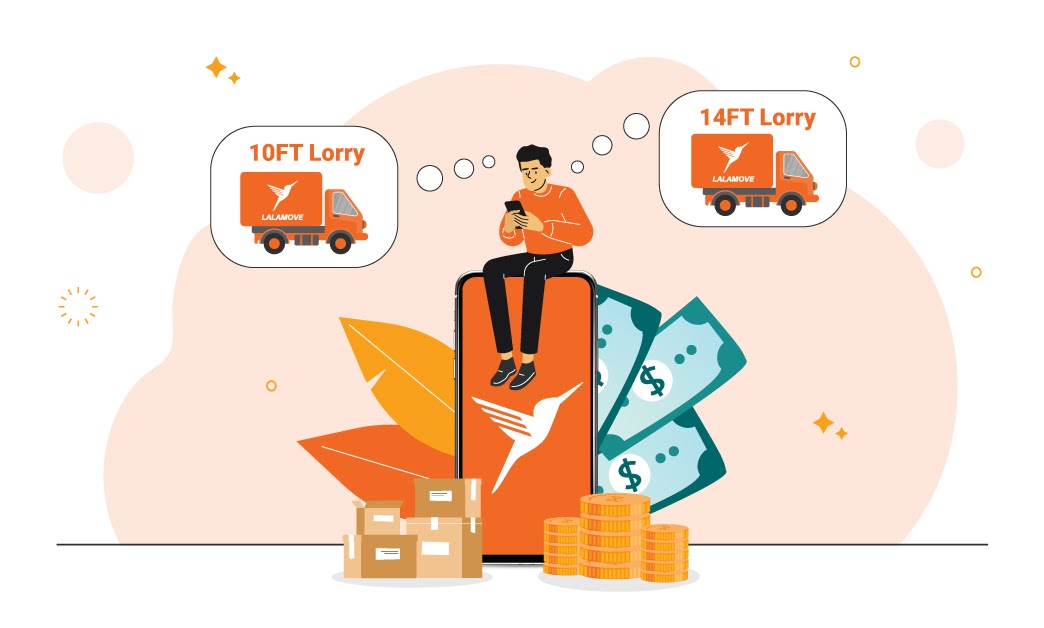 "10ft or 14ft? Hm..."
1. Choose the Company that has the Right Lorry Size for your Unique Needs
Many of our customers ask us what's the difference between a 10ft and 14ft lorry. Here's how to determine the best size!
The 10ft Lorry
The 10ft lorry would be ideal for simple house moves, such as for 1 bedroom houses. It is often used to transport items like queen size mattresses, smaller furniture and refrigerators, washing machines and other smaller household appliances. With a storage space of 200-300 cubic feet, 1 lorry can fit up to 5 pieces of furniture, or about 50 cartons.
The 14ft Lorry
On the other hand, 14ft lorries are perfect for moving bigger homes and offices. As compared to its smaller counterpart, they can transport larger refrigerators and king size beds. With a storage space of 400-500 cubic feet, 1 lorry can fit up to 10 pieces of furniture, or about 100 cartons.
The 14ft lorry is popular amongst customers who wish to move their entire home with fewer trips, as more can be loaded onto the vehicle in 1 go.
Size may be an important consideration, but it should not be the only criteria! The total load of your possessions is key as well. Exceeding the maximum load can damage the suspension of the lorry.
At Lalamove, our 10ft lorries can carry up to 1 ton (1000 kg) in weight, and our 14ft lorries up to 2 tons (2000 kg)!
Check out more details about our lorries' sizes and loading capacities in our pricing list!
2. Choose a Company that offers Affordable and Transparent Rates, without Hidden Fees
Have you ever been given a quotation, only to receive a heftier bill that includes hidden fees like chargeable features and GST?
We understand that price is a primary concern in your decision-making process. Lalamove is here to help you save more with our competitive and transparent moving rates for both our 10ft lorries and 14ft lorries!
Customers may check out our rates on our pricing page, and also receive a clear breakdown of the cost, on the app or webpage, before the confirmation of delivery! We make sure that you're aware of where each penny goes, and all unpleasant surprises are avoided.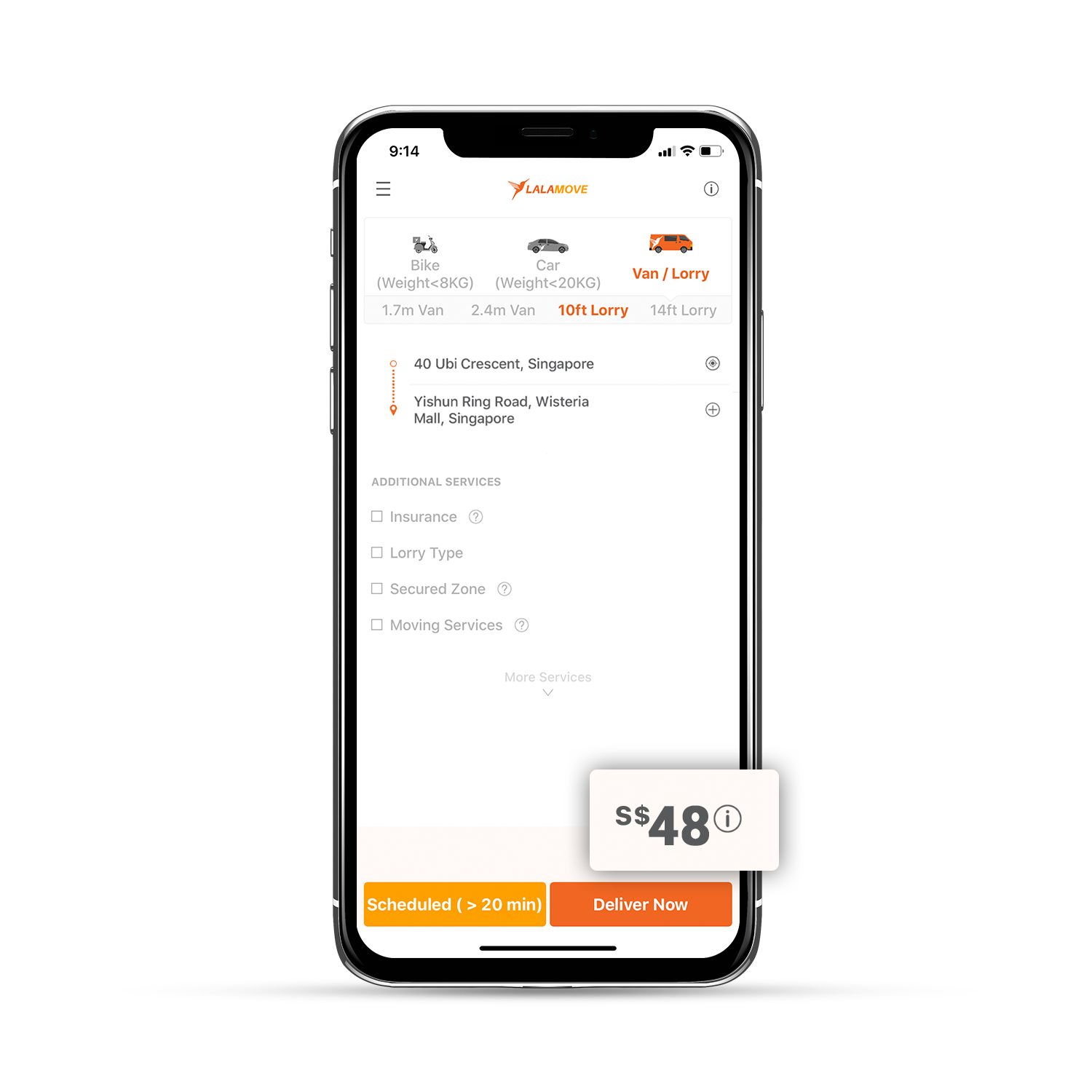 Know how much it is before ordering!
3. Better yet, choose a Company that provides an Instant and Exact Quotation!
One hassle about engaging an external party is getting the quotation for price comparison. Some lorry rental companies may only state rough, estimated quotes, as pricings "depend on the situation". Without an exact figure, those planning a commercial move would have a bigger headache when applying for procurement orders with the finance department.
Other lorry rental companies require you to write about your specifications via email to obtain a quote, where you'd be replied with an estimate in the next 2 days. This process is slow and tedious.
Let us simplify the process for you! Lalamove shows you the exact price with the click of a few buttons on our app or webpage. This makes price comparison and booking of delivery so easy!
Try it yourself, get your instant quotation on our delivery platform.
Know exactly how much you are paying! Get things done quickly with Lalamove, your top choice for reliable and affordable lorry rental.
4. Choose a Company that provides Value-for-Money Insurance, in case your Items get Damaged during the Move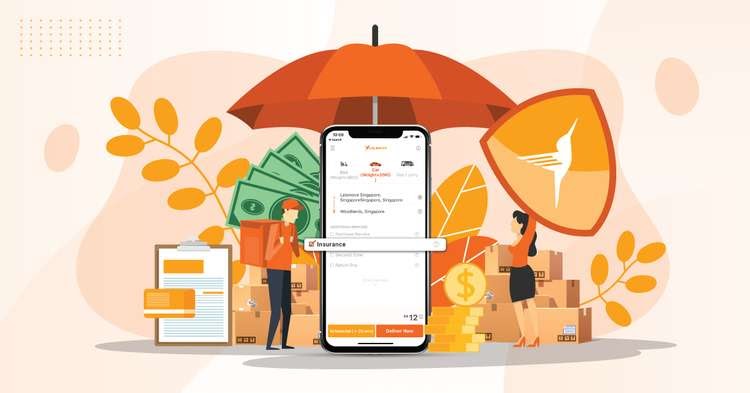 Have peace of mind with insurance coverage
What happens when the unexpected happens and items reach their destination in less than perfect condition? Unfortunately, not every lorry rental company provides insurance coverage. For companies who do, the fine print may render it difficult to make claims. For others, the coverage amount may not be high.
Here at Lalamove, in rare scenarios where items are damaged along the way, you'll get up to $2000 in coverage for cargo loss and damage! This insurance coverage is available as an add-on service, instead of a fixed monthly subscription. This way, we help customers doing 1-time moving save more.
Check out Lalamove's Insurance Coverage, powered by Chubb.
We understand that each possession has sentimental value, and monetary compensation is not the panacea for damaged items. That is why we place extra precaution to minimize such hiccups along the way. Lalamove's drivers are professionally trained to handle your belongings with the utmost care, loading and unloading carefully, and making sure the items are stably transported.
5. Choose a Company that Grants the Greatest Convenience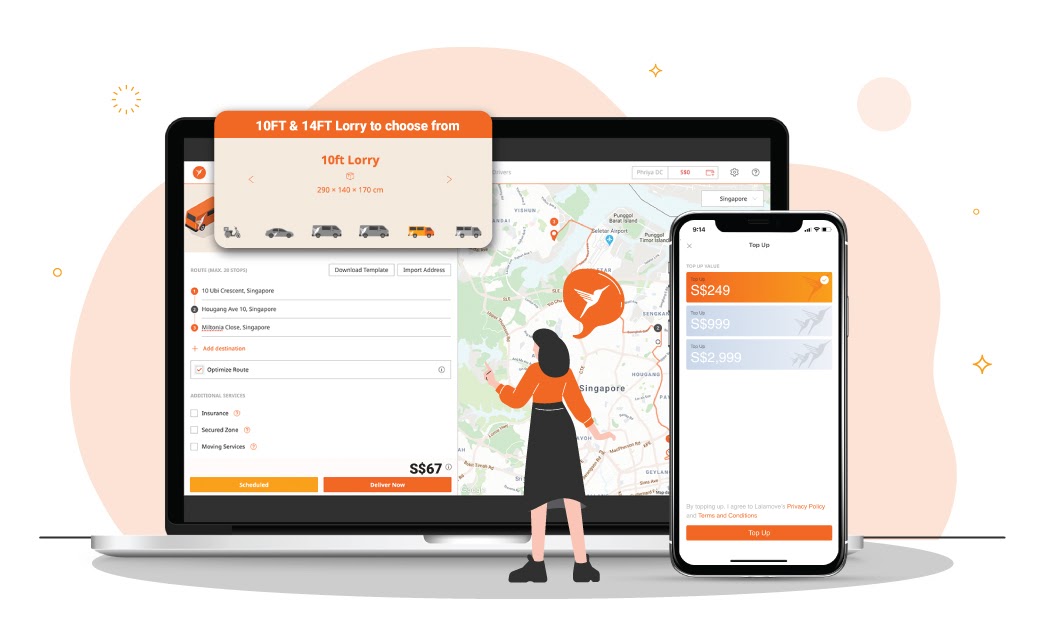 No need to toggle between documents when you use our app!
with a User-Friendly 1-Stop App...
Scouring through emails and documents for details about your move? Keep it simple with 1 single app that does everything for you! Plan and book your delivery, track your delivery vehicle and make payments, all at your fingertips! Lalamove harnesses digital solutions for all our processes, so all you need is your phone or computer for the perfect move.
and e-wallet with No Expiration of Credits!
You're hustling hard, packing items, checking your checklists, and overseeing every minute detail of the move. Your hands are full and the last thing you want is to be counting money, fumbling with coins and notes to pay the driver. We totally understand. With our e-wallet feature, you can make payments and receive receipts with greater ease!
As compared to other lorry rental companies that may impose a 1-year validity on e-wallet credits, our credits are valid forever! Say goodbye to woes about scheduling future deliveries just to use up the credits quickly. Moreover, with our fleet of vehicles, from motorcycles to cars, vans and lorries, you'd be able to use your e-wallet credits for any type of delivery, not only for relocations!
Read more about our savvy e-wallet features!
You deserve only the best! Get access to fuss-free lorry rental at amazing prices.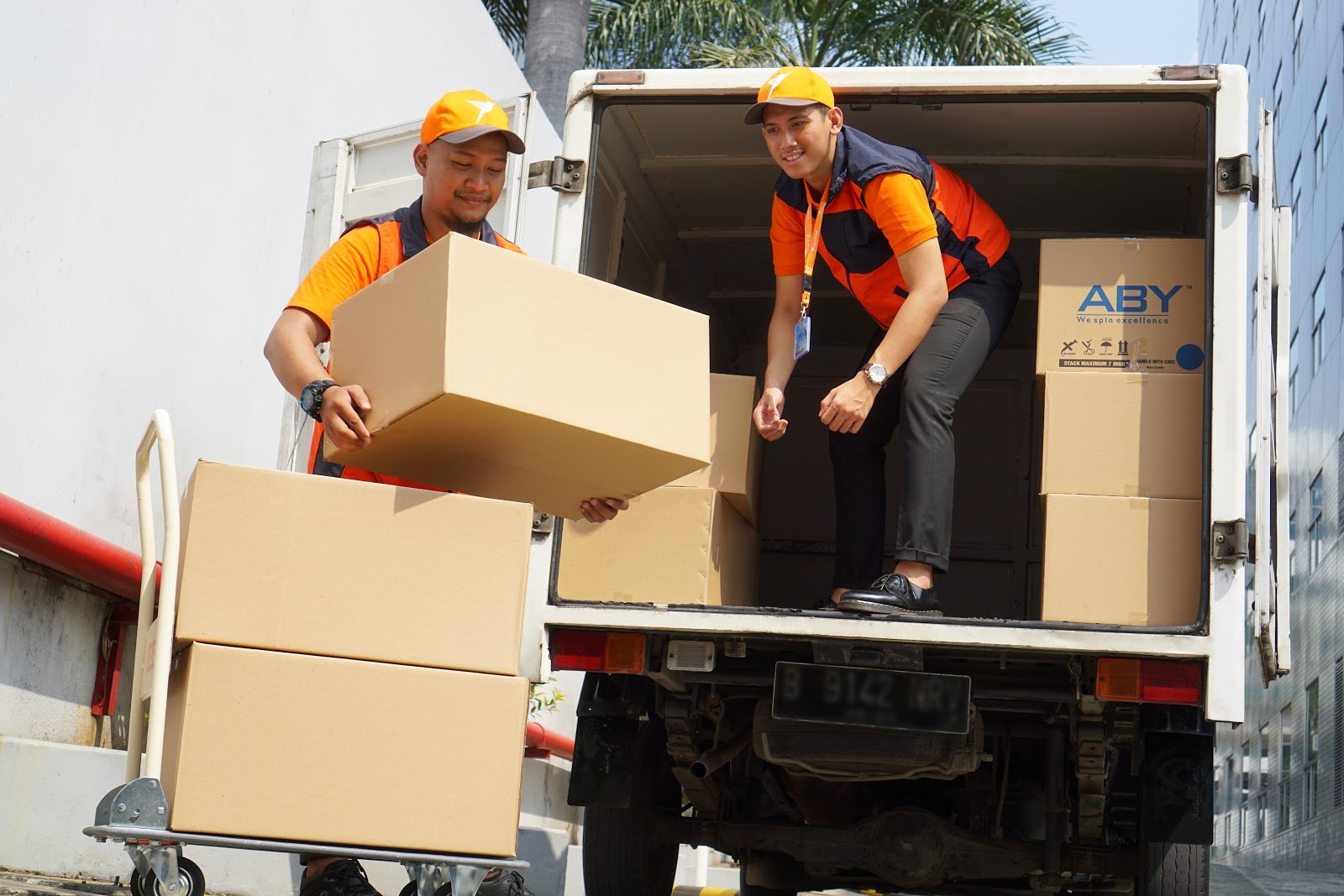 Relax and let our drivers do all manual work for you! No sweat!
6. Choose a Company that Provides Flexible Manpower Arrangements!
Every customer's move is unique. Some may be blessed with helpful extended family or a band of steady brothers to help them do the heavy lifting. But not everyone has that manpower. That is why Lalamove provides add-on manpower if you ever need us! While loading and unloading are free-of-charge, you may also request for the driver's help with door-to-door moving, for just $30! Want things to move even faster? An extra moving assistant can also be requested for at $40, in addition to the driver!
Check out our full Lalamove rates!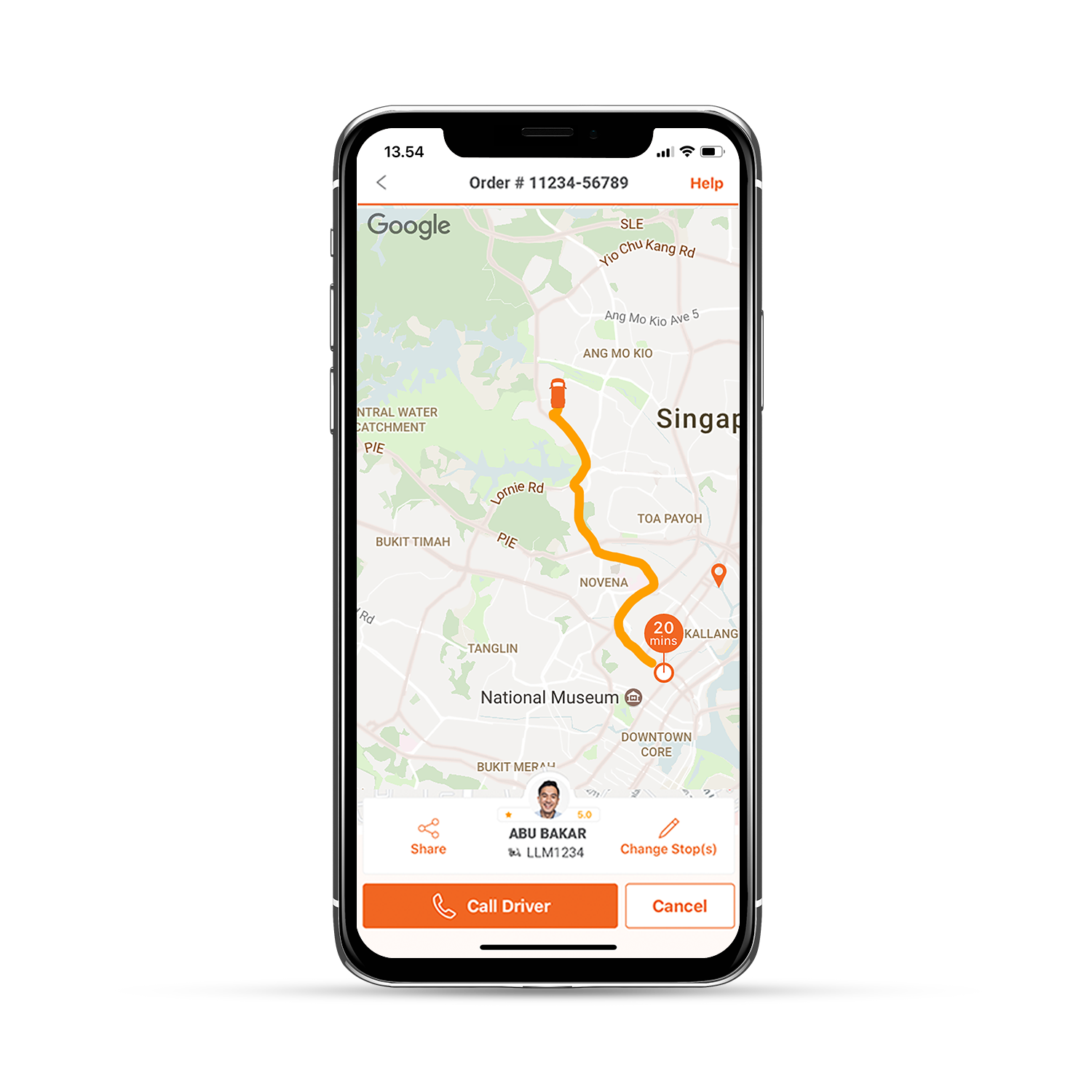 See the delivery progress, in real time!
7. Choose a Company with Live-Tracking Feature for Delivery
Are your colleagues or family members waiting to receive the items at the drop-off location? With our live-tracking feature, everyone is in the know as items are on transit! Open our app and see the vehicle moving on the map, in real-time! This boosts coordination and communication for all parties involved - you, your teammates, and our drivers!
Choose reliable, affordable and effective lorry rental services you can trust. Choose Lalamove!