Industry leader in providing alternative pet food
Lola is a business based in Singapore that produces homemade meals for dogs, priding itself to be an industry leader in its field. Lola proudly serves clients from all walks of life seeking to give their furpals the healthiest and most nutritious alternative instead of regular kibbles. The pet food market is filled with many unhealthy options disguised as the wholesome choice - Lola's aim is to make sure pets in Singapore are only getting the best option. Lola's offerings has been continually proven to be a hit in our city filled with dog-lovers, which meant that orders were pouring in. But delivery fulfillment also became an important issue, especially for a small business like Lola where the overhead costs for logistics itself would be extremely high to meet demands. Yet, compromising on quality of delivery for an online food-based business would be risky in terms of ensuring the delivery is made safely and with the highest of standards.

"Encompassing the freshest and finest ingredients, and crafting treasured portions of meals with passion." - Sheryl Guay Wen Yee, Co-founder, Lola
Quick Facts
Industry

Homemade pet food

Challenges

Overwhelming orders but logistics overhead cost is not justifiable for demands

Perishable food that requires flexible and speedy deliveries

Solution

Picking Lalamove as their preferred delivery partner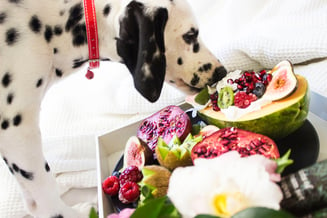 "We have saved more than 100-120% on logistics with Lalamove!" - Marc Anthony Ng Yew Jin, Co-founder, Lola
Why is delivery important for Lola Market?
"Operational efficiency is the backbone of every business today in this age and time." - Marc Anthony Ng Yew Jin, Co-Founder, Lola.
Living in an always on-the-go city like Singapore means that pet owners are usually torn between their busy lifestyle and being able to provide the best to their fur buddies. This is exactly how Lola's service fits in and became handy for pet owners to get their fresh dog food delivered to the doorsteps of clients. In order to run a smooth business with no logistical glitches, Lola needed a solid system where it was able to make flexible delivery arrangements. "We seeked for a sturdy delivery system where we could make both prior and ad-hoc arrangements for the delivery of our food products, which are delicate in nature." - Marc Anthony Ng Yew Jin, Co-founder. The perishable nature of the product made it extra crucial for Lola to have a reliable platform to be able to send the pet food whenever the need arises without any unnecessary delays. The efficiency and quality that Lola promise their customers had to be upheld when the food reaches the end location, which meant trusting a delivery partner to represent their brand while providing the best service to their clients.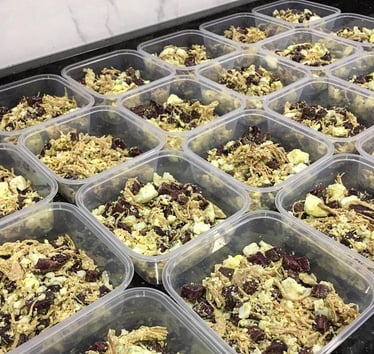 "After all, these were the faces that were presenting our products to our clients and we trust that Lalamove is the best in the market." - Marc Anthony Ng Yew Jin, Co-founder, Lola
As a business that runs on a small team, hiring additional headcounts for the sole purpose of delivery would not be cost efficient and not a feasible option for the scale of the business. Ensuring that they found a scalable logistical solution according to their demands was an important concern for Lola.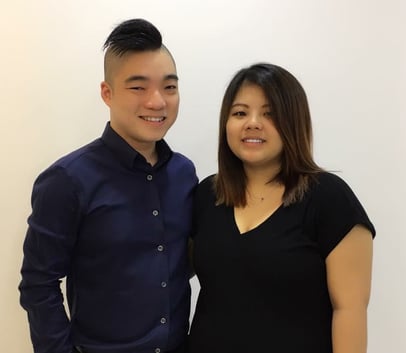 Founders, Marc Anthony Ng Yew Jin (left) and Sheryl Guay Wen Yee
How does Lalamove fit in?
"Working with unparalleled delivery partners like Lalamove allows us to efficiently hit all targets no matter how overwhelming orders get." - Marc Anthony Ng Yew Jin, Co-founder, Lola
Lola discovered Lalamove via a Facebook ad and chose to give it a try to test out whether they were able to deliver what they promised. Needless to say, the trial became an experience that Lola enjoyed and they have been consistently using Lalamove weekly now for its multi-stop batch deliveries. It has transformed the way they run their operations and has allowed Lola to further enhance its operational capabilities to be the efficient industry leader it is today. Most importantly, Lola has been able to be sustainable while it's business is growing rapidly. "We have saved more than a 100% - 120% margin as per compared to the days where we had to do the delivery ourselves personally." - Marc Anthony Ng Yew Jin, Co-founder.
Having the option to be able to book a multi-stop delivery while being matched to a driver as soon as the food is ready makes Lalamove a practical and efficient solution for Lola. The multi-stop option is not only cost-efficient but ensures that all their customers can receive their food sooner, especially if the clients live around the same zone. In addition, with their orders being matched quickly, this prevents the need for the business to scramble and plan ahead for a delivery service. But when they need to pre-plan a delivery, they are able to do so with Lalamove's scheduled delivery option.
With a delivery provider they can trust, Lola is able to focus on what they enjoy doing while they let Lalamove take care of the rest.