Standard Rates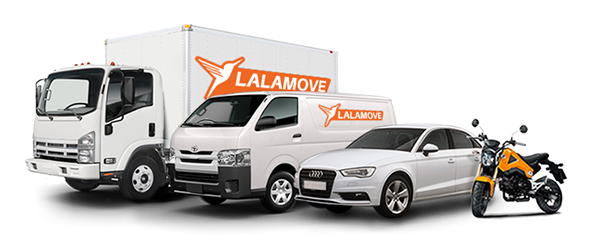 | | |
| --- | --- |
| | Motorcycle |

Weight Limit:

8 kg

Size Limit


(L × W × H):

40 × 25 × 25 cm

Price:

Base fare $10 + $0.30/km

Additional Stop

$3

| | |
| --- | --- |
| | Car |

Weight Limit:

20 kg
Size Limit


(L × W × H):

70 × 50 × 50 cm

Price:

Base fare $15 + $0.40/km

Additional Stop

$5

| | |
| --- | --- |
| | 1.7m Van |

Weight Limit:

350 kg
Size Limit


(L × W × H):

160 × 120 × 100 cm

Price:

Base fare $30 + $0.50/km

Additional Stop

$8

| | |
| --- | --- |
| | 2.4m Van |

Weight Limit:

500 kg
Size Limit


(L × W × H):

230 × 120 × 120 cm

Price:

Base fare $38 + $0.50/km

Additional Stop

$11

| | |
| --- | --- |
| | 10ft Lorry |

Weight Limit:

700 kg
Size Limit


(L × W × H):

290 × 140 × 170 cm

Price:

Base fare $42 + $0.75/km

Additional Stop

$11

| | |
| --- | --- |
| | 14ft Lorry |

Weight Limit:

900 kg
Size Limit


(L × W × H):

420 × 170 × 190 cm

Price:

Base fare $79 + $0.75km

Additional Stop

$17
Miscellaneous Charges
Additional Helpers

Vans

Driver's help : no additional charge

Additional help : +$30

Lorries

Driver's help : +$30

Additional help : +$40

Moving service

Limited to 2 hours service.

Additional charges - $10 per helper for 10 minutes block

Non-lift access

Each flight of stairs is charged S$10.00 per helper. For example: Moving service with 2 helpers going down 1 flight of stairs(not per floor level) would cost $20.00.

Tailgate services
(For lorries only)

$20.00 charge

Wrapping service

Each piece of furniture wrapped is charged at S$20.00.

Late night surcharge

A surcharge will be included in your total order amount for order times between 10:00PM till 07:59AM.

1.1x : for orders with order time between 10:00PM to 11:59PM
1.25x : for orders with order time between 12:00AM to 07:59AM

All others

These fees are those for which a driver is free to provide own quote. They include but are not limited to storage, dismantling and assembly. The quote must be provided by the driver to the customer before the commencement of the job. If customer is not agreeable with the quote, he/she must get in touch with Lalamove Customer Service at 6631 8383 before the commencement of the job. If Lalamove is contacted following the completion and payment of such job, Lalamove will not be able to provide compensation to the customer.

In case of additional charges being requested by the driver, and if these charges were not part of the original delivery order, it is User's obligation to inform Lalamove Customer Service of these charges prior to paying the driver.
Special location charges
CBD charges
(Mon-Sat, 06:30-20:30)

For jobs with pickup outside of CBD area and drop-off or any of the drop-offs within CBD area, CBD surcharges apply Monday to Saturday from 6:30am to 8:30pm.
Bike : + $2
Cars/Van/Lorries: +$5

A list of areas affected by CBD surcharge include but are not limited to:

Anson road, Beach road, Bencoolen road, Boat Quay, Bugis Street, Cairnhill Circle, Cecil Road, Chinatown, City Hall, High Street, Marina Bay, Middle Road, North Bridge road, Orchard road, People's Park, Raffles Place, Rochor road, Shenton Way, Suntec City, Tanjong Pagar, Victoria street.
Secured zones
Additional $15 per pick-up/ delivery including but not limited to:
• Airport Cargo Road


•

Airport Zone


•

ALPS Ave


•

Camps


•

Immigration Checkpoints


•

Construction Sites


•

Jurong Island


•

Jurong Port


•

PSA Port


•

SATS, Aerospaces


•

Shipyard


•

Supply Bases
Purchasing service
| | |
| --- | --- |
| Purchasing service - Eateries | +$15 |
| Purchasing service (Non-Eateries) | +$10 |
Other applicable fees
Waiting fees

First 10 mins: Free of charge

+$2 per additional 10min block part therof

Carpark charges
Not chargeable
Cancellation fees
For driver who is on the way to order destination: Driver will call to confirm the order prior to departing. If delivery is confirmed with the driver then and a cancellation happens after the scheduled time, 50% of the order fee will be chargeable to the customer. Lalamove will assist in communicating the charges to the customer on the driver's behalf.
Oversized item charge

If the requirement or parcel exceed maximum weight, size or quantity specified under Lalamove's pricing page, Lalamove will offer the customer to either of the below mentioned solutions:

1. Change the vehicle type to the appropriate one with price difference being borne by the customer (applicable to motorcycle, car, van, and lorry 10ft jobs).
2. Add additional helper to assist with the order with price difference being borne by the customer (applicable to van and lorry jobs only)
3. Cancel the order with half of the delivery fee being borne by the customer if the driver already showed up to perform the job.

Wrong address change
User will be charged the price of an additional trip from the original address to the new address provided. The price will be according to the standard transportation fee and additional stop charge.
Additional stop charge
Additional stops are charged depending on the vehicle requested to perform the job. Orders with multiple stops will incur an additional charge of S$3.00 per stop for motorcycles, S$5.00 per stop for cars, S$8.00 per stop for 1.7m vans, S$11.00 per stop for 2.4m vans and S$17.00 per stop for lorries.
Additional Charges
| | |
| --- | --- |
| | Round Trip |

Motorcycle:
$4

Car:

$8

Van:
$8

Lorry:

$10

| | |
| --- | --- |
| | Additional Stops |

Motorcycle:
$3

Car:

$5

1.7m Van:
$8

2.4m Van:

$11

10ft Lorry:
$11

14ft Lorry:

$17

| | |
| --- | --- |
| | Moving Service |

Van:
Driver's Help: Included in Price
Additional Helper: +$30
Lorries:
Driver's Help: +$30
Additional Helper: +$40

A surcharge will be implemented separately by the driver if
• Dismantling/Assembly services are required
• Items have to be moved without lift access
• Items are fragile and need extra care
• Provision of wrapping and storing services

Additional charge includes 2 hours of service. Timed from scheduled time of order, or arrival time of driver, whichever is later. If service takes longer than 2 hours, there will be an overtime charge of $10 per additional 10 minutes or less per person. Should there be additional requirements for your delivery, please call Lalamove for more clarification.

| | |
| --- | --- |
| | CBD Charges |

CBD Surcharge
(Mon-Sat, 06:30-20:30)
Additional fee for every entry from non-CBD area into a stop/destination at the following CBD areas:

Anson Road
Beach Road
Bencoolen Road
Boat Quay
Bugis Street
Cairnhill Circle
Cecil Road
Chinatown
City Hall
High Street
Marina Bay
Middle Road
North Bridge Road
Orchard Road
People's Park
Raffles Place
Rochor Road
Shenton Way
Suntec City
Tanjong Pagar
Victoria Street

| | |
| --- | --- |
| | Secured Zone |

Secured Zones
Additional $15 per pick-up/ delivery at:

Airport Cargo Road
Airport Zone
ALPS Ave
Camps
Immigration Checkpoints
Construction Sites
Jurong Island
Jurong Port
PSA Port
SATS, Aerospaces
Shipyard
Supply Bases

| | |
| --- | --- |
| | Late Night Surcharge |

1.1x
for orders with order time between 10:00PM to 11:59PM
1.25x
for orders with order time between 12:00AM to 07:59AM

| | |
| --- | --- |
| | Miscellaneous Fees |

Waiting Fees

First 10mins: Free of Charge




+$2 per additional 10min-block

Carpark Fees

Not Chargable

Cancellation fees

Cancellations made when driver is at pickup location will incur a fee to compensate your driver for his or her time.

Overtime fees

$10 per block of 10min (per hired help)