GET EXCLUSIVE
SUV

rental deals
with our rental partner now!
* Terms & conditions applies, prices subject to change without further notice

FAQs
How will I be able to redeem the special rental rate?
Contact Motorway Car Rentals directly via Tel. 6466 2200 or email to
rent@motorwaycarrentals.com and quote project code "MWRLALA" to enjoy the special rental rate. Please also include a screenshot of Lalamove driver's app with verified status as per below: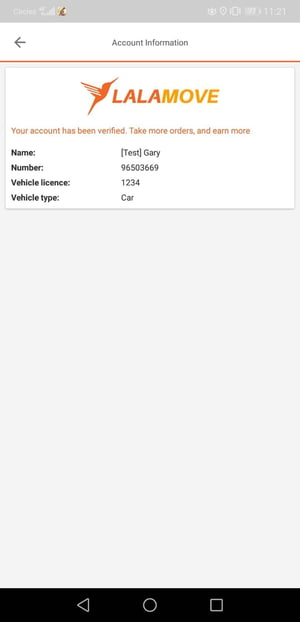 How should I pay my monthly rental?
You will need to provide a Credit / Debit Card number and sign on a Letter
authorising Motorway Car Rentals to make deduction of their monthly rental
charges on the rental due date.
Do I need to bring anything when I collect my vehicle?
You are required to bring their original NRIC and Driving License together with your Credit / Debit / Nets card for payment.
What are the requirements to sign up with Motorway?
The hirer and any additional driver have to be 24 - 60 years old with at least 2 years of driving experience.
What if I have other questions?