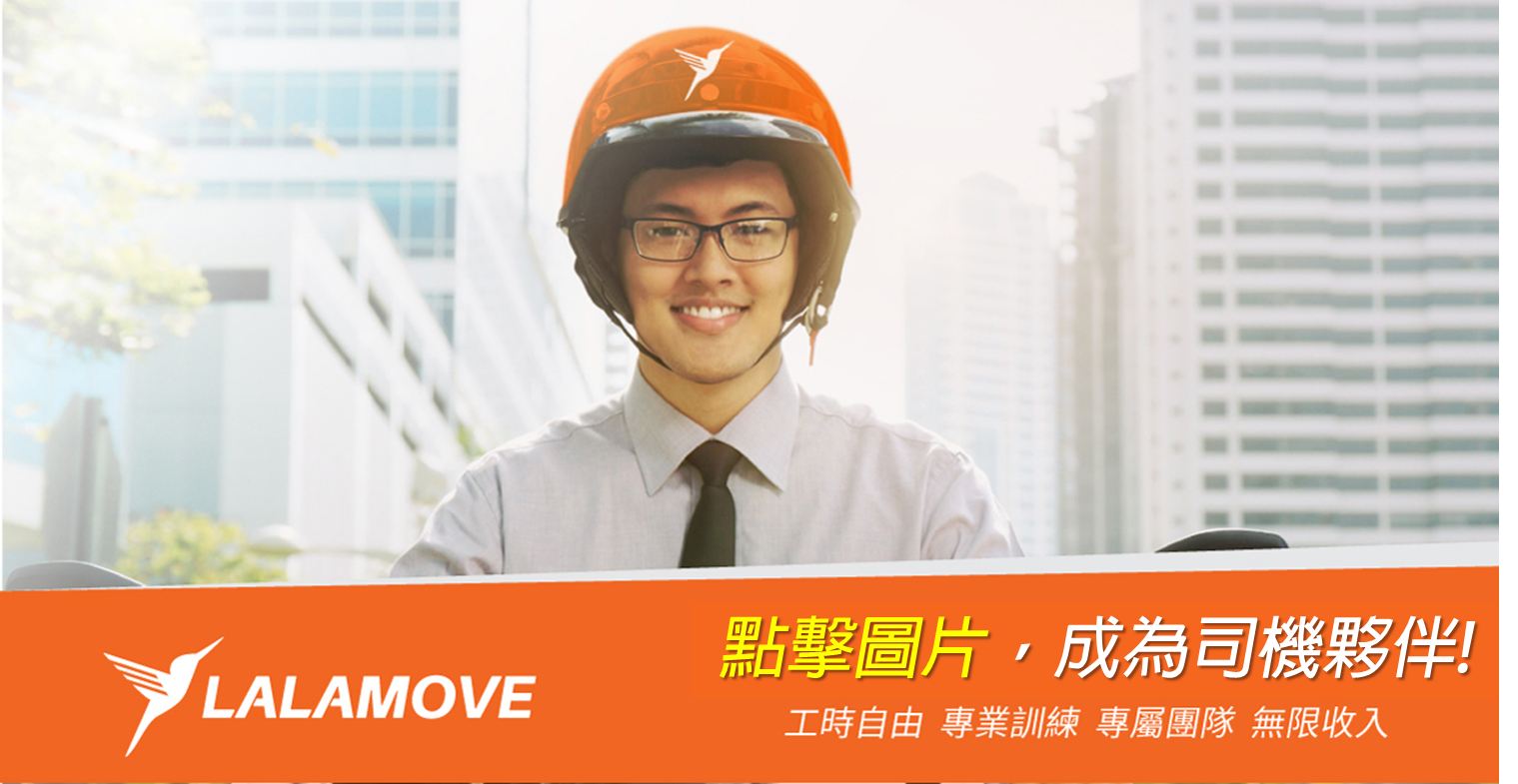 Service Area
Taipei City & New Taipei City zone (exclude Sanzhi、Gongliao、Wulai、Shiding、Pinglin、Pingxi、Shuangxi、North Coast etc.分districts),We have also expanded our service area from mid of December 2018: Taoyuan District、Bade District、Guishan District、Zhongli District. Training sessions in Taoyuan District start from 2018/12/8!
Remark:Order pick-up permission is not restricted by Taipei City, New Taipei City or Taoyuan District, you can pick up orders across the whole service area with one driver account.
Order Pick-up period
Our platform provides

24-hour service

. No restriction on working schedule or minimum order volume. You can decide your own working hours. Just go online in the driver app and pick up orders!


Order Pick-up method
As long as you have

mobile phones

and approved vehicles

, you can simply go online and pick up orders in the driver app.




Activation Cost
300TWD will be charged for the Lalamove platform activation, on top of that additional 200TWD will be rewarded, allowing you to be able to pick up orders right after the activation, make earnings right away!


Fuel cost、Telephone bill、Insurance
Since driver partners decide their own working hours and orders, the relationship between Lalamove and driver partners is matchmaking instead of employment. Therefore, fuel cost, telephone bill and insurance will be covered by driver partners themselves. Drivers partners can apply for insurance through transport union.
Free accidental insurance will be provided to our Lalamove elite partners. Click the link to know more: https://reurl.cc/j84GL

Order Pricing
Distance-based pricing is adopted, please refer to the below graphs: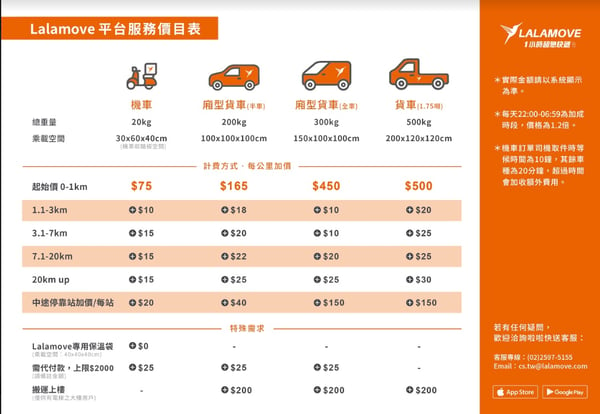 Commission
Lalamove charges 20% commission for maintaining platform operation, Customer service, as well as exploring more business opportunities and introducing welfare to our fellow driver partners etc.
Remark: We have already cooperated with business partners e.g. IKEA、棉花田、拿坡里 etc, the list keeps growing!

Application Critieria
Your own driving license ( e.g If you applied motorcycle through Lalamove, please use motorcycle driving license.)

Motorcycle/ SUV / Van / 1.75 ton Truck (Not necessarily your personal vehicles)
Vehicle license

(Not necessarily your personal vehicles)

Personal bank passbook

How to become Lalamove driver?
Download " Lalamove Driver app" , register and fill in all the information

Participate in training session, after that driver can opt to join our platform. one-time $300TWD will be charged for platform activation ( Additional

$200TWD reward

will be transferred to driver wallet, for picking up cash orders)

Vehicle inspection

is required for platform activation, please be reminded to drive your vehicles here! You can park near Raohe night market for convenience.
Remark:
Original copy

of personal driving license is required for attending the training session
If you haven't completed the registration through driver app, please bring along all the

original copies

of the required documents ( Vehicle license, Driving license, Bank Passbook etc.) to the training session. Our staff will assist in completing the application procedures.
What if I lost, reissue or expire my registration documents?
Only

Original copy

of personal driving license is required for attending the training session and account activation. Please submit all the remaining documents within 7 days after the account activation, otherwise your account will be suspended temporarily.
Remark:
Apart from personal driving license, please drive your vehicles to the training session as well! You can park near Raohe night market for convenience.

If you lost your vehicle license, please upload the screen capture of the result from your license Query instead (link as below) to our registration page in the driver app.
https://www.mvdis.gov.tw/m3-emv-car/car/licenseQuery
Application reminder
All successful applicants will receive reminder SMS on the application day, a day before training session and the day of training session.


Gear, Costume requirement
All driver partners are not required to wear costumes or identification cards. For motorcycle driver, Lalamove will provide options of lalabag purchase or rental. For truck drivers, we recommend having a trolley for moving goods purpose.
Remark:
Lalabags (Small+Big size) cost $700TWD in total. 14-day free trial period (Inc. Public Holidays) will be provided to first-time lalabag rental service users.
Problematic order handling
Please contact our CS if you encounter any issues. Our customer service representatives will assist accordingly, e.g. Police report, Facilitate communication with police and investigation assistance etc. In addition, drivers will not bear any legal liability for handling goods without knowledge of it's related legal and safety issues.
Order Volume issue
Unstable order volume, No orders during Holidays?
Unstable order volume, No orders during Holidays?


Logistics might vary at different time or in different district, therefore its normal to have a variance in order volume. We recommed driver partners to drive to "Egg yolk" districts ( Xinyi, Da'an, Zhongshan,Songshan,

Sanchong,

Zhongzheng, Banqiao,Zhonghe,

Yonghe and other commercial districts). These are the places with more likelihood of high delivery demands.

Veterans always pick orders faster than rookies?
In order to increase delivery efficiency, an order will first dispatch to drivers within it's 5km radius ring. The ring will grow gradually as time progresses. Therefore, there might be time lag for drivers to view certain order in different locations. Also, not all veterans enjoy the benefit of 5-sec viewing orders in prior, only elite partners are entitled to such benefits. In addition, elite partners are able to enjoy accident insurance and other welfares as well. Let's strive to become one of our elite partners!

Please refer to this link for more details about elite partners :https://reurl.cc/j84GL