Your Guide To The Lalamove Business Account
This guide will show you all there is to know about our Business Account.
We'll update this page regularly to give you more insights on optimising your experience as a Lalamove Business Account holder.
So yes, we highly encourage you to bookmark this page for future reference.
If you're ready to get the most value out of your Lalamove Business Account, let's dive right in.
Introduction To Lalamove And Lalamove Business Account

What Is A Lalamove Business Account?
The Lalamove Business Account encompasses valuable resources to offer a seamless logistics digitalisation experience. It also provides personalised support from Business Development professionals and account managers.
Advantages Of Lalamove Business Account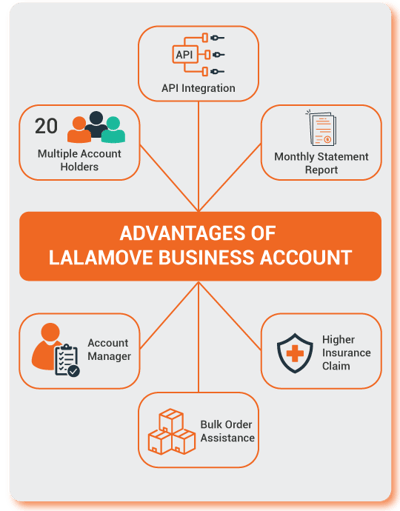 1. Up To 20 Account Holders
Lalamove Business Account embodies the spirit of teamwork by enabling multiple account holders (or teammates) with three tiers of authority under one account.
Business owners can assign 20 employees under a single account. Each of these account holders can authorise a delivery order independently with the shared credits in the Lalamove wallet. Any account holder can reload the credits to avoid order delays due to insufficient credits.
The three tiers of authority in Lalamove Business Account are Admin, Employee and Manager. The clearance level of each tier is described below: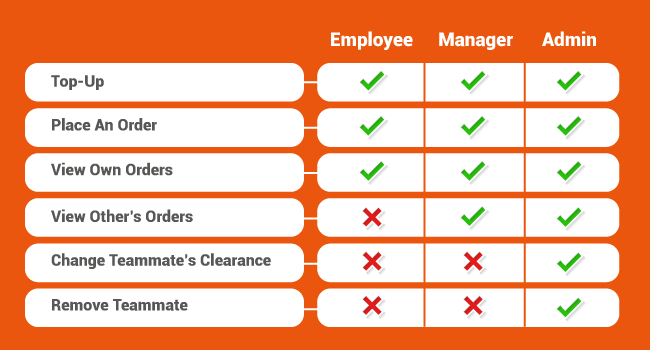 Here's another important note: only Admin can add new teammates.
The Admin can send an invitation to anyone in the company via the Lalamove web app. The invitation link will be sent out through email, and the teammate has seven days to accept the invitation.
Alternatively, the Admin can inform our customer service if they want to add a new teammate to the Business Account.
2. Dedicated Account Manager
Upon signing up for the Lalamove Business Account, our sales team will build a rapport with you.

We'll promote your account's status to 'Enterprise' based on specific continuous spending and usage tiers. If you've qualified for an 'Enterprise' account, you'll be qualified to be under the care of a dedicated Account Manager (AM).

The AM is your primary touchpoint for guidance and support for your company's last-mile delivery operations.

Our AM is reachable on weekdays, 9 am to 6 pm.

You'll have a direct line to the AM through email and WhatsApp to voice any requests, enquiries and complaints.

As long as you sustain your company's monthly spending level with us, an AM will always support you with Lalamove deliveries.

If your account is void of an AM, fret not. Our sales team is always flexible to entertain your queries and issues, as long as your account is still active!

But what should you do if the AM is unreachable, like on weekends/public holidays/after office hours?

You can reach out to our Customer Service agents (CS) via live chat in the app if you need urgent assistance with your account. CS will then relay the necessary information to the AM or sales team on the subsequent working day for further action.
3. Monthly Statement Report
With Lalamove Business Account, you'll be given a monthly statement at the end of each month to keep track of your company's monthly delivery expenditure.

Furthermore, there's an option to share the report with ten recipients through their email addresses. This option promotes greater transparency between your colleagues and company stakeholders.

Here's a sample of the report and details of each section: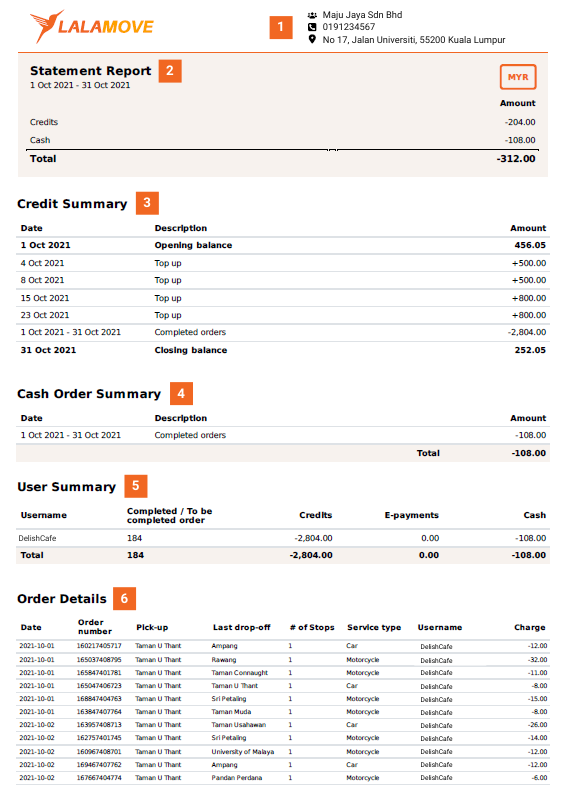 1. Company name and contact details
2. Total business account expenditure for the month
3. Summary of the month's credit expenditure, which is inclusive of balance from the previous month, individual top-up value, the total expenditure for deliveries and carry forward balance
4. Expenditure for cash on deliveries
5. Summary of the month's total deliveries, credit and cash expenditure. This summary can be segregated to display the activities of each user
6. Granular details of individual delivery orders, which are order number, pick up/drop off locations, number of stops per delivery, vehicle type, name of teammates that placed the order, and delivery fee
4. Bulk Order Assistance
Did you know that you can assign up to 19 drop-off locations in a single delivery trip with our app?
But what happens when you need to deliver to beyond 19 locations with hundreds of recipients? Should you manually key in all the names and addresses of the recipients to get the job done?
With the Lalamove Business Account, you don't have to!
Here's a simplified process on how we can facilitate high volume deliveries for your company:
1. Furnish a list of delivery recipients to our sales team at least two days before the delivery date.
2. Our sales team will group the recipients according to their area. Here's a small-scale example of multiple recipients. The list is a mixed bag of recipients' locations in no particular order: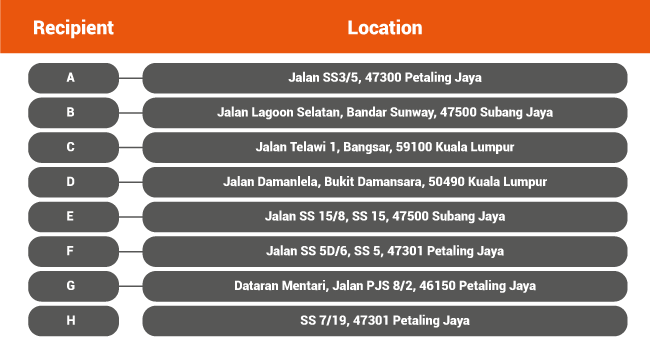 Next, our sales team will rearrange them into groups based on their vicinity to each other. This would be the outcome of the rearrangement: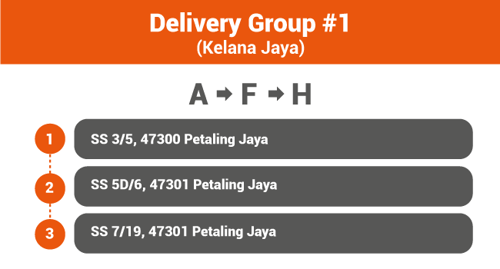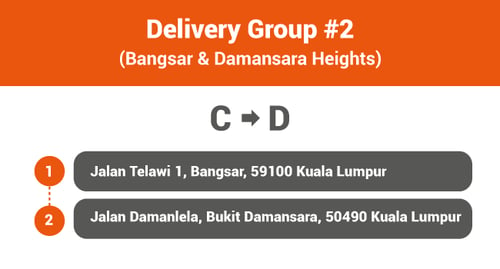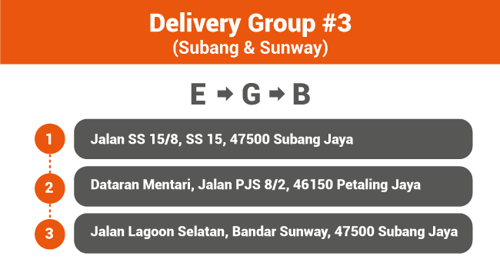 3. Once you agree with the arrangement of delivery groups, routes and fees, our account manager will proceed with the plan. They will assign Lalamove delivery partners to each group before delivery.
4. The bulk orders will appear on your Lalamove account in real-time. You will be able to view order ID, order details and driver details as usual. Live chat with Customer Service agents is available for any order amendments or assistance.
5. On the delivery day, the sales team will work closely with our Operations Department and Customer Service agents to ensure seamless deliveries to all locations.
What are the benefits of bulk order support?
- Cheaper cost per delivery in a single route with multiple drops
- Faster delivery to each recipient
- Automated bulk delivery arrangements from Lalamove's end
- Always-on support from the sales team and customer service for active deliveries
5. Higher Insurance Claim
Regular Lalamove users, i.e. non-business account holders, are entitled to a RM100 damage claim in the event of lost, stolen or destroyed goods during delivery.
However, with the greater frequency of business deliveries comes greater odds of running into delivery complications.
This is why we offer a higher damage claim of up to RM400 for Lalamove Business Account holders!
Suppose you ever find yourself in a tight situation of lost, stolen or damaged goods due to delivery mishaps. In that case, you can file a damage claim with our Customer Service no later than three days after the incident.
To qualify for the claim, you need to provide evidence of the mishandled goods, such as invoices, receipts, text messages with the delivery driver or pictures of the damaged goods.
Our sales team will work closely with the operations team to investigate the authenticity and weight of the incident. If your case meets our criteria for the claim, we'll process the RM400 claim to your Lalamove wallet as credits.
But that's not all.
We also offer third-party insurance coverage for your delivery if you need a bigger safety net!
Our insurance partner offers an insurance package from as low as RM80/month in its most basic form. With this package, you'll be entitled to RM6,000 coverage per delivery for any ten deliveries in the effective month.
Need coverage for more than ten deliveries? Our sales team is ready to assist you with a tailored insurance contract for greater peace of mind.
6. API Integration
API is the acronym for Application Programming Interface. It's a software intermediary that allows two applications to talk to each other.
The Lalamove API enables businesses to directly integrate their system/platform with Lalamove's systems to place orders automatically without needing to use our app.
The Lalamove API is trusted by over 600 customers worldwide, placing hundreds of thousands of orders each month.
We offer API integration to clients with the following characteristics:
- E-commerce business that wants to provide a seamless online checkout experience for customers
- Business that places a large volume of orders frequently and need to place Lalamove orders automatically without manual input in our user app
- Any integrator platform or software provider who wishes to complement their existing suite of services with a ready-to-go delivery partner for end-customers
For more details on our API solutions, please visit our dedicated page on API.
How To Sign Up For Lalamove Business Account
Signing up is as easy as placing a delivery order on our app (and we may add that it's easier to sign up!)
You have two ways to sign up for our business account:
1. Visit our business page and fill in the form on top of the page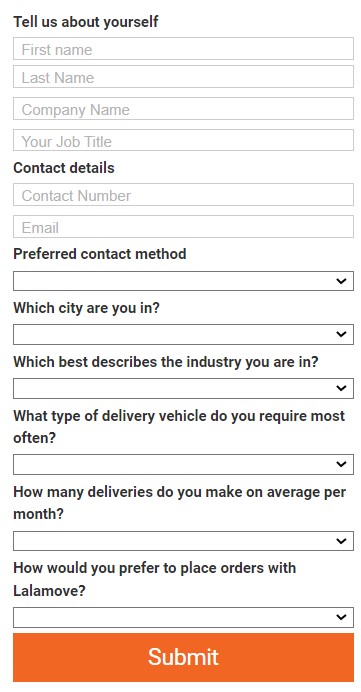 This signing up method is suitable for those who:
1. Wish to get in touch personally with our sales team and let us take care of the registration process
2. Have enquiries regarding our delivery service, business account or any other related issues
2. Self Registration
Here's a DIY approach to signing up for our business account:
That's all for now for this guide. We'll be back with more chapters on how to optimise your experience with the Lalamove Business Account.
If you have any enquiries related to our Business Account, you can forward them to our Customer Service agents via Live Chat in the app.
Don't forget to bookmark this guide to keep tabs on updates and for your future reference!