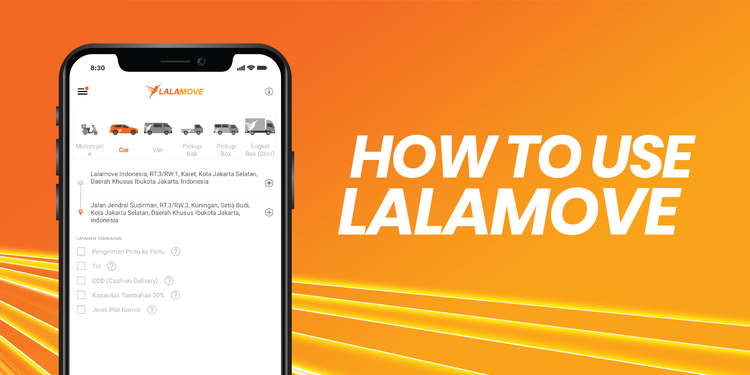 How to use Lalamove delivery service
We get to do everything easily from the palm of our hands or via our laptops these days - what a time to be alive! Even booking deliveries or running errands no longer needs to be done by making an extra trip down by yourself. With a delivery app like Lalamove, you can start spending more time on things that matter while also having the comfort of knowing that your tasks are being completed.
It could be simply sending a document and item to someone or sorting delivery needs for special occasions, we got anything you need covered. But you might be wondering - Lalamove is perfect for my needs but how do I use it?
To make sure you are fully utilising Lalamove and its various functions, we share with you a step-by-step guide on how to use Lalamove.
Available on web, mobile or tablet application
Did you know that Lalamove isn't strictly an Apple Apptore or Google Playstore application? You can also easily log in on our web app platform to make a delivery booking whenever you need one. This saves time especially if you're making multiple stop orders or simply prefer using a web page interface.
Guide to use Lalamove delivery service
Step 1: Log in to your Lalamove account
Step 2: Enter your pick-up and drop-off locations.
Step 3: Add stops if you need multi-stop delivery.
TIP - If you need multi-stop delivery and do not have specifications about the delivery route, you can use our optimize function so that the system will be able to plan your route strategically and help you to reduce your order cost in return!
Step 4: Place order and wait while your driver is assigned to you.
Step 5: Once driver has been assigned, await a phone call from driver to confirm your order
Step 6: Relax and wait for your delivery to be complete. You can track your driver's location with our real time tracking function.
Step 7: Once your order is successfully complete, rate your driver or even add him into your favourite drivers list!
It's as simple as that! Have any more questions related to your delivery needs? Contact us at (021) 5010 6688