From Durian Orchard To Your Home: 16 Best Places To Order From This Durian Season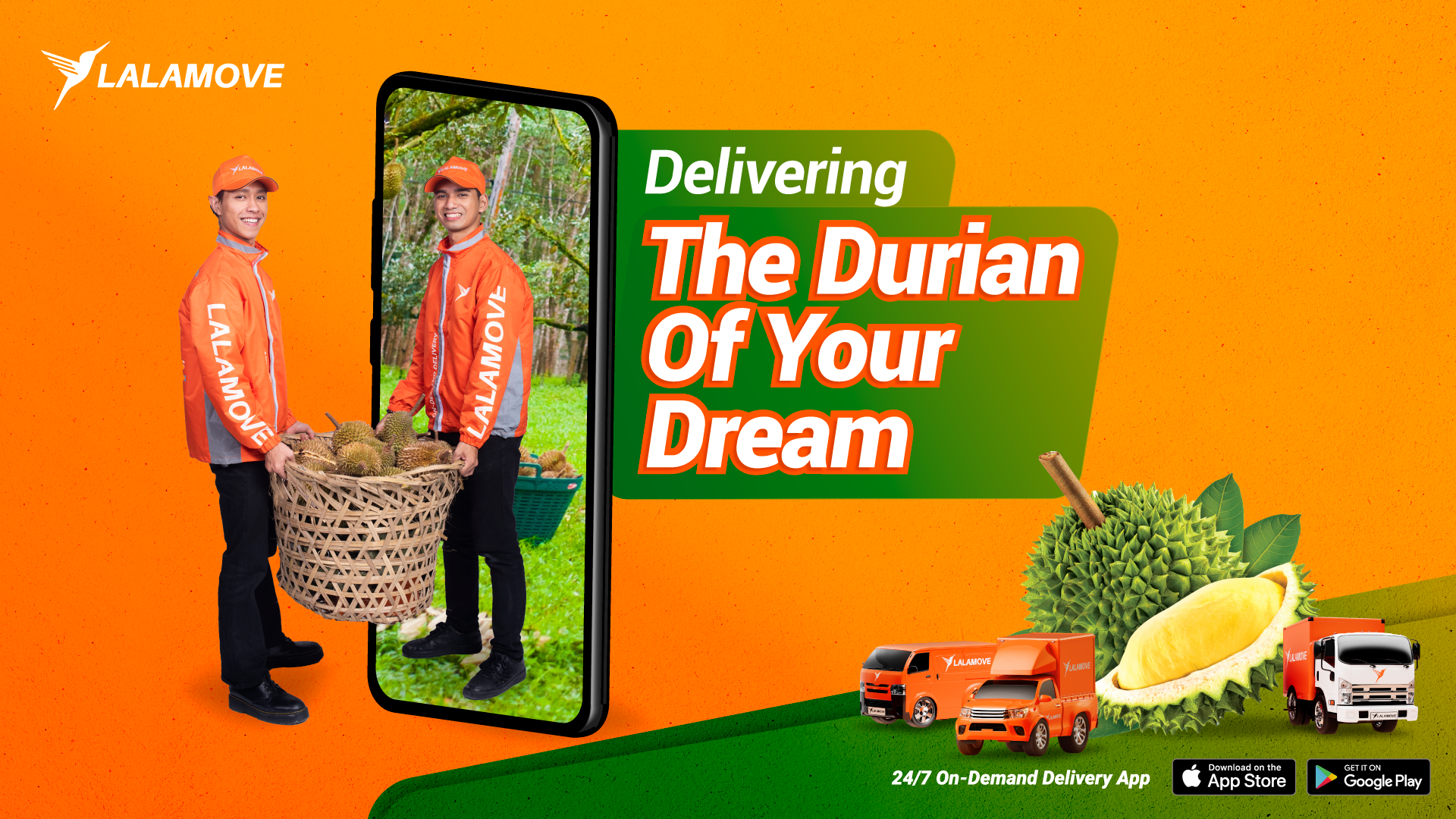 Welcome to the most exciting time of the year — durian season!
Brace yourselves for the sensational aroma, the creamy texture and the heavenly taste of the King of Fruits.
Whether you're a seasoned durian fan or a brave first-timer, we've compiled a list of the 16 best places that can deliver to your home this durian season. Get ready to savour the gastronomic durian experience from the comfort of your own home!
Klang Valley
Johor
Penang
Malacca
1. Qayl Fruits (Klang Valley)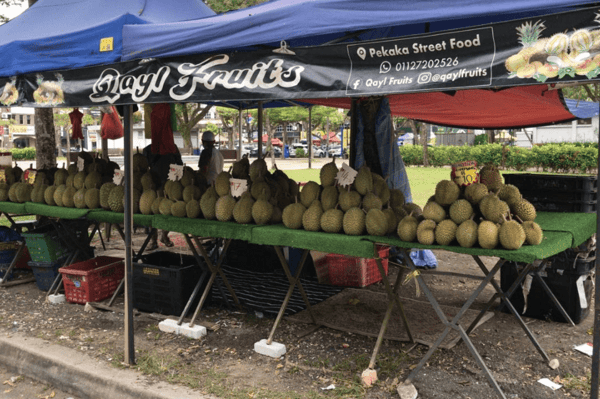 Qayl Fruits guarantees customer satisfaction by offering a warranty on every durian and allowing customers to inspect the quality of their durians. Their standout variety, the D209 Kang Hai, combines creamy, sweet, and bitter flavours.
Durian Promotions
Enjoy more discounts when you buy at least 3 durians worth RM28 and above. Durian Kampung starts from RM10/kg and Red Prawn starts from RM28/kg.
2. Dking (Klang Valley)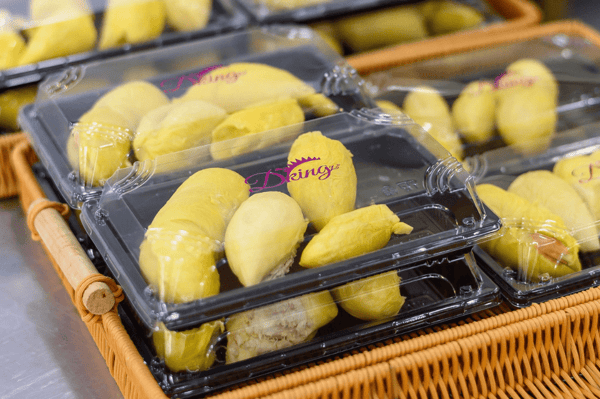 Unleash your taste buds with a one-of-a-kind durian experience from Dking!
They go the extra mile to provide complimentary gloves and a custom-made bag for all orders, making sure that all aspects of your durian experience are covered.
Prepare to be captivated by their creamy and subtly bitter Premium Black Thorn and Musang King durians, often hailed for their unparalleled taste.
Durian Promotions
Get 2 packs of fresh 300g Musang King for RM88 only
3. Sam's Durian (Klang Valley)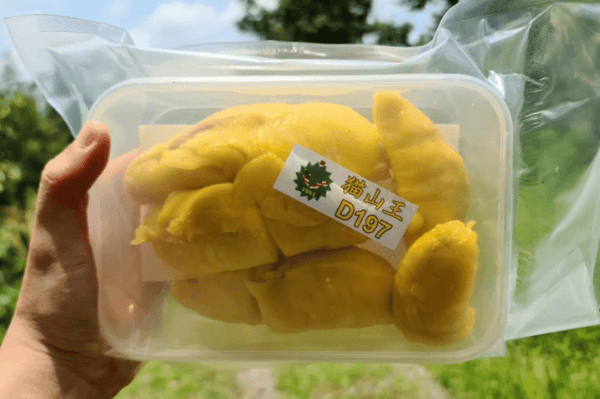 Sam's Durian takes pride in serving durians exclusively sourced from their own farm, assuring quality for customers.
Their Musang King variety stands out with its unique fertilization and feeding methods, resulting in a distinctive texture and flavour that sets it apart from the rest.
Durian Promotions
Get their family set of D197 Musang King and D24 X0 sold for RM199 until 11th June 2023. Each box contains 400g freshly packed durian pulps. Customers may also select bitter or sweet durians based on their preferences.
4. SCA Fruits Enterprise (Klang Valley)

When it comes to durians in bulk quantity, SCA Fruits is the specialist you've been searching for!
Whether you're planning a party or even a wedding that will leave a lasting impression, they've got you covered with their regal durian supply.
If your guests are thoroughly enjoying your durians, you should thank SCA Fruits for providing you with a luxurious range of durians that are fit for royalty!
Durian Promotions
You can purchase 5 kilograms of Musang King, Red Prawn, Tekka and XO durian for prices of RM225, RM150, RM200 and RM150 respectively.
5. Dusun Durian Landak (Johor)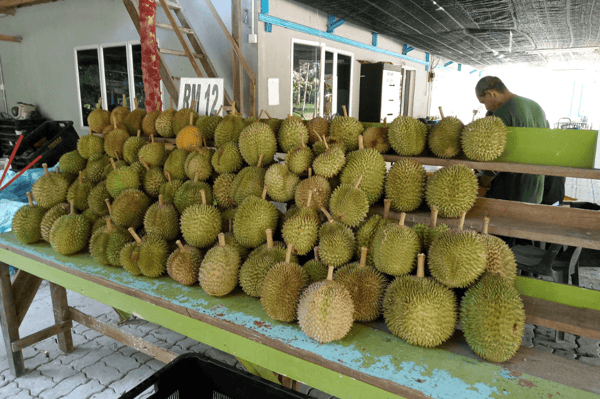 Prepare your taste buds for an extraordinary durian experience with Dusun Durian Landak!
Their selection features the crème de la crème of durians, including the renowned Musang King, Musang Queen and the luscious Black Thorn.
Durian Promotions
Get Black Thorn durian for RM55 and Musang King for as low as RM30 only.
6. Ah Tong Durian (Johor)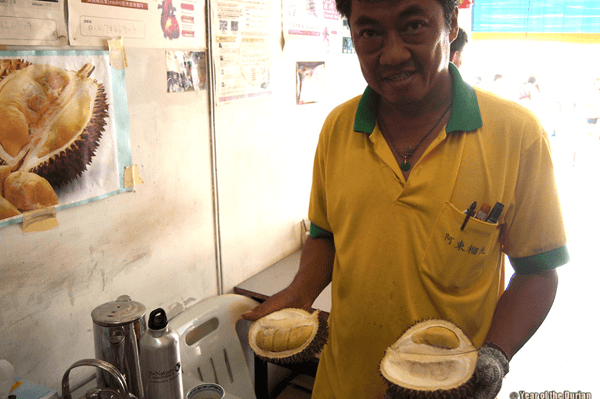 Ah Tong Durians have garnered such a remarkable reputation that even Singaporeans make the journey just to savour their exquisite durians!
Their selection boasts a variety of fresh delights, including Musang King, Kanghai, IUI, Red Prawn and many others.
Durian Promotions
Ah Tong offers popular types of durians from as low as RM38/kg.
7. Royal Durian JB (Johor)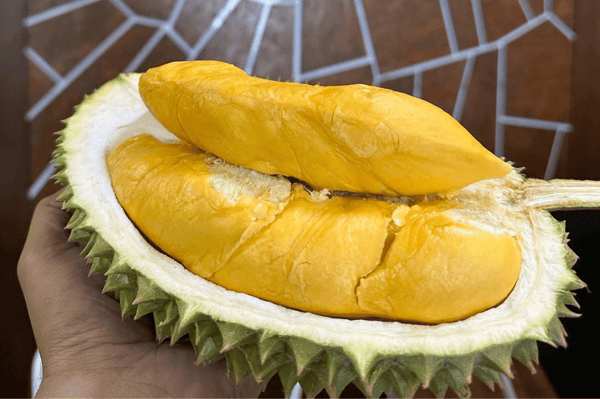 Those in Johor Bahru who love durians don't have to travel far as Royal Durian JB brings the delicious, creamy fruit from Raub, Pahang, for an unforgettable indulging experience.
The crown jewel of their selection is the legendary Old Tree Musang King. And if you're looking to indulge like royalty, don't miss their Musang King Buffet, where you can feast to your heart's content.
Forget about durian pulps – prepare for a regal durian feast fit for kings!
Durian Promotions
500g of packed Musang King flesh for RM80 and a whole king of Musang King for RM48/kg.
8. Mat Durian Kulai (Johor)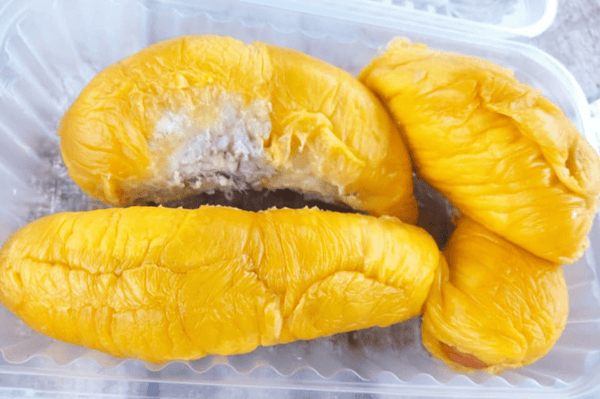 If you're looking for more affordable durians but still wouldn't compromise on their rich taste, durian kampung from Mat Durian Kulai is the best to try.
Don't forget to mix their Durian Kampung gems into heavenly tempoyak for a culinary experience that evokes childhood memories back in your hometown!
Durian Promotions
Get Musang King for RM19, Red Prawn for RM15, IOI for RM15 and durian Kampung for RM7.
9. 333 Durian (Johor)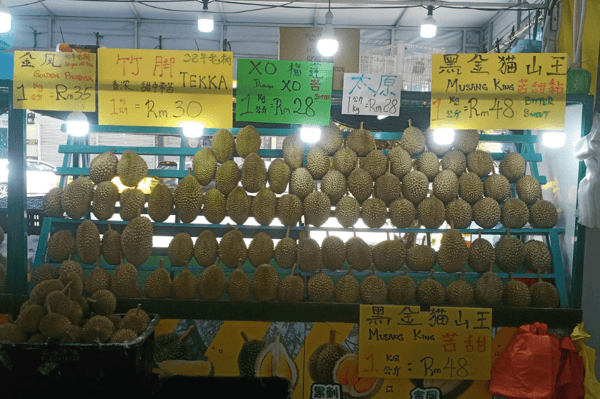 Experience the vibrant flavours of a diverse durian selection offered by 333 Durian!
Whether you're a pro in durian flavours or still a rookie, their fresh variety of durians caters to all taste preferences. Get ready to embark on a delectable durian journey that will surely leave you wanting more!
Durian Promotions
Musang King starts from RM38, XO durian from RM28 and Golden Phoenix from RM35. They also have a fresh variety of durians including Kanghai, Kasap, IOI, Red Prawn, D3, Kampung and Kahwin.
10. Sister Durian (Penang)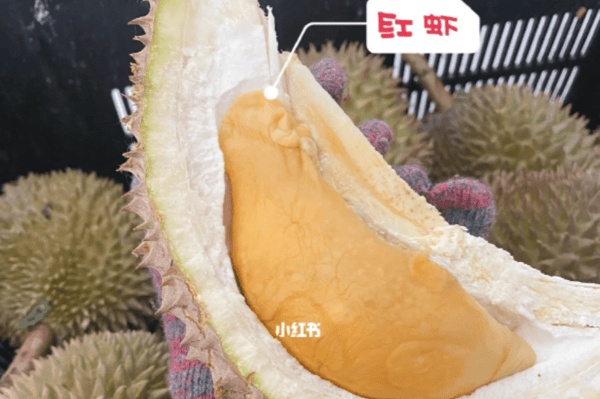 Sister Durian brings you fresh farm-to-table durians that durian lovers must try. Their most famous variety, Ang Hae, is celebrated for its bittersweet and creamy taste, leaving customers craving more of these delectable treats.
Durian Promotions
Get 1 box of Red Prawn or other types for RM40 and 3 boxes for RM100. Enjoy their buy 3 free 1 promotions and free delivery for a minimum of 3 boxes.
11. JoMi Durian (Penang)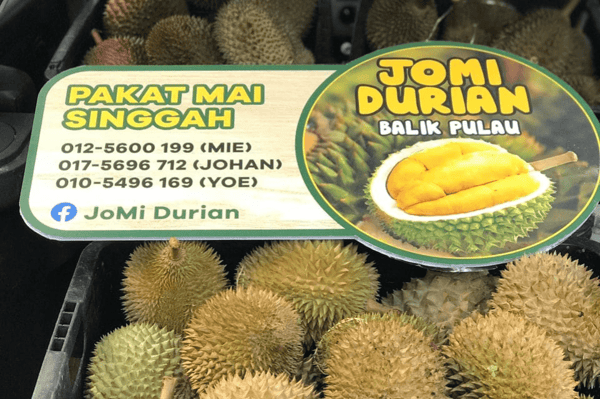 If you're in Balik Pulau, JoMi Durian is hands down a must-try!
They offer an exceptional selection of unique durians, including Tamtut, Sia Hong, Kum Po, 15 Hijau, Musang King, and Durian Hitam.
Durian Promotions
Get 1 box of Musang King for RM50 and 2 boxes for RM90 only.
12. Durian Cap Tupai Anjung Indah (Penang)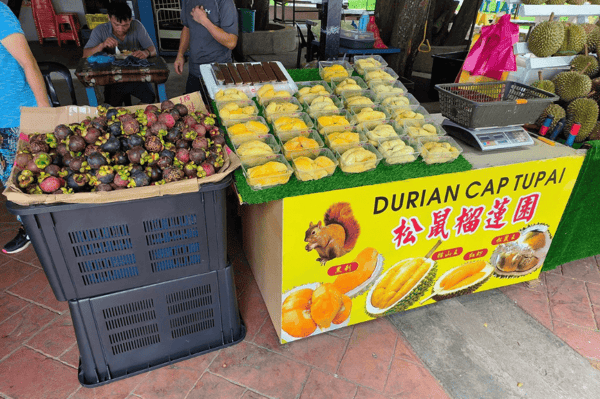 Durian Cap Tupai Anjung Indah offers incredibly delicious durians that are also packed with essential nutrients such as antioxidants and phytonutrients, providing a healthy twist without compromising on sweetness.
Make sure to try their best-selling Tupai King, a regal treat that will leave you craving for more!
Durian Promotions
Enjoy their Musang King for RM50/kg, Black Thorn for RM80/kg, AngHae for RM25/kg, D604, D600, D14 and D11 for RM15/kg.
13. Durian Heng (Malacca)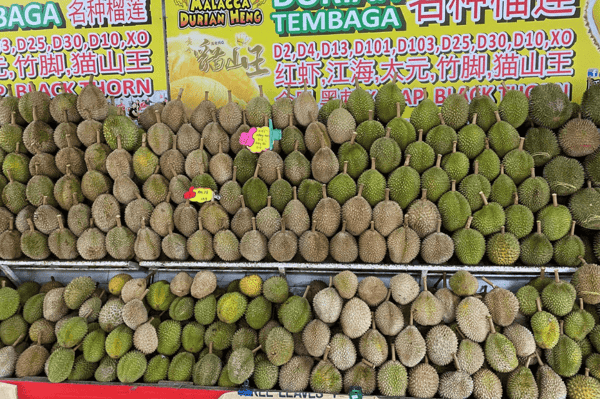 You may get lost in the variety of durian types Durian Heng has to offer but their true specialty lies in the irresistible Udang Merah. Known for its creamy and thick texture, it's a must-try for durian connoisseurs.
Durian Promotions
Get their famous Red Prawn durians for RM20/kg. Every purchase of 10kg durians gets free 1kg durian and 20kg of durians gets free 3kg. Durian Kampung is available from RM3.
14. Melaka Aiman Durian (Malacca)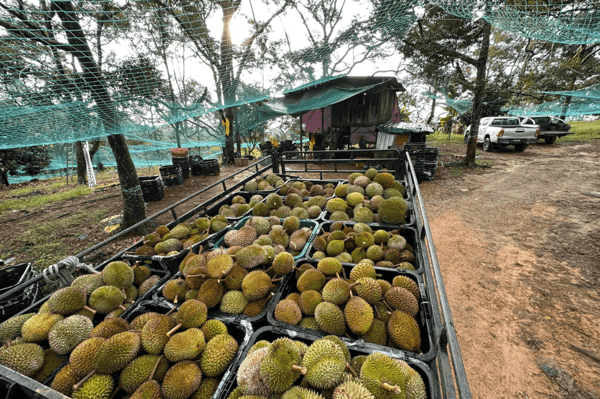 Get ready to go bananas with Melaka Aiman Durian!
You can indulge in their fresh and pocket-friendly selection, featuring mouthwatering varieties like Musang King, Kanghai, Kasap, and more.
Durian Promotions
With prices starting as low as RM3 for Durian Kampung, this durian haven is a must-visit for all durian enthusiasts! Their Red Prawn Gred A is RM25/kg and Musang King Gred A is RM35/kg.
15. Hj Mohammad Durian Tengkera (Malacca)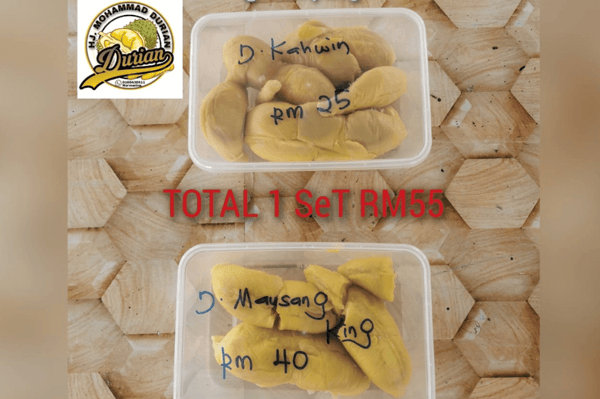 Discover durian heaven at Hj Mohammad Durian Tengkera! This Malacca-based shop sells an assortment of durian fruits, ranging from the luxurious Musang King at RM40 per bundle up to other selections at RM25.
Durian Promotions
Get their mouthwatering Musang King and receive a free jar of Tempoyak with every purchase of two containers of Durian Musang King or 1 container of Durian Kampung Kahwin.
16. DA Nature Fruity Empire (Malacca)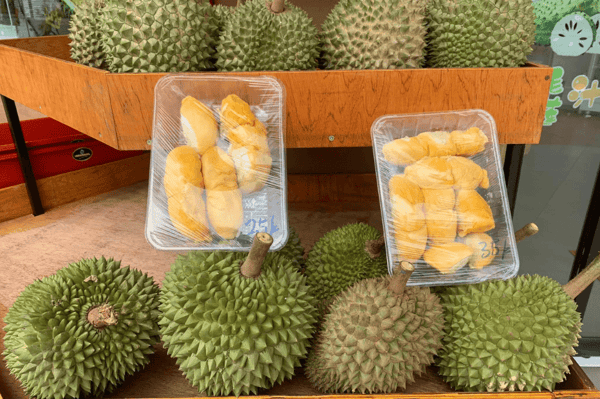 DA Nature Fruity Empire is a durian wonderland you can't miss during the bountiful season. From the regal Musang King to the tantalizing Black Thorn, they boast an impressive assortment of durians with prices starting at just RM10!
Durian Promotions
They sell a selection of premium durian fruits, such as Musang King, Black Thorn, Red Prawn, Kim Hong, Durian Kahwin and Durian Kampung, available for purchase starting at a low price of RM10.
Fresh From The Shop, Fresh To Your Doorstep
Got your eyes set on a durian seller or two?
Deliver durians to enjoy with your family and friends for a more exciting durian bonanza. After all, durians are best enjoyed in the company of a lively group 😉
Pro tip: Try our Saver feature to pay less for durian delivery!