Which House Moving Service Is The Most Affordable In Klang Valley?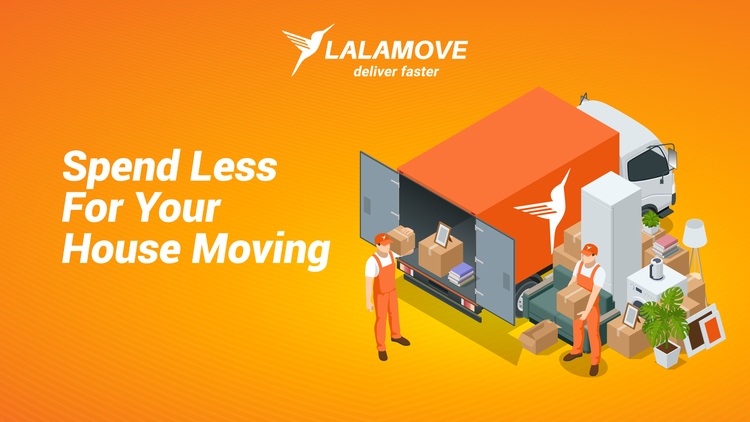 House moving is quite a lengthy process, isn't it?
We're talking about the packing, the moving, the goodbyes… There's a lot for you to unpack! (no pun intended)
Not only that, the costs to hire movers can break your bank if you don't do your homework!
But fret not, we're here to make it easier for you. At Lalamove, we understand that price points can be the biggest criteria when you're looking for a moving service.
So here's the best part of this article:
Instead of YOU doing the hard work of comparing moving prices from every lorry service provider, why not we do that just for you?
How Do We Compare The Moving Prices?
To save your time (and budget), we've made a simple table to compare moving prices between us and our competitors.
Before we dive into the details, we'd like to note that the comparisons are drawn from several criteria.
Chief of them is we're only going to cover the moving distance of up to 30km within Klang Valley.
Here are the rest of the standardised criteria that influenced our comparison:
Vehicles of interest are 1-ton, 3-ton and 5-ton lorry, which are equivalent to our Small Lorry 10-ft, Medium Lorry 14-ft, and Large Lorry 17-ft, respectively

The same distance between pick-up and drop-off point was applied for all moving services

Moving time is on a weekday at 10.00 am

3 manpower (Driver + 2 helpers) was requested for all moving services

Only moving services that can generate instant quotations in their applications/websites were selected
From here, we'll let you decide which option is the most affordable for you (Spoiler alert: It's Lalamove!)
Let's cut to the chase, shall we?
Here are the tables that summarise moving price differences between Lalamove and our competitors:
1-Ton Lorry/Small Lorry 10-ft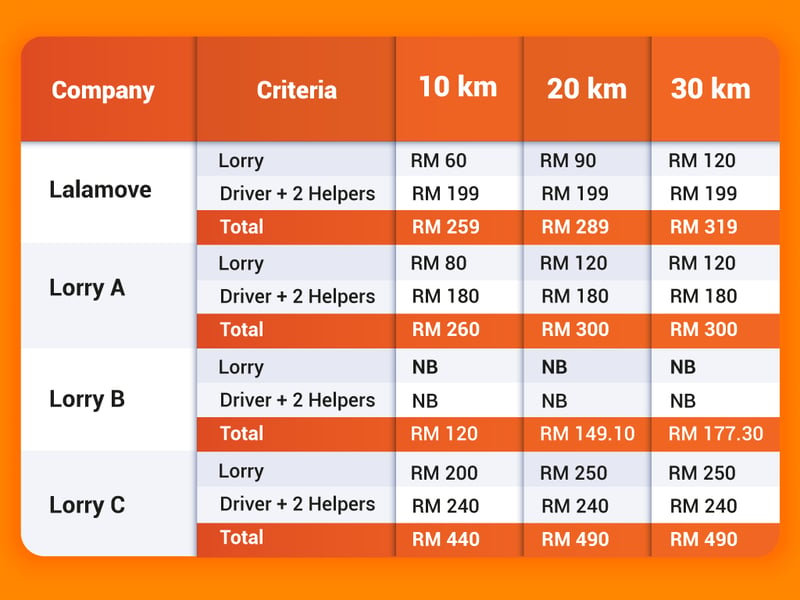 3-Ton Lorry/Medium Lorry 14-ft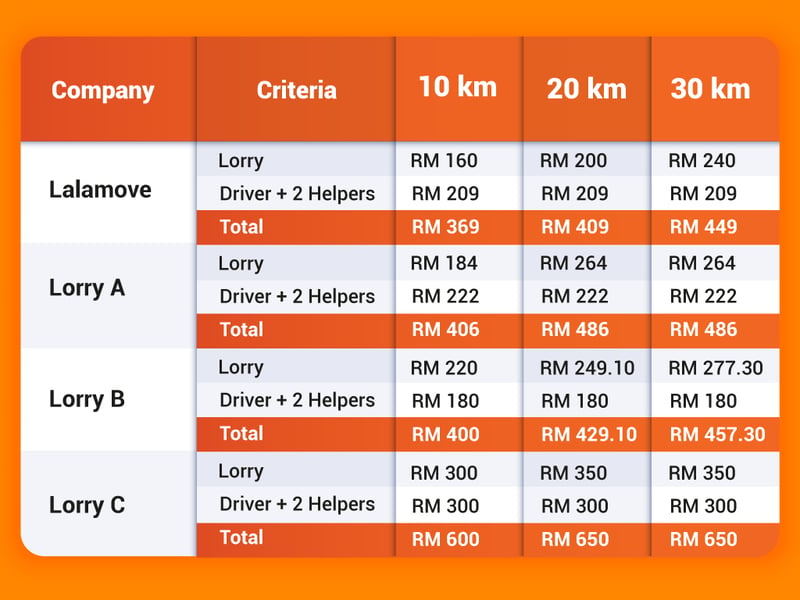 5-Ton Lorry/Large Lorry 17-ft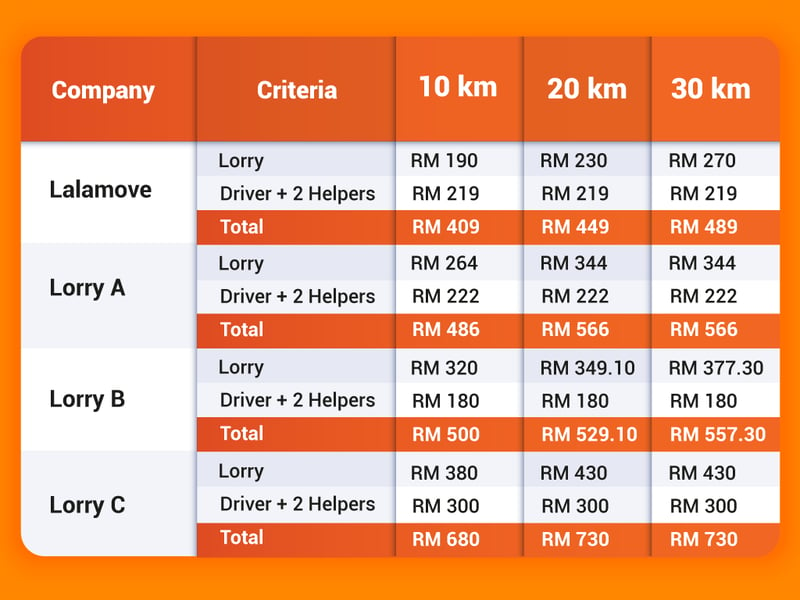 * NB = No breakdown of price by the lorry service
* These moving prices are accurate as of March 2022. They may vary from time to time upon the discretion of the service providers.
Now that you've seen the comparison in prices, we bet you'd have us on top of your mind when you're ready to move!
But wait, that's not at all.
Our affordability is just the tip of the iceberg on why you should count on us for your house moving.
Other Features On Our Platform That Can Offer A Better House Moving Experience For You
1. On-demand or scheduled delivery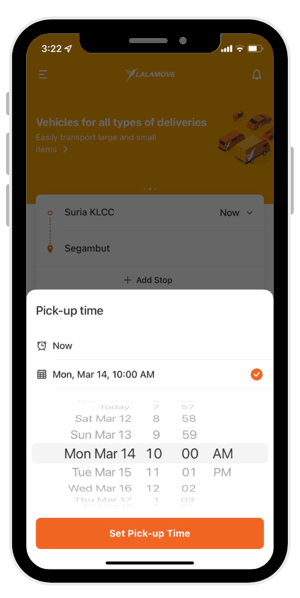 Whether you're looking for on-demand or advanced lorry service, we have the best of both worlds for you. With Lalamove, you can book a lorry service instantly or schedule your delivery 30 days in advance!
2. Transparent pricing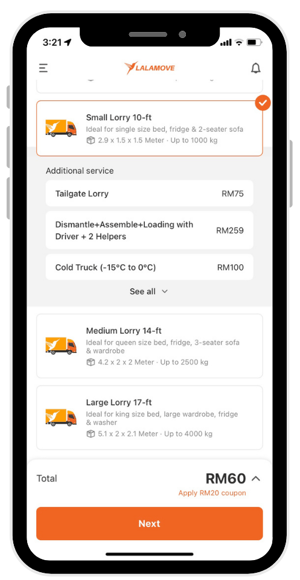 We appreciate transparency in pricing just as much as you! That's why you'll get an instant quotation when you place a delivery order with us. There's no hidden cost, you'll only pay the amount stated in the app.
3. GPS tracking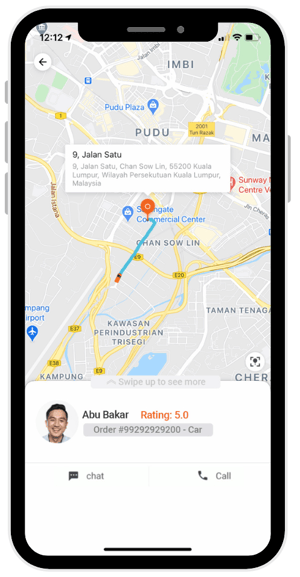 Peace of mind with your delivery is always possible with our GPS tracking. keep track of your valuables in real-time anywhere, anytime with our app.
4. Additional service tailored for your needs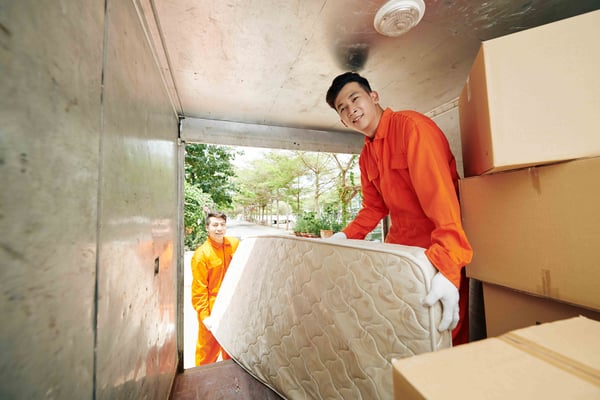 Believe it or not, we do more than just deliver the furniture into your new home. If you need extra hands to handle your delicate furniture, why not try our Dismantle and Assembly Service?
If you want to try our affordable and comprehensive moving service, download our app to get started today!

P.S: Not only we're saving your budget on house moving… but we can make it stress-free too! Having 1 Driver + 2 Helpers to help you move sounds nice, isn't it? That's why we're offering 2x 20% OFF your first Dismantle and Assembly Service with us! Visit the page below to find out more about the promo.