10 Best SaaS For Small Businesses & their deliveries Lalamove Malaysia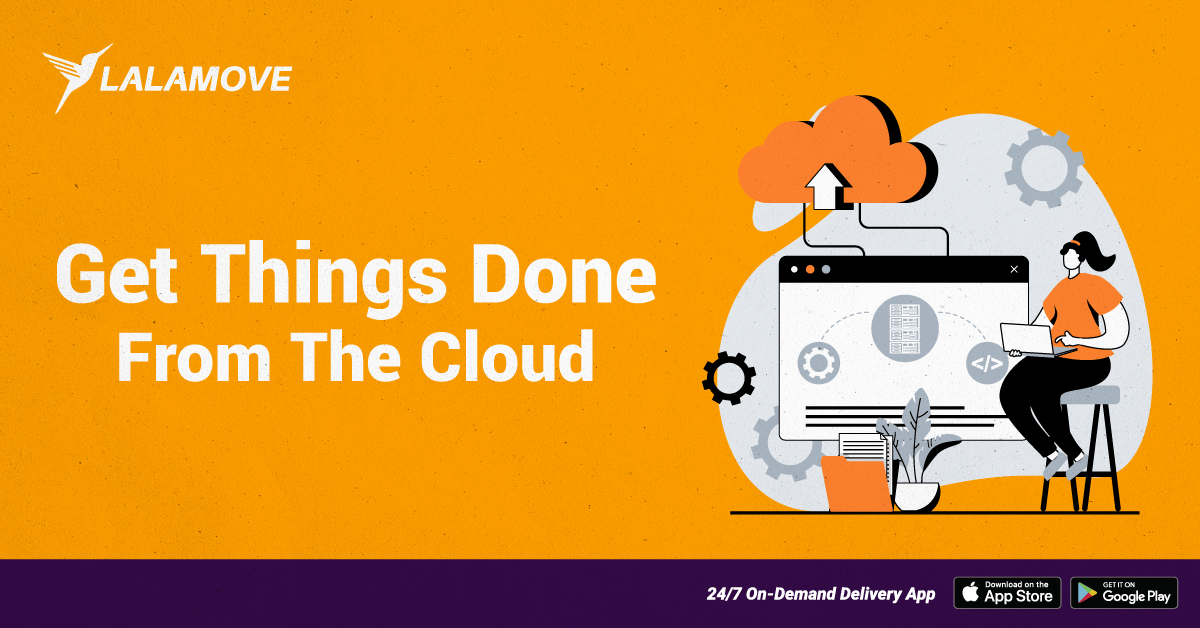 A catering firm. A local bookstore. Or a tech startup.
Regardless of your business' niche, keeping up with the latest technology can be tricky. You don't have the same budget or resources as larger companies, yet you still need to stay competitive.
But don't worry!
There are plenty of fantastic SaaS options that are specifically designed to help small businesses.
Many offer free account options, so you can try them out before you commit. Believe it or not, in some cases, you can even take advantage of the free version perpetually!
Before we drill down on essential and best SaaS for small businesses, let's briefly walk through what exactly SaaS is.
What Is SaaS?

Don't Sleep On These 10 Best SaaS For Small Businesses!
We've drawn a list of 10 SaaS that cover a range of essential basic business functions. With 30,000 SaaS companies in the market, it would be impossible to cover even half of them, so we spelt out the alternatives for each SaaS in this list to broaden your scope.
1. For chat, phone, whiteboard, meetings & more -
Zoom One
Instead of 'Zoom', an umbrella term for a range of Zoom's proprietary tools, we narrowed our focus to Zoom One for this list.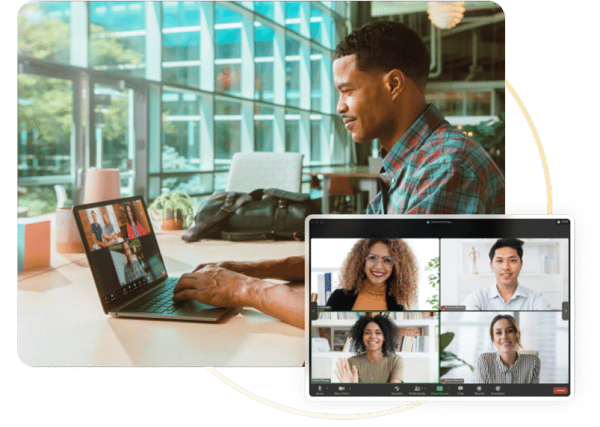 Image from Zoom One
Why Zoom One specifically?

At its core, small businesses with limited expenditure have much to gain from Zoom One.
Even with a free account, you'll get access to Zoom One's long-term chat, calling, gatherings, and other resources to give your teams multiple opportunities to network and cooperate, all in one integrated platform.
These products are purpose-built to enable smarter collaboration and keep projects moving forward.
Another feature of Zoom One that caught our attention is its Whiteboard.
The Whiteboard provides on-site and hybrid teams with a unified space where they can visually structure their ideas and collaborate on persistent online whiteboards.
Pretty neat, huh?
Another beauty of Zoom One is that the tool fulfils the most basic need you can ask for - a simple video chat with your colleagues and stakeholders.
Zoom One's free account allows you up to 40 minutes of video conferencing with a maximum of 100 participants in a virtual meeting. Sounds good enough for a free version, isn't it?
Alternatives to Zoom - Google Meet, Microsoft Teams, Lark
2. For project management -
Asana
Struggling to keep track of your designer's progress with the packaging art? Are you tired of switching between Whatsapp, sheets and emails to ensure everyone is on the same page?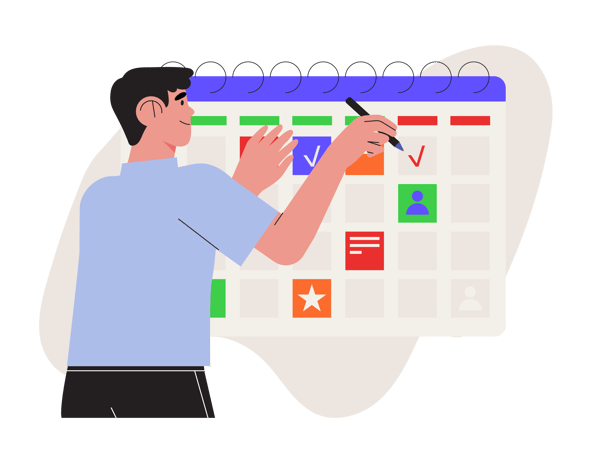 We'll bet you love Asana!
With Asana, you can easily manage all your projects in one place. From assigning tasks to tracking progress, Asana makes it easier to see the bigger picture and stay on top of your operations.
Worry about Asana's subscription plans?
Here's the good news:
If you require an eye on the progress of up to 15 people in your company and manage basic topline projects, you'll never need to upgrade. The free plan is good enough for the job!
With Asana, users can view projects and manage tasks in several ways, including Kanban boards, lists, calendars, portfolios, workloads, and timelines.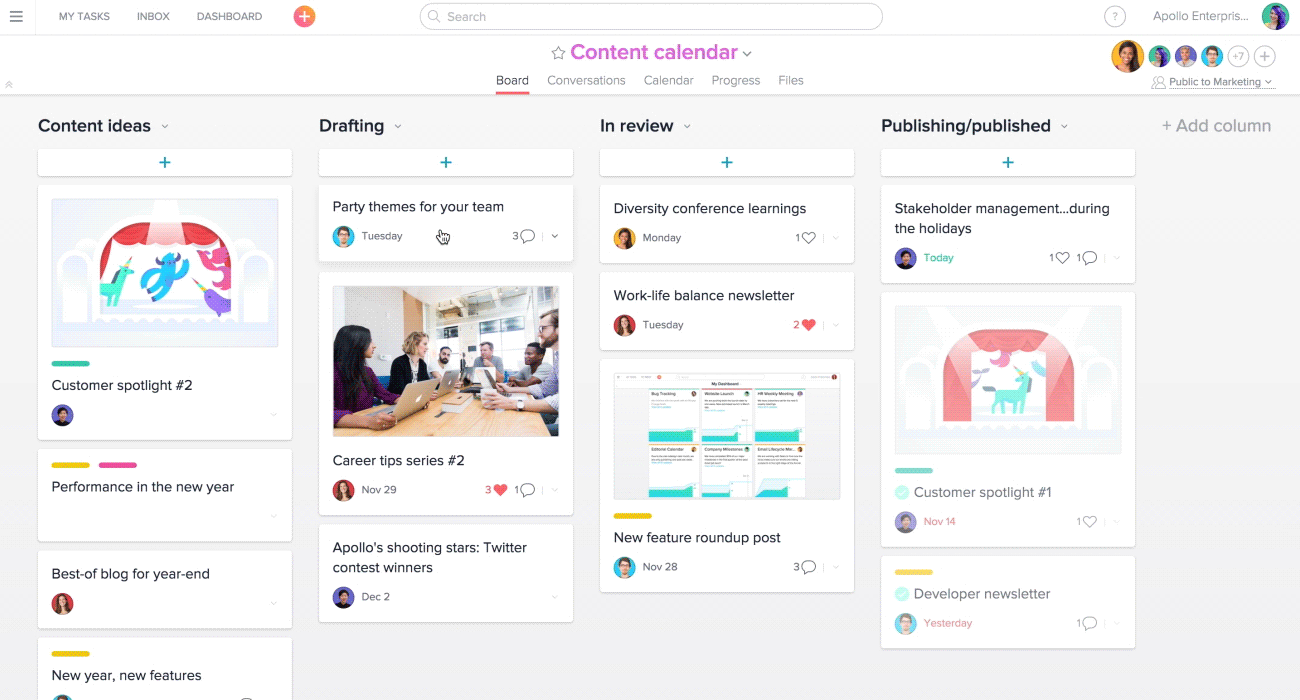 Asana charms us the most with its integration capabilities. It integrates with over 100 popular third-party apps like Slack, Dropbox, Google Drive, Zapier, Tableau, Zoom, and Salesforce.
These integrations can help extend the functionality of Asana, a fact that tech-savvy businesses can get behind.
Alternatives to Asana - Trello, Airtable, Clickup
3. For basic graphic designing -
Canva
Depending on where you come from, Canva is a superhero that swoops in at the last second to catch you from freefall…
Or a court jester that hardly commands serious attention from everyone else!
Pro graphic designers resonate with the latter, whose professional life revolves around premium graphic design software with sophisticated features.
But if you're running a small business and can't afford an Adobe license or hire a freelance graphic designer, you'll likely find yourself in the former situation when you need an ad hoc and basic artistic touch to your branding.
That's why Canva is here to save your day!
In its simplest form, Canva is the easiest design platform for everyone, regardless of the absence of any design aptitude.
And with so many features, no matter how long you've been using Canva, chances are, there are still a few tricks you can learn that will make the design process easier.
As a matter of fact, we challenged our writer to create the first page for the menu of our imaginary pizzeria with Canva. Disclaimer: Our writer has no training or experience whatsoever in graphic design!
And here's the result, all cooked up in less than 10 minutes: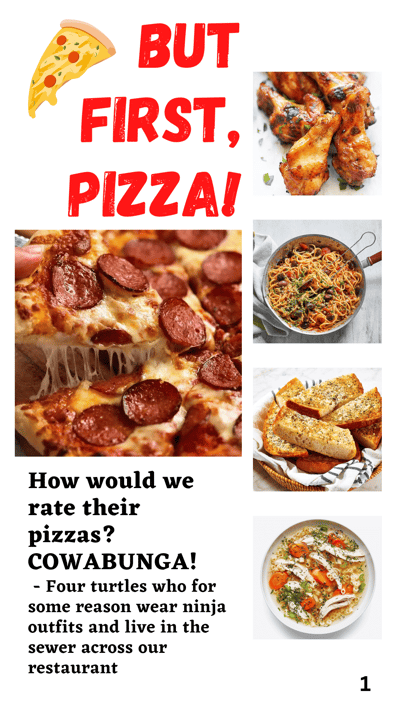 Yes, we know it looks rough around the edges.
It won't fly in the eyes of any graphic designer. Still, the whole point of using Canva stands - to make designing easy and accessible for everyone.
And this point applies to businesses that run on a shoestring budget.
They even have a mobile app that lets you create designs on the go.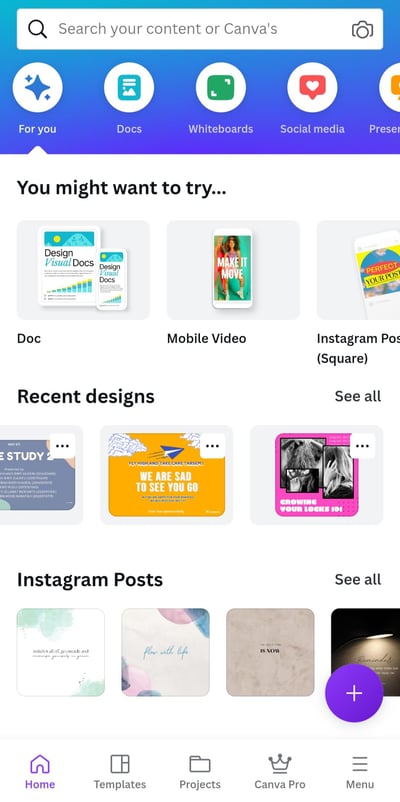 So what can you design with Canva?
Social media posts, Tik Tok videos, business cards, infographics, storyboards, brochures, and more.
This is one of the SaaS that we don't mind using its free version for the long term.
Unless the resources permit, it would be ideal to hire a pro designer with a higher tier Adobe designing software, even if it's on a freelance term.
Alternatives to Canva - Adobe Spark, Design Wizard, Stencil
4. To run email marketing campaigns -
Mailchimp
Email is a big part of our lives as professionals, individuals, and, yes, even consumers.
In fact, almost every facet of digital services we rely on requires an email account, like bank accounts, social media, and media streaming services.
Still not convinced? Here are a few stats to demonstrate the far-reaching influence of email in today's society:
- There are 4 billion daily email users (Statista)
- More than 319 billion emails are sent and received each day (Statista)
- 99% of email users check their inbox every day, with some checking 20 times daily. Of those people, 58% of consumers check their email first thing in the morning (Optinmonster)
These are just the tips of the iceberg. Although we could share more stats, the bottom line remains: email marketing is here to stay.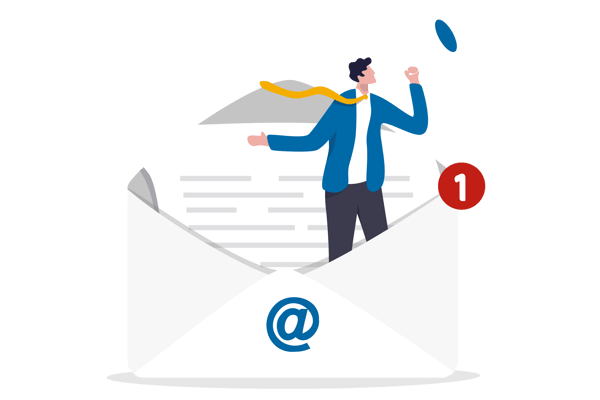 Whether it's your grand opening or your company is already well-established, an effective email marketing plan is key to promoting and growing your business, increasing revenue, and selling more stuff.
If you're planning any structured email marketing activities, you'll need to use a mass emailing tool such as Mailchimp.
Mailchimp is an email marketing service that helps you create, send, and track campaigns to your customers. It also provides analytics to help you understand how your campaigns are performing.
So why do we fancy Mailchimp, and why do we think it belongs on this list?
Here's why:
- Take advantage of various templates for emails (newsletters, event invitations, product launches, special offers and more), eliminating the need for coding or design expertise to create professional-looking messages.
- Mailchimp's Free plan allows you to send up to 2,500 emails per month and have up to 500 contacts in your audience.
- Mailchimp enables tracking of your campaigns so you can see how many people are opening your emails and what they do then. You'll see the clicks through to your website and get a good idea of what's resonating with your audience.
- But best of all, Mailchimp is more than just an email marketing platform. If you're already in the e-commerce space, Mailchimp's e-commerce features help you track visitors to your site, capture order information, and then pass all the data back to your Mailchimp account.
Alternatives to Mailchimp - Hubspot, Sendgrid, ConvertKit
5. To centralise social media management - Hootsuite
There's no way we can present a list of the best SaaS for small businesses without including a social media management platform.
Social media marketing is important because it allows businesses to reach a larger audience and build customer relationships.
You need to be in the space where your prospects and customers hang out, like Facebook, Twitter, Instagram, Tiktok and LinkedIn.
If you've already grasped the type of content you want to create with a content calendar in place, then well done!
But here's where the tricky part begins.
With multiple social media platforms to keep tabs on, scheduling and monitoring the performance of your social media marketing efforts can be overwhelming.
Here's where a centralised social media management tool comes in handy with the following tasks:
- Posting and scheduling content for your social media channels
- Analytics and reporting on your social media efforts.
- Respond to your social media mentions, comments and messages efficiently.
- Find and engage with people talking about your brand, your competitors or keywords.
And here's one tool to rule them all:
Hootsuite.
Hootsuite provides a thorough list of advanced features to help businesses schedule posts, monitor trends, and engage with their audience through multiple social networks.
One of the best things about Hootsuite is its free plan. That gives a single user a dashboard for three social media platforms.
Plus, you can set up a social media posting schedule, with up to 30 messages scheduled in advance.
But if you need to schedule content for more than three profiles – what business doesn't? – you'll need one of the paid Hootsuite plans.
Upgrading comes with a great benefit:
You can schedule as many social media posts as you want without restrictions!
Alternatives to Hootsuite - Agorapulse, Pallyy, Brandwatch
6. To manage financial transactions -
Quickbooks
What's that? Do you still keep track of your business finances in a spreadsheet?
Worry not, because the fact that you read this far shows that you're willing to learn and adapt to a new way of running your business!
And the new way to manage your business finances is by using Quickbooks, which we'll describe briefly here.
Quickbooks is a popular and highly-rated accounting SaaS solution that empowers you to take control of your business finances.
It's the only major accounting software with a low-cost plan designed for sole traders, freelancers and anyone running a micro business.
QuickBooks makes accounting easier and more efficient for small businesses, automating tasks like bookkeeping, invoicing, time tracking, expense tracking and inventory tracking with enhanced accuracy.
Additionally, it connects you to your business apps and generates reports that provide valuable information to help you make sound financial decisions for your small business.
If you're already ahead of the e-commerce curve, you'll be happy to know that Quickbooks integrates with Shopify and WooCommerce. With this integration, it's easier to automate the accounting for the sales from your e-commerce store.
Alternatives to Quickbooks - Xero, Wave, Bonsai
7. To run an online store - Shopify
Are you a small business owner in need of an online store?
Don't have advanced tech skills like web hosting, setting up SSL certificates, installing e-commerce plugins and other fancy backend configurations?
Shopify is what you need!
Everything you need is included with Shopify: hosting, website builder, payment gateway, order tracking, and marketing tools. There's no complex installation process or wait time to use the payment processor.
You can set up a digital store today on Shopify if you want to!
From our experience, we've seen all kinds of merchants thriving on Shopify. From physical products to digital downloads, there's no limit to what you can sell on Shopify.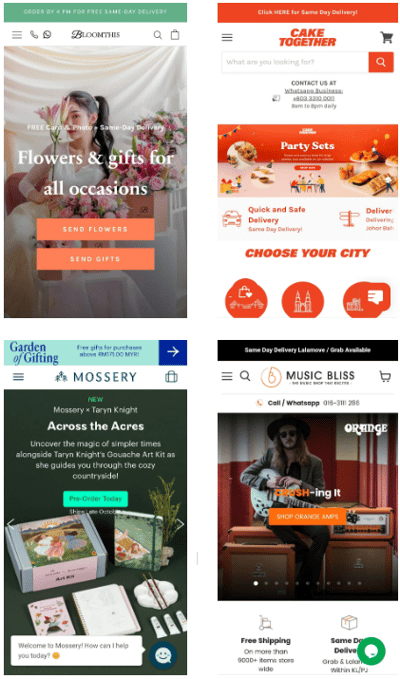 For those who prefer to sell on your business's Facebook, Instagram, Tik Tok or Pinterest, Shopify allows you to connect your social media accounts to your online store.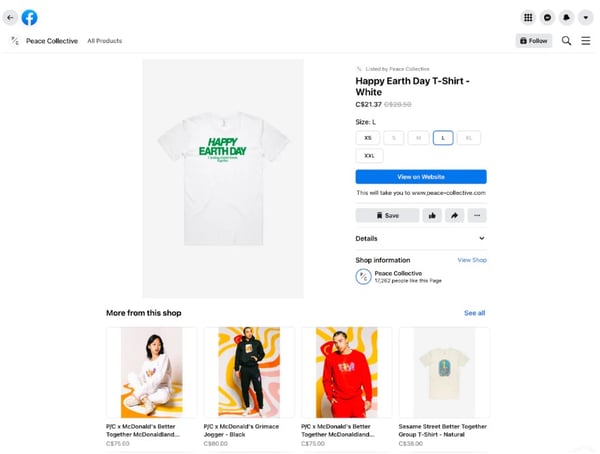 By integrating your social media presence with your Shopify store, customers can browse and purchase directly from your social media accounts.
But what of the burning questions that precede profits, like:
- Which product generates the most sales?
- How much traffic is generated from a particular marketing campaign?
- What kind of customers hasn't purchased from you since three months ago?
That's what Shopify Analytics is for!
Shopify's analytical tools allow you to see essential sales, marketing, and customer information. It opens a window to how your business performs with data on total business growth and daily website traffic.
Finally, Shopify merchants have more than 50 payment gateway options to facilitate the checkout process of their customers.
Regardless of Paypal, iPay88 or cryptocurrency, allowing customers to pay how they want is akin to that final push to encourage a purchase.
To summarise, if you're all about plug-and-play with scalable solutions for your small business, Shopify is an ideal platform to launch your e-commerce journey.
Alternatives to Shopify - WooCommerce, EasyStore
8. To build a website -
WordPress
WordPress is an ideal option if you're looking for a 100% free and open-source solution to build a website.
From its flexible options to its user-friendly control panel, it's like having a web designer at your fingertips.
And get this:
WordPress is also known as the world's most popular website builder. It powers over 43% of the internet, including some of the biggest brands!
Tech Crunch, Playstation, Spotify, and British Vogue are some of the beloved brands that use WordPress to connect with their audiences.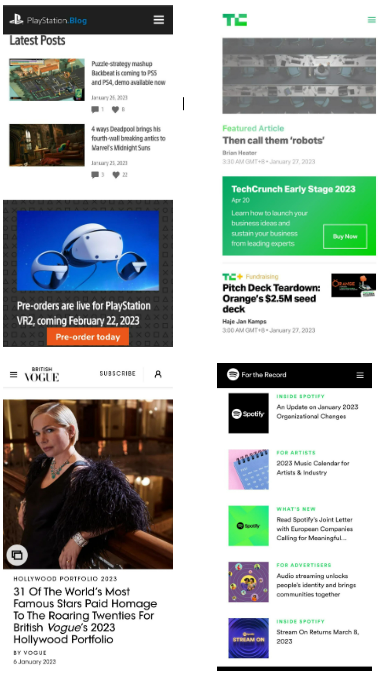 If these authoritative brands can trust WordPress to run their websites, so can you!
Here are other reasons to put your money (pun intended) on WordPress to create content for your website:
- Building a website with a user-friendly interface and helpful guides is easy. However, some basic knowledge of HTML and CSS will make things much easier.
- You'll want a website that is not aesthetically pleasing but functional. WordPress offers thousands of themes, plugins, and widgets to meet these two goals.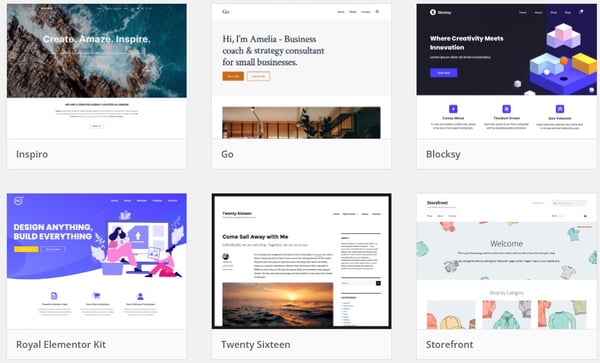 - Almost all popular third-party tools already have integrations available for WordPress. So your email marketing software, lead generation tool, SEO tools, CRM software, business phone services, and payment gateways will all work with WordPress.
- Give your website a fighting chance to rank well in Google with the right plugins, which WordPress is always full of.
- Finally, WordPress is free and gives you complete control of your website. You own and control all your website files and data. You are not tied to a web hosting company and can move your website anywhere.
Alternatives to WordPress - Wix, Kentico
9. To write error-free copies -
Grammarly
Running a business necessitates putting pen to paper for all sorts of reasons:
From describing your brand identity on a website, interacting with your audiences on social media to crafting content for email marketing, these tasks require you to express your thoughts in writing.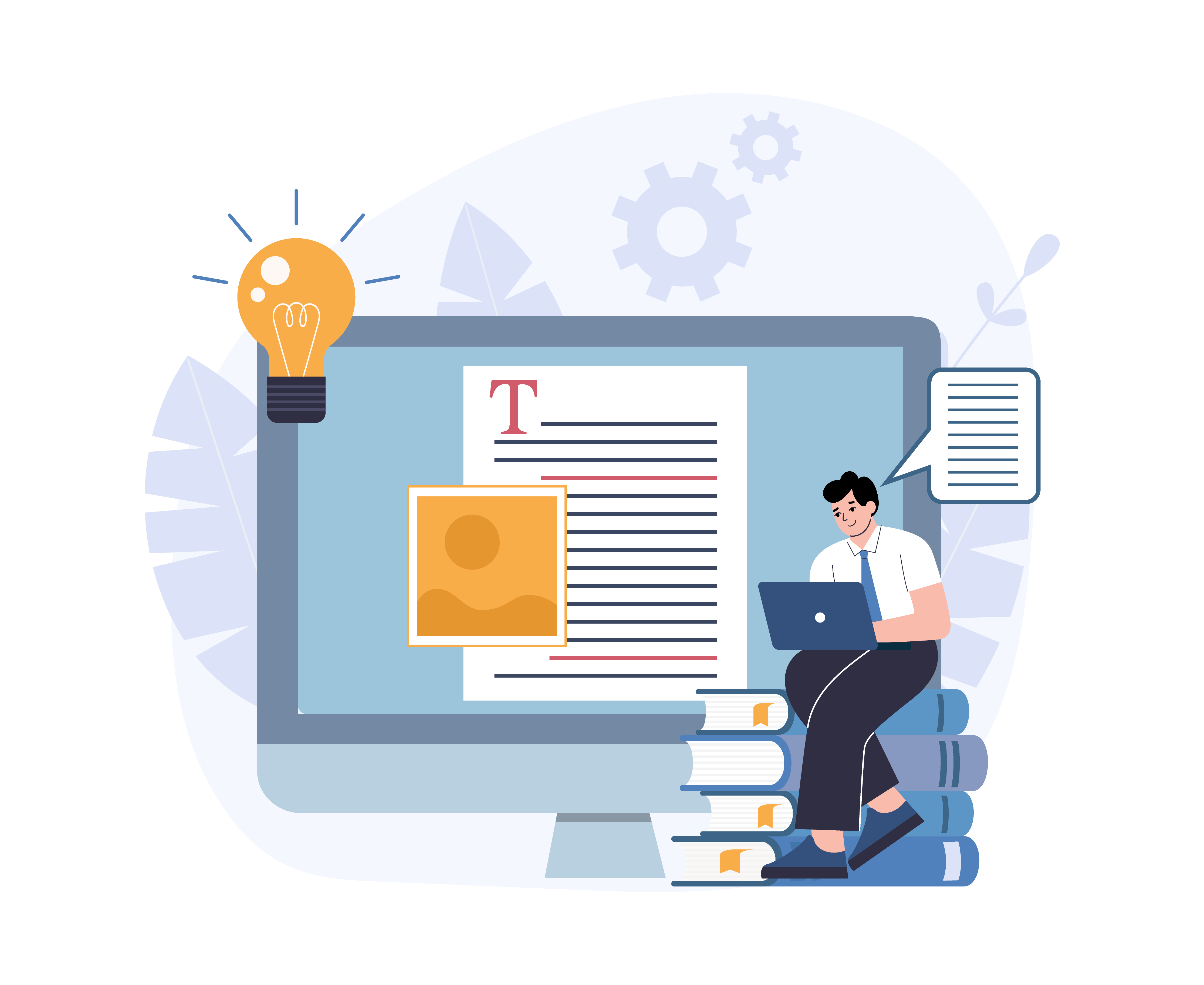 But writing alone is just one-half of the picture.
We all strive for error-free writing but often don't have the time to proofread our documents. Not to mention, most of us don't have an eye for spotting grammar and punctuation mistakes.
Making mistakes in your writing can have serious consequences. Poorly written content can confuse readers, reduce the impact of your message, and make you appear unprofessional and uneducated.
Well, that's what Grammarly is for!
Grammarly is an AI-powered writing assistant that provides smart grammar and spelling insights to help you write with confidence.
When you streamline your writing process with Grammarly, you can ensure every word you write is correct, accurate, and effective - ensuring maximum impact on your readers!
The free version of Grammarly empowers you to spot and fix misspelt words, imperfect grammar, and punctuation mistakes.
Are you bubbly in person, but somehow your writing sounds apprehensive?
Grammarly's tone detector is here to lend a hand in crafting your writing to sound as you intend, no matter the context!
Whether conversing with a colleague in a friendly manner or asking someone for help, the tone detector is here to help you make sure your words, phrasing, and punctuation match your desired message.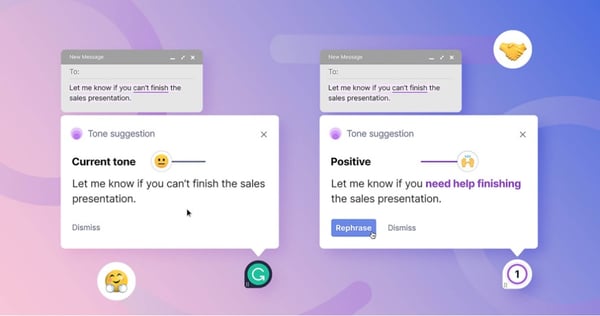 From Grammarly blog
Regardless of the free or the paid version, you can access Grammarly's input tools through the following applications:
- Grammarly's desktop apps for Windows and Mac, which work across apps, email clients, word processors, and browsers
- The Grammarly browser extensions for Chrome, Firefox, Safari, and Edge (and in Google Docs using the browser extension)
- Microsoft Word
- The Grammarly Keyboard for iOS, on your iPhone, and the Grammarly Keyboard for Android
- Grammarly for iPad
When it comes to written communication, it all boils down to the question - do you want to write with confidence?
If yes, don't sleep on Grammarly!
Alternatives to Grammarly - ProWritingAid, Hemingway Editor, Ginger
10. To simplify HR management -
Swingvy
Automation and digitalisation are shaping the way we work across disciplines.
For example, marketing has Hootsuite to streamline social media projects. The finance department can count on Quickbooks to manage accounting tasks.
For human resources, Swingvy is the new face of HR digitalisation.
Swingvy is one of the best SaaS for small businesses to automate the management of talents in your company.
Plus, it's a homegrown SaaS built for Malaysian SMEs.
First, let's talk about the immediate need for accurate and easy payroll calculations, which Swingvy fulfils.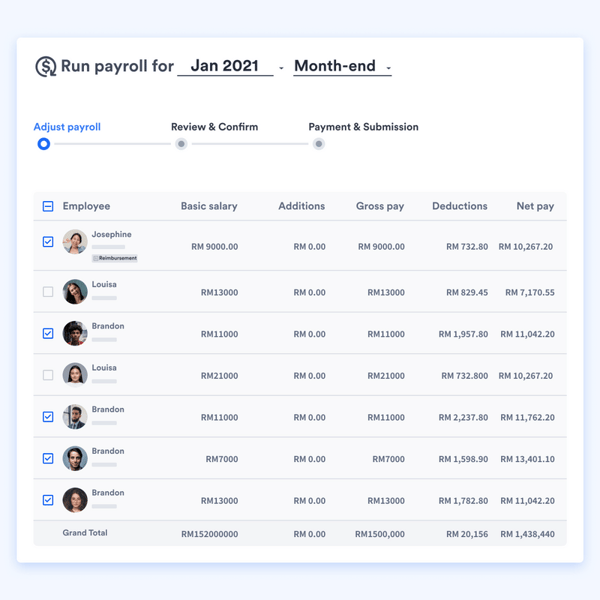 Swingvy automates EPF, SOCSO, EIS, HRDF, and PCB calculations and connects with LHDN's official calculator. Administrators can auto-verify PCB calculations with one click from the employees' payroll line in Swingvy.
Plus, any adjustments to statutory contributions are updated within the Swingvy platform for effortless payroll processing.
And what's payroll software without EA form configurations?
Well, Swingvy has this corner covered!
Swingvy auto generates year-end EA forms for employees' tax filing and Form E & CP8D for tax purposes.
Time attendance software is another facet of Swingvy.
Track the time employees spend at work while keeping an eye on their work location, either in the office or working from home.
There's a neat feature to generate custom reporting for manhours. With this report, tracking the time taken for sales execs' outbound meetings and corroborating the graphic designers' claims for overtime will be a breeze.
Another task that is mundane for both employees and HR is claims processing.
Swingvy takes the pain out of claims processing by digitalising the whole process. Your employees can snap a picture of their receipts and upload it to Swingvy. You can review and approve individual or bulk claims on the go.
Finally, you can't talk about digitalisation without a mobile app, right?
Swingvy's mobile app allows you to consolidate your HR tasks in your pocket.
Regardless of monitoring your employees' attendance, circulating a company-wide memo, approving claims and more, you don't need a desk to tackle anything that comes your way!
Alternatives to Swingvy - Kakitangan, HiBob
Need An App To Deliver On-Demand? Here's One To Empower Your Business Deliveries!
So you've done the hard work of building your business from the ground up with the SaaS listed above, or more than the ones we described in this article.
The fruits of your labour finally show up in confirmed orders! Woohoo!
But is there a software or app that can help you fulfil the deliveries to your customers?
Yes, there is - us!
Lalamove is the leading on-demand delivery platform with a dedicated business account for small businesses. We offer five vehicle types to match your delivery needs: Motorcycle, Car, 4 x 4 Pickup, Van and Lorry.
Since 2018, we have empowered 49,000 SMEs and MNCs in Malaysia with easier and faster deliveries.
There's no niche we can't serve, from F&B, manufacturing, wholesalers, automotive, e-commerce and every industry you can think of.
With Lalamove Business Account, we can offer you the following perks for the last-mile delivery of your business:

Now, we want to hand it over to you.
What are the odds of you adopting Asana to keep your employees on track?
Are you excited to begin your e-commerce journey on Shopify?
Can't wait to run social media campaigns with Hootsuite?
Regardless of which SaaS will make it into your wishlist, we hope you'll start on the right foot in your business digitalisation exercise.
While you're at it, why don't you take the opportunity to have a few hands-on experiences with our delivery service?
You can place a few delivery orders from a regular Lalamove account and have a feel of how our app works.
If our delivery model works for you and a pay-per-use on-demand delivery service falls in perfectly with your business model, you can reach out to us for a thorough overview of the Lalamove Business Account.