Lalamove Food Delivery: Driving Greater Sales For Warung Soho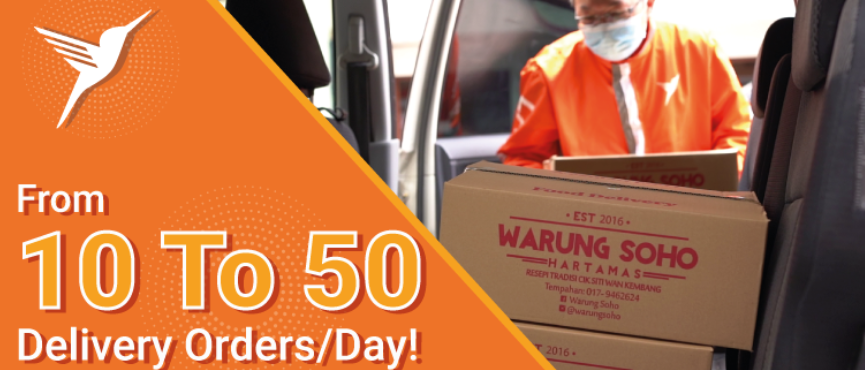 There used to be a time when dining out was defined by making a reservation, trips to eateries, and hunting for a parking spot. However, that definition has taken a different form since the last five years.
The proliferation of delivery apps and changing lifestyles have fueled the demand for food delivery services. As a loyal client of Lalamove food delivery service, Warung Soho has the experience and track record to prove how integral delivery is to the success of their enterprise.
This is a success story of Warung Soho. On top of their savory Kelantanese cuisine that is light on the wallet, Warung Soho also owed their success to the reliability of Lalamove's on-demand delivery service.
Kelantanese Food From The People That Knows It Best – Kelantanese!
A native of Pasir Mas, Kelantan, Bakri bin Shafiee founded Warung Soho after his first business venture didn't pan out according to his expectations.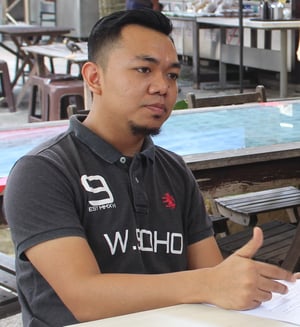 Bakri's backstory shares the same breath with a 'zero to hero' narrative. Before taking a step into the F&B business, Bakri had no idea how to cut a whole chicken, let alone cook it! Despite his inexperience behind the stove, Bakri's determination to run his own restaurant got the best of him.
As in any other successful restaurateur, Bakri started from scratch. He learned how to cook from his mother and applied his mother's best culinary secrets into his enterprise.
The result?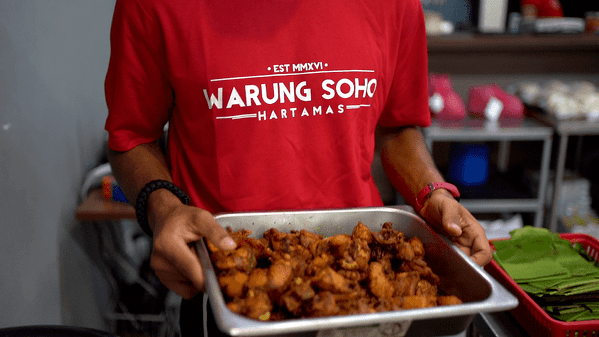 Warung Soho began to take shape in 2016. From the looks of things, they're still going strong! In fact, they have recently moved into a new lot in Plaza Damas with upgraded kitchen facilities and dining areas for walk-in customers.
Before Lalamove Food Delivery – Freelance Runners… And E-Hailing?
In Malaysia, a common indicator of how successful a 'makan' place is can be found in its appeal.
Despite only operating from a single outlet, Bakri is proud of his customers' diverse backgrounds. People from all income groups, nationalities and various locations around Klang Valley have sampled Warung Soho's dishes. Not surprisingly, a majority of them turned into lifelong Warung Soho fans.
Furthermore, deliveries to customers play a significant role in Warung Soho's expanding reach to new customer base.
So much so that 40% of his monthly sales are channelled from delivery orders! But, life before Lalamove food delivery service for Warung Soho was not all rosy.
Problems With Freelance Runners
"I started this business in 2016. For almost two years, I had to rely on freelance runners to fulfil delivery orders" said Bakri.
"I recruited a few freelance runners from social media. They were a bunch of professional runners, and yet a positive attitude alone wouldn't cut it. From my experience, there were two drawbacks. First, I couldn't take many delivery orders since it was difficult and pricey to hire many freelance runners."
"Second, the customers would, unfortunately, become a casualty of inefficiencies. Since we couldn't hire multiple freelance runners, we ended up assigning two or three orders to a single runner. That strategy didn't bode well for the second and third customer, since they had to wait longer before the runner reached them."
Another worthy anecdote from Warung Soho's pre-Lalamove food delivery days?
E-hailing was a makeshift food delivery option. Yes, you read that right!
"That was amusing, actually. We had episodes of calling in e-hailing drivers, just for them to show up and being told that they were to deliver food instead of passengers!" chuckles Bakri.
"But delivering with e-hailing came with its challenges. We had to have one of our guys run to the car and pass the food. They weren't going to park and wait for us to prepare the food and take it from us. Who can blame them, right? So it wasn't a sustainable strategy for us with e-hailing. Plus, it was expensive to deliver with e-hailing!"
One Hour Promise With Lalamove Food Delivery
Warung Soho turned a new leaf when Bakri took a call from Lalamove's Sales Department in late 2018 – the same period when Lalamove entered the Klang Valley market.
It didn't take long for Bakri to sign up for a Lalamove Corporate Account. He was sold on the idea of Lalamove's growing fleet of delivery partners and the convenience of the Lalamove app.
"When Lalamove food delivery came into the picture, our lives at Warung Soho became easier. Finally, we can meet our promise of one hour delivery to our customers. Not to mention we can cater to a greater volume of delivery orders from our customers, especially during lunchtime" commented Bakri.
Greater Reach To Further Customer Base
But that's not all.
With Lalamove food delivery, Bakri has been able to capture new customers beyond Hartamas. This solution is the perfect answer to Bakri's dilemma of limited sales due to the limited dining tables and parking woes for Plaza Damas' patrons.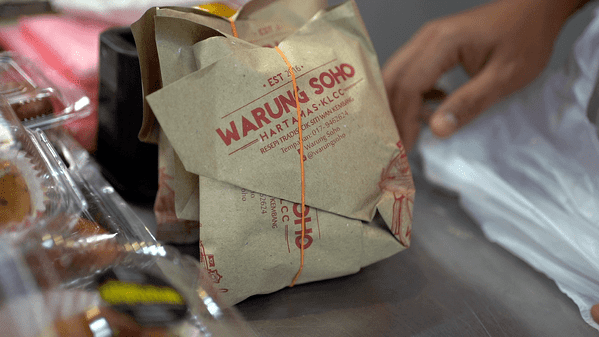 "Our lunch crowd has always been encouraging, but what people don't realise is that 40% of our orders are meant for delivery. Thanks to Lalamove food delivery, we're able to serve customers from as far as Klang, Bangi, Kajang and Cyberjaya. This is a far cry from our freelance runners days when we had to limit our delivery within 10km radius from Hartamas."
Value-Added Lalamove Features
Securing a Lalamove delivery partner also has never been easier for Bakri.
With just a few taps on the Lalamove app, he can easily match his delivery order with a delivery rider within seconds. From Bakri's experience, it doesn't take more than 15 minutes for the Lalamove rider to show up at Warung Soho to receive the food and carry on to the assigned delivery destination.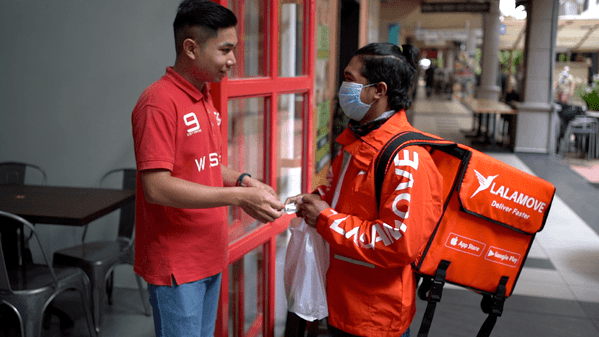 "It's impossible to talk about Lalamove's strength without mentioning its real-time tracking feature. Our promise to deliver within an hour is a big deal for us. The tracking feature helps us to stay on target."
Lalamove's range of delivery vehicles is another plus point for Warung Soho. According to Bakri, he prefers to deliver with a motorcycle when a single delivery order has less than 20 nasi bungkus. He had even received up to 150 nasi bungkus in a single order! For this scale, he would request a car delivery.
He has even befriended many Lalamove delivery partners who accepted his delivery orders. Most of them are fortunate enough to belong in Bakri's list of 'Favourite' delivery partners.
Due to Lalamove's faster delivery, increased reach, vehicle variety and affordable delivery rates, Warung Soho has been recording a five-fold increase in daily delivery orders. If you happen to be in Plaza Damas around lunchtime on weekdays, it's not an unusual sight to spot Lalamove riders around.
And you can bet that most of them are there to fulfil Warung Soho's delivery orders!
Moving Forward With Lalamove: A Vision For Central Kitchen
Warung Soho is going to be around for the long haul, but not in the way you expected. Bakri prefers the road less taken. Instead of launching new branches, he envisions a central kitchen to streamline Warung Soho's dine-in and delivery operations.
As for Lalamove?
Lalamove will play an integral role in the day-to-day operations of Warung Soho's central kitchen. There will always be a need to deliver from the kitchen to customers and the outlet in Plaza Damas.
"I'm happy to refer to Lalamove as Warung Soho's delivery partner. I'll rate Lalamove 4.5 out of 5 any day, thanks to their stellar on-demand food delivery service."
Now, we want to turn it over to you – especially if you're running an F&B business…
Would you like to replicate Warung Soho's success with Lalamove for your makan place?
Click on the button below to get in touch with our sales representatives. Let's get your business off the ground with Lalamove food delivery!