5 Reasons Why Roses Are The Best Flowers Now | Lalamove Malaysia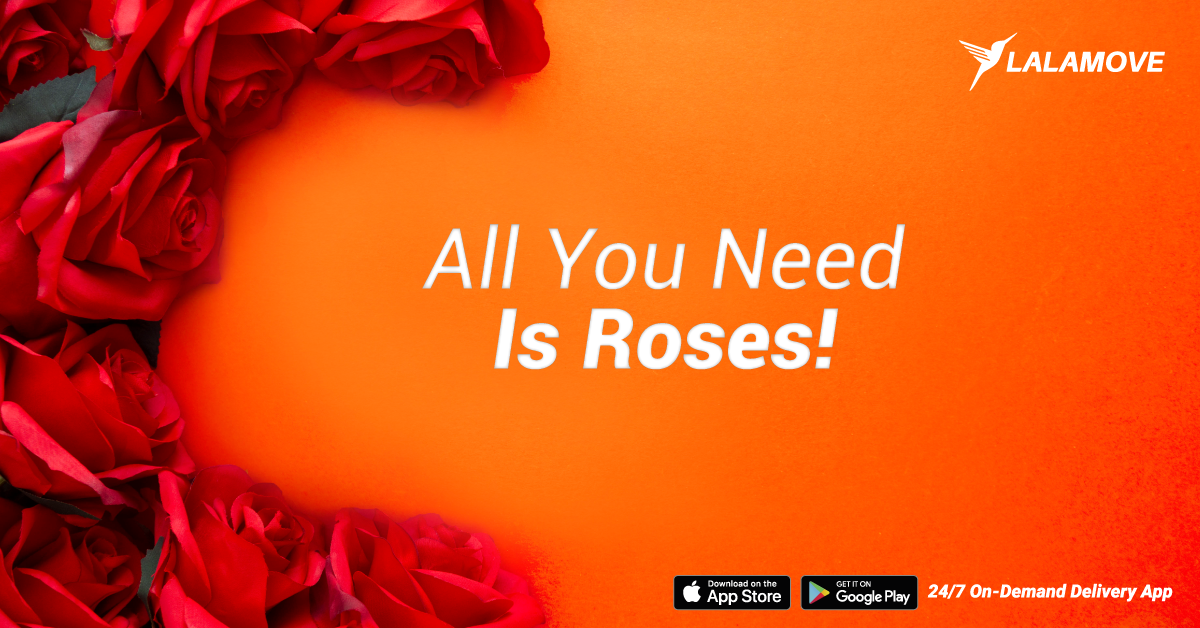 The day of celebrating cupid's lifelong deeds is here.
And no other Valentine's Day traditions have stood the test of time than showering your better half with roses!
Roses are more than just flowers - they're long-lasting tokens of love and romance.
So if you think roses are a cliche on Valentine's Day, we're here to convince you otherwise!
Roses are red, violets are blue
Valentine's day is here, here's why roses are the best flowers for you!
1. It has its own unique history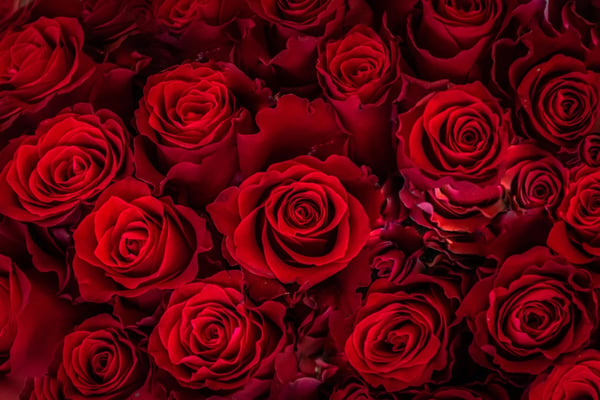 Valentine's Day and roses are like birthdays and cakes - they're made for each other!
But did you know that roses have been linked to Valentine's day since the 17th century?
Roses are said to be the symbol of Venus, the classical goddess of love.
During the Victorian era, the practice of flower arrangements or floriography was at its peak.
Floriography was the 'language of flowers' in the Victorian era. It was used as a means of coded communication through various flowers and floral arrangements, allowing people to express feelings which otherwise could not be spoken.

As Victorian society is known to be rather constricted at expressing their emotions, they prefer to let bouquets of flowers do the talking!
Even a single red rose can be used to express their love to someone.
Today, the significance of this symbolism hasn't changed!
So if you want to profess your love to someone, why not start with roses?
2. It's a romantic gesture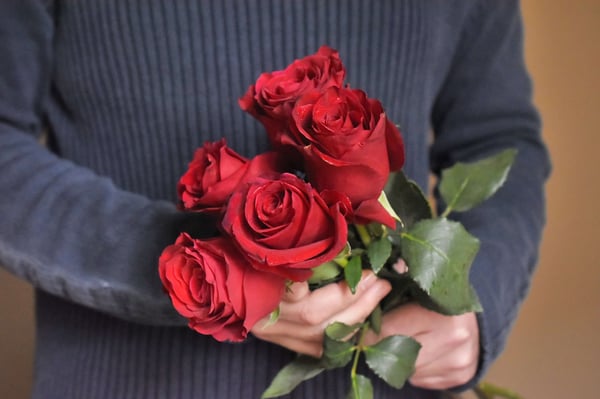 Do we need to convince you more on this point?
Jasmine may have the best scent. Sunflowers may have the most vibrant colour that mesmerises anyone that comes across it.
But nothing else oozes romance like a bouquet of roses!
Roses, especially the red ones, extrude a luxurious touch to its owners. Its petals have a velvety texture that are complemented by dark green leaves.
Roses also bloom perfectly for a romantic bouquet. Plus, with a bouquet, you might wanna get the thornless variants for your romantic partner.
Simply put:
There's no other universal gesture to express romantic passion than giving a bouquet of red roses to the one that stole your heart!
3. Each rose colour has a unique meaning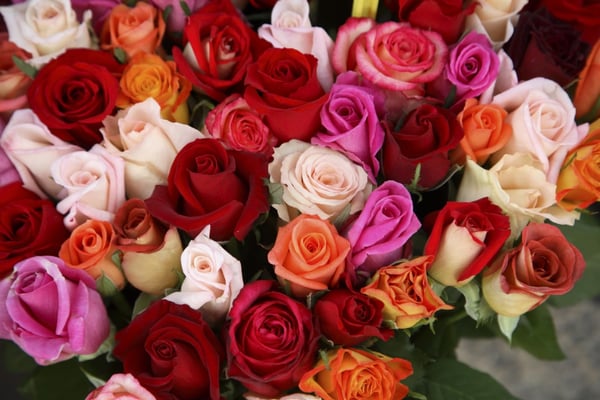 We all know the meaning behind red roses:
They're a symbol of love and admiration.
But if you're feeling adventurous, then why not be more daring with other colours?
For instance:
White roses
Innocence and new love. A perfect choice if you've just started a relationship, but you can tell that there's going to be a long journey of devotion between the both of you.
Yellow roses
Friendship. Who says Valentine's Day is for lovebirds only? Celebrate your platonic pals with yellow roses to show them they mean the world to you!
Purple roses
Passion and infatuation. Want to celebrate a long-term relationship? This is the rose for you and your better half if you're taking the 'till death do us part' commitment to heart!
Lavender roses
Unique love. Every love story is one-of-a-kind. If you think yours got its own unique spin to it, why not celebrate it with lavender roses?
Deep pink roses
Gratitude. Think your partner has done something that made you feel grateful lately? Express your gratitude with this rose variant!
4. Even the number of roses has a unique meaning!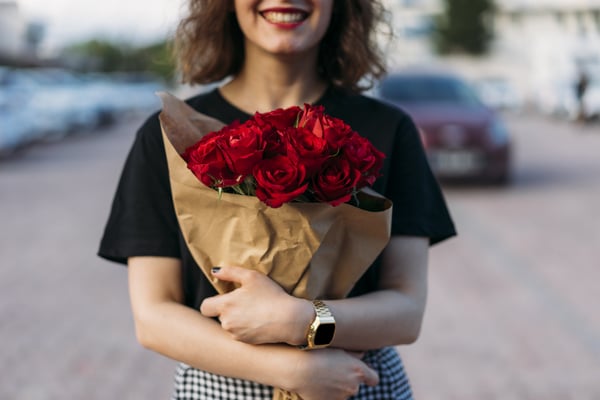 This is how special roses are compared to other flowers.
Not only each colour represents a unique value behind it, but the number of roses you give to your partner conveys some sort of an encrypted message!
Here's how to decode the message behind the number of roses:
A single rose
Love at first sight.
3 roses
'I love you'.
5 roses
The ideal number of roses to declare your love to your partner.
6 roses
This means 'I want to be yours'. Go for 6 if you wish to take your relationship to the next level
9 roses
A symbol of eternal love. You may give 9 roses to your significant other if you wish to spend the rest of your life with them.
10 roses
A romantic way to tell your partner that they're perfect.
12 Roses
A similar gesture to 6 roses - 'I want to be yours'. Just twice the roses, actually!
24 Roses
Let your partner know that they're always on your mind.
But remember:
The number of roses is not a hard-and-fast rule. If you want to surprise your partner with 99 roses, by all means, go for it!
5. Long-lasting bloom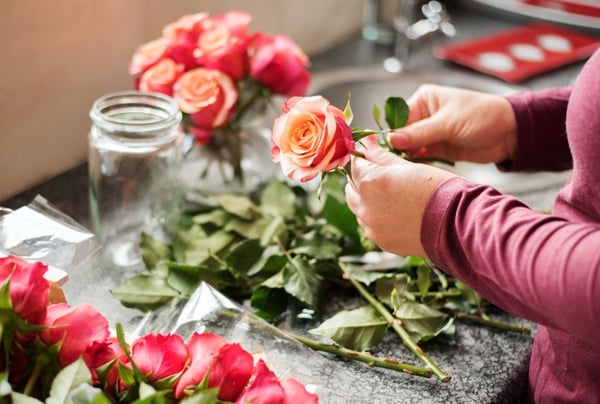 When taken care of with utmost detail, roses can last up to weeks. Roses that hardly wither can be a perfect deco companion for any space, be it on your work desk, kitchen counter or coffee table!
To make sure your roses (and the romantic memory behind it) will last long, here are some tips for you:
Unwrap and recut the stems as soon as you can
Place in a cool place away from heat and sunlight
Always water the roses with lukewarm water
Change the water in the vase every 2-3 days
Looking For Roses? Here Are 5 Florists To Get Your Roses Just In Time For Valentine's Day
1. Twenty Degrees
This Petaling-Jaya based florist provides all sorts of flower arrangements for any occasion. Whether you want fresh, preserved, dried or pressed flowers, they got it all just for you!
2. Mekareka
If you're all about supporting home-based businesses, then throw your support behind Mekareka. This Subang Jaya florist makes it easy for you to customise your flowers and gifts. You can even choose from their existing designs. Their high-quality flowers are easy on the wallet too!
3. Twinsflowes
The flower artists behind Twinsflowes are ready to brighten your Valentine's Day with their custom-made roses arrangements. Just name your requirements and design. They'll get it done for you!
4. Lynda Florist
Besides flower arrangements, Lynda Florists can customise the tribute for your valentine with balloons and gifts!
5. 8Nine
You can count on 8Nine to add flair to your bouquet! More than just a run-off-the-mill bouquet, they also offer flower arrangements in a heart-shaped box or bell jar that will surely make your beloved go "Ooh-la-la!"
Special Coupon Code For First Time Users!
Here's a treat from us if you need to deliver a memento to your valentine besides flowers:
Apply the coupon code 'LANEW40M' to get 40% off your delivery fee (with a cap at RM8).
This code is only applicable to first time Lalamove users. So if you've never delivered with us, today's your lucky day!
You can redeem this coupon code before the end of February. The best part of this code? You can use it with all our vehicle types 🥰