Love Is In The Air! 5 Florists Reveal What Love Means To Them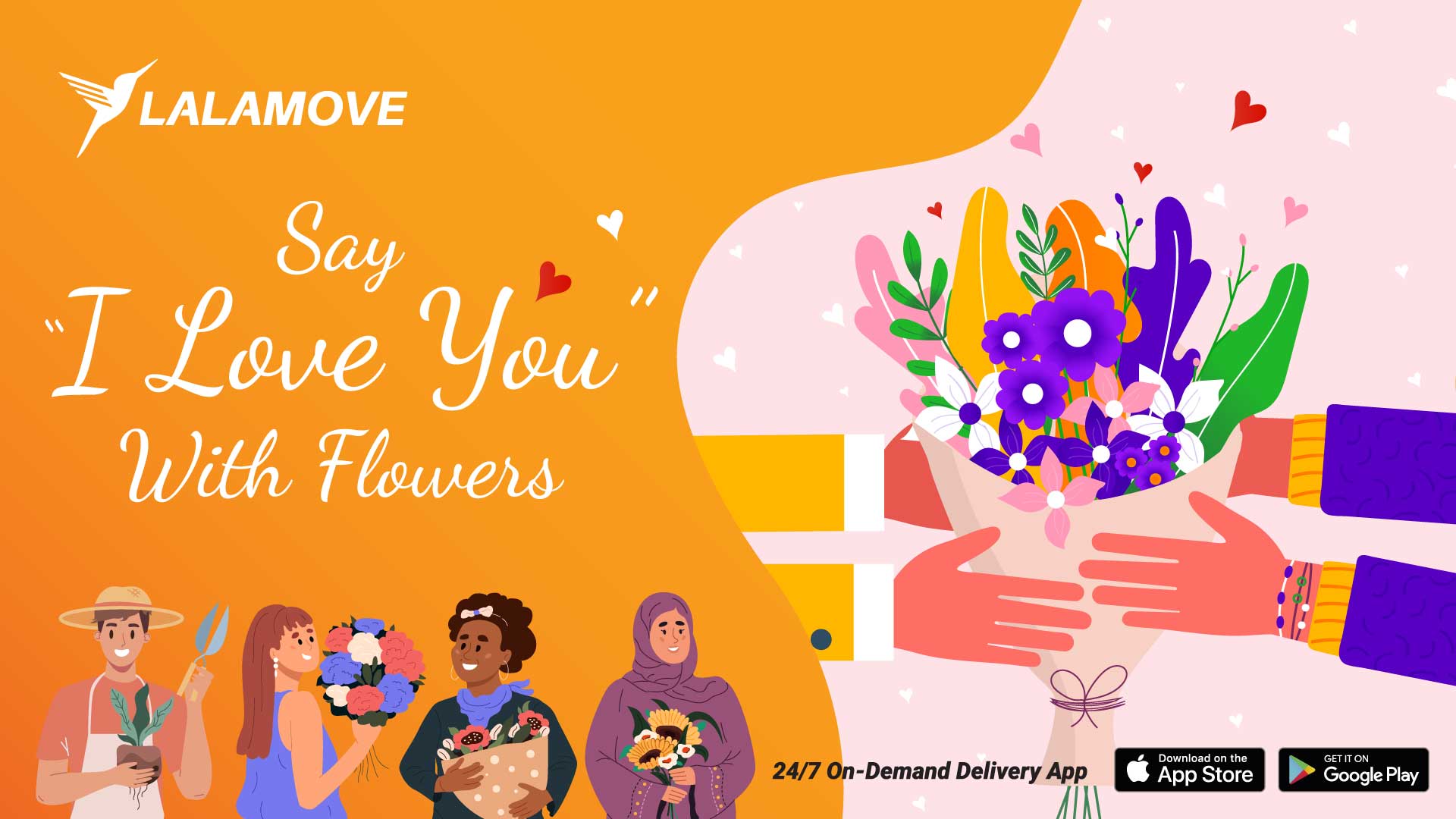 Ah, Valentine's Day. Isn't it a wonderful time to be in love?
As the season of love comes in like a warm hug, we can't help but wonder about the definition of love.
What does it truly mean? Does everyone define love in their own way?
So, we decided to ask our florist partners about their definition of love. Simply because we believe flower experts know better about romance than most of us do!
Without further ado, let's jump right in. But be careful, you might get lovestruck by their answers!
Love Is About Sharing The Happy Moments – Penny Choo, Co-founder of BloomThis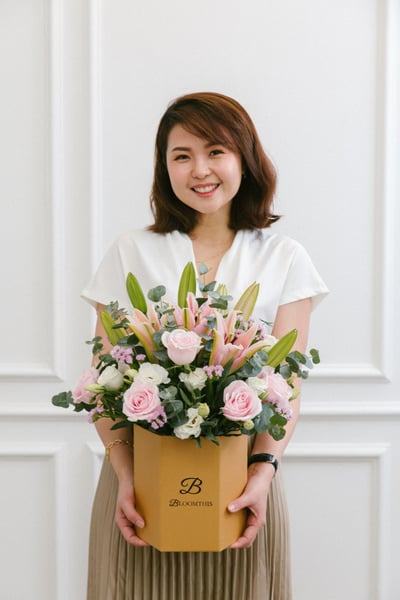 For Penny Choo, the co-founder of BloomThis, defining love can be a tricky thing.
"It can mean different things to different people, like the bond between a family or the trust between strangers.
"But to me, and us, love is all about the happy moments we share with the people we choose to hold onto forever."
As a florist, Penny fondly remembers several customers whose efforts to surprise their loved ones warms her heart.
She recalls a customer who bought tons of flower bouquets for his wife after years of being apart. There was also a time when two partners bought flowers for each other without realising it.
"We also have customers that buy flowers every month, just to remind their wife of their love."
For Penny, her ideal couple is none other than her parents whom she referred to as the embodiment of true love, devotion and sacrifice.
"My parents have been through so much together, but their love for each other has never wavered. They're always there for each other through good and bad times.
"Watching them, I've learned what it really means to love and to be loved."
Valentine's Day Offers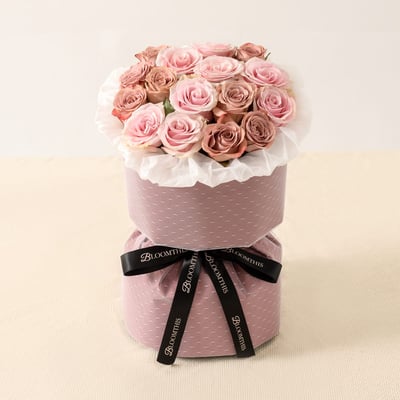 BloomThis offers flowers for Valentine's Day from as low as RM125. With every purchase, you'll receive a free personalised gift card and a printed 3R photo of your choice.
Love Is Feeling Content Around Your Partner – Flower Sugar
For the florists of Flower Sugar, love is essentially the feeling of contentment when you're in the presence of your partner.
"It's that safe and calm feeling when you look at your partner, even when both of you are not doing anything."
Flower Sugar is always fond of customers who would go the extra mile for their better halves on a special day, especially when they prepare months earlier.
"We do have some customers who ordered our merchandise up to three months before the scheduled deliveries."
"The most romantic act is when someone makes careful plans to ensure their loved ones have the best celebration possible," they added.
Valentine's Day Offers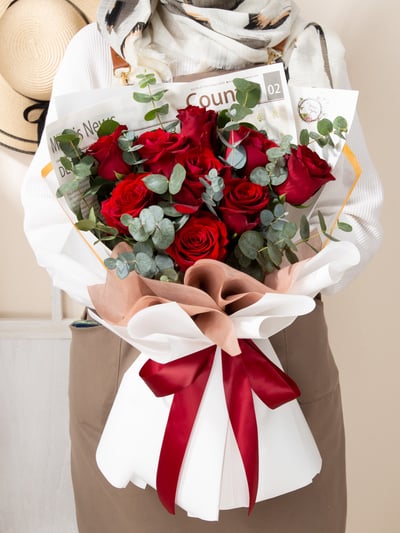 It's never too late to send flowers to your SO! Purchase flower bouquets from Flower Sugar from as low as RM40. This offer is valid until 7th February 2023.
Love Is To Express Gratitude — Titus Wong, Co-founder Of 50gram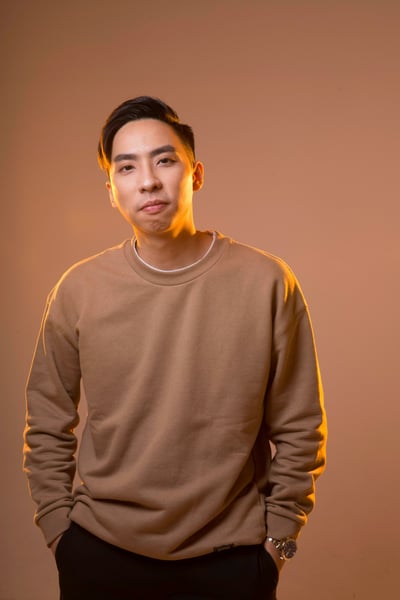 "Love is expressing our everlasting gratitude to the person that means the whole world to us," said Titus Wong, the co-founder of Klang Valley-based florist 50gram.
And what better way to express your love than to gift your partner a flower, the symbol of love?
"When we love someone, we often show our appreciation to them through small gestures, such as showering them with flowers or gifts.
"In this sense, love and gratitude go hand in hand. The more we appreciate and value someone, the more we're inclined to express our love through gifts and flowers."
Customers may come and go, but sometimes they leave a great impact for 50gram. One of them is a customer named Jack, whose love story has been a part of 50gram's journey since five years ago.
"Every anniversary, Jack bought a white-themed bouquet of flowers from us to gift his partner, Jenny."
"One day, Jack decided it was time to propose to Jenny and he wanted it to be special."
"He came to our shop and asked us to create a customised bouquet of flowers in the shades of blue and green, to match the beautiful ocean of Bali where he planned to propose."
The proposal went beautifully and Jenny said "yes" to her romantic lover. Needless to say, Titus felt lucky that 50gram was a part of their beautiful love story.
Valentine's Day Offers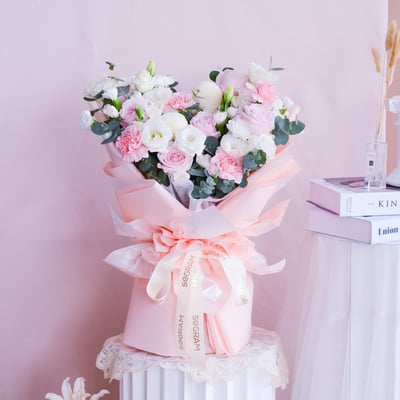 Get your flowers, gifts and cakes from 50gram and enjoy a 15% discount with promo code [LALA15]. This offer is valid until 29th February 2023.
Love Means To Love Yourself First – Scentales Ventures
Scentales Ventures holds the belief that we must love ourselves first before we can love others. They also quoted Miley Cyrus' "Flowers" which goes: "I can take myself dancing, I can hold my own hand, I can love me better than you can."
But all in all, they said, love is also about showing compassion and kindness.
"Love is meant for our family, lover, friends, colleagues, strangers, and even to mother nature."
"When we show kindness to the world, kindness will make it back to us in unexpected ways."
The most romantic moment Scentales Ventures had witnessed was when a customer planned a surprise proposal for his girlfriend after being apart for more than three years due to the pandemic.
The customer and Scentales Ventures took more than a month to pull off the surprise. Talk about effort!
"The girlfriend was overjoyed, in tears and said yes to the proposal. We were happy to play a part to make this wonderful moment happen."
Besides their customers, they said their couple goal is none other than Tun Mahathir Mohamed and Tun Dr Siti Hasmah.
"Their love had lasted for decades and it's always nice to see them together. Tun Dr Siti Hasmah is a loving wife who supports Tun Mahathir through the good and the bad times."
Valentine's Day Offers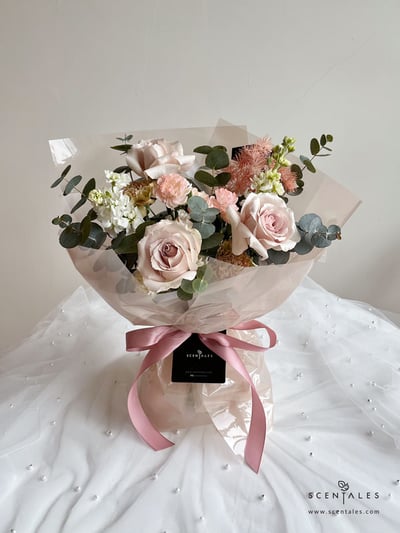 From baby breath to red roses, get flower bouquets from Scentales Ventures from as low as RM189. Plus, you also get to enjoy free delivery when you spend a minimum of RM150!
Love Is To Have Adventures Together – Madeline, Art Director Of Bamboo Green Florist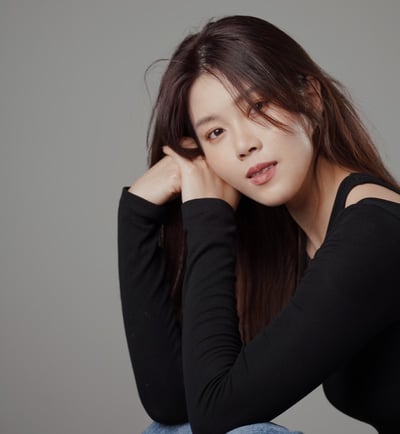 For Madeline, the art director of Bamboo Green Florist, love simply means to rest, laugh and have adventures together. It's the simple little things in life that strengthens the love!
When asked about her ideal couple, Madeline looks no further than her loved ones.
"My family and friends are always about experiencing joyful moments and tough times as a team."
"Despite the changes, it's important to stay loving to one another."
Valentine's Day Offers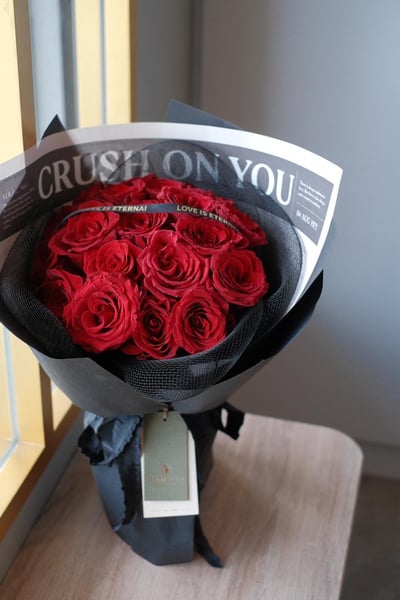 From 1st February 2023 to 15th February 2023, you can get flowers from Bamboo Green Florist from as low as RM150. Bamboo Green Florist is based in Penang and delivers anywhere in Peninsular Malaysia.
What's Your Definition Of Love?
Hey, you may not be a flower expert. But we bet your definition of love is just as romantic too!
This Valentine's Day, take the time and effort to say "I love you" to your partner.
But don't worry if you don't know how, you'll always have flowers to do the job for you!
Happy Valentine's Day!