Door-to-Door Service: A Smarter Delivery Method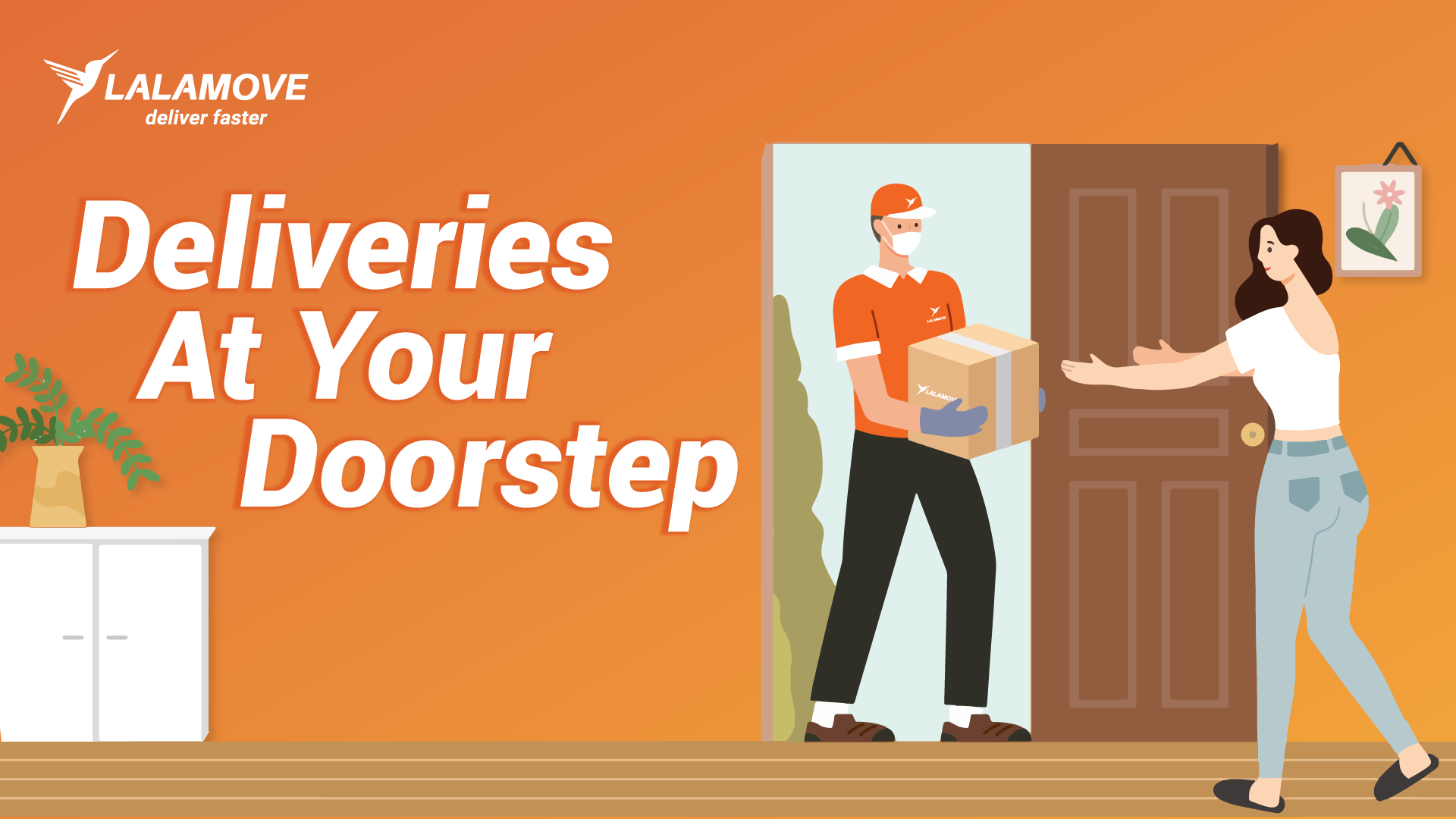 The idea of delivery itself is to simplify your life.
You order for food delivery instead of driving to your favourite char kuey teow stall.
You shop online for new clothes and furniture because you don't want the hassle of walking through a crowd in a mall.
But with our Door-to-Door Service, you're about to realise that delivery can get easier!
What Is The Door-to-Door Service?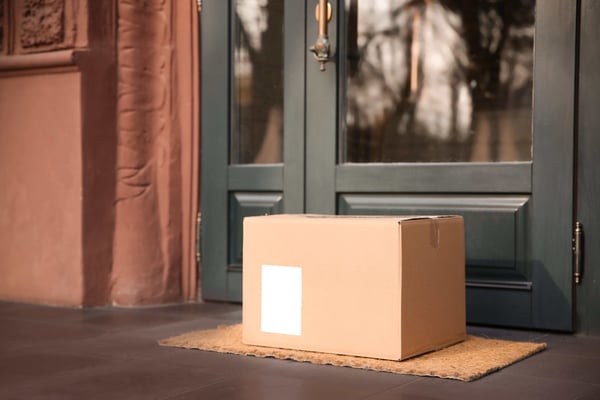 With the Door-to-Door Service, we send your items right to your waiting hands.
This means you don't have to abandon the comfort of your couch or work desk just to pick up your parcel.
Still curious?
Let us walk you through why this service is worth a try:
Easy And Transparent Pricing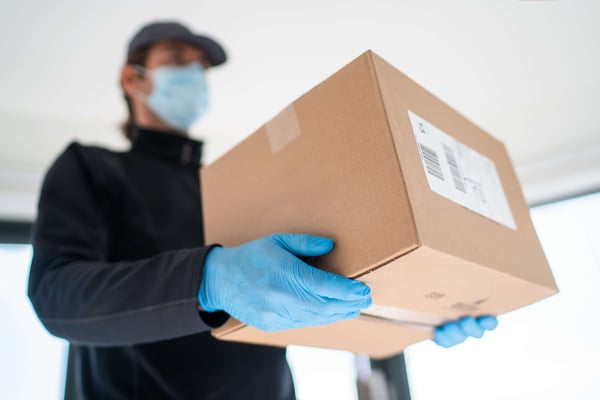 No one likes a surprise, especially when paying for things!
But our pricing is easy and transparent. You can see the final price, including an additional charge for Door-to-Door Service, before you confirm the order.
No hidden costs, and no additional charges once your item arrives.
It's that simple.
Here are the fees for Door-to-Door Service based on your preferred vehicle type: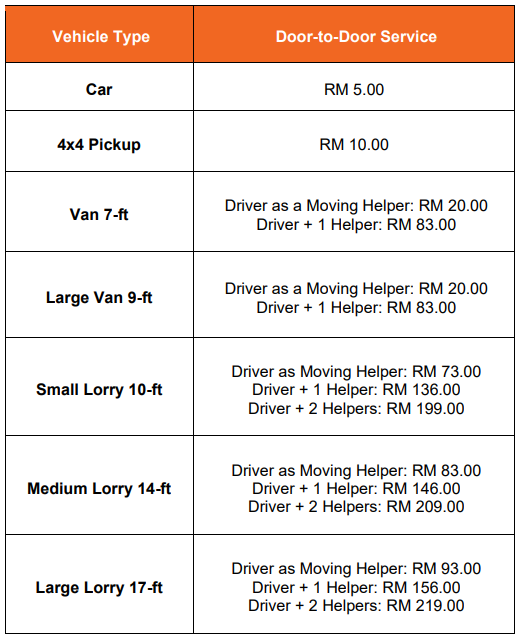 If you're interested in the final price of your delivery fare, including the Door-to-Door Delivery Service, take a peek at our app:
House Moving Made Simple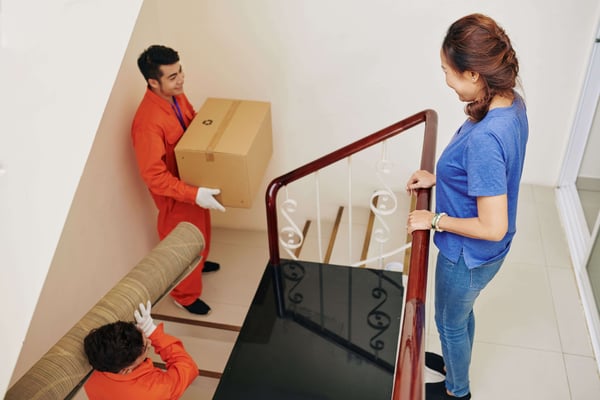 Having trouble with a tight staircase or getting rid of heavy furniture?
Or perhaps you can't imagine the back pain you'd have from carrying heavy loads up three flights of stairs?
Save your time and energy. Let us do the hard work for you!
With the Door-to-Door Service, we take the hassle out of moving by delivering your furniture directly to your doorstep.
But why stop there?
Add on our Dismantle and Assembly service to improve your house moving experience!
With this service, your driver and helpers will do more than just delivering your furniture.
They'll dismantle and assemble the furniture and miscellaneous items to and fro your new home!
Try Door-to-Door Service With Us Today
So are you interested in a more convenient delivery with Lalamove?
The next time you select a vehicle for your Lalamove delivery, don't forget to select Door-to-Door Service too!
However, here's a reminder if you reside in a high-rise property: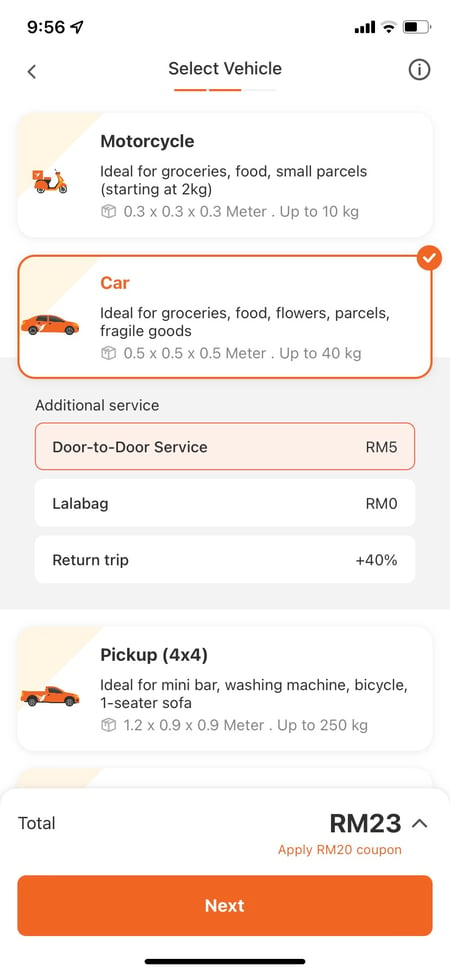 Please double check with the property management if they allow a delivery partner to enter the compound and proceed to your floor to fulfil the delivery.
If it's not allowed, you'll have to skip this service (we're sorry!)
But if it's totally cool to deliver to your doorstep, we look forward to being there for you!
Whether you're ordering lunch or a comfy new sofa, Door-to-Door service is here to ensure you get your orders without lifting a finger.
Ready for a better way of delivering your item?