The Ultimate Guide To The Lalamove App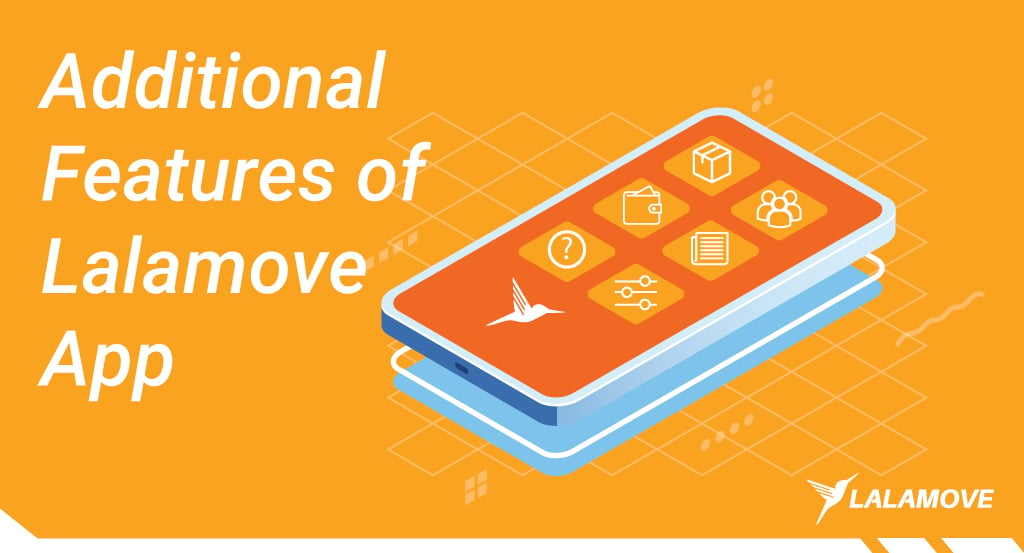 What made you install the Lalamove app in the first place? The story behind it can range from trivial tasks to life-changing occasions.

Requesting our rider to send forgotten front door keys from home to office? Check. Expedited purchase and delivery from your favourite chicken rice stall? All the time. Surprise delivery for your partner? Stealth mode for delivery on!

All of these requests came from the same launching ground, which is the homepage of our app.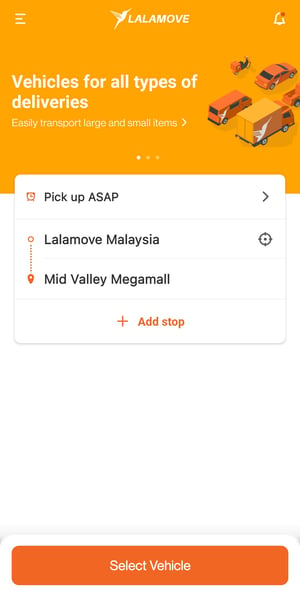 But before we break down the finer features of our app, do you...
Need A Beginner's Guide To The Lalamove App?
If you do, then click on these two 101 guides to familiarise yourself with the surface features of our app:
1. A Step-by-Step Guide To Use The Lalamove App
2. How To Request A Personal Shopper With Lalamove's Buy4U Service
And once you've mastered the basics...
Let's Dive Into The Advanced Features Of The Lalamove App!
Did you know that there's more to our app than meets the eye? Hiding in plain sight are helpful features that can enrich your delivery experience with Lalamove.
Let's start from the homepage, and we'll go through the features one-by-one, shall we?
Disclaimer: The screenshots are taken from an Android phone with the Lalamove app version 105.4.0, personal account. But don't worry, you can still follow this guide if you're an iOS user. The features and interface on iOS have minute differences - you'll barely notice them!
Table Of Content
Features Under 'Welcome' Listing
Finding A Driver
Awaiting Driver
View Delivery Details
15. Share Delivery Status In Real-Time
In Transit
Post Delivery
1. Dynamic Carousel
First, we have a dynamic carousel on top of the page. Here's the content of the carousel at the time of this writing. The content will reflect our ongoing announcements or offers.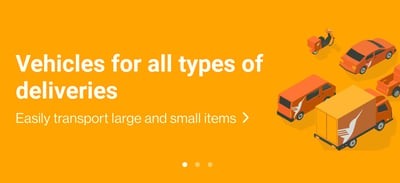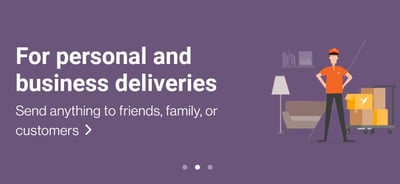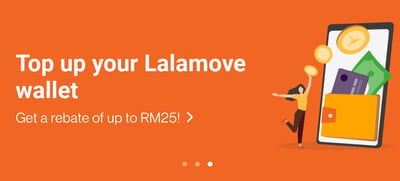 The carousel is there for a reason. Just click on any of the pictures in the carousel to learn more about the topic. For example, this is what you'll see if you click on the third picture, 'Top up your Lalamove wallet'. The app will launch in-app news of our announcement.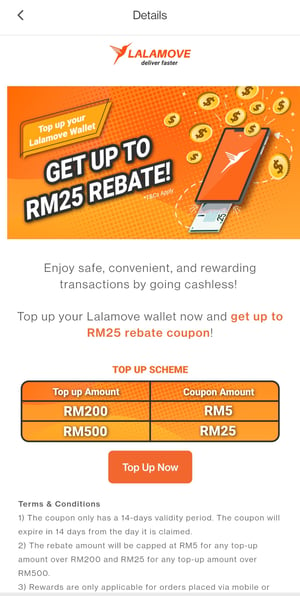 2. In-App News
To launch more in-app news that is not included in the carousel, tap the bell icon on the top right of the homepage.

Here's how our list of in-app news looks like. Just tap any of the pictures for more details on the news.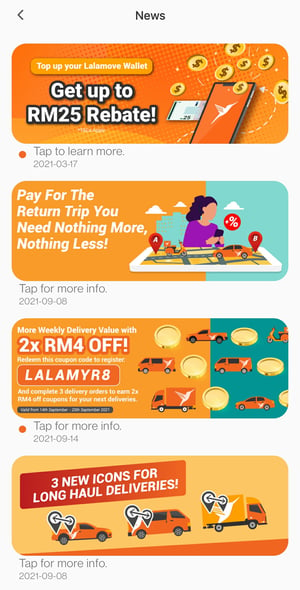 Features Under 'Welcome' Listing
To view and access more features in our app, tap the hamburger icon on the top left.

Here's what you'll see under the 'Welcome' listing.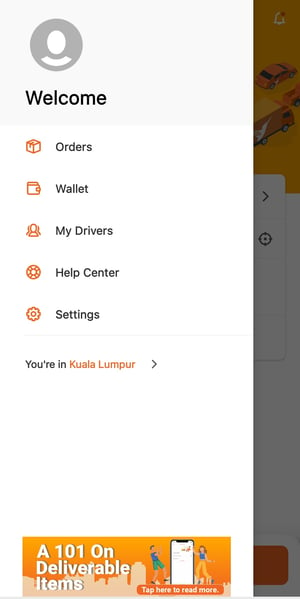 3. Orders
In 'Orders', you can view active and past delivery orders that are categorised into three statuses; 'Ongoing', 'Completed' and 'Cancelled'.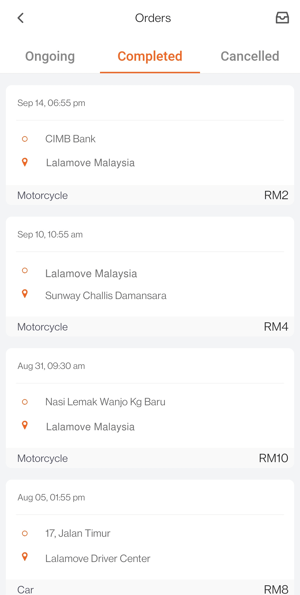 If you have an ongoing delivery order, the app will show you the real-time location of our delivery partner. Just tap 'Ongoing' and select an active delivery to monitor the progress. The delivery partner could be on the way to pick up the goods from you, or he could be mere minutes away from the drop off location!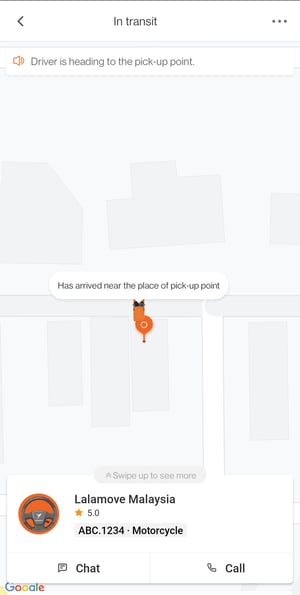 Can you see an inbox icon on the top left of the 'Orders' page? Tap the icon to view an archived delivery record. This archive shows you a list of deliveries that were placed in the previous version of our app from 2018 to 2020.

4. Wallet
Head over to 'Wallet' to view the status of your e-wallet.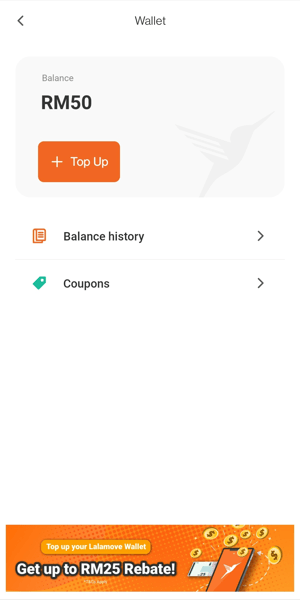 Tap 'Top Up' to select a reload value. You can top up your Lalamove e-wallet with a credit card or debit card.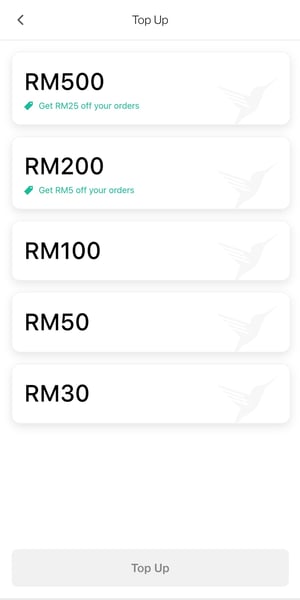 Here's a tip: If you're anticipating a high volume of orders, may we suggest you select a minimum of RM200? If you top up RM200 or RM500, you'll receive coupons for delivery discounts!
Tap 'Balance history' to view your previous top up transactions.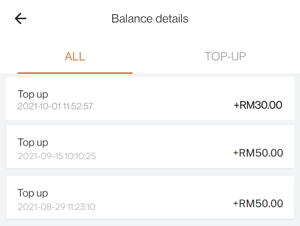 If you spot our coupon code on our website, email, outdoor ads, or even on third-party websites, you can key in the coupon code in 'Coupons'. The discount will apply automatically before you confirm your delivery order.
Make sure you read the coupon's terms and conditions. Sometimes, our coupons are applicable to certain vehicle types only!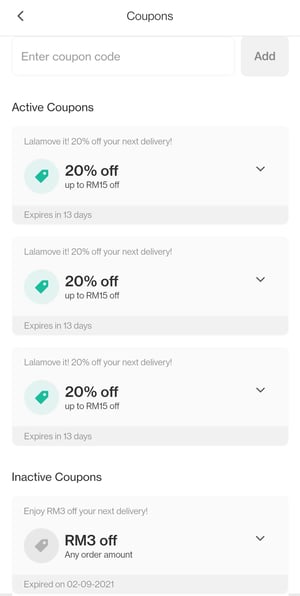 5. My Drivers
This is the page to view your list of favourite Lalamove drivers (aka delivery partners). The list categorises the drivers into their vehicle types. You can add a driver as a favourite after a delivery is fulfilled.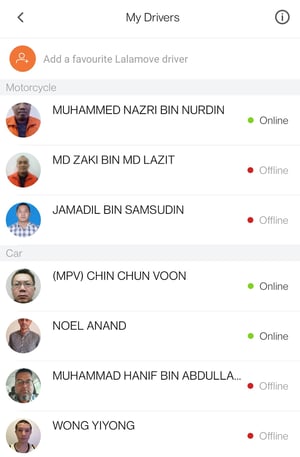 You can also add a driver into your favourite list manually by entering their mobile number in the 'Add a favourite Lalamove driver' bar.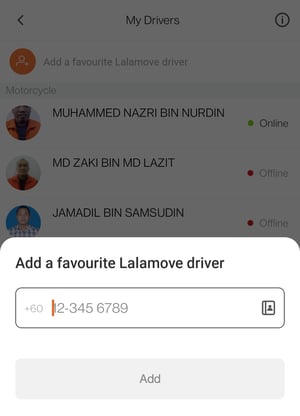 Have a change of mind with a favourite driver? You can remove them easily. Tap the selected driver, followed by tapping 'Delete Driver'.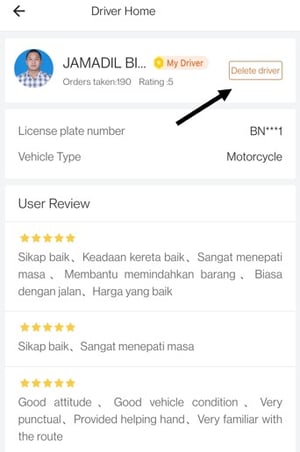 Tap the information icon on the top right to view FAQ regarding favourite drivers.

6. Help Center
As the name implies, this is where you'll want to go for FAQ and Live Chat with our Customer Service agent.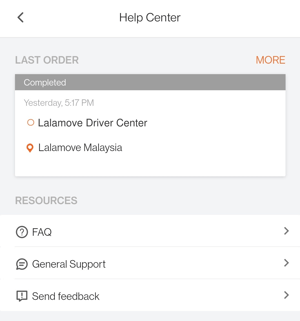 Tap FAQ to launch our page on common enquiries on our business account, drivers' issues, and personal deliveries.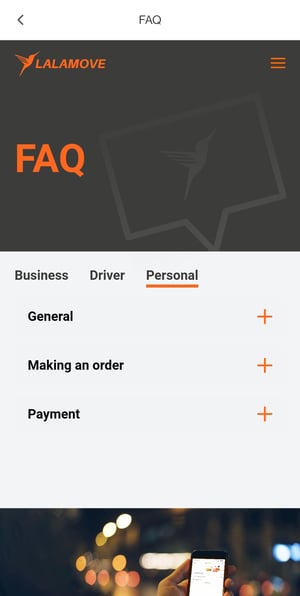 When things go sideways with your delivery, you can always count on our Customer Service agents to sort out any delivery issues. Here's an important reminder, though: you can only communicate with our agents via Live Chat in the app.
Tap 'General Support' to get in touch with our agents. Next, tap 'Start chat' to initiate the chat. Voice out your concerns and issues clearly.
Tip: Make sure you have as many details as possible pertaining to your issue before you start the chat (for example, the 12-digit order number that starts with #, name of the driver, location, etc). Once you're in the chatroom, you won't be able to leave the chatroom without terminating the chat with the agent!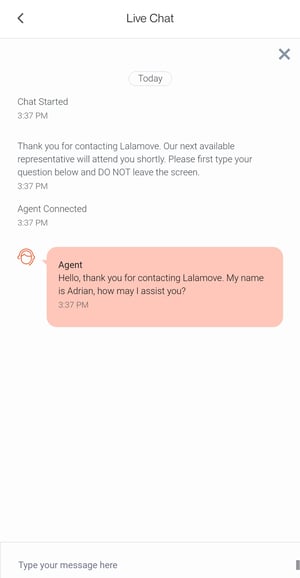 Additionally, we've provided another channel for you to express your views and complaints. Tap 'Send feedback' to open a form. Select one of the four subjects that are related to your situation. Type your comments in the given field and submit the form.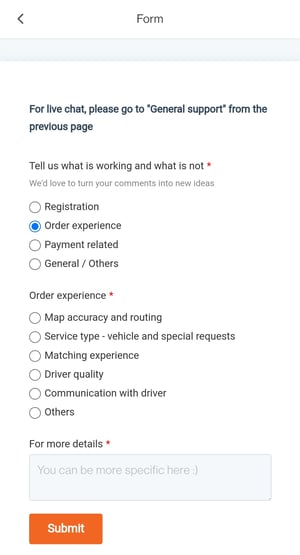 7. Settings
In Settings, you can personalise your experience with our app and delivery orders.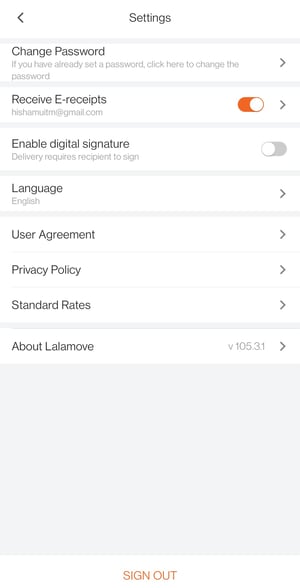 Tap 'Change Password' to revise your password. Verify your account with the phone number that you used to sign up for Lalamove.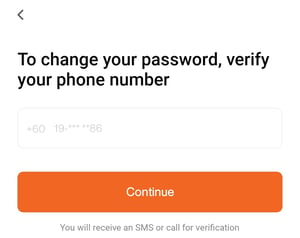 Toggle 'Receive E-receipts' to activate or deactivate e-receipts into your email inbox after each delivery.
If you need proof of acceptance after delivery, you can activate 'Enable digital signature'.
Choose 'Language' to switch between English or Bahasa Melayu. If you switch from a default language, the app will relaunch.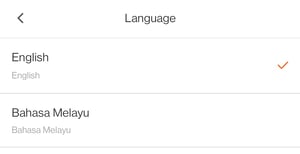 If you need to read fine prints on your rights as a Lalamove user, tap 'User Agreement' to view our Terms & Conditions. Details on how we utilise and protect your data can be accessed by tapping 'Privacy Policy'.
In our app, your delivery fee is instantly calculated after you've confirmed your pick up location, delivery location and vehicle type. For a breakdown of our pricing structure, you can tap 'Standard Rates'.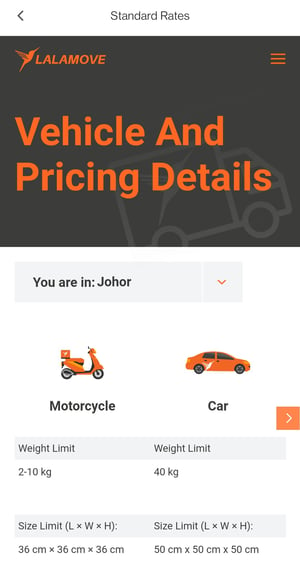 Can you see the version number next to 'About Lalamove'? That's the current version of the Lalamove app that you're using.
This guide is based on version 105.4.0. As in any other apps, we'll continue to update our app from time to time to offer you better security and user experience.
Finally, in Settings, you have the 'Sign Out' option to log out of your Lalamove app (if you ever need to do so!)
8. City
As you've probably known by now, Lalamove Malaysia operates in Klang Valley, Johor and Penang. If you need to deliver with us and you're living in Bayan Lepas, Penang, you need to change the app's real-time location to Penang.
You can easily do this by tapping 'You're in Kuala Lumpur' after 'Settings'. This is the menu that shows up once you tap it.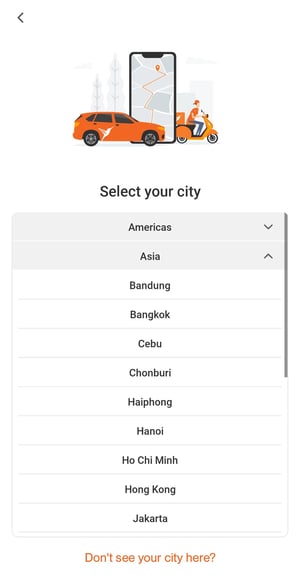 Scroll down the list in Asia until you've found Penang. Tap on it and the app will relaunch to configure itself to Penang. The same steps apply if you want to switch to Johor or Kuala Lumpur.
Pro tip: You can deliver with Lalamove in any of the cities on the list. Say you're on a business trip to Hanoi. Go to the list of cities and tap Hanoi. Now, you can deliver with Lalamove while you're meeting with your associates over there! Local charges and currency apply in each city.
Finding A Driver
Once you've confirmed your delivery order, our app will require a few seconds to match your order with a Lalamove driver. During the matching timeframe, there are a few things that you can do, as described in this section.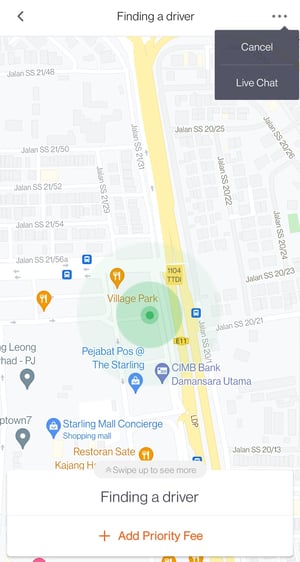 9.Cancel
If you change your mind in the midst of securing a Lalamove driver, tap the three dots on the top right and tap 'Cancel'.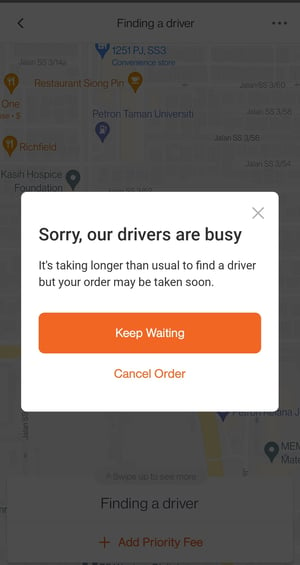 Tap 'Live Chat' to get in touch with our Customer Service agents.
10. Priority Fee
If you're in a rush to deliver, it's crucial for you to secure a driver ASAP!
One thing you can do to expedite the matching between your order and a Lalamove driver is to add a Priority Fee (aka tipping!). Tap '+ Add Priority Fee' to assign tip value.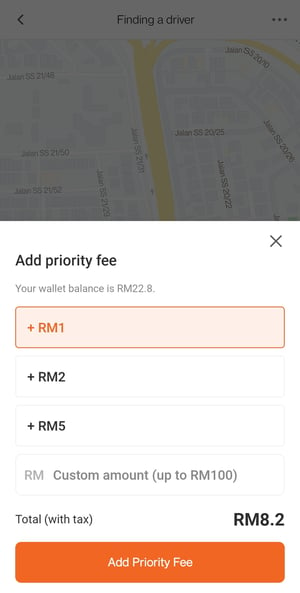 How much would you tip the driver? It's up to you! If you add a little bit of extra, you'll bound to make our driver's day. After all, a token of appreciation, no matter how small, goes a long way.
Awaiting Driver
When our system has matched your order with a delivery driver, you can access features to customise your delivery experience. Read on to learn about location editing, changing your driver, and more.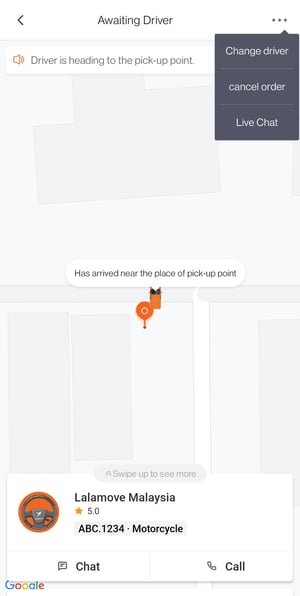 11. Change Driver
Tap 'Change Driver' to switch a Lalamove driver before the assigned driver shows up at your location. Choose the best reason behind the switch.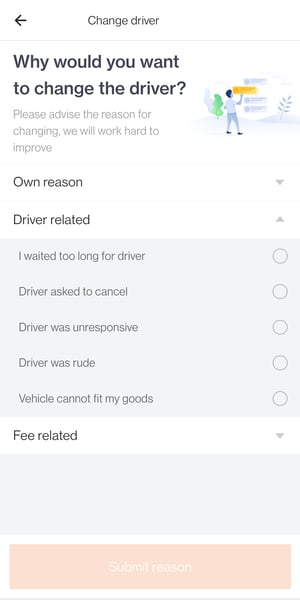 12. Cancel Order
You can cancel your order before the driver arrives at your location for pick up. However, you must chat with our Customer Service agent via Live Chat to confirm the cancellation. Tap 'Cancel Order'. Then tap 'Contact Us' to launch the Live Chat.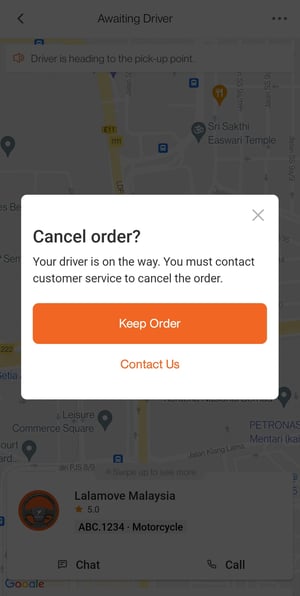 View Delivery Details
During the phases of 'Awaiting Driver', 'In transit', and 'Delivering', you can look at the details of your addresses, contact number of sender/recipient, vehicle type, remarks, and fee breakdown. Swipe up the tab at the bottom to bring the details to full view, like in the image below.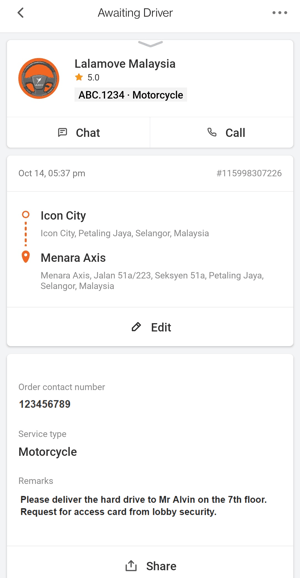 13. Chat And Call
Is your driver taking more time to arrive at your pick up location? Or has he arrived but is nowhere in sight?
Normally, our drivers will give you a call when he has arrived to pick your goods. But if you feel compelled to make the first contact, you can either chat or call the driver instantly.
Tap 'Chat' to type in your enquiry to the driver.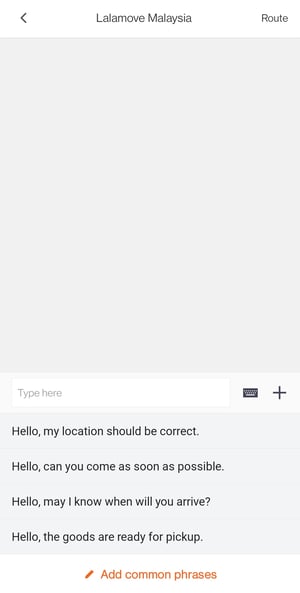 Tap the plus '+' icon to attach an image in the chatroom. This is a useful feature, especially if a visual cue of your location (eg a landmark) could help the driver to identify your whereabouts faster!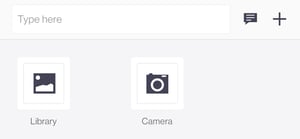 Here's a neat feature:
If you're found yourself texting the same phrase or detail repeatedly to the driver (eg your landmark if your location is obscure), you can save the line for future use. Tap 'Add common phrases' to save a preferred message. The saved phrase will be stored among the default phrases in the chatroom.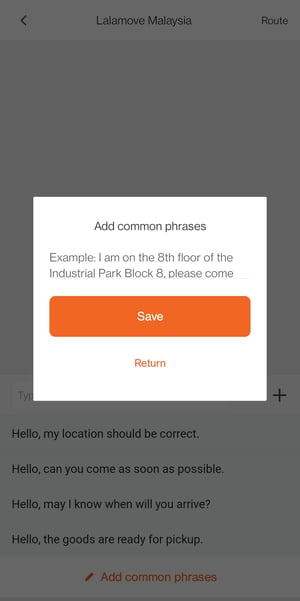 Tap 'Call' to launch your phone's dialer. The dialer will automatically display the driver's phone number for your convenience. All you need to do is just punch the call icon to reach out to the driver.
14. Edit Drop Off Locations
We understand that plans aren't necessarily set in stone. While waiting for the driver to show up at your doorstep, you may have a change of plan with the drop off location, like:
- change your drop off location
- add a drop off location
- remove a drop off location
- update address
- rearrange the order of multiple drop off locations
So, can you make the edits above before the driver pick up your goods?
Yes, you can!
Tap 'Edit' under the addresses to get started.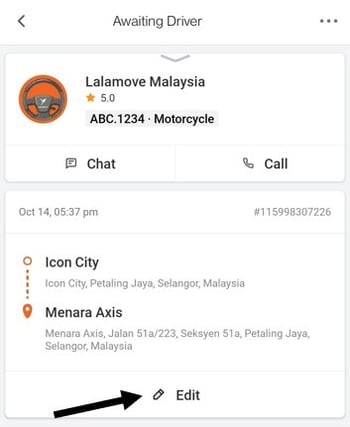 In the original delivery order, we have a delivery to Menara Axis from Icon City.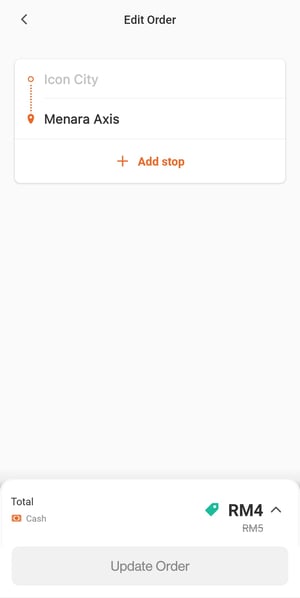 Reminder: you can only edit the drop off location, not pick up location!
Tap the original drop off location to edit its details. You can change the location altogether if you want to. In this example, we've changed the drop off location to Nu Sentral. On top of that, we've added another drop off location at Crest Residence.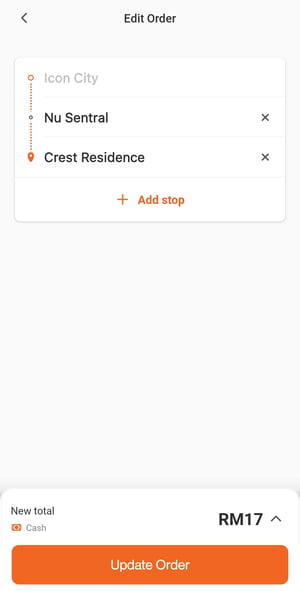 Notice that the delivery fee has been revised as well - from RM4 to RM17. This change reflects a longer distance and an additional stop for our driver, hence the increase in the fee. Tap 'Update Order' to confirm the changes.
So, what happens after you've edited the drop off locations? There are two possible scenarios:
1. The driver accepts the changes. He'll continue his journey to your location to pick up the goods.
2. The driver rejects the changes and cancel the order from his end. In this scenario, our CS agent will inform you via Live chat that they will reassign your order to another driver. Hang in there! The app will repeat the process of matching your order with a new driver.
15. Share Delivery Status In Real-Time
You can let your recipient keep track of the delivery in real-time by tapping 'Share' at the bottom of 'Remarks'.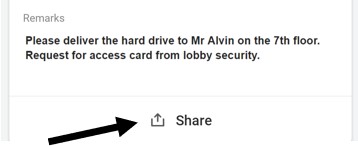 The app will pull a list of messaging platforms and social media to share the delivery details. Choose an option that is convenient for you and the recipient.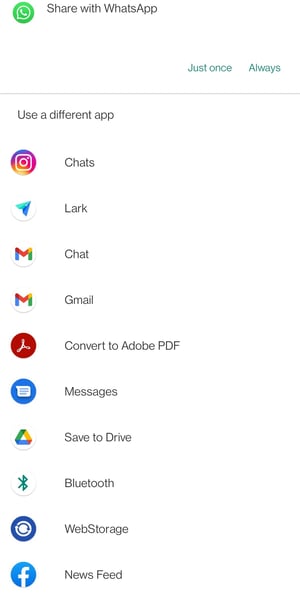 16. Pricing Details
Tap 'Pricing Details' at the bottom for a breakdown of your delivery fee.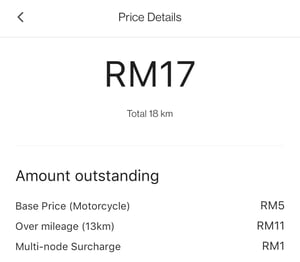 In Transit
There's only one feature for you to take advantage of when the driver is on his way to the drop off location - Blacklist driver.
17. Blacklist Driver
We strive to offer you a pleasant delivery experience from the moment you place an order on the app to the item arriving safely on the recipient's hand.
But sometimes, things could hit a rough patch when we least expected it. A less-than-stellar driver could cause headaches to your delivery experience, like late arrival or taking unexpected detours en route to the drop off location.
You may have missed the window to cancel the order since the goods are in the driver's hands. One thing you can do to ensure that you won't be matched with the driver again is to blacklist him from taking your future orders!
Tap 'Blacklist driver' from the triple dots on the top right.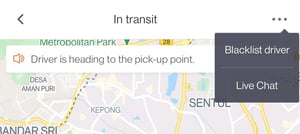 Select 'Block Driver' to blacklist the driver.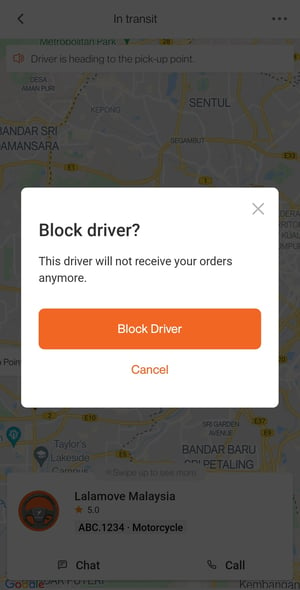 Post Delivery
Is there anything else you can do after our driver has successfully completed the delivery?
You bet!
18. Review Driver
Reward an exceptional driver with the highly coveted 5 stars and save the driver in your favourite driver list. If the driver went above and beyond in his duty, why don't you make his day better by showering him with praises in the comment field?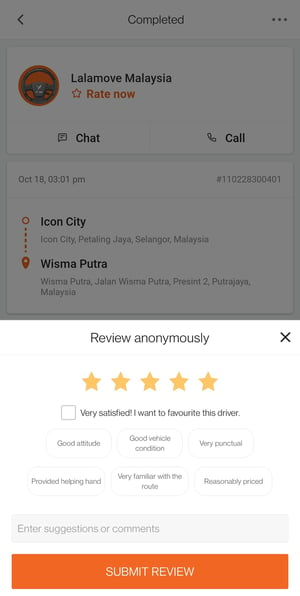 The same truth applies in the opposite. You can blacklist an underperforming driver in the review section. Select any generic issue that is applicable to the driver, such as 'Bad attitude', 'Illegal charges' and 'Late for no reason'.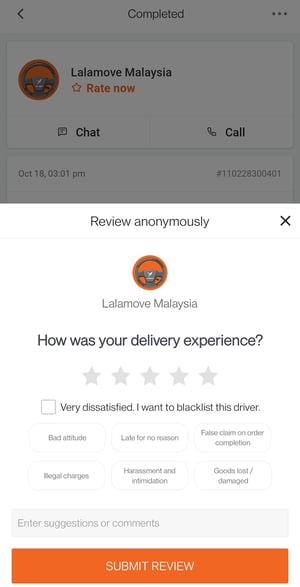 19. Repeat Order
Do you need to repeat the delivery with the same pick up and drop off locations?
Just tap 'Place order again' after you've submitted your driver's review. The app will bring you back to the homepage. This feature saves you the hassle of searching for the addresses manually.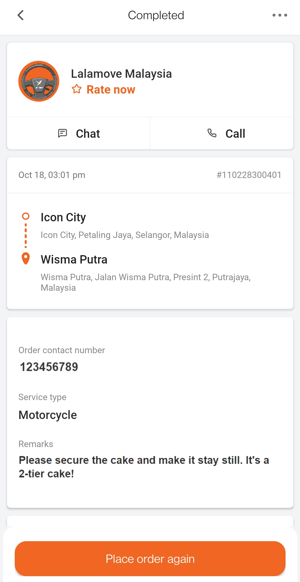 Here's another way to place a repeat order: Go to 'Orders' under the 'Welcome' listing. We briefly covered this section previously. Once you're in 'Orders', go to 'Completed' and select a delivery order that you want to repeat. It's as simple as that!
Conclusion
So there you have it!
We've dished out every little detail in our app for you to maximize your Lalamove delivery experience.
Which one are you going to try out first with your next delivery order?
Save a regular phrase in the chat room? Edit your drop off locations after getting matched with our driver?
Or manually add a friend who's a Lalamove driver in your list of favourite drivers?
The app is all yours!
Place a delivery order with us. Don't forget to try out the features that we have shown in this blog!