Day in the Life of a Lalamove Driver Partner through Ameen's Eyes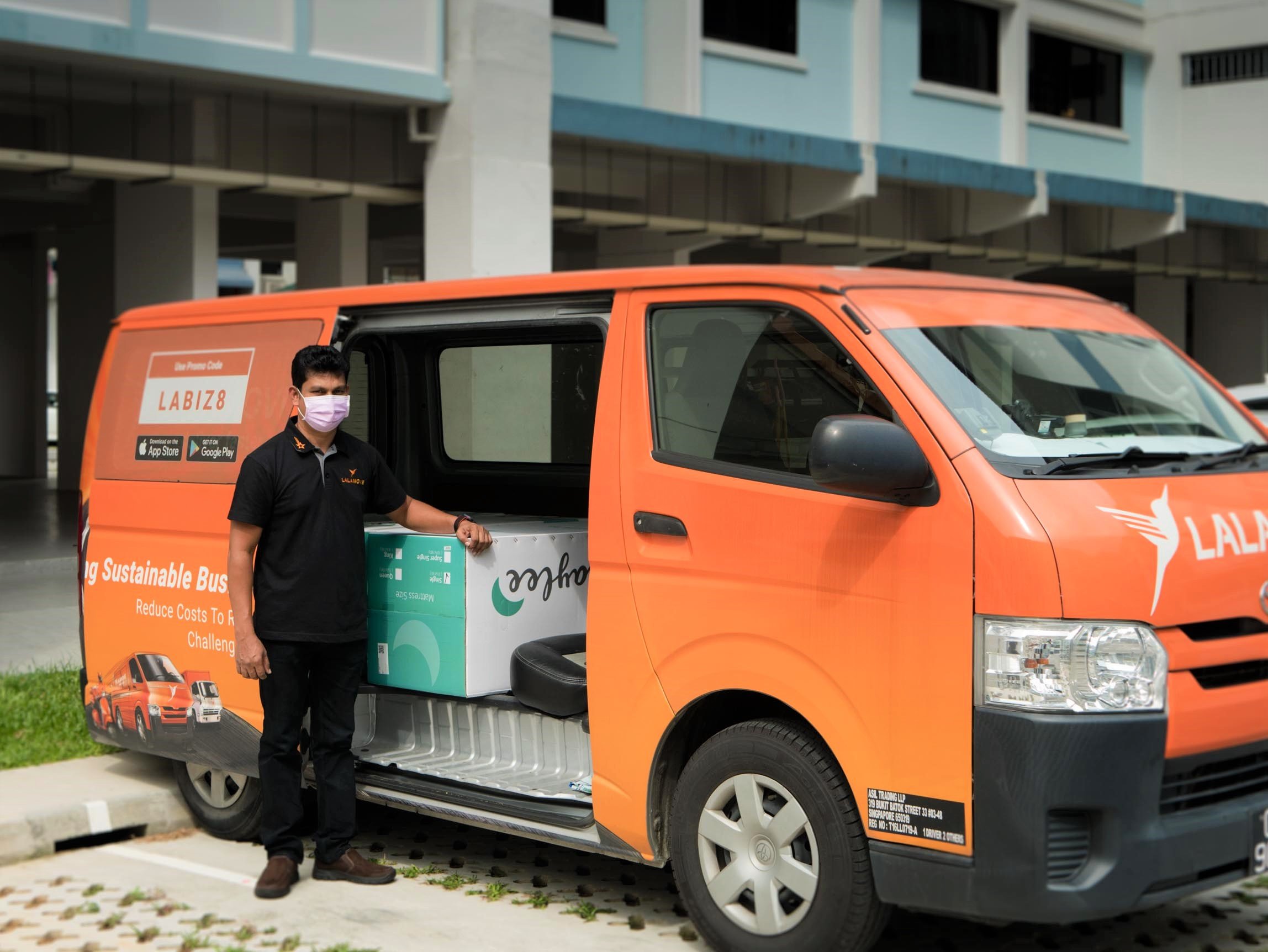 With almost 6 million people in Singapore, there's no shortage of items to be delivered. From lightweight documents to food & beverages to household appliances & electronics to bulky furniture or gifts of all shapes and sizes, the list is endless.
Needless to say, of course, we do have a few restrictions on what we deliver. For instance, we don't deliver illegal goods, humans, animals or certain types of bulky luxury items like pianos & those in the likes of.
Ever since the pandemic came along, there has been a continuing trend for on-demand delivery services as our society adjusts to the new normal of social distancing and staying at home more often.
For that very reason, delivery personnel has become a vital part of our everyday lives.
Meet Ameen, a conscientious 46-year-old delivery driver as he takes us through his day in the life of a Lalamove Driver Partner.
For Ameen, delivery is his livelihood. A professional & hard-working man like him, it's no surprise that he's a 'preferred driver'* of FortyTwo, a local online furniture company.
*All Lalamove users have the option to add drivers to their list of 'Preferred Drivers' if they deemed them dependable and wished to have them prioritise their deliveries.
That being so, he starts off each workday at 10am, when the warehouse opens, and typically ends his day around 5:30pm. Ameen explained that it was because FortyTwo closes at 6pm and traffic usually gets congested by 5pm.
Of course, aside from hauling deliveries for FortyTwo, Ameen also takes up a variety of other delivery jobs on Lalamove to boost his income and make good use of each working day.
Hence, on busy days, Ameen can deliver up to 20 packages in the 7-hour work window that he schedules for himself. However, he limits each delivery job to 20 minutes and that is usually inclusive of the time spent driving, parking and getting to & fro the delivery points.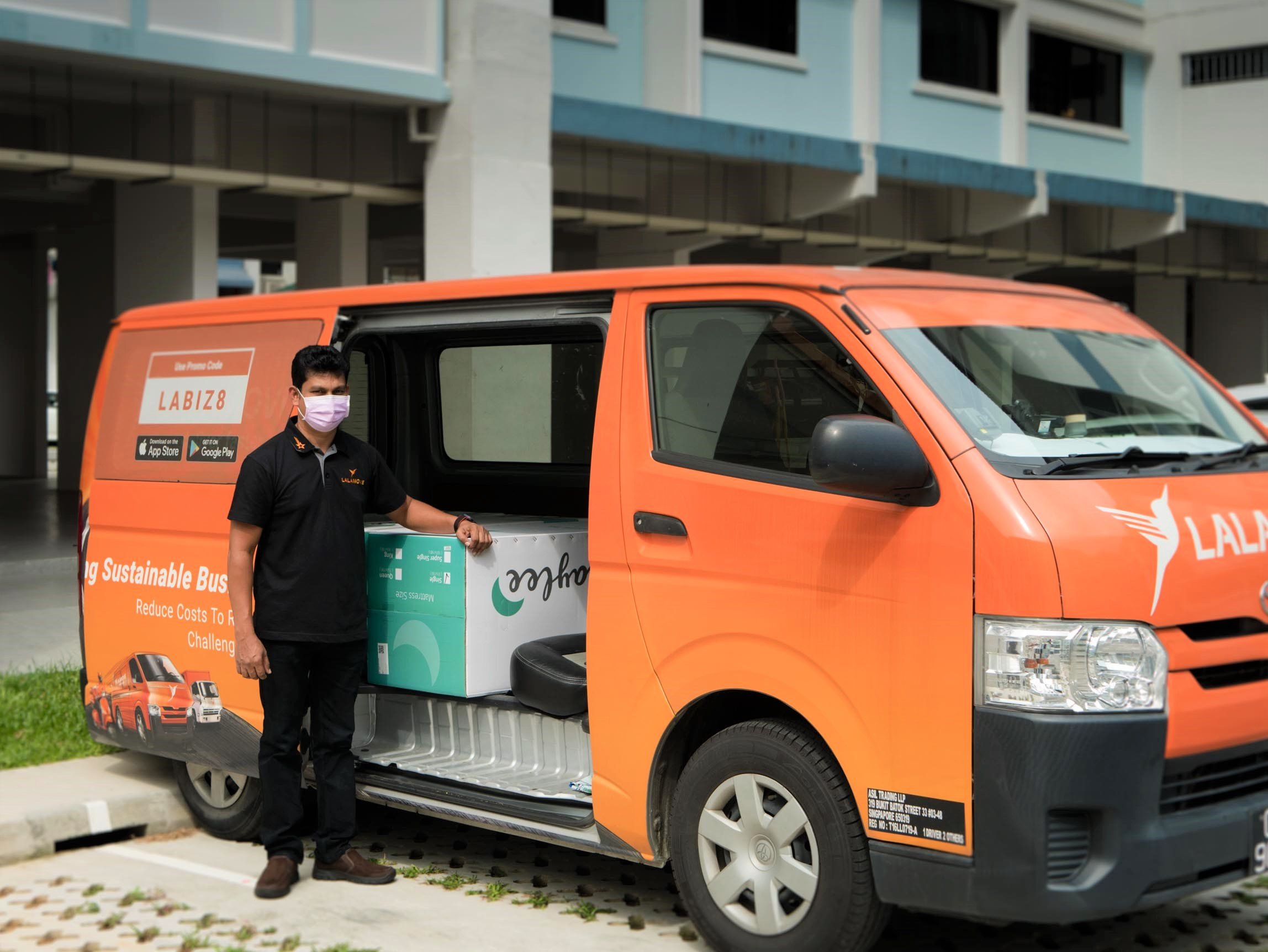 By now, you're probably wondering how he fits his lunch break into the schedule. We were curious as well. Ameen explained that he stayed very close to the warehouse and would often head home for a quick lunch prepared by his wife.
In the beginning, it was a bit of a challenge for him but as time went on, he learned how to make use of the flexibility that Lalamove had to offer, optimised his routes daily with the team at FortyTwo and planned a schedule that worked best for him.
Now let's talk about the workload. As you might have guessed, the weight of the packages varies from time to time and can sometimes be physically taxing on Ameen. Most often, the heavy lifting is solely carried out by him but he reassures us that he always remembers to be careful at all times.
As a van driver, he is also eligible to take up house moving stints with Lalamove which has the option of adding an extra helper if the load is too much for one person. With that, Ameen wasn't too worried about it.
In fact, Ameen was more concerned about other unforeseen circumstances such as network difficulties despite having a 5G network and a new phone or turning up at the doorstep with heavy parcels only to find out that nobody's home even after calling them to inform them of his arrival. Despite having cooked up a great plan to seize the day, there is always the possibility of hiccups occurring.
As a result, Ameen is constantly on alert and ready to improvise when needed. Despite the concerns, it is what keeps the job interesting and fruitful for him at the end of the day. Also, now that there is a 20 minutes grace period, it does make things a lot easier.
In terms of remuneration, all drivers take back an 84% cut from the order price except for MPV drivers who take back an 82% cut of the order price. Regardless, drivers can earn an average of $15 - $40 per delivery order and an average of $3000 - $8000 each month depending on the vehicle, distance and magnitude of packages. That said, during certain festive periods and big shopping events of the year such as the Great Singapore Sale, 11.11 or, the most recent of the lot, Black Friday & Cyber Monday, drivers can also earn up to double the amount of their usual deliveries. Simply put, the more deliveries made, the more money earned.
In any event, all Lalamove Driver Partners are entitled to exclusive partner benefits such as discounts on fuel, vehicle rental fees, maintenance & servicing as well as other incentive programs to take part in and make some extra cash on top of their usual earnings from the individual delivery orders. Find out more about these exclusive perks here now!
So what are you waiting for? Start driving with us today for great earnings & exclusive benefits!