Top 4 Mooncake Places to Check Out In Singapore!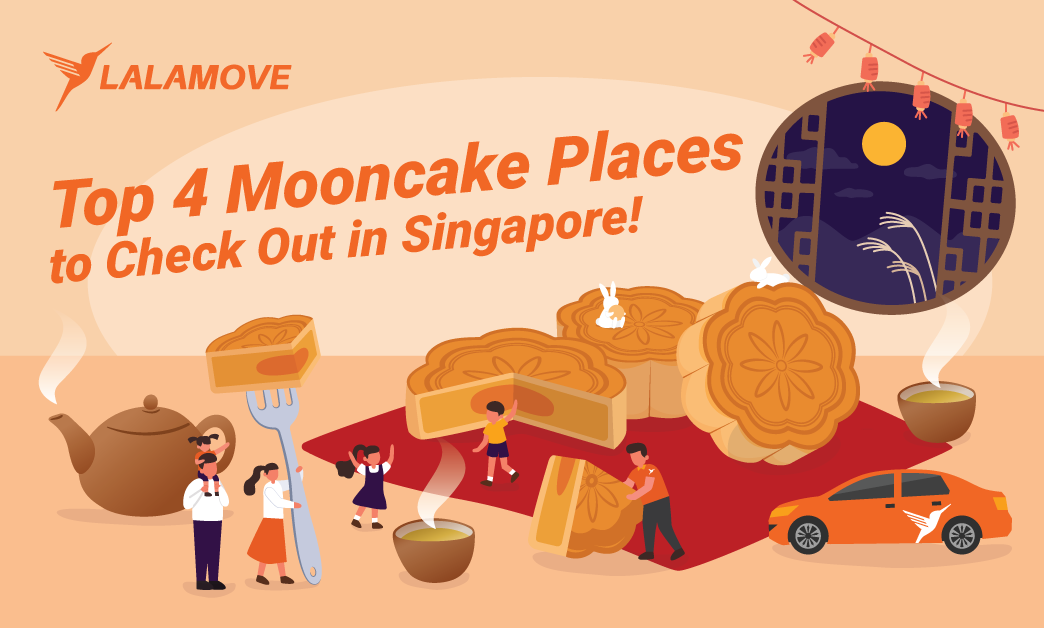 Mid-Autumn Festival 2022 is just around the corner!
It's that time of the year again when we get to spend time with loved ones and feast on our favourite delectable mooncakes. It's also the time when businesses send mooncakes as gifts to express gratitude and build a strong rapport with their clients.
Use coupon code LAMIDAUTUMN to get up to $15 OFF your mooncake deliveries from 26th Aug to 7 Sept 2022!
If you didn't already know, each mooncake has a unique characteristic. Mooncakes come in a variety of textures, appearances, and flavours, ranging from sweet to savoury. And every year, bakeries, restaurants, and hotels go to great lengths to outdo both themselves and their competition.
Speaking of creative mooncakes, this year's contemporary and innovative selection of flavours doesn't disappoint. We have compiled a list of mooncake stores just for you! Scroll further down to check them out.
1. JW Marriott Singapore South Beach
Indulge yourselves this Mid-Autumn Festival, with a specially curated selection of both handcrafted, traditionally baked as well as contemporary snowskin mooncakes from JW Marriott Singapore South Beach. Available from now till 10 September 2022. While stocks last.
Continue the tradition with the Baked Mooncakes Medley, which includes one of each handcrafted traditional mooncake flavour. It consists of the Nyonya Gula Melaka with Pandan Paste, Premium Mixed Nuts, Double Yolk Lotus Paste and Single Yolk Lychee Lotus Paste.
Or perhaps sweeten things up with the Mini Snowskin Mooncakes Medley, which includes the unique and exciting flavours of Lemon Truffle with Green Tea Lotus, Black Tea Truffle with Pu-Er Lotus, Martell VSOP Chamomile Truffle with Red Dates Lotus, Royal Salute Caramel Sea Salt Truffle with Honey Purple Potato.
Not forgetting the durian lovers, grab yourselves a box or two of their premium Durian Mao Shan Wang Snowskin Mooncakes for an indulgent treat.
Satisfy your taste buds by checking them out today!
Website: https://shopatjw.oddle.me/en_SG
Address: 26 Beach Rd, #B1-20 South Beach Avenue, Singapore 189768
2. Grand Hyatt Singapore
Delight in Grand Hyatt's delicate and exquisite curation of mooncakes as they unveil a bespoke collection this Mid-Autumn Festival. What sets them apart is that all mooncakes are made-to-order and then individually sealed to preserve their flavour and freshness.
Keeping up with the famed traditional baked signatures, Grand Hyatt Singapore presents a new refreshing flavour; Orange Lotus Double Yolk with Roasted Melon Seeds. This is available alongside the Black Sesame Lotus Double Yolk with Bamboo Ash.
As for the contemporary snowskin mooncakes, we have the hotel's signature flavours such as Champagne, Lychee Martini, Strawberry Tequila, and Black Sesame with Ginger. This year, however, they decided to offer a Mao Shan Wang Durian Snowskin instead of D24.
All things considered, if you like your mooncakes with a little boozy twist, check out Grand Hyatt's fine selection!
Just note to pre-order 48 hours in advance if you're planning to order from them.
Website: https://www.singapore.grand.hyattrestaurants.com/mid-autumn2022.html
Address: 10 Scotts Road, Singapore, Republic of Singapore 228211
3. Capitol Kempinski Hotel
If you're a fan of heritage and tradition, look no further! The Capitol Kempinski Hotel offers 9 classic yet fresh mooncake flavours. These heavenly bites come in mini sizes—all the better to share with loved ones—and are presented in two new vintage chic boxes and tote bags that borrow inspiration from two heritage landmarks of Singapore's Civic District: Capitol Singapore and CHIJMES.
Choose from a range of traditional mini-baked mooncakes which include their White Lotus Seed Paste with Egg Yolk, White Lotus Seed Paste with Macadamia Nuts, Pandan Paste with Melon Seeds and Pineapple Paste mooncake.
If you're in the mood for something more novel and refreshing, you can also check out their range of snowskin mooncakes that include the Matcha Mochi, Valrhona & Plantation 1840 Truffle, Champagne Truffle, Lychee Rose, and for the durian fans, the Mao Shan Wang Durian mooncake.
Don't miss out on these classic mooncakes! Order now!
Website: https://shop-capitolkempinski.com/pages/mid-autumn-festival
Address: 15 Stamford Rd, Singapore 178906
4. Fyre Singapore
Last but not least, we have Fyre Singapore, which is known for its unconventional but luxurious mooncake collection. Their curation of collections, which includes Traditionally Baked, Teochew Flaky, and Handcrafted Snowskin Mooncakes, distinguishes them.
Featuring a little twist, Fyre's traditional slow-baked mooncakes are infused with ingredients such as floral cherry blossoms and sweet lychees. For added flavor, the handcrafted mooncakes are smoked in the oven with lychee wood. There is a signature Sakura Cherry Blossom Lychee range which includes cranberries, macadamia nuts and a single yolk.
Fyre Singapore also offers an intriguingly traditional Teochew Flaky mooncake range which includes homely flavours like Taro Yam, Lotus with Salted Egg Yolk, Chicken Floss Lotus with Salted Egg Yolk and Spicy Shrimp Pandan Lotus with Salted Egg Yolk.
If that hasn't piqued your curiosity, the Mao Shan Wang Snowskin Mooncakes are infused with sakura and lychee extract.
Get your hands on these sumptuous mooncakes before they're all gone!
Website: https://fyresg.com/